If you're like me who destresses and takes pride in cooking for your family (or for yourself, we don't judge here), do yourself a favor and get yourself a heavy-duty blender.  Of course, it can be a little pricier than regular blenders, but one commercial-grade blender like the Vitamix 5200 can replace a lot of your kitchen equipment. This saves you a lot of your precious counter space, storage, and saves you a lot of money that you can use to fill up your pantry instead.
Vitamix has been dubbed as the leading maker of state-of-the-art blenders used by a lot of well-known cafés, diners, and restaurants and for good reason. The Vitamix 5200 is constructed with high-quality materials ensuring its durability and has a very powerful motor that guarantees smooth, effortless blending even with tough to chop veggies like carrots, pumpkins, and potatoes.
As we know, quality comes with a price, and Vitamix blenders are known to be a little "up there" on the list of expensive brands. So, I know you're wondering, is the Vitamix 5200 actually worth its weight in gold? Read on to find out.  I did the research, so you don't have to. 
Important: A lot of our readers ask us about how Vitamix 5200 stack up against other models in the market, please read our face-off post. We also have a designated FAQ page for all the questions I received in the past.
3 Vitamix 5200 Packages to Know About
Are you a newbie who wants to hop into the smoothie lifestyle? A budding home cook? An aspiring caterer or baker? Vitamix 5200 has a perfectly designed bundle for you. The blender is available in 3 different package options. It's best to pick one depending on what you plan to use it for and how often you will use it. Each package has a different add on, and of course, price range.
1. The Vitamix 5200 Standard Package
The Vitamix 5200 Standard Package is the perfect starter pack for smoothie enthusiasts and individuals who wants to give cooking a whirl.
Vitamix Blender Professional-Grade, 64 oz. Container, White
Variable Speed Control: Easily adjust speed to achieve a variety of textures. The dial can be rotated at any point during the...
Large Batches: The size and shape of the self-cleaning 64-ounce container is ideal for blending medium to large batches....
Hot Soup: The blades in the Vitamix container reach speeds fast enough to create friction heat, bringing cold ingredients to...
Last update on 2020-08-10 / Affiliate links / Images from Amazon Product Advertising API
This package includes a powerful cool-running motor, 64-ounce container, aircraft-grade, hardened stainless steel blades, a blender base that has a thermal protection system, a built-in cooling fan, and a retractable cord. Plus, the package includes a cookbook, instruction DVD, and a 10-year warranty. The blender features a variable speed control as well as the other packages included in this list.
2. The Vitamix 5200 Super Package
All health junkies swear by the Vitamix 5200 Super Package and for a reason. The thing is, this package includes a 32-ounce dry grain container.
Last update on 2020-08-10 / Affiliate links / Images from Amazon Product Advertising API
With a grain blender, it's easy to make whole grain flours and cereals. There's the Whole Grains cookbook included in the package. The book provides the recipes to make with a dry grain blender, such as cereals, whole-grain bread, and fresh baked goods.
Moreover, the design features a thermal protection system radial and cooling fan, along with laser-cut, stainless-steel hammermill and cutting 3 diameter blades. Actually, all the features of the Vitamix 5200 Super Package are similar to the Vitamix 5200 Standard Package and the Vitamix 5200 Deluxe Package. The warranty period is for seven years.
3. The Vitamix 5200 Deluxe Package
This is what we'll call The "Pro" Package. This works well for those who spend a lot of time cooking or baking. Like a budding baking entrepreneur who's starting up a baked goods store or those who love to whip up big batches of food for family dinners or host friendly get-togethers.
The full set includes both a 64-ounce container and a 32-ounce compact container (for baby food and single-serve smoothies). It also includes a 32-ounce dry grain container, flexible cutting boards, 3-piece spatula set, tamper, and an additional mini tamper. With this package you'll also get a whole food recipe book, whole grain cookbook, and the instruction DVD.
Quick Tip: The Vitamix 5200 Super Package and The Vitamix 5200 Deluxe Package has limited availability, so you need to keep your eye out for it as soon as they restock. 
Note: Not available at the time of writing
What Are the Pros of Using Vitamix 5200
Getting the Vitamix 5200 is not just any other purchase, it's a life-changing investment. Here's how having one of these babies directly affect your daily lifestyle:
You can get a whole food meal in under a minute
The Vitamix 5200 is highly flexible and versatile. As mentioned above, it can make a plethora of things, including soups. Not to mention frozen treats, smoothies, and cocktails. Every time your sweet tooth craves sugar, just toss some frozen fruit and berries, add a little bit of water and ice (optional), and process for a minute. Voila! A tasty and antioxidant-packed sorbet is ready!
It can break through tough stems, seeds, and skins
If you've ever made a smoothie in a cheap blender, you know that it's hard to process the seeds and skin. The Vitamix 5200 blender effortlessly processes basically everything so you get a smooth and chunk-free smoothie in seconds. The same goes for hard to process vegetables and nuts. Just throw in pumpkin seeds, whole kale, spinach, and carrot in the container and process for 30 to 60 seconds, depending on the consistency you need.
It's easy to clean
It's worth mentioning that this machine cleans itself with a breeze. This is the perfect option for busy moms who have no time for handwashing. Keep in mind that the Vitamix 5200 is not dishwasher safe. If you need to clean the machine, just mix some water with a little bit of dishwashing detergent and put the machine on high for at least 30 seconds. If the machine is too dirty, leave it clean for a minute.
There are thousands of Vitamix recipes online
Whichever social media platform you use, you'll find a lot of Vitamix recipes. If you do a quick Google research, you'll find even more. As one of the most sold blenders in the US and worldwide, the Vitamix 5200 blender has become increasingly popular among top chefs and celebrities. Ordinary people share their own recipes as well, especially on Pinterest, so you won't have trouble using the Vitamix 5200 in your daily kitchen routine.
It's easy to operate
The Vitamix 5200 blender has no fancy-schmancy display or dozens of confusing buttons, making it very easy to use. Minimal food preparation required, so it works best even for our grandmas and grandpas with limited hand muscle movement. All you have to do is choose the speed from 1 to 10 for a specific ingredient and get blending!
Vitamix offers excellent customer support and a generous warranty
All the Vitamix blenders, including the Vitamix 5200, are made in the United States. At least 70% of the machine parts are made in the United States too. Not only are the Vitamix blenders durable and powerful, but they also have generous 7 to 10-year warranties. Not to mention that their customer support is well-developed and is easy to reach. If your blender breaks down, you can have it replaced or repaired at no charge at all.
It comes with a tamper tool
There are times when large chunks of frozen fruit or veggies get stuck in the blades while you're blending them. Fortunately, the Vitamix 5200 comes with a tamper tool that you can use to push or move the contents around when this happens. The tamper tool is collared and perfectly sized, it's just long enough to mix your ingredients from the lid so it doesn't get damaged by the sharp blades at the bottom of the jug.
What Are the Cons of Using Vitamix 5200
Let's admit it, there's no perfect blender. Or perfect anything, in general. Luckily, with the Vitamix 5200 the pros outweigh the cons. Here I've listed some of the minor flaws I found while using the blender:
Fixed blades
The Vitamix 5200 features fixed blades that you can't remove during cleanup. Even with the special spatulas provided to get in between those dangerously sharp blades, getting out all the tiny stubborn food pieces can still cause a little cleaning hassle.
Size
Many people complain about having trouble fitting the Vitamix 5200 under their kitchen counters. I find it best to store the container and the base separately so that they'll fit in my cupboard. The good thing is, it looks modern and sophisticated, so I don't mind putting it on display on my countertop too. And let's be honest, who doesn't want to brag about having a Vitamix blender at home? 
Speed Control
To give your motor an extended life span, it's best to learn how to use the speed control correctly. Running the blender at a slow or high speed for a long period will your blender's motor to the bone. I highly suggest watching the DVD or reading the package included instructions to know how to vary the speeds.
Noise
As our friendly neighborhood superhero likes to say, "with great power comes great responsibility". On that note, the Vitamix 5200 blender has a powerful motor, thus it has a higher level of noise than regular blenders. The truth is, all high-performance blenders are noisy regardless of their price. After all, how often do you make smoothies at midnight?
Vitamix 5200 Features: How Does It Work?
Now that you know all the packages Vitamix 5200 offers, you may wonder what the major features of the blender are and how it works. Let's review some of the most important features like a motor, a container, and the control system.
Motor
Specifically developed and designed for the Vitamix 5200, Swedish built motor is a two-peak horsepower that is able to spin the blades at more than 37,000 revolutions per minute.
The blender's motor is the only part that was designed and made in Sweden. The Vitamix 5200 is assembled and manufactured in Cleveland, Ohio, United States, so if you find another country, it's might be fake.
Although the motor is powerful, it can't work at its fullest potential without a special thermal protection system. This system prevents the burnout and overload of the motor. There's also a built-in radial cooling fan that ensures cooling even at the high speeds.
When paired with the super-sharp blades and advanced design of the Vitamix 5200 containers, the power of the motor is enormous. Whatever you need to blend, you can be confident of the best result.
Containers
Speaking of containers, the Vitamix 5200 knows how to astonish its customers.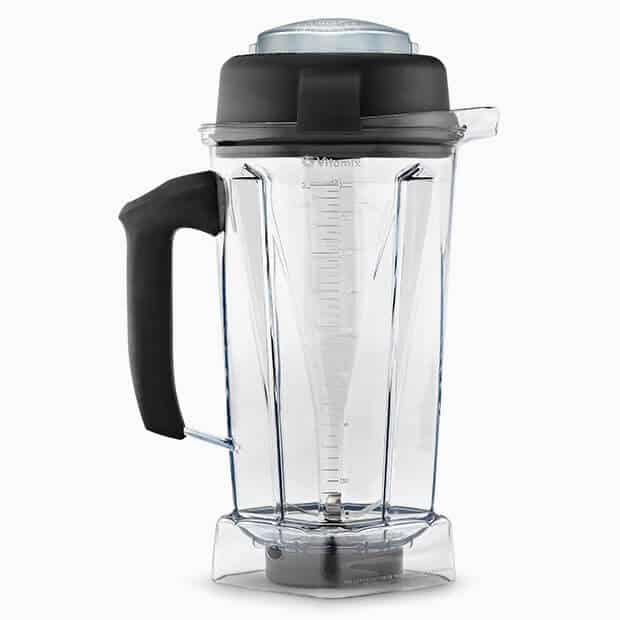 The BPA-free Eastman Tritan copolyester containers have enhanced sound damping features and a square rubber pad that aids in cushioning the container correctly. This helps to reduce any vibration caused during the blending process.
Each container has an ergonomic soft-grip handle that turns pouring into pleasure. The lids of the containers are the Vitamix's patented easy-off two-part vented and have the removable twist-off lid plugs that allow you to easily add to ingredients during the blending process without any spillage.
The Control System
The Vitamix 5200 control system consists of speed dial and manual switches.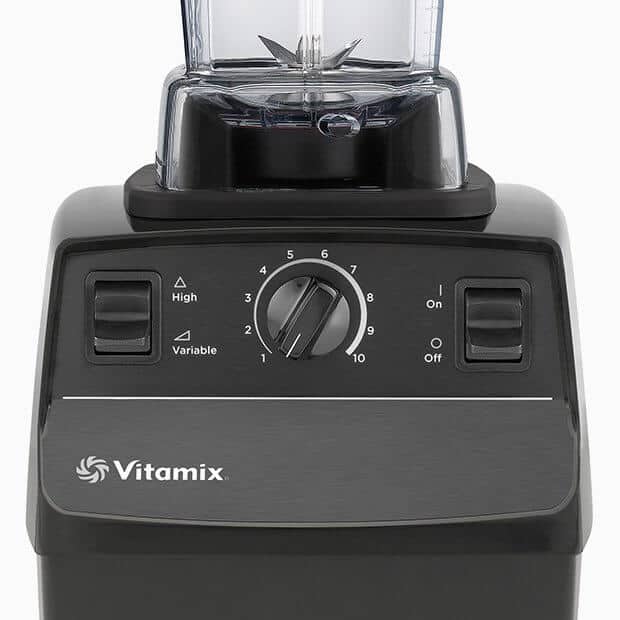 Unlike many other high-performance blenders available on the market today, the Vitamix 5200 blender doesn't have pre-programmed settings or a touchpad. The manual switches are made of a durable soft-touch rubber that is easy and effective to work with. There's a turn on and off button and the control speed button. The center dial allows you to control the different speeds of the blender.
No matter what you're going to process – be it a smoothie or a soup – make sure you start at a low speed. Once it starts running, slowly move up to the higher speed until you get the consistency you need. Since the Vitamix 5200 blender doesn't turn off automatically, be sure to watch the process.
28 Best Uses for Your Vitamix 5200
Thanks to the Vitamix 5200's powerful motor and high-speed blades, this versatile blender has already cemented its prominent status in the culinary world as the ultimate, must-have kitchen tool.
Watch: Top 3 Weight loss Smoothie Recipe
The Vitamix 5200 blender isn't just about smoothies, vegetables, and nut crushing. This multitasking machine can work miracles in your kitchen and speed up your cooking process in half. Once you master all the possibilities of it, this powerful tool will become your new best friend in the kitchen.
Here are some ideas on what you can make with your Vitamix 5200:
Baby food
Nut butter
Dough
Batters
Flours
Vegan milk
Vegan cheese
Dressings and sauces
Dips, marinades, and spreads
Puddings
Chocolate mousse
Ice creams and other frozen treats
Cheesecakes
Apple crumble and other baked goods
Entrees
Hot and cold soups
Juices
Smoothies and smoothie bowls
Hot beverages like hot cocoa and Mocha Frappuccino
Condiments, such as sour cream, ketchup, and mayonnaise
Pureed fruit and veggies
Chopped and shredded veggies
Other food prep that involves tedious knife work
Crushed ice
Cocktails
Frosted icing
DIY facial masks and scrubs
DIY beauty creams
The list is really endless and it depends on your needs and creativity. Be sure to read the manual instruction, though, before trying your recipes. The one thing is clear, having the Vitamix 5200 blender at home is half work done.
Here's a bonus for our skincare lovers:
You can use the Vitamix 5200 to make DIY facial masks and scrubs and even DIY beauty creams!
And the list goes on and on, it depends on your needs and how creative you can get. Just be sure to read the manual instruction to know your blender's technical limitations. Though one thing is clear, having the Vitamix 5200 blender at home is half work done.
Vitamix 5200: Performance Review
I did mention earlier that the Vitamix 5200 can replace several kitchen tools all on its own. And by now, you already know just how versatile the Vitamix 5200 can be. But how efficiently does it actually fulfill these tasks?
Smoothies
In today's fast-paced society, more and more people lean towards healthy smoothies to get their much-needed daily nutrients. It's why a huge chunk of Vitamix consumers are smoothie aficionados. The Vitamix 5200 has been proven to produce flawlessly blended smoothies. Frozen fruits, tough veggies, even nuts or seeds can be blended up, no sweat.
Soup
The Vitamix 5200 (or any Vitamix blender in general) can whip you up a steaming hot soup in less than 10 minutes! It's like magic. It saves you so much time, from prepping to cooking. Just chop up your vegetables, pumpkin, tomato, or what have you, throw it in your Vitamix blender then add some cream and you have yourself a freshly made nutritious soup. Plus, if you think about it, you're only washing ONE THING, the blender itself.
Food Processor
Since the Vitamix 5200 has 10 different speed options, you can also use it to prepare ingredients when assembling meals. It acts as a food processor and it will expertly chop up vegetables, fruits, or even nuts in a short period of time. You can easily use it to make toppings, dressings, or sauces.
Juices
With the Vitamix's ultra-powerful blades, whole-food juicing is as stress-free as can be. It carefully extracts juices and nutrients from your fruits and vegetables so that it keeps all the important vitamins and nutrients that make your juicing more effective. The 5200 can effortlessly break down seeds, skins, or tough fruit or vegetable meat.
Grinder/Mixer
Another well-used feature of the Vitamix 5200, all thanks to its substantial high-grade blades, is the grinder. It works impeccably well with grinding grains or produce to make fresh flour or cornmeal. Once you've made your flour, you can also use the blender to mix and knead the dough for you! Imagine only having to use one jar to make cookie dough, batters, and even cake mixtures.
Our Verdict
When it comes to choosing a powerful blender, the sky is the limit. But if you're looking for a durable machine, the Vitamix 5200 will be a fabulous addition to your kitchen life.
Vitamix Blender Professional-Grade, 64 oz. Container, White
Variable Speed Control: Easily adjust speed to achieve a variety of textures. The dial can be rotated at any point during the...
Large Batches: The size and shape of the self-cleaning 64-ounce container is ideal for blending medium to large batches....
Hot Soup: The blades in the Vitamix container reach speeds fast enough to create friction heat, bringing cold ingredients to...
Last update on 2020-08-10 / Affiliate links / Images from Amazon Product Advertising API
The Vitamix 5200 isn't cheap too, but it's definitely worth your money. A decade warranty and great customer support make it easier to solve any issues you may have with the blender. The majority of Vitamix 5200 buyers are satisfied with their choice and some report their blenders have been working for up to 8 years.
In conclusion, is the Vitamix 5200 worth it? With its durability, versatility, and the thousands of testimonies praising its performance, there's not a single doubt that it is! It's true that the price can be a little intimidating at first but considering the many functions it will serve you in the long run, it's worth every single penny.  If you have multiple tools, you'll have to replace them one by one every few years or so. But with the Vitamix 5200, you have ONE single equipment and it lasts for more than 10 years with proper use and maintenance.