**Disclosure: We recommend the best products we think would help our audience and all opinions expressed here are our own. This post contains affiliate links that at no additional cost to you, and we may earn a small commission. Read our
full privacy policy
here. 
Do bloggers really make money? Wouldn't it be nice to earn money from something that you're passionate about? Do you love cooking, sharing recipes, and experimenting on new food ideas? How much money can you make from a food blog?
I know these questions have been running in your mind so I decided to finally write this post. Start a food blog and make your dream come true! This is one of the best ways to start working from the comforts of your own home. 
But, there's more to blogging than taking mouthwatering pictures of food and creating irresistible recipes. We're here to talk about what happens "behind the curtains" of food blogging and how you can earn from it. I must admit I'm not the most techie person 12 years ago. But with the help of guides and tutorials (and generous people), I was able to start my own food blog.
Now I find it's time to pay it forward. So here I'm laying out a comprehensive step by step guide on how to take the first step in your food blogging journey.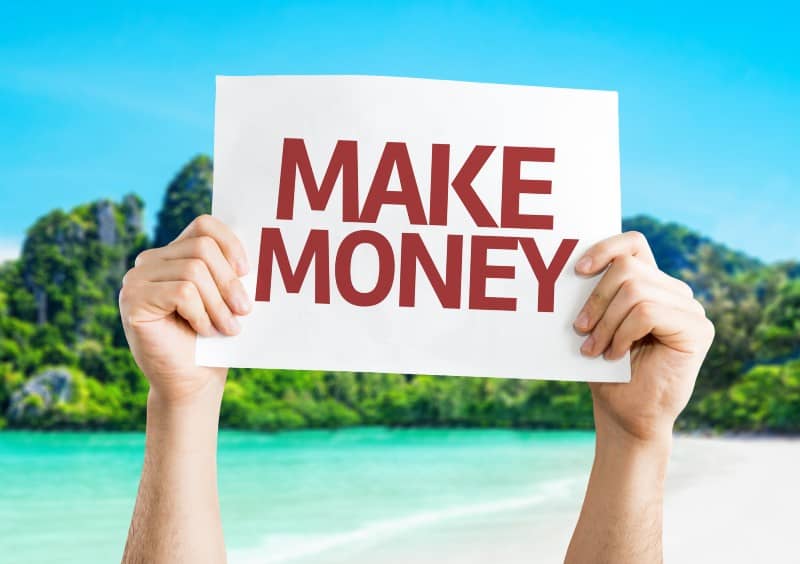 We'll be dividing the guide into three different parts. Let's start with the fundamentals of starting your blog. Next, is the different ways on how to turn your work into money. And last but definitely not the least, is how you'll attract traffic to your blog. 
How Do I Start a Profitable Blog From Scratch?
Pick A Niche
A niche is a targeted topic within a specific market. In this case, we're looking at the many faces of food blogs. Whichever niche you pick will be the central concept of your blog. It depends on what you are most interested in because most of your blog content will be about this topic.  Some sample food niches are baking, vegan food, low carb or keto-friendly meals, DIY pet food, or budget-friendly meals. 
Choose A Name
It will be your brand name across all social media platforms. Make it catchy and easy to remember. It's best if it includes a keyword or if it is related to your chosen niche.
Buy A Domain Name
Once you have the name of your blog, it's time for you to buy it a "home." A domain name is what people will have to type in to get to your website, like facebook.com, google.com, or youtube.com. Namesilo is one of the best sites where you can get your domain name registered for cheap. They offer free WHOis privacy, and renewals are more affordable compare to other name registrars. Their customer support is fantastic as well!
Purchase A Web Hosting Account
When putting up a store, you need a warehouse for all the stocks and files you use to run the business. It's the same with an online business or a blog. You need a place to store the files, images, codes, and other data used to run your website. Kind of like an online warehouse. This is where web hosting comes in. 
There are two types of hosting that you can use for your website: shared hosting and cloud hosting. Shared hosting refers to the style of hosting where you share a server with multiple websites. Cloud hosting doesn't use a single physical server. All your files are stored virtually on a cloud. This type of host is faster, safer, and more efficient. 
Cloudways and WPX Hosting are my top two recommended hosting service for all serious food bloggers.
Install WordPress
WordPress is a platform that offers free website creation and design. Don't worry if you're not too techie as you can fully customize your blog with a simple click. They also have hundreds, if not thousands, of various plugins, themes, and templates that you can use for free. WordPress is the most popular platform when it comes to blogging and wins the votes of SEO-savvy peeps.
Pick A WordPress Theme
How your blog looks like will significantly affect your blog. It's how potential readers will perceive you. Selecting a theme is crucial as it will be the visual representation of your whole blog. That said, don't waste your time on this step. Pick one you like and move on to the next step. You can always change it anytime!
Your theme should be compatible across different devices: desktop, tablet, and phone. Most of the themes these days are already mobile-friendly.
Astra is a free WordPress theme that is so popular with bloggers and business owners. I love it so much I bought the paid version. Choose from multiple header layout options, different color schemes, and a wide array of fonts. Astra is also compatible with tools like Elementor, one of the best free WordPress Page Builder plugins available.
Elementor lets you design and customize your blog and make eye-catching landing pages. It uses a drag and drop technique to build your page. This means you can DIY your website design without the help of a professional.  I find the templates for important pages and parts on your blog such as About Page, Contact Us, footer, header layout, and landing pages very helpful. You can produce a professional-looking site in no time. Tiny Kitchen Divas is made using Astra + Elementor Pro.
Another most sought after WordPress theme is Generate Press. It's a lightweight theme that's only less than 30KB. This means it has a small online footprint resulting in great loading speed for your site. It is search engine optimized. Anyone doing website building for a long time knows how speed is important in ranking your site.
When looking for the best WordPress Theme while you are still testing the waters, it's okay to start with a free version. Then as you grow and earn, start upgrading to premium. It's also important that your WordPress theme provides technical support assistance in case you encounter any issues.  So if you can afford it, grab the premium version right at the start as the investment is very minimal.
Setup Google Tools
Among the first things you need to do is creating a business email account. It is best practice to separate all your blog-related emails from your personal email account. You will use this business email to sign up for various tools that you will be needing for the blog. The top used tools for blogging are Google Analytics, Google Adsense, and Google Search Console.
Google Analytics is a free digital analytics software within the Google Marketing Platform that helps you analyze the traffic reached by your website. It provides reports obtained from how your readers engage your site.  This gives you an insight into what parts of your blog needs improvement. Google Analytics also helps you track your website's performance according to its online presence. This is best used by beginners to help them understand and measure your blog's traffic.
Google Adsense is one of your main keys to earning money from your site. It matches ads according to the content of your blog. These ads come from businesses promoting their products online. Google Adsense will pay you depending on your blog's views and how they engage with the ads on your site. 
Google Search Console will be one of your best friends on your blogging journey. This free Google service helps you in maintaining and monitoring your website's performance in the magical world of Google Search results. It helps you identify what topics make your site pop up on the results and how often.  Or how often your blog gets selected and clicked on when users are querying for something specific. It also alerts you when Google comes across any issue on your sites, such as indexing or spam. 
Install WordPress Plugins
WordPress plugins will help you a lot when building your blog. They provide additional features that are not included in your theme. Especially when you're just starting and is using a free version. Here's some of the WordPress Plugins you shouldn't miss:
Yoast SEO – Yoast is one of the top tools used by bloggers and for a good reason. This plugin works hand in hand with Google Analytics and Google Search console in ensuring that your content is easily searchable on Google and other search engines like Bing, Yahoo, or Baidu.
Akismet – This plugin detects and blocks spam comments from flooding your blog. You don't want to be scrolling through your comments section for new food suggestions and you get bombarded with comments telling you to visit various links that redirect to a sketchy website. 
Pinterest Pin It Button – Pinterest is one of the best social media channels to promote your blog. A lot of foodies hang out on Pinterest to look for new recipe ideas. So, having a Pin it button when scrolling on your blog's images will make it easier for your readers to save your recipe for later. 
Tasty Recipes – Another must-have for food bloggers, is the Tasty Recipe plugin. This is one of the smartest investments you can make for your blog. It has a user-friendly interface that lets you easily customize how your recipe card will look like. This premium plugin also includes ads related to your content, giving you more ways to monetize your blog. It also improves your user engagement as Tasty Recipes allow them to rate your recipes. The plugin also has an amazing technical support team that can assist you while working with it.
Google XML Sitemaps – This plugin helps search engines better index your site by creating a special XML sitemap. It also sends notifications to search engines like Google, Bing, or Ask.com whenever you upload new content on your blog. It's been tried and tested for the last 9 years and is guaranteed to work. Overall, Google XML Sitemaps helps improve your site's online presence.
Subscribe to Comments Reloaded – Another highly rated plugin is Subscribe to Comments Reloaded. It allows your site commenters to sign up for email notifications when you reply to their comments. It's also available in about 18 languages so you can communicate with your readers around the globe! 
There's a lot of other plugins that you can use if you want to add a specific feature on your website. They are mostly free, just make sure to carefully research them first. There are also premium ones that allow you to do specific functions or have special features for your blog. Just make sure your layout will still be easy on the eyes, and not too overpopulated with certain buttons or pop-ups that can be bothersome for your readers.
Part 2: How to Attract Traffic To Your Food Blog
Now that you know the fundamentals of setting up your website, it's time to bless the world with your blog's existence! The more people visiting your site, the more $$$ you generate. Talk about win-win situations, am I right? 😉
Get Familiar With SEO Keywords
One of the main skills that you must learn to drive traffic to your site is SEO, particularly how to use keywords or keyphrases around your niche and incorporate them into your content. To put simply, keywords are what people type in their browser's search box when they're looking for something. As such, when you write your content around these keywords, there's a higher chance that they will come up top when the user hits that search button. 
Next step is to make a long list of related keywords that you want to use on your site. The best way to do this is to use keyword research tools. Ahrefs and SEMrush are among the commonly used keyword generators by a lot of online businesses to improve their site's online presence. 
Ahrefs is a digital marketing analysis tool that is popularly used for its keyword explorer tool. It has a broad database of more than 8 billion queries. The site offers different ways to search and analyze the keywords that you are interested in using. There are different filters you can use to help you formulate a more specific list. It also lets you find relevant long-tail variations and subtopics of your target keywords.
Another SEO Tool dominating the content marketing industry is SEMrush. It is a powerful tool that lets you analyze your competitor's online presence. Other than helping you build your keyword list; you can also track your competitor website's keyword strategies. This content marketing tool is used even by business giants such as Forbes, Paypal, and Hyatt. Like Ahrefs, SEMrush gives you an edge when it comes to your site's online visibility by providing relevant keyword variations.
Build An Email Marketing List
This is one of the first things you need to do as soon as you publish your blog. An email list allows you to interact with your site visitors to keep coming back and read your posts. Usually, a reader will only end up on your site when they search for a certain keyword and your content comes up on the list. When you have an email list, they can subscribe to receive notifications when you post a new recipe. Therefore, it drives them to become regular visitors to your website. 
Using email marketing providers such as Convertkit and Mailchimp, you can put sign up forms on your blogs. Some content creators offer freebies or treats to entice their site visitors to subscribe to their blog. It can be exclusive access to an ebook or a short video course that you published. Or create some subscriber-only content. Or even access to printable copies of your top-rated recipes! This will surely help you in growing your email subscriber list, and your blog traffic at the same time. 😉 
Make A Youtube Channel for Your Blog
What better way to engage foodies to your site but to show them how it's done? Creating a Youtube channel allows you to make video recordings of you making the food and add them to your page. This will make it easier for the readers to follow your recipes. Youtube is also one of the major search engines right next to Google. Thus, this not only improves your user engagement but also your website's online presence in general. This can help your site go up the top search results, attracting more users to read your blogs.
Grow Your Social Media Following
In this modern era, social media is your best weapon when it comes to advertising your newborn site. Create different social media profiles for your blog. Utilize Pinterest, Facebook, Instagram, and even Twitter to promote your content. Invest time in making all your social media platforms conform to a consistent visual scheme. If it means resizing your cover photos, logos, and profile pictures across different socmed sites, then so be it. Proper site maintenance and time management is a crucial key in making all these happen, but it sure is worth it.
Social media platforms not only give you free advertising but also help you interact with your readers. Make it "homey" for your visitors to feel like there's a real person behind the pages. Turning visitors into happy campers matter a lot in increasing your website's traffic. I believe in the power of "word of mouth advertising". If they are happy with your content and experience in interacting with you, there's a high chance of them promoting your blog to their friends!
Food blogs do well on Pinterest. In fact, many food bloggers main traffic source is Pinterest. I suggest you check it out first before exploring other social media platforms.
Part 3: How To Get Your Food Blog Monetized 
You have a working site and a long trail of subscribers. Now it's time to learn how to reap what you sow! There's a multitude of ways how you can earn money from blogging. These are some of the surefire ways you can earn through your blog:
Display Ads On Your Page
As discussed earlier in Part 1, Google Adsense finds ads relative to your blog content and display them on your site. It is one of the ways you can earn passive income. Google Adsense pays you for both Cost per click (CPC) and Cost Per Mille (CPM).  There are also ad networks such as Mediavine, Ezoic, and Adthrive that offer better earnings vs Adsense. Monumetric is a similar ad network except that it allows smaller bloggers to join, requiring only 10K pageviews per month to join.
Earn Through Affiliate Marketing
This is my favorite and the one that has allowed me to earn me six figures for the past years. Find related products related to your content and would be useful for your audience. As a food blogger, the most commonly used affiliate products are either kitchen equipment or food. Then find websites and eCommerce stores that offer affiliate programs. The best example of this is the Amazon affiliate program. Add the link to the products on your recipe or blog post. Then you will get a commission every time one of your page visitors purchase the said product using your link. 
Create Your Own Merchandise
Most bloggers who have an established patron list started creating their own merchandise. This includes but not limited to mugs, t-shirts, cookbooks, small kitchen tools, and the like. You can start holding paid cooking/baking workshops or downloadable ebooks and audiobooks. You can also offer paid subscriptions to exclusive content on your site.
Create Your Own Digital Products And Printables
This is another lucrative way of monetizing your audience. Once you establish yourself as an authority in your niche, you can start creating digital products to offer your audience. You will know what to offer by tapping on their questions and pain points. You can even ask them about their struggles. Most successful bloggers that I know sell printables, pdf guides, and worksheets and make good money!
Connect With Brands
Last but not the least, do not hesitate to reach out directly to brands with products that can be related to your content. This not only gives you the opportunity to earn money, but it also increases the credibility of your site. Partner with a brand and write sponsored blogs about their product. Can you imagine being paid for promoting a product you love? Awesome, right?
And there you have it! That's all the basic tools and sites you will need to start up your journey as a food blogger. Starting a food blog is a fun, and exciting journey. But like every dream, it requires hard work and patience. You must plan it well, do your research, and be consistent. Hard work pays off! Remember to treat it as a business and be consistent with your efforts.
Piece of advice: Do not expect to earn a lot of money right away. Do not make money your motivation for writing and sharing your passion for food, remember to have fun! It takes a lot of time, effort, trial and error, some rejections here and there. It doesn't mean that you're failing. It means that you are learning and growing.
Following all these steps will help you but your determination and consistency are what will make you successful. Keep these in mind, and you're now ready to share your content with the world! Much love ♥♥♥