I don't know about you, but for me? Nothing beats a sweet and tangy BBQ beef short ribs on a good day. Don't you love the aroma it leaves in the kitchen while it's cooking? Mouthwatering for sure. This is a dish I enjoy making for any occasion, no matter what season it is.  
Tip: No available beef short ribs at the moment? Intrigued if this recipe can work with beef back ribs as well? Read our Beef Short Ribs vs Beef Back Ribs blog post to find out.
These gorgeous beef short ribs are among the most common types of ribs you typically see at your local grocery store. They are the remnants after a butcher chops off a brisket, plate, or chuck portion of a cow. They have more meat and give out more flavor than other rib portions. This is why beef short ribs are also a little pricier than other cuts.
Sweet and Spicy BBQ Beef Short Ribs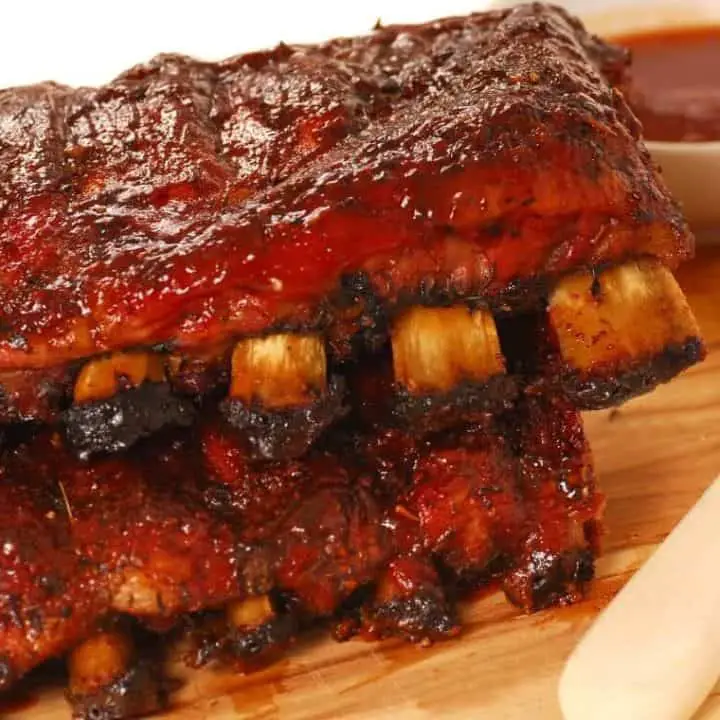 Sweet and Spicy BBQ Beef Short Ribs
Additional Time:
30 minutes
Total Time:
4 hours
20 minutes
Easy BBQ Beef Short Ribs packed with various spices and herbs. Perfect smokehouse flavor without the need to fire up a grill, you can make this right from your oven.
Ingredients
For the BBQ Sauce:
2 tablespoons olive oil
¼ yellow onion, finely chopped
2-4 garlic cloves, finely chopped
1 teaspoon kosher salt
1 tablespoon black pepper, cracked
2/3 cup brown sugar
1/2 teaspoon garlic powder
1 teaspoon smoked paprika
1/2 teaspoon dried ground thyme
1 tablespoon yellow mustard
1 tablespoon Worcestershire sauce
2 tablespoons apple cider vinegar
2/3 cup ketchup
For the BBQ Rub:
1 teaspoon smoked paprika
1 tablespoon ground cumin
2 teaspoons cayenne pepper
1 teaspoon mustard powder
1/2 teaspoon garlic powder
1 teaspoon kosher salt
1 tablespoon black pepper, cracked
1 tablespoon dark brown sugar
Instructions
Make the BBQ rub. Combine the smoked paprika, ground cumin, cayenne pepper, mustard powder, garlic powder, salt, pepper, and sugar in a small mixing bowl. Mix thoroughly and set aside. 
Prepare the short ribs. Rinse the ribs and dry them with the paper towel. Now get a 9 x 13-inch baking pan and arrange the ribs in a single line. Pour the BBQ rub liberally over the ribs and make sure every rib is coated all over. Cover and marinate in the fridge for at least an hour to overnight.
Prepare to roast. Take the ribs out of the fridge 20 to 30 minutes before you start cooking. Preheat the oven to 300° F while the ribs are resting. 
Make the BBQ Sauce. Heat up olive oil in a medium saucepan over medium heat. Sauté garlic and onion until they are translucent.  Reduce to low heat and pour yellow mustard, Worcestershire sauce, apple cider vinegar, and ketchup. Then slowly add kosher salt, black pepper, brown sugar, garlic powder, smoked paprika, dried thyme, and whisk until it's fully incorporated into the wet ingredients.
Once you get your desired consistency, turn the heat off. Let the sauce cool for about 30 minutes.
Assemble the short ribs. Pour the cooled BBQ sauce over the ribs. Leave a little sauce on the side for basting and to serve on the side of the ribs for later. Lightly toss them around to make sure each piece is generously coated. Cover the baking pan with foil and place it in the center rack of the oven. Leave to roast for 2 ½ to 3 hours.
Remove the cover and brush with BBQ sauce during the last 30 minutes of cooking. 
Let it rest. Once the internal temperature of the thickest part of the beef reaches 203° F, take them out of the oven. Let it rest for 30 minutes to an hour before serving.
Nutrition Information:
Yield:

4
Serving Size:

1
Amount Per Serving:
Calories:

1650
Total Fat:

110g
Saturated Fat:

47g
Trans Fat:

6g
Unsaturated Fat:

63g
Cholesterol:

454mg
Sodium:

1839mg
Carbohydrates:

51g
Fiber:

2g
Sugar:

42g
Protein:

118g
Frequently Asked Questions About Making BBQ Beef Short Ribs:
Do You Cook Short Ribs Bone Side Down?
Yes. I always ook Beef short ribs with the bone-facing down. This is so that the meat doesn't get overcooked since it's being cooked low and slow.
What Temperature Should Short Ribs Be Cooked To?
The ribs should be cooked slowly in low heat until they reach an internal temperature of 203° F. This is to keep them from being dry and tough. I always go with 300° F then cook it for 2 ½ to 3 hours. I also make it a habit to check the temperature of the ribs after the first 2 hours to see if they need more time in the oven. 
Should I Trim Beef Short Ribs?
Yes. I only remove the thickest layer of external fat of the ribs. I use a sharp knife to trim the surface fat from the rib. There's no need to remove any of the internal layers as it will ruin the rib and cause it to fall apart.
Are you excited to make your own version of BBQ beef short ribs? If you need more of these savory recipes please check out our posts on how to cook beef ribs on the grill and how to cook roast beef in air fryer. I'd be delighted to hear (read) about your tiny kitchen stories, so don't be shy and leave a comment below! Much love, ciao! ♥