Do you ever find yourself in the middle of the daydreaming of juicy, fall of the bone grilled beef ribs? You do? Me too! Let me share with you my favorite way of how to cook beef ribs on the grill. Just imagine sinking your teeth into that slightly charred bark and that oh so tender beef. I'm quite sure this is what meat heaven is made of.
How I Make My Smoked Beef Back Ribs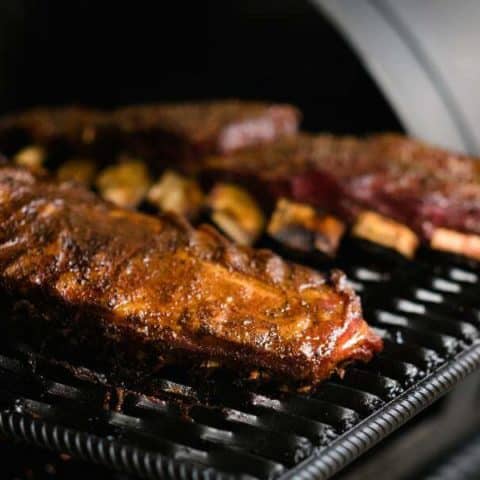 Quick and Easy: Mouthwatering Beef Ribs on the Grill
Additional Time:
30 minutes
Total Time:
7 hours
30 minutes
Feel like a seasoned Pitmaster with my homemade Smoked Beef Back Ribs recipe.  It's simple yet guarantees juicy, smoky Beef Back Ribs right off the grill.
Ingredients
2 racks Beef Back Ribs
3 tablespoons yellow mustard
2 tablespoons black pepper, crushed
2 teaspoons coarse sea salt
1 tablespoon garlic powder
1 teaspoon onion powder
1 teaspoon celery powder
2 teaspoons smoked paprika
1 teaspoon cayenne pepper (optional)
Instructions
Prep the beef back rib. Rinse the rib and completely dry by patting it down with a paper towel. Use the sharp end of the knife to lift a corner of the thin membrane at the back of the rib. Then using a paper towel, grasp the lifted corner and pull it off the rack. You can also ask the butcher to do it for you.
Make the BBQ beef rub. Get a small mixing bowl and combine black pepper, sea salt, garlic powder, onion powder, celery powder, and smoked paprika. You can also add an extra teaspoon of cayenne pepper to make it a tad bit spicier.  
Season the rib. Spread mustard evenly all over the rib. This will help the rub cling better to the meat. Now generously apply the rub on it and massage it with your hands for it to adhere. This makes the most amazing dark bark on your grilled ribs.
Let it marinate. Transfer the rib into a baking sheet and cover with foil. Put it in the fridge for 4 to 12 hours to marinate. Take the seasoned rib out at least 30 minutes before putting it in the grill. At this point, you can sprinkle it a little more with dry rub.
Prep the grill. While the rib is resting, it's best to start preheating your grill or smoker to 225° F. I personally prefer using Post Oak wood for a more authentic Texas Smokehouse flavor. You want to place the wood on one side of the grill and reserve the other half for the rib.
Let it smoke! Place the rib directly on the grill away from the burning wood.  Close the griller lid and leave it to smoke for the next 3 hours.
Check the temperature. After 2 hours, take the temperature of the rib with a meat thermometer. If it shows anywhere 160° to 165° F, then wrap it in butcher paper. You can use foil too but it softens the bark. Then place it back in the smoker for another 1 to 2 hours.  After the first hour check the temperature again. We're looking for anywhere between 203° to 210° F. 
Rest and serve. Once you get the desired temperature and tenderness of the rib, take it off the grill and unwrap it. Let it rest for 30 minutes to an hour before you slice and serve it with your favorite side dish.
Nutrition Information:
Yield:

4
Serving Size:

1
Amount Per Serving:
Calories:

185
Total Fat:

12g
Saturated Fat:

4g
Trans Fat:

0g
Unsaturated Fat:

6g
Cholesterol:

46mg
Sodium:

1223mg
Carbohydrates:

6g
Fiber:

2g
Sugar:

0g
Protein:

14g
TIP: No Oven, Nor Time to Grill? Not a problem, we have beef ribs recipe with slow cooker too.
Frequently Asked Questions About Grilling Beef Back Ribs:
Should Ribs Be Smoked Bone Up Or Down?
I smoke the ribs bone-side down in the smoker. If you put the meat-side down, all the juices will go to waste. You also risk of drying the meat.
How Do You Know When Beef Back Ribs Are Done?
You'll know that the beef back ribs are done when the meat pulled back at least ¾" to 1" from the bones. You can also use a meat thermometer and if it reads anywhere from 203° to 210° F, then they're done. What I like to do is to try and poke it with tongs and the meat feels flexible but not to the point that they fall apart.  
How Do You Keep Ribs From Drying Out On The Grill?
There are multiple methods I use to keep the ribs moist while smoking them. First is wrapping them in butcher or foil. Second, you can put a drip pan with water or apple juice under the meat to add moisture while smoking the meat. Lastly, you can brush it with BBQ sauce or glaze towards the last 30 minutes that it's on the grill. 
And there you have your failproof Smoked Beef Back Ribs! It seems like a lot of work, but I guarantee that once you take that first bite – it's absolutely worth it! If indeed time is of constraint learn ways in cooking beef ribs in oven. In case you have in stock some of Beef Short Ribs in your fridge, this post on Low and Slow BBQ Beef Short Ribs is for you too.
Feel free to leave a comment below and let me know what you think about this recipe. Much love, ciao! ♥