This chicken brie panini with spicy peach compote is our family's new favorite brunch or snack! The gooey, creamy brie cheese works well with the spicy peach compote and tart arugula. It gives the perfect balance of healthy and tasty. What a way to start your day, right?
This sandwich is very easy to make, it only takes 20 minutes to make at least 4 sandwiches. I won't lie, I'd have this any time of the day and any day of the week. This is one of the best sandwiches I've made if I do say so myself.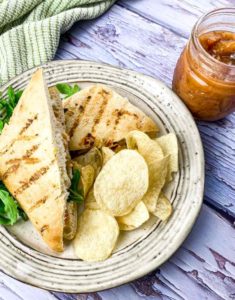 I serve this with extra peach compote on the side because the hubby likes dipping the sandwich in it. For the kids, I usually serve it with potato chips! They love the added crispiness that it gives. 
I always go with rotisserie chicken breast; it just ties all the flavors together. However, if you don't have any leftovers, you can use chicken breast from the nearest deli counter to save time. You can also use mustard greens or fresh basil if arugula is not your thing.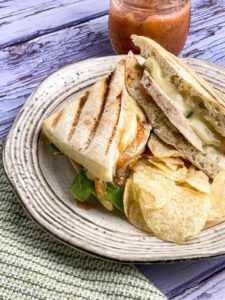 You can switch between ciabatta, baguette or sourdough. They take the heat well when I put them on the grill pan or panini press to toast. If you don't have either, you can also use a cast-iron skillet. If you're using ciabatta, it's best to cut it in half before you start to assemble it as it will be trickier to slice it later. 
I know this sandwich sounds like a dream already, but do you know it's filled with nutrients too? It's rich in protein from the brie and chicken. While the peach compote and greens are packed with various vitamins and antioxidants. This means it not only taste good, but it will also good for your body!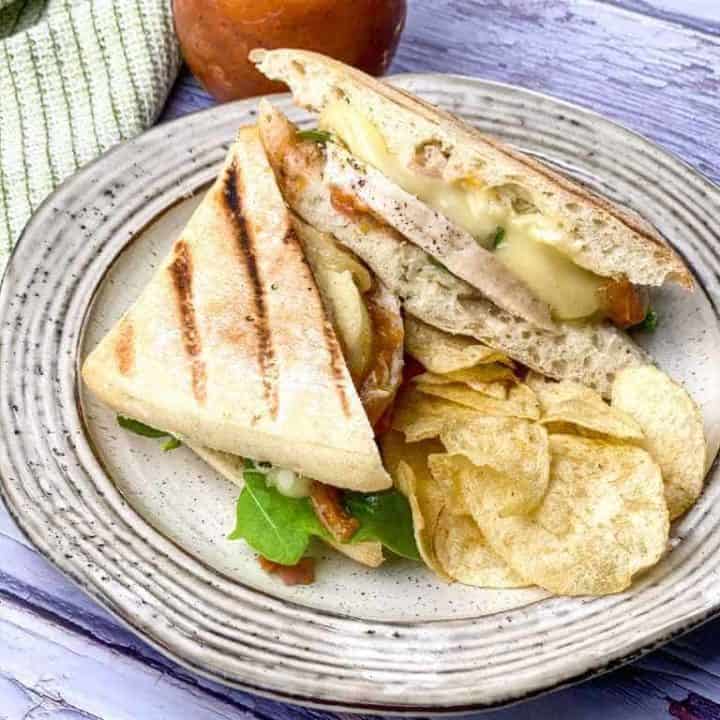 Easy Chicken & Brie Panini with Spicy Peach Compote
A harmonious combination of velvety melted brie, peppery arugula, savory peach compote, and protein-filled chicken breast. All sandwiched between two crispy, toasted ciabatta rolls.
Ingredients
½ cup of homemade peach compote
4 slices of ciabatta rolls
1 cup fresh arugula
1-pound boneless chicken breast, cooked
4 ounces Brie, rind removed and sliced
1 bag Potato chips, to serve on the side (optional)
Instructions
Get a dry teaspoon or jam spreader and evenly spread the peach compote on both halves of the ciabatta roll.


Make sure to cover every inch so that you can taste it on every bite.


With the peach compote side up, grab a handful of arugula and pile it nicely on top of the compote.


Then add the chicken breast and brie slices.


Cut the chicken and brie evenly as much as you can so your sandwich will not tip over when you start toasting them.


After assembling the panini, cut it diagonally to make it into two triangle sandwiches.

This is optional but it makes the sandwich easier to eat. This also makes them easier to store should there be any leftovers as one half of this can already be filling enough.


Over medium heat place a large grill. After about 3 to 5 minutes, sprinkle it with water to make sure it's hot enough then transfer the sandwiches. Do not overcrowd the pan as you will find it hard to move the sandwiches around and flip them later. 


Using a grill press or spatula, press the sandwiches down so that they get better contact and toast evenly. Hold it down for approximately 4 to 5 minutes. Once they are toasted, carefully flip the sandwich to toast the other half for about 3 to 4 minutes. Repeat this on the rest of the sandwiches.


Once the sandwiches are toasted and the brie started melting, remove them from heat and transfer to a plate. Best served immediately with potato chips on the side. Buon Appetito!
Nutrition Information:
Yield:

4
Serving Size:

1
Amount Per Serving:
Calories:

448
Total Fat:

18g
Saturated Fat:

7g
Trans Fat:

0g
Unsaturated Fat:

9g
Cholesterol:

125mg
Sodium:

489mg
Carbohydrates:

25g
Fiber:

2g
Sugar:

4g
Protein:

45g
So, what are you waiting for? Try this easy chicken and brie panini with spicy peach compote recipe out and I swear on the sandwich Gods, you won't regret it! You'll be enjoying a fresh gourmet sandwich at the comfort of your home. Let me know what you think in the comments below. Much love, ciao! ♥