When was the last time you had a barbecue? Not being able to go out because of the pandemic shouldn't be an excuse. Not owning a grill shouldn't be one either.
If you're the type that wants things done fast, you probably have an induction hob. And I kid you not when I say that that's more than enough for a party!
Just get the best grill pan for your induction cooktop to bring the party indoors. That lined surface makes sure that your food is grilled and not stewing and simmering in oil.
With the right induction griddle, there'll be plenty more types of dishes to cook. Meals at home just won't be the same, and in the best ways too.
Best Grill Pan For Induction Cooktop Side By Side
Last update on 2023-02-22 / Affiliate links / Images from Amazon Product Advertising API
What Should You Consider In A Grill Pan With An Induction Base?
Pan Type
This factor is mostly affected by your induction cooktop width and burner diameters. Conventional pans are either round or square, but flat plates take up a lot of space. They will need more than just one burner.
If your cooktop is extremely sensitive, make sure that your chosen pan fits snugly onto your burners. You wouldn't want your pan to go to waste just because your cooktop can't sense it.
While flat plates are a bit difficult to fit into an induction cooktop, they give you a bigger grilling space. Some of them are reversible too, making it possible to choose between smooth and ribbed surfaces.
Surface Material
There are, generally, two types of grill surfaces — ones made of cast iron and others with a reliable nonstick coating.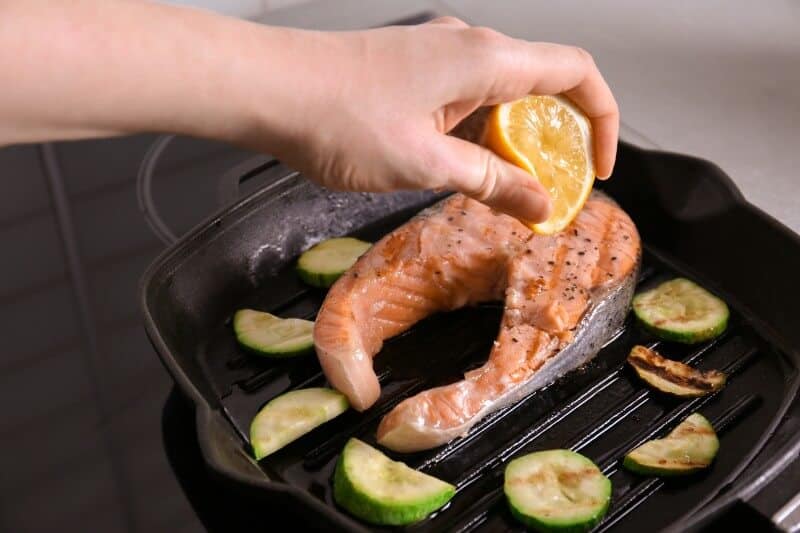 Cast iron surfaces are able to maintain heat longer than nonstick pans. This allows them to cook steak or grill burgers more evenly. However, they do take a while to heat up.
Cast iron pans are usually heavier than other types as well, so they are in danger of scratching or, worse, cracking fragile ceramic cooktops.
Nonstick or ceramic pans, on the other hand, are lighter and good for mobility. They also require less drying and less oiling, so they are much easier to clean. However, they are usually best used over medium heat, because we could run the risk of ruining its coating at extreme temperatures.
Cast iron pans are usually cheaper too, so if you prioritize saving a couple of bucks, it's best to go with cast iron surfaces.
Base Material
Bases are extremely important because they dictate whether or not a pan will be compatible with your induction cooktop. Safe bets are made of cast iron, stainless steel, or anodized aluminum.
Cast iron is, again, the most affordable option, while stainless steel is the most dishwasher-safe and the high-end option.
Handle
Flat pans usually come with two grip handles on both sides, while conventional pans will come with a long handle. You will want to purchase your own silicone covers or hand mitts if these handles aren't already covered with an insulating material like plastic.
Metal handles will conduct heat very fast and could scald you if you don't protect yourself. Some handles are detachable, so you can always be on the lookout for pans with removable handles if you have relatively less storage space in your kitchen.
Design
Griddles are great because they allow you to grill your food without letting it drown in fats and oils. However, if you only like grills for the beautiful sear marks they impart on your meat and sandwich, then getting pans with low ridges will be just fine.
If you're buying a pan, don't just look at color and aesthetics, check drainage as well as the grill lines and see whether or not they'd be great for your cooking style. Pans with 5 mm ridges are usually the standard.
Size And Weight
The size of your pan will depend on the diameters of your cooktop's burners. Make sure that your pan isn't too big, so that your cooktop is able to accommodate more than just one vessel. However, don't buy one that's too small, especially if you're the type to cook for many people.
Consider weight when purchasing a pan too. Cast iron griddles can be quite heavy, so steer clear of them if you have a hard time cooking with a heavy pan.
Benefits Of Cooking In A Grill Pan
Grill pans are absolute game changers. They allow you to cook above fat, because the ridges separate your food from the unnecessary oils. If the center is slightly elevated, the oil even drains to the sides.
Griddles also have great heat retention, so you're able to cook meat very evenly. They're perfect for barbecues, steak night, or even the casual afternoon sandwich.
No other pan will give you perfect sear lines too. I know they don't add to taste, but I can't be the only one thinking about how much more appetizing they make your burgers look.
Finally, a grill pan brings the party indoors. Not even the rain could stop your barbecue now — not when you have the perfect grill pan for your induction cooker.
Tips And Precautions
If you ever decide to go with a nonstick grill pan, make sure that it is free of lead and perfluorooctanoic acid (PFOA). Avoid using metal utensils if you choose a nonstick pan, as these could ruin the coating. Use medium heat at maximum to preserve a nonstick pan's coatings.
There's no need to oil your pan excessively, especially if it's ceramic or nonstick. Spraying or brushing oil onto meat, fish, or vegetables is enough as natural oils come out while your food is cooking. This also lessens smoking at high temperatures.
If you'd like to achieve the perfect sear marks, grill your meat at 45 degree angles.
10 Best Grill Pans For The Induction Cooktop In Your Kitchen
CS Koch Systeme starts the list off strong with the CSK Nonstick Grill Pan. This square griddle has a hard-anodized aluminum interior and a granite-coated exterior which ultimately make for a very sturdy, anti-scratch pan.
Last update on 2023-02-22 / Affiliate links / Images from Amazon Product Advertising API
Its ridges are high enough to keep excess grease away from your food, but its thoughtful spout design is what really won me over as it helps drain oil more conveniently. The stainless steel bottom heats up quickly too, so less time and energy is needed to prepare meals!
This grill pan comes in two sizes, 10 and 11 inches, and weighs approximately 3.5 lbs. While the smaller option does not feature ridges, it comes with a glass cover. This allows you to fry or keep things at a simmer if you choose.
With the CSK Grill Pan, you won't be limited to steaks and pork chops. Its nonstick surface is perfect for pancakes and grilled sandwiches too!
Just be careful about the heat levels you expose the pan to. Extremely high temperatures could shatter the glass lid or damage the coating, so it'd be best to use medium heat for this griddle.
Affordable buys don't always mean having to make compromises. Sky Light gives you an option that's both light in your hand and for your wallet. This 11-inch grill pan is made of high quality cast aluminum, thus making it incredibly lightweight.
No products found.
Its foldable wooden handle makes it easy to bring and lessens the possibility of scalds too. The pan combines both the corrosion resistance of aluminum and the heat conductivity of cast iron, giving you a very durable grill pan.
Its ridges cover a significant amount of the surface too, allowing you to grill more food at the same time. Heat is distributed evenly across the pan, so you can worry less about burning pieces in the middle and undercooking those on the edges.
I do find the oil drain design a bit odd though. The cuts on both sides are too shallow to be effective spouts, so oil may just drip down the pan's sides if you don't tip it over enough. Still, these don't make for big deal breakers, especially if you're looking for a portable grill pan with an induction base.
The GreenPan Valencia Pro is a beautiful round gray pan with two handles. Its hard anodized body uses Magneto Induction Technology which ensures base stability and perfectly even cooking, searing, and grilling.
Last update on 2023-02-22 / Affiliate links / Images from Amazon Product Advertising API
Its interior takes things a step further with Thermolon Minerals Pro, GreenPan's innovative ceramic nonstick surface which is safe to pair with metal utensils. It also enhances heating capability, so that food is cooked faster and more evenly.
Despite its 11-inch diameter, this grill pan weighs only 1.4 lbs, making it quite portable. It is also oven and broiler safe, withstanding up to 600°F; so baking and broiling healthy meals are never out of the question with this GreenPan offering.
Perhaps the only con to the Valencia Pro are its stainless steel metal handles. Make sure to wear mitts while cooking or taking the pan out of the oven to avoid accidentally burning yourself.
The first reversible option on this list is the NutriChef Cast Iron Grill Plate. This 18-inch pan is a griddle on one side and a flat, smooth skillet on the other. With a pan this size, it almost feels as if you've got an induction cooktop with a built in griddle.
Last update on 2023-02-22 / Affiliate links / Images from Amazon Product Advertising API
This reversible grill plate may be made from cast iron, but it also has a nonstick surface. That said, you'll be needing less oil and butter for the food you cook, resulting in healthier meals.
The grill plate can be exposed to up to 480°F, so you can easily cook your breakfast on the skillet and turn it upside down for steak night! However, make sure that your induction hob can fit this wide, heavy plate.
It weighs nearly ten pounds, so be careful not to bang it on your glass cooktop. Lucky for us, NutrifChef provides us with silicone holders so we don't get burns and accidentally let go of the grill plate.
Cuisinart offers a gorgeous enamel induction grill pan in provencial blue. This pan is only 9.25 inches wide, but its grill lines cover a substantial area and make up for its size.
Last update on 2023-02-22 / Affiliate links / Images from Amazon Product Advertising API
It's made of cast iron, but it also has a porcelain enamel-coated interior and exterior. This imparts a durable and brightly colored finish which would complement any kitchen theme. Its interior also does well to cook food fast and evenly.
This grill pan is oven and broiler-safe, too! Given its versatility, there'll be plenty more things you'll be able to cook. It's the perfect size for two, so you can try your hand at single-pan recipes like skillet pasta or baked rice meals. There'll surely be enough for a dinner date or a small family.
Cast iron is usually difficult to wash, but Cuisinart's Square Grill Pan is dishwasher safe and very easy to clean and maintain. It's light too, weighing only one pound, so you can start practicing cool flipping tricks to match this fancy Cuisinart induction griddle you'll be glad you added to your collection.
Like Sky Light's Portable Nonstick Grill Pan, Gourmex uses cast aluminium for the Toughpan. However, this pan is different in that it has a titanium-based coating and a solid handle.
Last update on 2023-02-22 / Affiliate links / Images from Amazon Product Advertising API
The Gourmex pan is built with heavy-duty cast aluminum, but at two pounds, is still lighter than most cast iron pans. It also uses a stone-derived coating that helps achieve nonstick capability while being absolutely PFOA and APEO free.
This pan is pretty straightforward, but it's made with quality materials that ensure a long-lasting product. It's perfect for your choice of fish or meat, leaving enough room to cook a side dish. Vegetables will grill perfectly without burning or sticking too.
What I don't love, however, are the same shallow oil draining spouts it sports as Sky Light's grill pan. Its exterior coating also tends to shed after multiple uses on high heat.
So, like most coated pans, it's probably best to use it over medium heat. Still, this square Gourmex griddle is definitely one of the toughest you'll see on the market.
The square Cuisinel Cast Iron Grill Pan is another versatile addition to your kitchen as you can use it on stove tops, in ovens, and on your induction hob. It's made of premium cast iron, so it's sure to last a long time too.
Last update on 2023-02-22 / Affiliate links / Images from Amazon Product Advertising API
This ribbed skillet has quite the heightened ridges. This makes it perfect for thick steaks and burgers. Heat distribution is top notch, so you can cook fish and meat evenly and faster, too.
Like the CSK Nonstick Grillpan, this comes with a glass lid. It is only 10.5 inches wide, but it has enough space to cook a lot of pieces simultaneously. It has ample spouts for oil draining too.
I especially appreciate how Cuisinel has added a silicone grip to the package; otherwise, we'd be burning our fingers because of their highly conductive cast iron handle. Given this pan's superior craftsmanship, I'd suggest it to anyone who misses the classic outdoor grilling experience.
The S.Kitchn Grill Pan is made of cast aluminum and features a folding handle. At first glance, it reminds me of the Sky Light Nonstick Grill Pan, but the similarities end there.
Last update on 2023-02-22 / Affiliate links / Images from Amazon Product Advertising API
This pan is a bit heavier than Sky Light's, because S.Kitchen has chosen to use heavy-gauge hard-anodized die-cast aluminum to ensure excellent heat conduction and even cooking. Its collapsible handle, on the other hand, is made of bakelite. Altogether, the pan just weighs 2.7 lbs, which is still significantly less than most cast iron options.
The S.Kitchn grill pan also comes in three dimensions: 9 inches, the standard 11 inches, and a large 13×9 inches. This last option is especially great for family barbecues that have to take place indoors. The pan can withstand up to 500 °F, so there's nearly no limit to what you can cook.
However, the bakelite handle restricts you from using this pan for any oven-related recipes. The handle would warp or melt if you ever tried.
If you decide to buy a griddle, though, I'm positive that you intend to use it more for grilling than for baking. So, that shouldn't be that big of a bummer!
The Eslite Life Nonstick Grill Pan is a gorgeous granite-coated grill pan with a solid wooden handle. It has a reinforced die-cast aluminum body, so it's break resistant and a great heat conductor too.
Last update on 2023-02-22 / Affiliate links / Images from Amazon Product Advertising API
This pan comes in 9.5-inch and 11-inch options, but what really sets it apart are its built in partitions. They're game changers, especially if you're the type to cook a variety in smaller portions.
Unfortunately, this pan is not oven and dishwasher safe. This beautiful Eslite Life pan is surprisingly affordable though, so I wouldn't complain. If you live alone or have a small family, this partitioned pan would definitely make for a great buy.
The final suggestion on this list is the 20-inch reversible cast iron grill pan by Lodge. It's a pre-seasoned cast iron plate, so you'll be able to heat and grill the thickest slabs without a problem.
Last update on 2023-02-22 / Affiliate links / Images from Amazon Product Advertising API
It's the best alternative to an outdoor grill, if you don't have one. It captures the actual grilling experience with less nasty chars and grease. It also features a sleek black design which is super easy to use and clean.
However, Lodge's reversible grill is a bit on the heavy side. It weighs 13.5 lbs as it is made of high quality cast iron. Both sides have excellent heat retention, so you can fry an egg or make a crepe on the flat griddle and make sizzling patties on the ridged surface.
Unlike most grill pans, the Lodge doesn't have raised ridges. Instead, it has hollowed portions and a mostly flat surface, so it's easy to store. Just keep a pot holder handy while using this grill, as it does not come with insulated handles.
FAQs
What Is The Best Griddle For An Induction Cooktop?
The best griddle for an induction cooktop will depend on how compatible they are with each other. Base material should be cast iron, stainless steel, or aluminum, so that the induction hob recognizes it and activates induction cooking.
The best griddle will also depend on the cooktop's average burner size. Getting a grill plate might be tough for small induction cooktops, so it might be best to consider getting an induction cooktop with a built-in griddle if you're the type to grill a lot.
However, many grill pans ranging from eight to eleven inches are available too. Buy a pan in this range if you'd like to cook other things simultaneously.
What Type Of Pan Do You Use On An Induction Cooktop?
You may use a sauté pan, a sauce pan, a grill pan, or a frying pan as long as it has a compatible bottom with an induction cooktop. Woks might be a bit difficult to use over an induction hob as it doesn't have a flat surface.
What Is The Best Stovetop Grill Pan?
If you're using a stovetop, the choices for the best grill pan increases two-fold. You won't be limited to using just iron or aluminum bases. Though you will still have to choose one that fits your stove.
The 20-inch reversible grill/griddle released by Lodge is a crowd favorite for good reason. It's made of cast iron, so you can use it to sauté, sear, fry, and bake to your heart's content.
If this is too big, however, you can opt for the Anolon 84062. It's an 11-inch hard anodized nonstick griddle that's deep enough for more than just grilling.
Can You Use Grill Pans On A Glass Stove?
Yes, you can! Just be careful not to bang them atop your glass stove. You can always purchase a lightweight pan, too, to avoid unsightly scratches or cracks when you use your grill pan over your ceramic stove.
Are Cast Iron Grill Pans Good?
They're great, but they're not for everyone. Cast iron grill pans are known for distributing heat evenly. They're very affordable too.
However, it takes a bit of time for them to heat up, especially when you use an induction stovetop. They are also heavy and liable to leave marks on your cooktop. If you prioritize durability, high heat retention, and affordability, getting a cast iron grill pan would be a great idea.
What Food Type Is Best Cooked In A Grill Pan For Induction Cooktops?
Grill pans are versatile kitchenware. You can cook a wide range of food on them as they are usually oven and broiler-safe as well.
For breakfast, you can make omelettes and pancakes. For lunch, grill some salmon or shrimp to go with your salad.
Dinner can be fancy if you choose to go with lamb, steak, or pork chops. If you're lazy, you can make a perfectly respectable grilled cheese sandwich, too. Best of all, they'd be perfect no matter the occasion or time of day.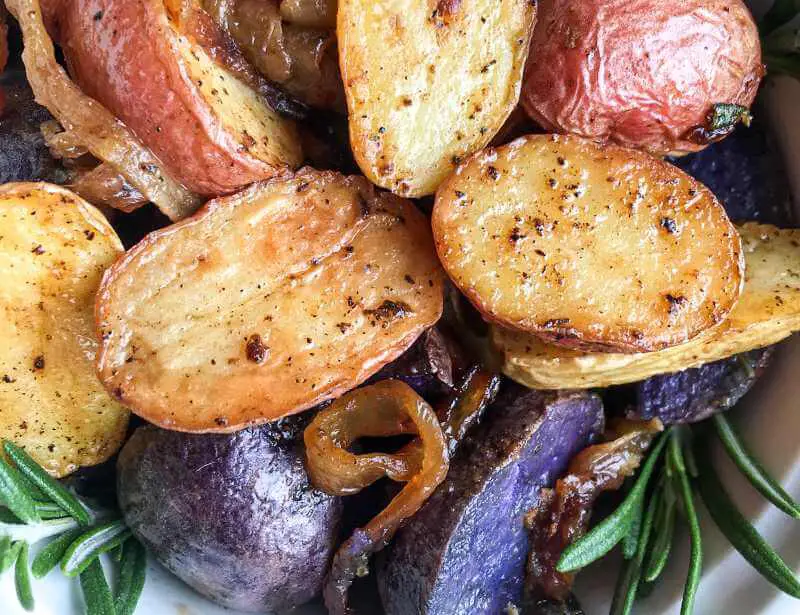 Some must try recipes from our kitchen to test your induction griller with, include the Grouper Fillet with Lemon Thyme Sauce, the Tangy Cajun Snapper, some Garlic and Rosemary Tri-colored Potatoes, and our Tasty Rolled Pork.
Wrap Up
Grill pans don't exist solely for barbecues and grilling burgers. They actually encourage healthier lifestyles too. Their ridges separate the food you're cooking from simmering in fat, while nonstick options require you to use less oil.
If you'd like to narrow down the list above, I'd suggest checking out Cuisinel Cast Iron Square Grill Pan and Lodge Pre-Seasoned Cast Iron Reversible Grill.
Both these grill pans are great options, but they are made for different users. They're made of cast iron, so heat distribution and retention are top notch.
If you have a compact kitchen, however, I'd suggest the Cuisinel grill pan. If you miss barbecue parties though, you might want to check out the Lodge reversible grill pan.