This beautiful side dish will make you feel like a professional chef. Not because it's hard to make, but because this Tri-Color Roasted Rosemary potato looks and tastes so fancy. It's legitimately hard not to make a French kiss with every bite! You can pair with just any main dish and is ridiculously easy to make. It's best for those last-minute dinner plans when you've had a busy day.
These roasted fingerling potatoes are not just pleasing to the eyes. They are perfectly tender on the inside while the skin adds crispiness on the outside. The garlic and rosemary seasoning make it even more delightful to the palate. I can never have enough of this side dish. It easily became a hit with our family, especially the little ones as they enjoy how colorful it is. 
What Makes A Good Garlic & Rosemary Roasted Tri-Color Potatoes?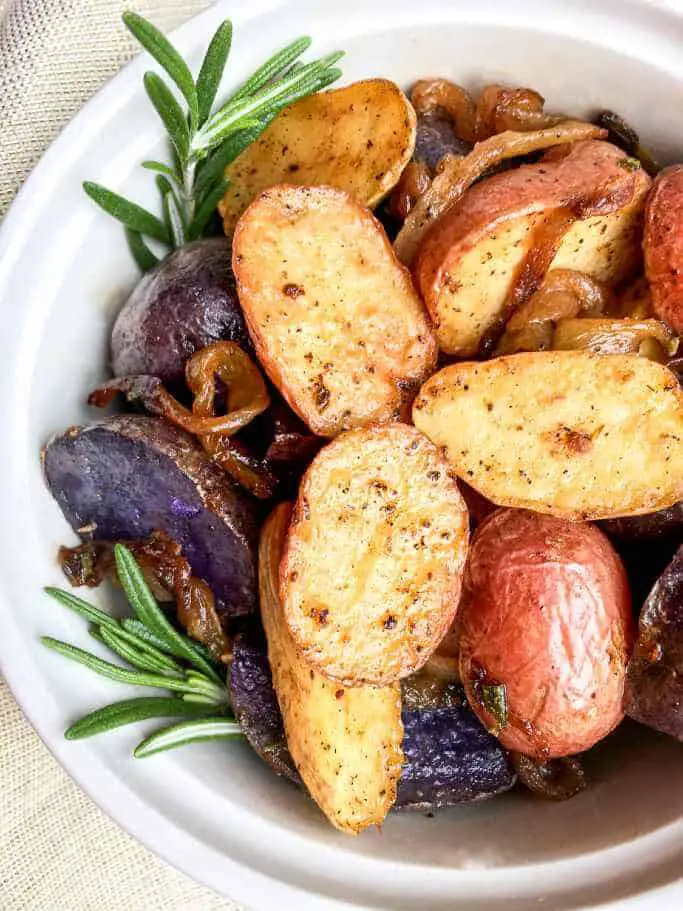 Potatoes
The star of the show. I know, it says tri-color potatoes. But this recipe is super flexible, you can actually use any kind of potato you want or have available. The key is to cut them in uniform pieces, so they cook evenly. You don't want one tender bite followed by a mushy one.
I prefer using tri-color fingerling potatoes. They are easy to find in supermarkets and farmer's markets. Other than they look prettier on my IG feed, they are easier to prepare as you only have to cut them in half. They also have so much flavor which is probably one of the reasons they are pricier than regular potatoes too.
The same goes for regular baby potatoes. They are usually my second option. They're also easier to cook but you have to keep an eye on them because you don't want to end up with mushy pieces. Other options are Yukon Gold, Red, or Russet potatoes. They are creamy and keep their shape well. You can even use sweet potatoes too!
Herbs And Seasonings
For this recipe, I use garlic, white onion, and rosemary. I like to keep the flavor profile simple, which makes it easier for me to pair it with any dish I cook. If you love herbs, you can also add a bit of oregano, thyme, or flat parsley. 
At times I would also sprinkle it with a few red pepper flakes to add depth to the flavor. This recipe is extremely versatile, you can experiment on the flavors as much as you like. You can use seasonings like Cajun, Taco, or even Steak seasoning. 
What Can You Serve With Garlic & Rosemary Roasted Tri-Color Potatoes?
This versatile side dish can be easily paired with just about anything you want. It is on top of the list of my emergency side dishes when I don't have much time to prepare. Here are some dishes we love pairing with these roasted potatoes: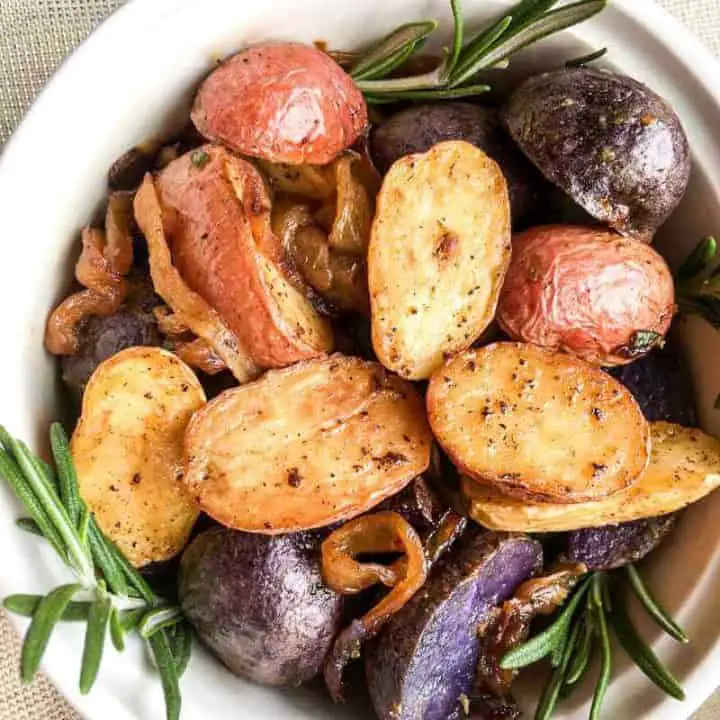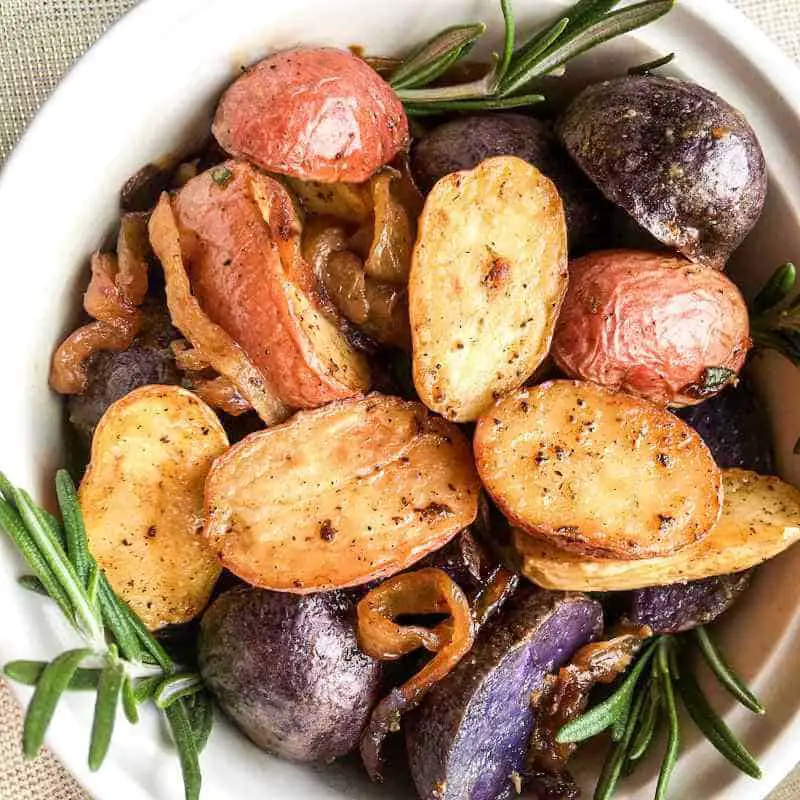 Garlic & Rosemary Roasted Tri-Color Potatoes
Cook Time:
30 minutes
25 seconds
Total Time:
40 minutes
25 seconds
This perfectly seasoned, tender roasted potatoes recipe is super easy to make. Though made in only 10 minutes of prep time, this side dish tastes like it's been made for hours!
Ingredients
1-pound tri-color Fingerling potatoes, scrubbed and halved
2 tablespoons extra virgin olive oil
3 cloves garlic, minced
3 tablespoons fresh rosemary, minced
¼ teaspoon coarse sea salt
¼ teaspoon ground black pepper
1 tablespoon coconut oil
2 white onion, cut thinly
Instructions
Preheat the oven to 425° F. While waiting, line a large half-sheet pan with parchment paper and set it aside. 
In a large mixing bowl, combine potatoes, olive oil, garlic, and rosemary leaves. Sprinkle with salt and pepper then toss until the potatoes are evenly coated with the seasoning.
Transfer the seasoned potatoes to the sheet pan. Arrange the pieces so they form a single layer for them to cook evenly. Roast it for about 15 minutes in the preheated oven. Take the pan out and stir the potatoes to evenly brown both sides. Roast for 15 more minutes or until tender.
While waiting for the potatoes to finish roasting, heat up coconut oil in a nonstick pan over medium heat. Toss in the thinly sliced onions and stir occasionally. Sauté the onions for about 15 minutes or until they are caramelized. Turn the heat off and lightly season with salt and pepper.
Take the roasted potatoes out of the oven and transfer to your preferred serving dish. Toss the caramelized onions and mix them together. Serve while still warm. Enjoy!



Nutrition Information:
Yield:

4
Serving Size:

1
Amount Per Serving:
Calories:

215
Total Fat:

10g
Saturated Fat:

4g
Trans Fat:

0g
Unsaturated Fat:

6g
Cholesterol:

0mg
Sodium:

139mg
Carbohydrates:

29g
Fiber:

3g
Sugar:

3g
Protein:

3g
Can you smell how good this is already? This Garlic & Rosemary Roasted Tri-Color Potatoes dish should have a warning in it for being addictive. Mix and match it your way and let me know in the comments below how it turned out! Much love, ciao! ♥