I have literally never met anyone who doesn't love a good Chicken Parmesan. Even better when paired with spaghetti. Hearty tomato sauce, melty cheese, juicy, and tender chicken fillets. What's not to like? It's everything good in the world. This is one of those meals you just never get tired of.
This is a failproof dish that I prepare whenever my kids have their friends over. They absolutely love it! My little one even requested it for his recent birthday and of course, I had to deliver. Fortunately, it only took me about an hour to put everything together. I still had time to bake some cupcakes for him and his friends.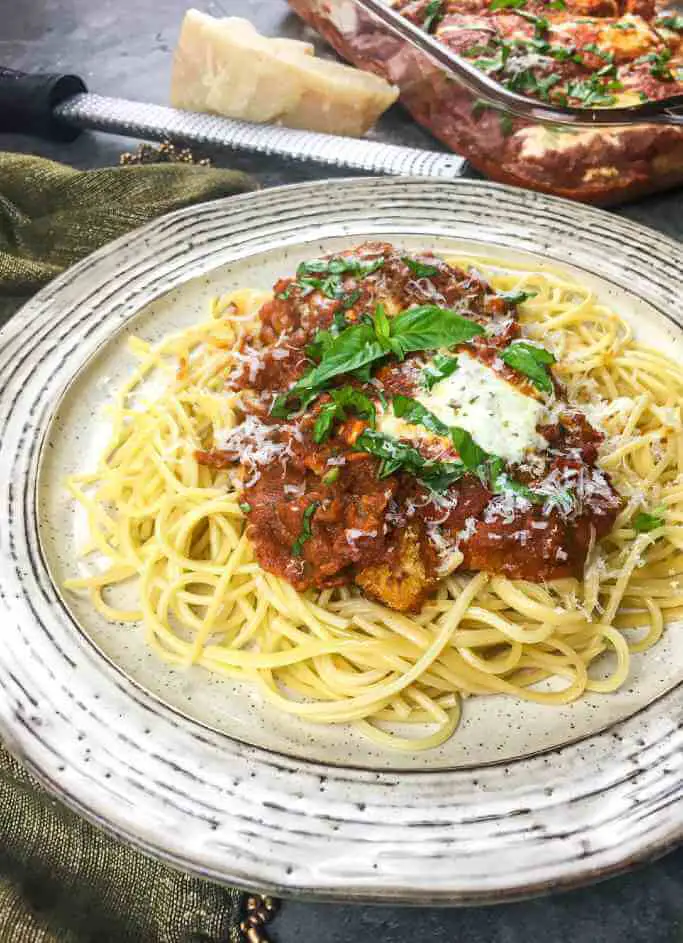 Usually, when you hear Chicken Parmesan, it can be intimidating because of how good and delectable it looks. But I assure you, the ingredients and the whole cooking procedure are very simple and pretty much straightforward. So, even if you're a rookie in the kitchen, I know that you won't have any trouble making this.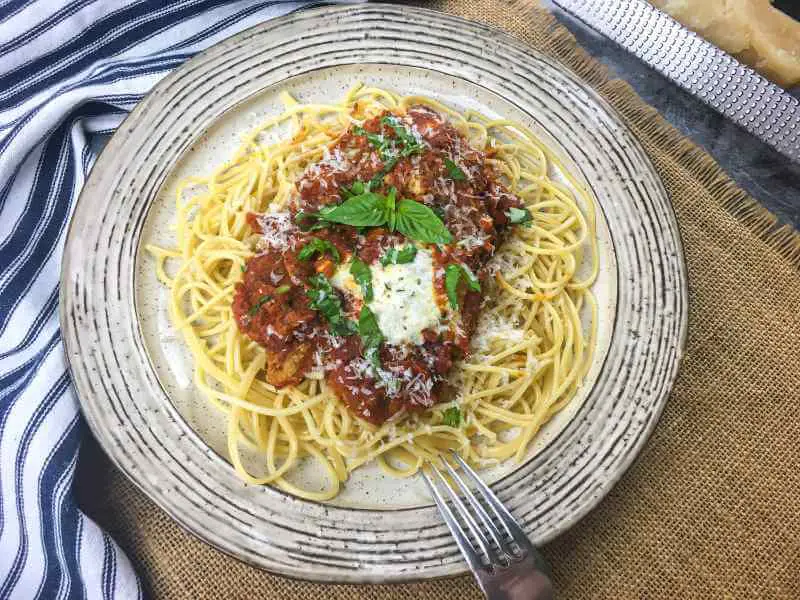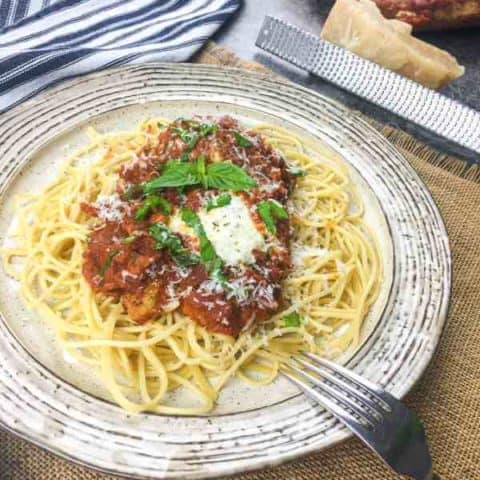 Kiddie Chicken Parmesan with Spaghetti
Cook Time:
40 minutes
35 seconds
Total Time:
1 hour
35 seconds
Even the pickiest of kids won't say no to this cheesy Chicken Parmesan with Spaghetti recipe. I made this for my son's birthday and each plate came back clean!
Ingredients
3 cups tomato sauce
1½ pounds chicken breasts, boneless and skinless
1 teaspoon Sea salt
1 teaspoon black pepper
1 cup all-purpose flour
3 large eggs
1/3 cup water
1½ cup panko breadcrumbs
1 tablespoon Italian seasoning
1¼ cup Parmesan cheese, freshly grated
6 ounces fresh mozzarella slices
2 tablespoon extra-virgin olive oil
1 16-ounce box of spaghetti
Garnish (optional):
Fresh basil, roughly chopped
Parmesan cheese, freshly grated
Instructions
Move the top oven rack to the middle layer and preheat the oven to 425°F. Get a 9" x 13" baking dish and evenly spread one cup of tomato sauce at the bottom of it. Set this aside for later. 
Sandwich the chicken breast using 2 plastic wrap sheets or parchment paper.



Then using a meat mallet or rolling pin, pound the fillets until they are about ½" thick. Repeat until all chicken breast pieces have been flattened to the desired thickness. 



Remove the top sheet and discard it. Now sprinkle each fillet with salt and pepper, to taste. Then set this aside while making the breading.



In a large, semi-shallow bowl, combine the eggs and water. Whisk until completely combined to make the egg wash. Then pour the flour in a rimmed plate, season with salt and pepper, as preferred. 



In a separate rimmed plate, combine '¼ cup of Parmesan cheese, Italian seasoning, and breadcrumbs. Add a pinch of salt and pepper, to taste. Stir until everything is well combined.



This step requires you to use both of your hands, one for the breading and the other for the egg wash. Start by dredging the chicken breast in flour.



Shake it a little to get rid of excess flour.



Now using your other hand, completely coat it in the egg wash then lightly tap it on the side of the plate to shake off any excess egg wash.



Using your dry hand, coat each egg and flour crusted breast with the breadcrumb and parmesan mix. Make sure to cover both sides. Repeat steps 8 and 9 until all pieces are breaded.



Place a large skillet over medium heat and put 1 tablespoon of olive oil. Wait until the oil is hot then add a few pieces of the chicken breast to the pan. Do not overcrowd to avoid uneven cooking.



Fry the breaded fillets for 4 to 5 minutes each side until golden brown. 



Put the cooked fillets in the baking dish with tomato sauce that we prepared beforehand. Do not place the pieces on top of each other. Repeat until all breaded fillets have been fried.



Put a slice of Mozzarella on top of each cooked chicken breast.



Then slather the remaining tomato sauce on top.



Now spread 1 cup of freshly grated Parmesan cheese on top of the assembled chicken.



Transfer the baking dish to your preheated oven.



Leave to bake for the next 15 to 20 minutes.



While waiting for the chicken to be cooked through, start prepping your pasta. Cook the spaghetti following the package instructions. Then drain it and set aside.



Take the baking dish out of the oven and leave to cool for 5 to 15 minutes. Distribute the pasta into serving dishes and top each plate with the baked chicken parmesan. Add extra sauce, if preferred. Garnish with freshly chopped basil and more Parmesan. Bon Appetit!


Nutrition Information:
Yield:

8
Serving Size:

1
Amount Per Serving:
Calories:

752
Total Fat:

25g
Saturated Fat:

9g
Trans Fat:

0g
Unsaturated Fat:

12g
Cholesterol:

226mg
Sodium:

1791mg
Carbohydrates:

69g
Fiber:

5g
Sugar:

7g
Protein:

61g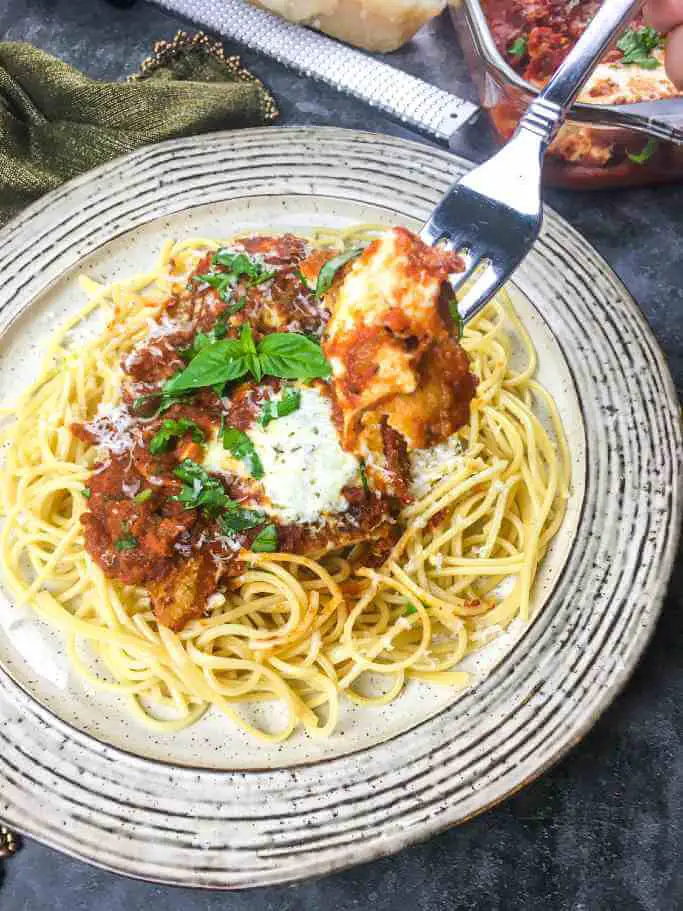 How do you like this recipe? I definitely enjoy making homemade Chicken Parmesan with Spaghetti, especially with my little helpers. It makes for a fun and tasty bonding experience. This is the perfect treat for the kids and kids at heart. Please let me know how yours turned out in the comments below! Much love, ciao! ♥