I'm pretty sure there are two kinds of people in the world: those who love raisins, and those who don't. I am proudly a member of the first half. This Classic Chewy Oatmeal Raisin Cookies recipe is dedicated to my fellow raisin lovers. Who knows? This might be the key to convert raisin haters to our side. These cookies are a treat to the mouth, it hits that sweet spot that balances texture and flavor in every single bite.
Now, I'm no professional baker, so trust me when I say this is surprisingly easy to make. It took me a couple of trials and errors before I got the perfect recipe that has that signature soft and chewy texture that most coffee shop oatmeal raisin cookies have. 
What Makes A Good Oatmeal Raisin Cookie?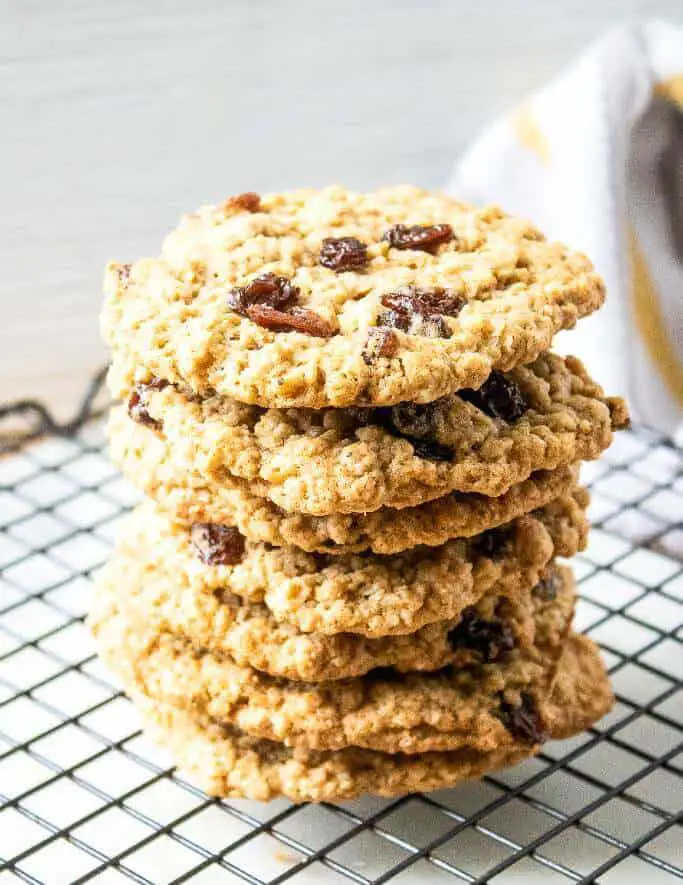 Oatmeal
When making oatmeal cookies, I always use either old fashioned or quick rolled oats. They tend to hold their shape and give a better texture. I find that instant oats get too mushy when baked, while steel-cut oats are too hard.
Raisins
You can use regular raisins or mix it with golden raisins for more color. What I like to do is soak the raisins in warm water for a few minutes before adding them to the batter. This is to slightly rehydrate them and make sure they are soft when baked. You can also mix in some semi-dark chocolate chips, chopped nuts, or other dried fruits for added flavor and texture.
Butter
Just like any other amazing cookie, butter is a base ingredient for this recipe. I use unsalted to manage the sodium content of the cookies. However, for a dairy-free alternative, you can also use the same amount of vegetable shortening or vegan butter. 
All-Purpose Flour
You can make this into a completely gluten-free recipe. Replace the all-purpose flour with almond flour or coconut flour. The result will most likely be the same, with fewer carbs and lower sugar content too.
Flavoring
A dash of vanilla extract and pumpkin pie spice will give the cookie a deeper, more satisfying flavor.  If you don't have pumpkin pie spice, you can replace it with ground cinnamon, ground nutmeg, or apple pie spice. You can also mix equal parts of cinnamon and nutmeg.
Sweeteners
I use a combination of both brown sugar and granulated sugar when making cookies. The brown sugar sweetens with a hint of molasses. While the granulated sugar provides pure sugar sweetness. If you're worried about the sugar content, you can use a mix of either monk fruit sweetener or stevia to replace the granulated sugar. Then replace the brown sugar with a brown sugar alternative like Swerve or Sukrin Gold.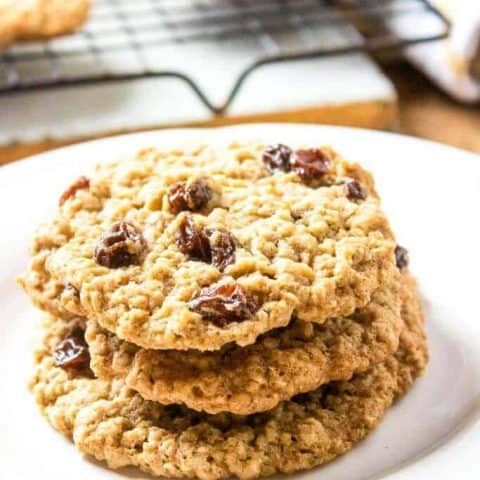 Classic Chewy Oatmeal Raisin Cookies
Yield:
2 DOZEN REGULAR-SIZED COOKIES
Additional Time:
30 minutes
This Classic Chewy Oatmeal Raisin Cookies recipe is reminiscent of grandma's favorite childhood treat for us. They are made with old fashioned oats, butter, sugar, and a lot of raisins! 
Ingredients
½ cup of granulated sugar
1 cup of brown sugar
1 cup of softened unsalted butter
1 teaspoon of real vanilla extract
2 eggs
3½ cup old fashioned whole rolled oats
1 cup all-purpose flour
½ teaspoon baking soda
½ teaspoon baking powder
1 teaspoon of pumpkin pie spice
¼ teaspoon kosher salt
1 cup raisins, rehydrated slightly
Instructions
While the oven is preheating to 375° F, prepare a rimmed cookie sheet by lining it with parchment paper or silicone baking mat. Set aside while making the cookies.
In a large mixing bowl, at high speed whisk together the sugar and softened butter until they are creamed, or they are fluffy and have a light yellow color.
Gently add in the eggs and vanilla. Continue mixing at low speed until they are well combined. 
Whisk together the flour, baking soda and baking powder, salt and pumpkin pie spice, in a separate large bowl.  Then gradually stir it into the wet batter and add the raisins. Continue mixing them until incorporated fully.   
Cover the mixing bowl using a cling wrap and place it in the refrigerator to chill for 30 minutes prior to baking.
Scoop out the dough into 24 uniform sized balls into the lined cookie sheet. Leave at least 1-2 inches between each ball to give them space when they're baking. Wet the bottom of a glass and use it to flatten the balls one by one.
Once each ball has been flattened, transfer the baking sheet into the preheated oven. Bake for approximately 8 to 10 minutes or until they are cooked through and have a golden-brown color. Cool the cookies in a wire rack for another 10 to 15 minutes before serving.



Nutrition Information:
Yield:

24 COOKIES
Serving Size:

1
Amount Per Serving:
Calories:

242
Total Fat:

8g
Saturated Fat:

5g
Trans Fat:

0g
Unsaturated Fat:

3g
Cholesterol:

36mg
Sodium:

69mg
Carbohydrates:

25g
Fiber:

1g
Sugar:

18g
Protein:

2g
I hope you enjoy making this Classic Oatmeal Rasin Cookies, a sure main-stay on my favorites' list. If you have your own version would be glad to learn them as well, share in the comments below. Much love, ciao! ♥