One of the things I miss about my grandparent's house is the aroma of sweet and hearty Apple Pie that my grandma makes. No bad day can't be fixed by a slice of grandma's apple pie. She would always make us one whenever she knows we're coming over. We live about 4 hours away now so we can't come over as often as we like. But whenever I make this apple pie recipe at home, every bite feels like grandma's forehead kisses.
Invented in England, this pie is actually one of the healthier types of pies that you can make. Research says it can aid with digestion, boost immunity, and help with memory enhancement. It also contains vitamins and minerals that make it good with lowering cholesterol, encourage riboflavin formation, and regulate body temperature.
What Apples Can I Use To Make Apple Pie?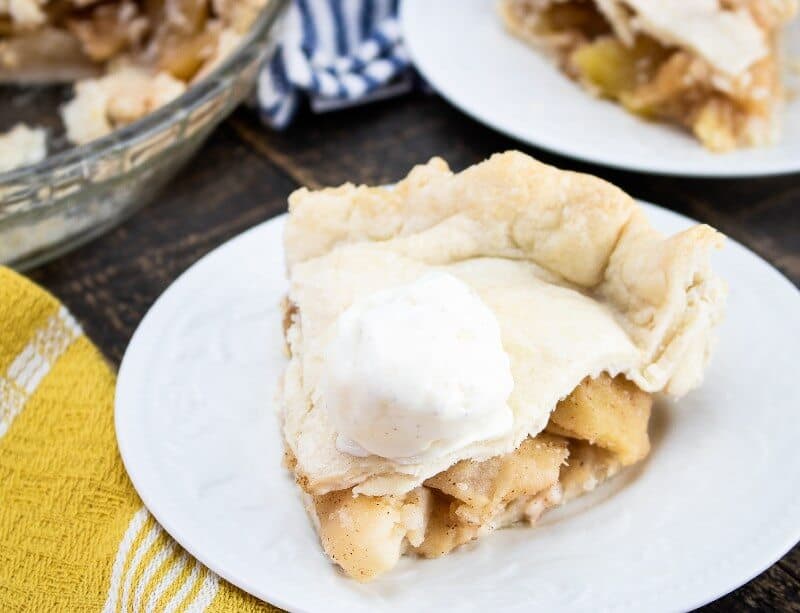 Granny Smith
Perhaps the most famous one, is Granny Smith Apples. This has always been the first choice when it comes to making apple pies. They have bright green skin and are available at any time of the year. They are high in acidity that helps them stay firm during the baking process, so you don't end up with a mushy pie. 
However, granny smith apples have a strong tart flavor. So, to get the best of both worlds, mix them with a sweet variety like Honeycrisp or Golden Delicious.
Honeycrisp
If you like your pies naturally sweet without needing to add a ton of sugar, Honeycrisp is your best bet. They have bright red skin with green splotches all over them. Honeycrisp apples do not get mushy when baked although not as firm as granny smith apples. The only downside is that they can be hard to find unless it's Fall when they're in season.
Golden Delicious
Another popular baking apple is the Golden Delicious. These apples are distinctly yellow in color and are also available at any time of the year. They hit that perfect spot between tart and sweet, which is a great balance for apple pies. These apples have a quite mealy texture and are not the best if you're aiming for a chunky apple pie as they tend to lose some of their firmness once cooked.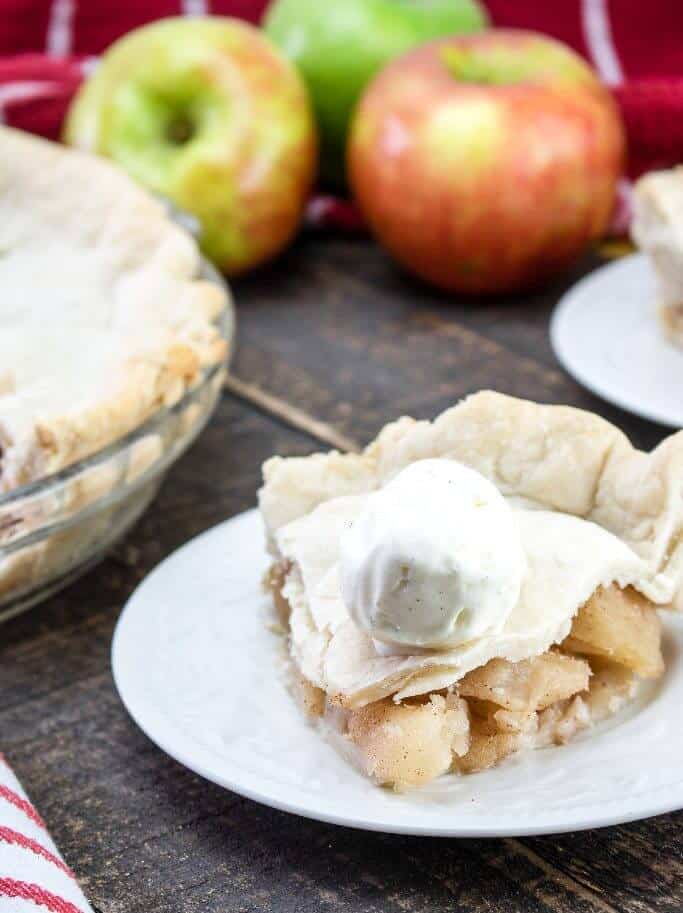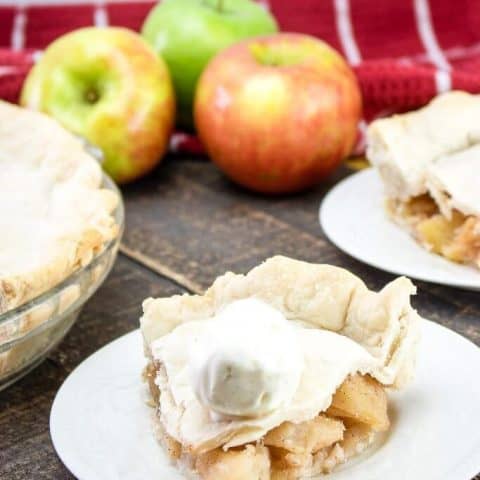 All-Time Favorite Apple Pie
Total Time:
1 hour
10 minutes
This classic Apple Pie recipe takes only 20 minutes to make. It is made with both Granny Smith and Honeycrisp apples for the perfect balance of sweetness with a little bit of a bite left to it!
Ingredients
Pie Crust Ingredients:
1 ¼ cup vegetable shortening
1 teaspoon salt
3 cups all-purpose flour
7 to 12 tablespoons ice-cold water
Pie Filling Ingredients:
3 cups Granny Smith Apples, peeled, cored, and sliced
3 cups Honeycrisp Apples (or Golden Delicious), peeled, cored, and sliced
2/3 cups white sugar
1/8 teaspoon ground nutmeg
1 teaspoon ground cinnamon
2 tablespoons unsalted butter, cut into chunks
Instructions
Move oven rack to center position and preheat to 450° F.
Make the crust by combining vegetable shortening, flour, and salt in a large bowl. Using a hand mixer, mix the dry ingredients while gradually adding ice-cold water. Continue mixing until you get a fully incorporated dough that can hold its shape. Form the dough to a ball and let it chill in the fridge for 30 minutes.
While waiting for the crust, make the pie filling. Get a large bowl and put sliced apples, sugar, nutmeg, and cinnamon. Toss gently with a spatula until it's well-combined.
After 30 minutes, take the dough out of the fridge and cut into 2 equal halves. Using a rolling pin, roll both halves into a 10-inch diameter. 
Transfer one of the rolled-out crusts into a 9-inch pie pan. Now gently pour your apple filling into the crust.
Using the rolling pin, pick up the second crust and place on top of the filled crust. Get a fork and crimp the edges of the pie together. Now score about 4 to 5 vents on the top layer using a knife and toss a chunk of butter in each one. Lastly, wrap the edges with foil or crust protector so they do not over brown and turn rock hard.
Place the pie in the preheated oven for 10 minutes. Then lower the temperature down to 350° F. Leave the pie for approximately 35 to 40 minutes. Once done, take the pie out and rest for about 15 to 30 minutes. Slice and serve with vanilla ice cream or whipped cream for the best results!



Nutrition Information:
Yield:

8
Serving Size:

1
Amount Per Serving:
Calories:

597
Total Fat:

36g
Saturated Fat:

15g
Trans Fat:

0g
Unsaturated Fat:

19g
Cholesterol:

26mg
Sodium:

268mg
Carbohydrates:

64g
Fiber:

4g
Sugar:

25g
Protein:

5g
This recipe is surely one for the books! I hope you enjoy making it as much as I love writing (and reminiscing) this All-Time Favorite Apple Pie . Share with me your unforgettable memories with making/eating Apple Pie in the comments below. Much love, ciao! ♥