Nothing gets me more excited for the weekend than finally having the time to make some homemade pizza. I enjoy making everything from scratch as much as possible, so today we'll talk about how to make pizza sauce with tomato sauce.  It's a great hack for when you ran out of pizza sauce (from making pizza basically whenever possible). 
Then you rack your pantry for something else and you wonder "What can I use if I don't have pizza sauce"? The answer is a lot. But today we're focusing on the most basic one to use. It's one of the most delicious too so don't be fooled by how easy it is. This is best for emergency purposes when you're craving for pizza, but you ran out of pizza sauce.
This involves the simplest ingredients. We don't want to overwhelm our taste buds with the sauce since, for most of us, we like to go crazy on the toppings. AND CHEESE! So, keeping your pizza sauce simple and easy is a must. I believe that pizza should be comforting not stressing out your palate with a whole bunch of unnecessary flavors.
Do you know that making homemade pizza sauce makes it a tad bit healthier too? This way you can pick everything that goes in it. I suggest getting an all-organic tomato sauce and tomato paste. Then I usually go with simple spices just to give it a little flavor on its own. This keeps sodium and added sugar to a minimum or even 0%. 
Our main ingredient is you guessed it– tomato sauce. It is rich in lycopene which is an amazing antioxidant. It is also widely known for its contribution to improving cardiovascular health. It is also rich in other vitamins and minerals. Some of these are vitamin C and E, beta carotene, and manganese. These are antioxidants and are efficient in improving your immune system.
Research shows that tomatoes contain resources that help improve bone health. It can also help fight against a certain type of cancer and some neurological diseases. In this recipe, we're using both tomato sauce and tomato puree. So, you want to make sure you're getting an all-organic one as much as possible. We don't want to contradict these health benefits by using a sauce with a ton of added sodium and sugar.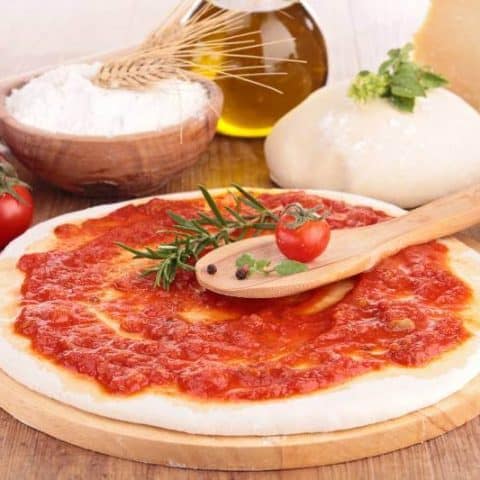 Quick and Easy Homemade Pizza Sauce
Yield:
2 medium-sized pizzas
This homemade pizza sauce recipe is gluten-free, dairy-free, paleo-friendly, and vegan! Made from tomato sauce and choice spices, you'll never go back to store-bought pizza sauce again!
Ingredients
15 oz tomato sauce
6 oz smooth tomato paste
½ teaspoon garlic powder
½ teaspoon garlic salt
½ teaspoon onion powder
2 tablespoons dried oregano
2 tablespoons Italian seasoning
¼ teaspoon ground black pepper
1 teaspoon sugar (use coconut sugar to make it Paleo or omit it completely)
Instructions
In a medium-sized bowl, combine tomato sauce and tomato paste. Whisk together until fully incorporated. Make sure there are no tomato paste lumps left in the sauce.
Then add the remaining ingredients: garlic powder, garlic salt, onion powder, dried oregano, Italian seasoning, ground black pepper, and sugar. Continue mixing until they are all combined.
No need to cook, you can spread it directly on fresh pizza dough and dress with your favorite toppings. Enjoy!
Nutrition Information:
Yield:

2
Serving Size:

1
Amount Per Serving:
Calories:

159
Total Fat:

2g
Saturated Fat:

0g
Trans Fat:

0g
Unsaturated Fat:

1g
Cholesterol:

0mg
Sodium:

1538mg
Carbohydrates:

37g
Fiber:

10g
Sugar:

21g
Protein:

7g
How To Store Leftover Pizza Sauce
This recipe makes sauce for about 2 medium-sized pizza. But you can double (or triple!) it to save some time for future use.
Option 1: Refrigerate It.
Transfer the remaining pizza sauce into an airtight container. You can now store this in the fridge for up to a week. Note that the sauce will get thicker, so before you spread it on the dough, let it rest at room temperature for about 10 to 15 minutes. You can also pour it in a microwaveable bowl and microwave it for about 15 seconds to slightly warm it and bring it back to its original consistency.
Option 2: Freeze It.
Scoop it into serving-sized muffin tins and freeze until they become solid. Take the frozen pizza sauce and place it in a resealable freezer bag. You can keep this frozen for 2 to 3 months. When ready to use, thaw it overnight then microwave for a few seconds each until it defrosts. You can also melt it on a nonstick pan placed over low heat. 
It really is true when they say, "if there's a will, there's a way". Out of pizza sauce? Make one. It literally takes no more than 10 minutes to make this sauce. Did you add your own twist to it? Share it with me in the comments below!