If you make homemade pizza as often as I do, even the best store-bought pizza sauce can get tiring, therefore you need to switch it up. So, what can I use if I don't have pizza sauce? You'll be surprised by the number of options you can have. Simply changing the sauce can make a whole new different pizza experience.
I make pizza from scratch whenever I can. My whole family loves it and you already know my little helpers enjoy making it just as much as I do. It's always a fun weekend bonding experience for us. So, we keep finding ways to experiment with it and try out different sauces and toppings. We just make our combinations every time. 
Through the years I learned how to make pizza sauce with tomato sauce. So, we never ran out of pizza sauce again. Then the kids asked, "can you use pasta sauce for pizza?" because they wanted a sweet sauce. Thus, I learned how to transform pasta sauce into pizza sauce too. I can't use it as it is since pasta sauce are usually thinner and they can make the dough soggy. 
Top 8 Pizza Sauce Alternatives You Need to Try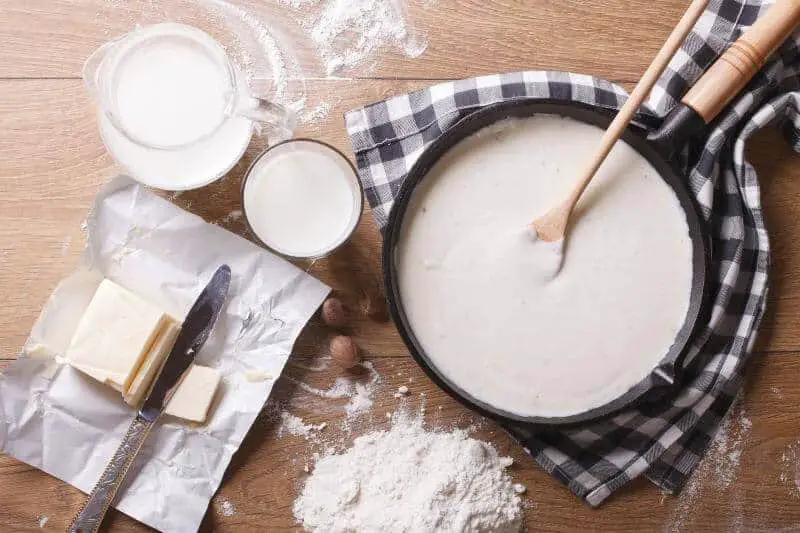 1. Bechamel Sauce
If you want to rest from all the red sauce in general, go with Bechamel Sauce. It is an easy and delicious white sauce to make. Start by making a roux, this is made from combining equal parts butter and flour. Melt the butter over low heat then whisk in the flour continuously until you get a paste-like consistency. Then pour in the milk and your preferred seasonings.  
2. BBQ Sauce
Looking for a little spice? Make some BBQ Chicken Pizza! This is one of the hubby's favorite and one of the easiest to make too. You can make your BBQ Sauce from scratch using easy to find ingredients or just pick up your favorite jarred BBQ sauce from the store. 
Slather the dough with it and top with leftover rotisserie chicken, red onions, Monterey jack cheese, and some cilantro leaves. You can also replace chicken with pulled pork instead!
3. Pesto
Want to enjoy pizza with a little less guilt? Use pesto sauce for your pizza. This can easily be made at home too. Get your food processor and throw in some pine nuts (or walnuts) and garlic. Once they are finely chopped, add fresh basil leaves and season with salt and pepper. Process it until it's smooth then pour in some olive oil and add Parmigiano-Reggiano. 
Continue to process it until you get your desired consistency. You can also get ready-made pesto from your favorite supermarkets.
4. Tapenade
This French pâté is another healthier alternative to pizza sauce. Combine pitted black olives, lemon juice, drained capers, garlic, anchovy fillets, fresh thyme, and a pinch of black pepper in a food processor. You want to make sure they are well combined and finely chopped but not pureed. In less than 10 minutes you have the homemade tapenade you can use for your pizza!
5. Thai Peanut Sauce
How about some Asian flavor on your pizza? This sweet and chili Thai sauce can make an amazing pizza base. Combine peanut butter, hoisin sauce, oyster sauce, honey, rice wine, ginger, sesame oil, red pepper flakes, and some water. Let it simmer for a few minutes and spread on the pizza dough. This is best paired with shrimps and a lot of veggies like bean sprouts, onions, carrots, and cilantro. This makes for a fresh-tasting pizza!
6. Chimichurri Sauce
This extremely versatile sauce from Argentina is commonly paired with steak or chicken but do you know it works best with pizza too? Chimichurri is another easy sauce to make. Mix shallots, garlic, jalapeño, red wine vinegar, and a pinch of salt in a bowl and let it sit for about 10 minutes. Then stir in some fresh herbs like cilantro, oregano, and parsley. Now combine it with olive oil and you're done!
7. Salsa
Have you ever tried Taco Pizza? If not, this is a sign. You HAVE TO try it. It's the best of both worlds. You can go with either jarred salsa or make some easy homemade salsa. Then top it with ground beef, refried beans, crushed tortilla chips, chopped tomatoes, lettuce, and A LOT of cheese. You'll never look at tacos the same way again after you have this.
8. Nutella
Not feeling a savory pizza? How about a dessert pizza based on Nutella? This is a surefire way to win any kid's heart. Slather your pizza dough with Nutella then top it with sliced bananas and strawberries. Drizzle with chocolate or caramel sauce and you're done!
Which one are you most excited to try? These are tried and tested pizza sauce alternatives that we all loved. This is great for when you're trying some fun ways to make pizza. Let me know in the comments below which one is your favorite. 😊