As a homemade pizza lover for sure, you already have a ready answer to "what is the best pizza sauce in a jar?" in a blink of an eye. In case you run out of your trusty pizza sauce favorite, can you use pasta sauce for pizza?
Sometimes it's just fun to experiment and try new things. That's one of the pure joys in making your own food from home. Especially with pizza, you can basically put whatever you want with it. 
The answer? Yes, technically, you can if you're not nitpicky. They're both made from tomatoes and some herbs. They usually have the same consistency too.
So, if I'm really craving some homemade pizza and I ran out of pizza sauce, what can I use if I don't have pizza sauce? Pasta sauce, of course. It's the closest I can get without going to the store. I personally know how hard it is to go out of the house on a weekend while you're comfortable in your PJs. 
Pasta Sauce VS Pizza Sauce
Pasta sauce is precooked since it's usually intended to just be tossed into cooked noodles. They also have a much deeper flavor most of the time since they're cooked and had time to marry the ingredients. Some pasta sauce also has a chunkier texture compared to pizza sauces.
Pizza sauce, on the other hand, is uncooked. It also has a simpler flavor profile. This is because it is meant to complement the other ingredients you put on top of your pizza dough. Otherwise, it will overpower the flavor of the toppings you put on it.
Pizza sauce also has a remarkably thicker texture than pasta sauce. This is because they are made from concentrated tomato puree. This is to prevent the dough from being soggy if the sauce is too watery.
Pasta sauce is made from crushed tomatoes means they are more diluted and thus a thinner consistency. The texture also varies as pizza sauce is smoother while pasta sauces are usually a little on the chunky side. Also, since it's already cooked, cooking it again when you bake your pizza is going to be a bit redundant and it might alter the flavor of the sauce.
How Can You Use Pasta Sauce As A Pizza Sauce?
If you run out of pizza sauce but have a couple cans of pasta sauce, you can use it as your pizza base. Here's how I do it:
Start by straining the sauce to get rid of any excess water. Crushed tomatoes can cause more liquid than purely pureed ones.
Then process the pasta sauce to be thicker and smoother. To do this, transfer it in a food processor, immersion blender, or a high powered blender like Vitamix. Let it process for a few more times to make it smoother while at the same time working on the consistency.
Adjust the seasoning. You may have to add salt and pepper or any additional spices that you want to put in it. The liquid from the tomatoes, while you're blending it, may cause it to be a little bland.
Stir it again then filter the water out of the sauce. Now you have a properly thick pizza sauce based on your pasta sauce!
If you prefer to make your own pizza sauce instead to ensure you have the healthiest possible ingredients, for sure you will love my home-made pizza sauce which is very simple and easy to make.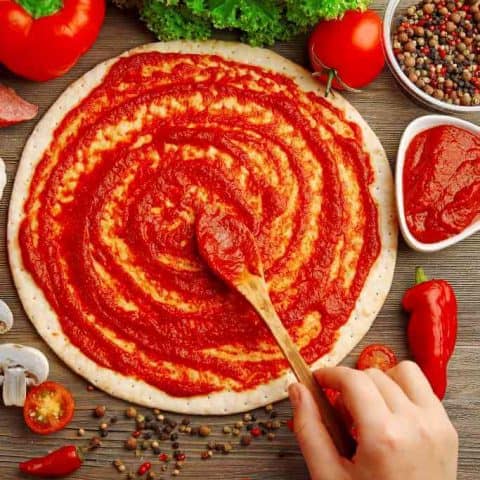 My Homemade Pizza Sauce Recipe
Yield:
2 MEDIUM-SIZED PIZZAS
My kids and I love going crazy on the toppings instead. This Pizza Sauce recipe is simple and versatile enough for all if not most of the Pizza flavor you can think about.
Ingredients
6 oz smooth tomato paste
15 oz tomato sauce
½ teaspoon garlic powder
½ teaspoon garlic salt
½ teaspoon onion powder
2 tablespoons dried oregano
2 tablespoons Italian seasoning
¼ teaspoon ground black pepper
1 teaspoon sugar
Instructions
Mix the tomato paste and tomato sauce thoroughly. 
Add the rest of the ingredients and mix until fully incorporated. 
Now you have your own pizza sauce to use for your next pizza party! Enjoy!
Nutrition Information:
Yield:

2
Serving Size:

1
Amount Per Serving:
Calories:

159
Total Fat:

2g
Saturated Fat:

0g
Trans Fat:

0g
Unsaturated Fat:

1g
Cholesterol:

0mg
Sodium:

1538mg
Carbohydrates:

37g
Fiber:

10g
Sugar:

21g
Protein:

7g
If you do not have the energy to do it, go to the store and get you some proper pizza sauce from the shelf. My Go-To is Muri Gen Organic Pizza Sauce. You can get it right on the tip of your fingers through Amazon or in any of your favorite grocery stores.
I love it because it's made with organic tomatoes and it's definitely healthier than anything else I've tried before. It has low sodium and does not contain any added sugar. It has just the right number of herbs while still being rich in flavor. It gives you that authentic Italian style pizza flavor without overwhelming the other ingredients you have on your dough.
In summary, yes you can use pasta sauce as an alternative. Though you must set your expectations that it will not taste the same as using actual pizza sauce for your pizza. Do you have your own pizza sauce recipe? Share it with me through the comments below!