We already know that as soon as the first day of Fall occurs, everything pumpkin spice flavored is the hype. And what else is the best way to welcome this wonderful season but with a batch of Gluten-Free Pumpkin Spice Pancakes? To be honest, I just keep making these pancakes regardless of the season. Even the kids fell in love with their fluffy goodness!
I'm a self-confessed sucker for anything Pumpkin and I find ways to incorporate it in our favorite dishes. Like the Pumpkin Cookies that the kids frequently ask me for. These pancakes are super easy to make and are ready in about 20 minutes or less. You can also make them ahead. Prepare the batter the night before, cover it with cling wrap and store in the fridge overnight.
When making these pancakes, or any pancakes in general, I prefer to use a large griddle rather than a nonstick pan. This saves you more time in cooking them and also saves you from eating a cold pancake. When cooking the pancakes in a nonstick pan you can only make one or two at a time. So, by the time you're done, the rest of the pancakes are already cold and are not as appetizing.
What's In A Pumpkin Spice Pancake?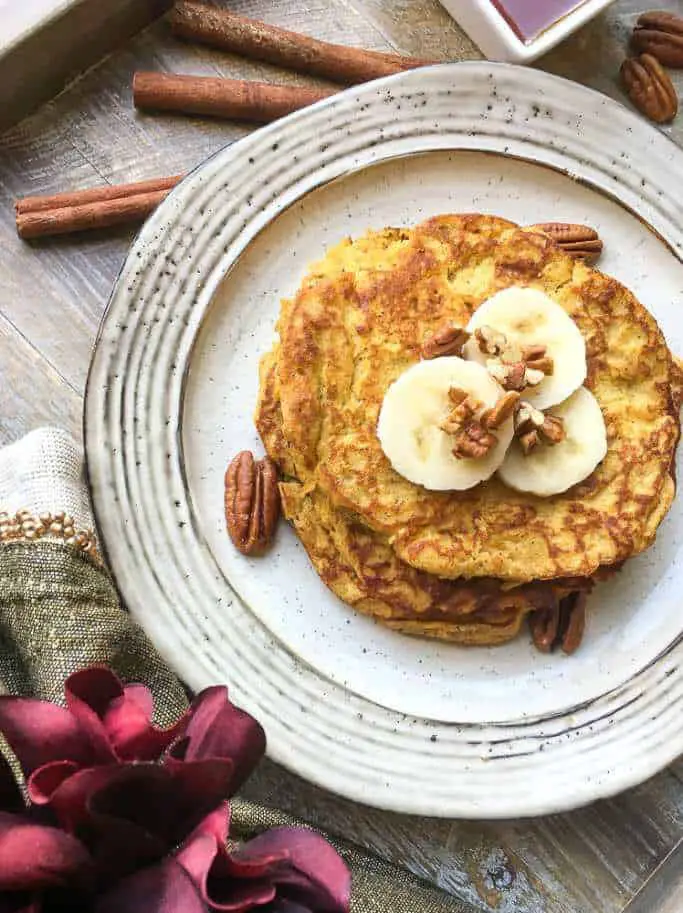 This wholesome recipe is made gluten-free, dairy-free, and paleo-friendly ingredients. So, there's no guilt even if you make it a couple of times a week.  The pumpkin puree provides most of the necessary sweetness, so you only need a little bit of local honey. You can also replace it with stevia or monk fruit sweetener to make it Keto-Friendly.
I use a mix of almond flour and coconut flour when making pancakes to keep the carbs to a minimum. However, if you or someone in your family has a nut allergy, you can use pure coconut flour instead. You can also make this recipe completely vegan by using flax/chia egg instead of chicken eggs. To make this, mix one tablespoon of flax or chia seeds with 3 tablespoons hot water and whisk them together.
What Do I Serve With Pumpkin Spice Pancakes?
My go-to serving suggestion is to lightly drizzle it with real maple syrup and top it with sliced bananas. I also sprinkle it with chopped pecans or walnuts to add a little crunch. You can skip the syrup and use blueberry compote instead. It also goes perfectly well with a dollop of homemade whipped cream and sliced strawberries. You can mix and match it any way you feel like!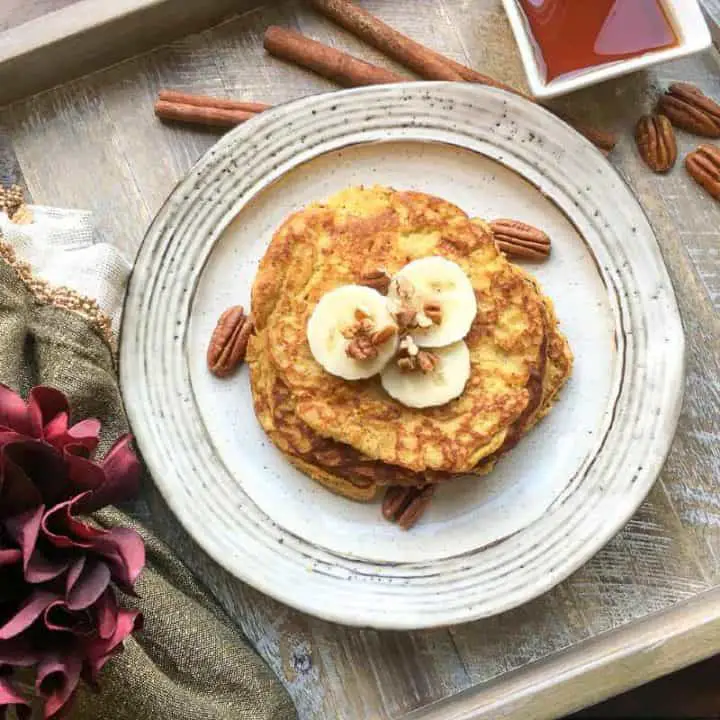 Gluten-Free Pumpkin Spice Pancakes
These sweet and fluffy pumpkin spice pancakes are gluten-free, dairy-free, and paleo-friendly. Made with pumpkin puree, almond and coconut flour plus a healthy dash of pumpkin pie spice!
Ingredients
2/3 cup pure pumpkin puree
2 tablespoons local honey
6 large eggs
½ cup coconut flour
½ cup almond flour
1/8 teaspoon kosher salt
1 tablespoon pumpkin pie spice
1½ teaspoon baking powder
3 tablespoons coconut oil, divided
Toppings:
1 banana, thinly sliced
1/3 cup pecans, roughly chopped
Real maple syrup (optional)
Instructions
Whisk the pumpkin spice puree, honey, and eggs in a large mixing bowl until fully incorporated. Then get another bowl and mix the coconut flour, almond flour, salt, pumpkin spice, and baking powder together.
Gradually pour in the dry ingredients with the egg batter and fold the mixture until they are well combined.
Place a large griddle over medium heat and melt 1 tablespoon of coconut oil. Use a small cookie or ice cream scoop to scoop the batter from the bowl to the griddle. Flatten with a heatproof spatula to get your desired thickness and cook for 3 to 4 minutes on each side. Repeat this step until you finish the batter. 
Best served with 2 to 3 stacks and topped with maple syrup, chopped pecans, and banana slices. 
Nutrition Information:
Yield:

4 PANCAKES
Serving Size:

1
Amount Per Serving:
Calories:

505
Total Fat:

34g
Saturated Fat:

14g
Trans Fat:

0g
Unsaturated Fat:

17g
Cholesterol:

279mg
Sodium:

366mg
Carbohydrates:

37g
Fiber:

6g
Sugar:

20g
Protein:

17g
What Can I Do With Leftover Pancakes?
If by some miracle you have leftover Pumpkin Spice Pancakes, they can be stored easily in the fridge for up to 3 days. Simply transfer them to a dry, airtight container and let it chill in the fridge. To reheat them, transfer it to a microwaveable plate and put it in the microwave for 10 seconds at 50% power.  Most times I would intentionally make extra to save for tomorrow's breakfast or midnight snack. 
They can also be frozen for up to 3 months! Put the pancakes in a resealable freezer bag with parchment paper in between each piece.
Start the Fall season right with these delectable Pumpkin Spice Pancakes! They are amazingly healthy while being sinfully good at the same time. You can customize them however you like. Feel free to share your custom Pumpkin Spice Pancakes with me through the comments below! Much love, ciao! ♥