Compote is not exactly the first thing that comes to mind when you hear the word Blueberry. So, please allow my Irresistible Instant Pot Blueberry Maple Compote recipe to change your mind. It has the perfect balance of sweet and savory that will not sign you up for a tooth fairy visit later.  
I was used to having sweet blueberries. Because, how can you not? They're always in pies, jams, ice creams, pancakes, waffles, or even froyos. But what we don't know then is that there's a way to have blueberries without risking a toothache after. The key? A dash of cinnamon and a squeeze lemon juice.
Unlike the classic compote that we all know, we're steering away from refined or white sugar in this recipe. Instead, we're using real maple syrup. It has a milder sweetness and caramel notes to it which adds a lot of depth on the flavor of the compote. Not to mention it is rich in antioxidants and various vitamins and minerals.
However, if you're concerned about the sugar content, you can simply replace maple syrup with stevia, erythritol, xylitol, or Yacon syrup. These are natural sweeteners that will not cause your blood sugar to spike while still giving you the sweetness that you need.
Another thing I love about this recipe is how versatile it is. I had a lot of fun making different fruit combinations while keeping blueberries as the star of the show. You can throw in some raspberries, blackberries, strawberries, peach, or even pears to add a new flavor profile and texture to the compote. My favorite so far is peach and raspberries. 😉
What Do I Serve With Blueberry Maple Compote?
There are  multitude of ways you can serve Blueberry Maple Compote. First off, you can serve it either warm or cold. I put the warm compote on vanilla ice cream, French toast, or rice pudding. When it's chilled, I like to serve it with freshly toasted waffles, frozen yogurt, or add it on my overnight oats!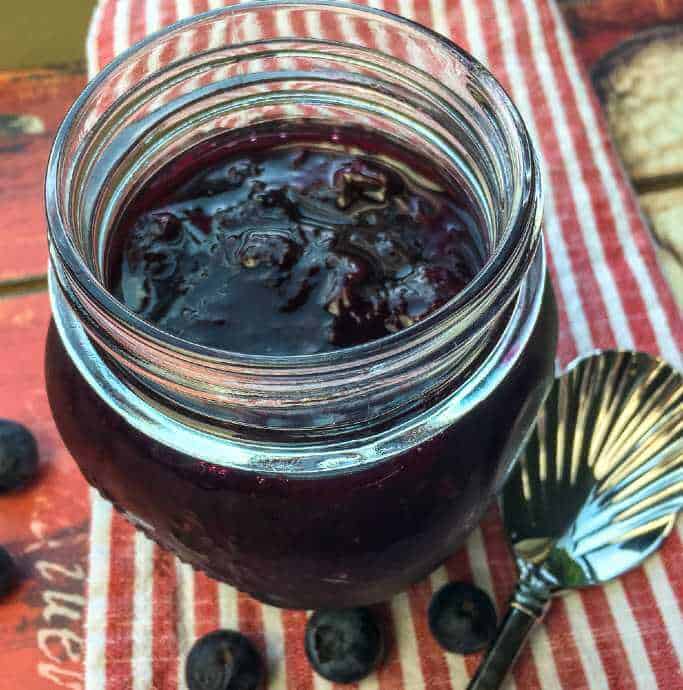 I have yet to try using compote when I'm baking, and I honestly think it's worth a try. I'll add it to a cobbler, croissant, bread, or even as a cake filling. Making a note to myself to try it one of these days and I'll definitely share it with you all. 
I find it fun to explore and try out different ideas on how to make use of this delectable Blueberry Maple Compote. And the possibilities are just endless! I know you'll find your own favorite ways to consume it too.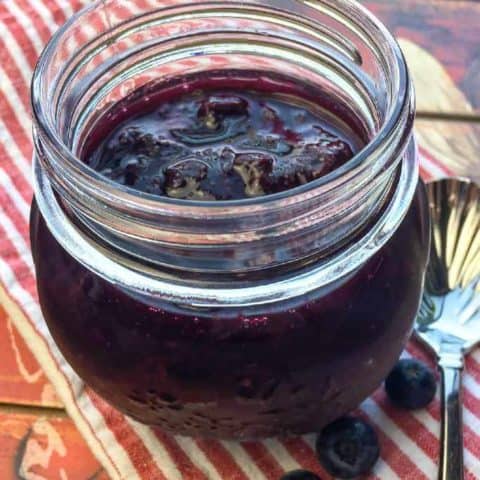 Irresistible Instant Pot Blueberry Maple Compote
Our all-time favorite condiment is now made healthier and easier! You can make this Blueberry Maple Compote without tons of refined sugar in less than half an hour.
Ingredients
3 cups fresh or frozen blueberries
¼ cup real maple syrup
2 tablespoon fresh lemon juice
1 teaspoon vanilla extract
1 teaspoon ground cinnamon
¼ teaspoon salt
Instructions
Combine all the ingredients in your Instant Pot container and stir thoroughly. Then put the lid on and lock it in place. 
Now we want to set the pressure valve to "Sealing" mode then press the "Manual" button. Set to high and adjust the cooking time to 3 minutes. After a couple of seconds, your Instant Pot should automatically start building pressure.
Once the timer beeps, turn the Instant Pot off to keep your compote from burning. Let it release the pressure naturally for about 10 minutes. Then carefully set the valve to "Venting" mode to manually release the remaining pressure.
If you feel like the consistency of the compote is too thin for your liking, there's a way to thicken it still using the Instant Pot. Set it to "Sauté" mode then select High heat. Make sure to stir the mixture consistently until you get your desired thickness. Then turn off the Instant Pot and remove the cooking container to let the mixture cool down.
You can serve it immediately while it's still warm, or you can serve it cold too. Transfer the compote into airtight containers and it can be stored in the fridge for 7 to 10 days. To reheat it, you can either pour it in a saucepan over low heat or put it in the microwave for about 30 seconds.
Notes
Cook time: 13 minutes + time to come to pressure
Nutrition Information:
Yield:

3
Serving Size:

1
Amount Per Serving:
Calories:

158
Total Fat:

1g
Saturated Fat:

0g
Trans Fat:

0g
Unsaturated Fat:

1g
Cholesterol:

0mg
Sodium:

181mg
Carbohydrates:

39g
Fiber:

5g
Sugar:

30g
Protein:

1g
Have you thought about the different ways you can use your very own Blueberry Maple Compote? Please, please do share it with me through the comment box below. Maybe it's a combination I haven't tried yet! Looking forward to hearing from you, my dear Divas. Much love, ciao! ♥