Won't it be fun to go back to be a child even just for a day? Downing a bowl of warm rice pudding the morning after a weekend movie night with your cousins. I miss waking up to the aroma of simmering vanilla and cinnamon right when you walk in the kitchen. Oh, the good old days. 
So, what if I tell you that you can make your very own creamy rice pudding without having to stir it until your arm falls off? Yes, thanks to the pressure cooker Gods for giving us an Instant Pot. In this recipe, you'll have a comforting bowl of rice pudding in your hands in just 30 minutes.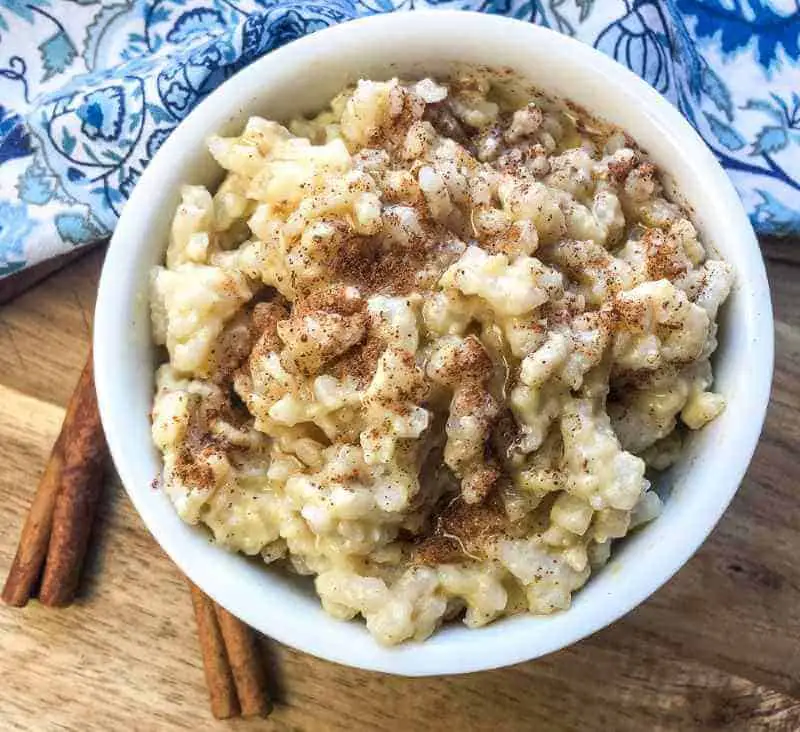 What makes up a rice pudding? It is mainly composed of rice and some type of milk, then it's topped with spices or fruits. This dessert is highly versatile and can be easily customized to your preference. It can also be served hot or cold. There's really no one way to make it. 
Like, I use arborio rice most of the time. But when I want to feel extra healthy, I go with brown rice instead. Almond milk is my go-to choice of milk, but you can use whichever milk you prefer. Oat milk and coconut milk are also great dairy-free alternatives.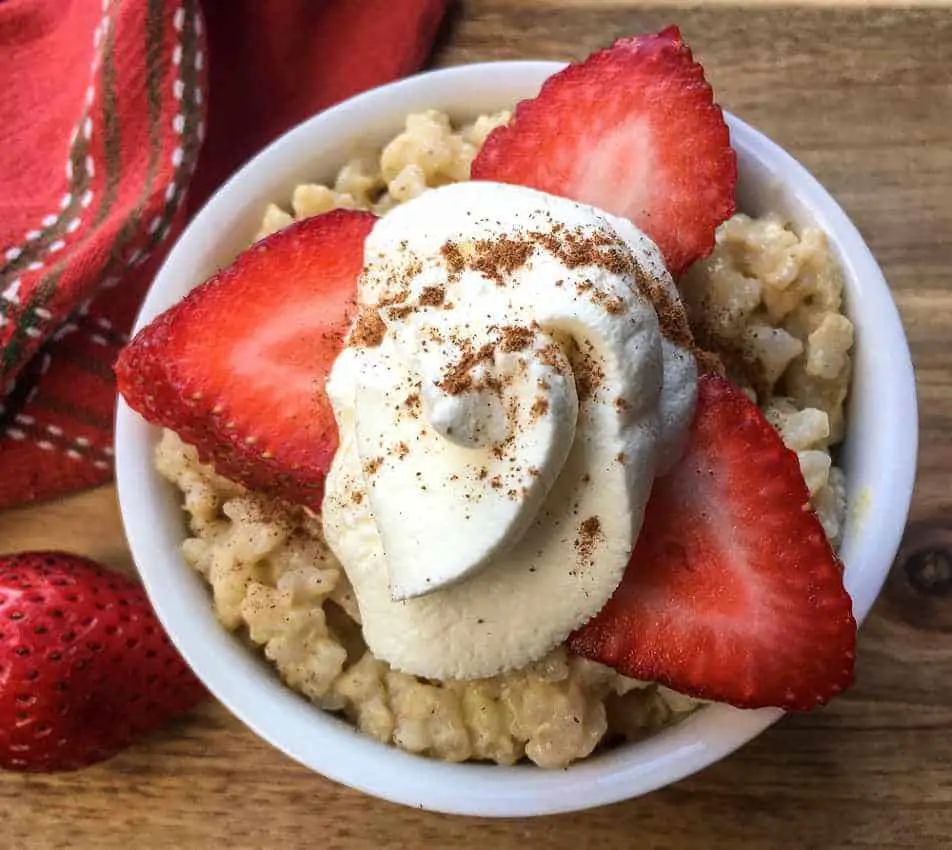 Another ingredient you will need is your sweetener. I stick with either honey or maple syrup because they give an extra layer of flavor to the pudding. However, if you want a more keto-friendly option, you can also use stevia, erythritol, or Yacon syrup. 
Now let's talk about the best part, toppings, and spices. This is where you can go crazy and experiment on different flavors and textures. Our family loves a little extra sprinkle of cinnamon on top and a good scoop of our homemade Sweet and Savory Peach Compote or Irresistible Instant Pot Blueberry Maple Compote (insert link once uploaded).  You can also put fresh berry slices, chopped nuts, or whipped cream.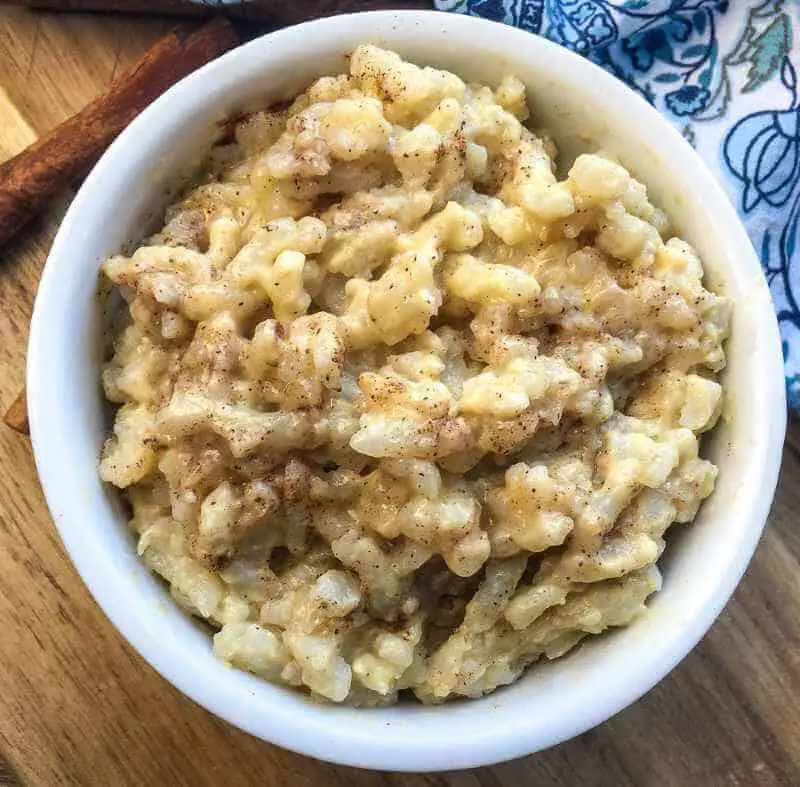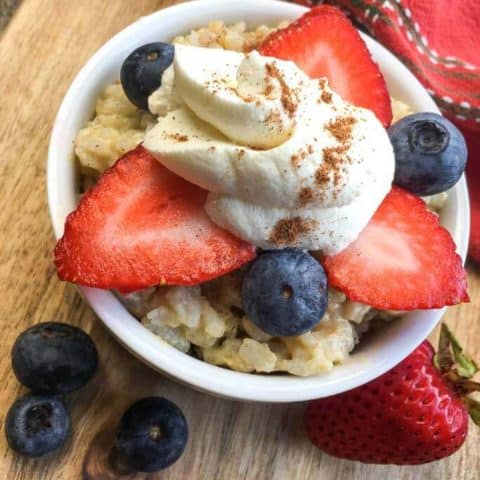 Decadent Creamy Rice Pudding
This Decadent Creamy Rice Pudding is a sweet and sticky dessert with a hint of cinnamon and vanilla. Now made even easier by using Instant Pot.
Ingredients
2 tablespoons extra virgin olive oil
1 cup Arborio rice, washed and drained
2 tablespoons maple syrup (or Yacon syrup)
2½ cups almond milk, divided
1 teaspoon ground cinnamon
¼ teaspoon salt
1 teaspoon vanilla extract
2 eggs
Optional toppings and garnish:
Fresh berries
Chopped nuts
Raisins
Warm berry compote
Ground cinnamon
Cinnamon sticks
Whipped cream
Real maple syrup
Instructions
Pour olive oil into the Instant Pot and set it to the "Sauté" mode. Now add the rice and lightly toast it in the oil for about 2 minutes on a normal heat setting.
Turn off the Instant Pot then gradually pour 2 cups of the almond milk, maple syrup, ground cinnamon, salt, and vanilla extract. Mix until everything is fully incorporated.
Put the lid back on and lock it. Set it to "Manual" mode then turn the heat setting to High. The cook time should be set to 10 minutes while the pressure valve must be on "Sealing".
While waiting, get a mixing bowl and combine the eggs with ½ cup almond milk. Whisk until mixed evenly.
When the timer beeps, turn off the Instant Pot to keep the rice from burning. Let it naturally release pressure for about 15 minutes, the excess pressure has to be released manually.
Remove the lid and take a scoop of the hot rice into the egg mixture. Stir until fully incorporated then add another scoop of rice. Now gradually whisk the mixture into the remaining rice in the pot.
Set the Instant Pot back to "Sauté" and select normal heat setting. Continuously stir the pudding until it thickens and has a more pudding-like consistency. This takes about 3 to 4 minutes. 
Once you get your preferred consistency, turn it off. Transfer the container to a cooling rack and let the pudding cool down prior to serving with your favorite toppings!
You can also store it in an airtight container then put it in the fridge for up to 4 days. 
Notes
Cook time: + time to come to pressure
Nutrition Information:
Yield:

4
Serving Size:

1
Amount Per Serving:
Calories:

221
Total Fat:

11g
Saturated Fat:

2g
Trans Fat:

0g
Unsaturated Fat:

8g
Cholesterol:

93mg
Sodium:

175mg
Carbohydrates:

26g
Fiber:

1g
Sugar:

11g
Protein:

5g
Ready to take a walk down memory lane? It was fun for me to share my favorite dessert as a child to my kids. It was surely an experience and I hope it will be the same for you too! I'm curious, what's your favorite childhood memory? I'll be waiting for your response in the comment box below. Much love, ciao! ♥