Isn't it a dream come true to get an inch closer to getting a flat tummy while sleeping? Thankfully there are nighttime smoothies for weight loss, while you catch your daily dose of Zs it helps you lose unwanted weight. Weight loss is not just about the food you eat, there are also other factors that affect it. It can be stress, physical activity, and sleep. 
Lack of sleep can cause you to rely more on sugar rush and caffeine, both of which are not helpful in losing weight. If you're short on sleep, you're also short on energy so you tend to tire more easily. Which often leads to take-out lunches and drive-thru dinners, most likely fast food. And we all know fast food = more calories, higher carbs and therefore weight gain.
That's what makes my bedtime recipes special. Other than losing weight, I also struggled with sleep for a while. And this inspired me to come up with recipes that will help me deal with both. This is one of the amazing things I love about smoothies. You can mix and match them depending on what your body needs. 
When I was a smoothie newbie I wondered what can I put in my smoothie for weight loss. I did some research and intentionally incorporate them in my diet. Read along to know my favorite ingredients to lose the extra pounds.
What Are The Secret Ingredients For My Bedtime Weight Loss Smoothies?
Aloe Vera Juice –Aloe vera, when consumed as a juice, helps boost your metabolism. It has Vitamin B that helps burn fat and convert it into energy. It also contains a complex carbohydrate called acemannan that is good for body detoxification.
Kiwi – This fruit contains lots and lots of fiber and antioxidants, which aids with digestion. It also helps boost the immune system and avoid high blood pressure. Kiwi is known to be rich in serotonin, also called as the "happy hormone". This helps improve sleep quality when consumed during bedtime.
Banana – This superfood is another ingredient on our list that supports both quality sleep and weight loss. Banana is rich in magnesium that aids in calming your muscles which leads to a night of better sleep. It also helps produce serotonin that positively aids in obtaining a better sleep cycle.
Banana is often added in weight loss smoothies and juices because it is rich in fiber that promotes better digestion. It is also a good source of natural sugar, which then converts into energy.
Grape and Spinach Smoothie
A relaxing combo of grape and spinach guarantees a good night's sleep while boosting your metabolism.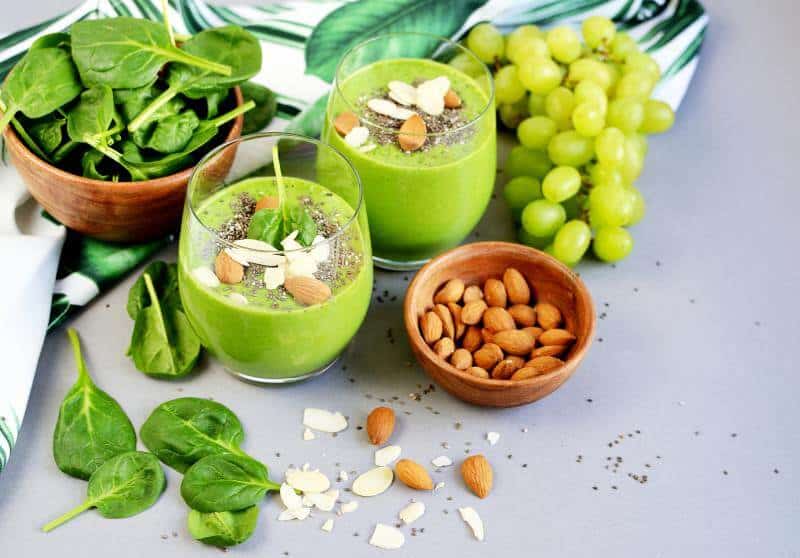 Ingredients:
1 cup plain non-fat Greek yogurt
3 cups spinach
1 cup of green grapes 
2 teaspoons of lemon juice
½ cup of water
Instructions:
Process Greek yogurt and spinach for 15 seconds.
Add green grapes and lemon juice.
Gradually add in water as needed.
Keep blending until the desired consistency is achieved.
Serve in smoothie cups and enjoy!
Sleepy Berry Smoothie
Creamy tri-berry smoothie with calming lavender to help you get a good night's sleep while losing weight.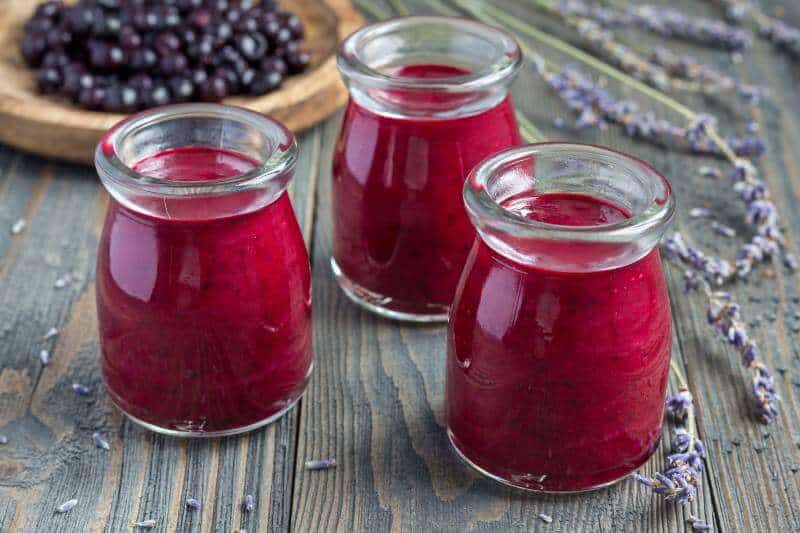 Ingredients:
1/2 cup almond milk
1/2 cup blueberries, frozen
1/2 cup strawberries, frozen
1/2 cup blackberries, frozen
1 tablespoon dried lavender
4-6 ice cubes
Instructions:
Create a smoothie base by blending almond milk and dried lavender together.
Toss in the frozen berries.
Process until smooth and well combined.
Add ice cubes and blend for another 10 seconds.
Pour into serving glasses and serve.
Relaxing Apple-Aloe Vera Twist
A flavorful twist between apple and aloe vera made more relaxing by fresh mint leaves.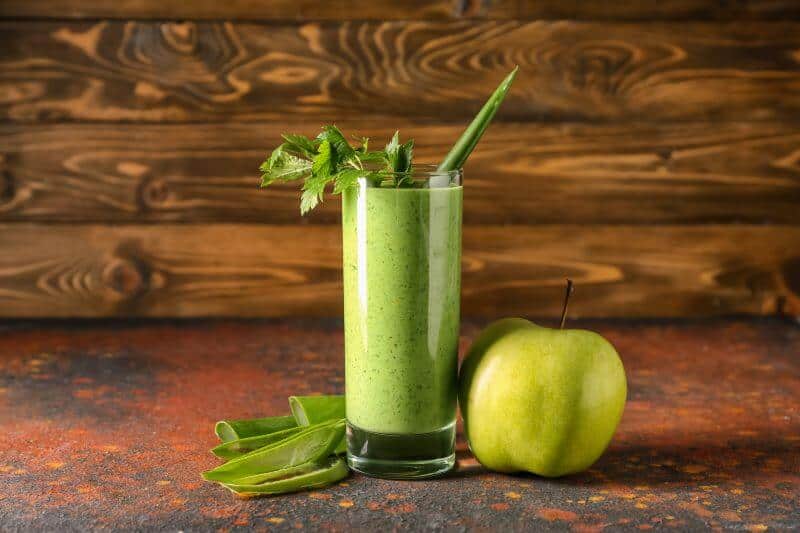 Ingredients:
1 cup apple juice, chilled
2 tablespoon aloe vera juice, chilled
3 stalks celery, chopped
1 apple, frozen and chopped
1/2 cucumber, chopped
1 teaspoon ginger, fresh 
1 tablespoon fresh mint leaves
Instructions:
Blend apple juice, aloe vera juice, and chopped celery for 15 seconds.
Add apple, cucumber, ginger, and fresh mint leaves.
Gradually add in ice as needed.
Process until you get smoothie consistency.
Serve in smoothie cups and enjoy!
Mango Flat Belly Smoothie
A fiber-filled bedtime drink to help trim belly fat while you sleep!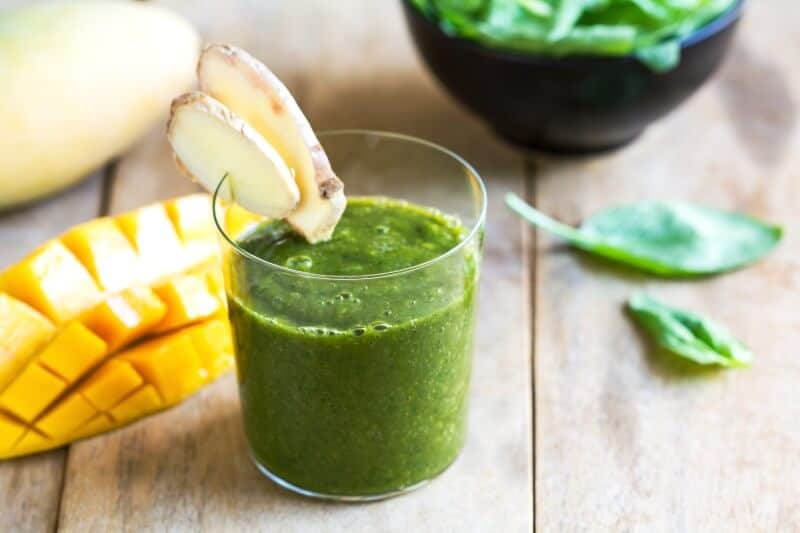 Ingredients:
½ cup almond milk
1 cup spinach
1 cup mango, frozen and sliced
1 kiwi, sliced
½ cup pineapple chunks
2 tablespoons lemon juice
2 tablespoons chia seeds
Instructions:
Combine almond milk and spinach to create your smoothie base.
Toss in frozen mango, kiwi, and pineapple slices.
Add lemon juice and chia seeds.
Blend until you get a smooth and creamy mixture.
Transfer into glasses and serve immediately. 
And this is how, my dear Divas, I lose weight while I snooze! Easy, right? Other ingredients with the same benefits are yogurt, dried lavender, ginger, and spinach. If you need more of the flat tummy juice recipes like kale apple orange smoothie, we got you covered. Feel free to customize your smoothies with these. Let me know in the comments below how these worked out for you! Much love, ciao! ♥