If you believe in the saying "you can't buy happiness, but you can buy bacon which is pretty much the same", then read along. This Keto-Friendly Bacon-Wrapped Water Chestnuts with Spicy Mustard Dip recipe gives us another reason to munch on crunchy bacon without all the guilt!
I know what you're thinking, how can something that tastes so sinful be guilt-free? Simple. It's Keto-friendly, and gluten-free too! So, if you're looking for a new appetizer to add on your weekly meal plan, this is it. Just between you and me, sometimes I snack on these too. Because, why not?
It only takes about an hour to make, maybe even less if you have helpful little hands in the kitchen! I guarantee you; the result is worth it. I had to stop myself from snacking on these or I will be serving an empty plate for my Sunday brunch guests. It's that good. Thank goodness it's keto.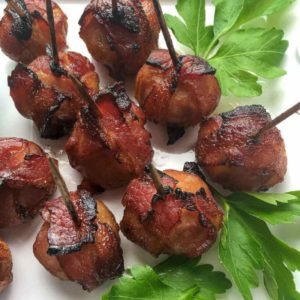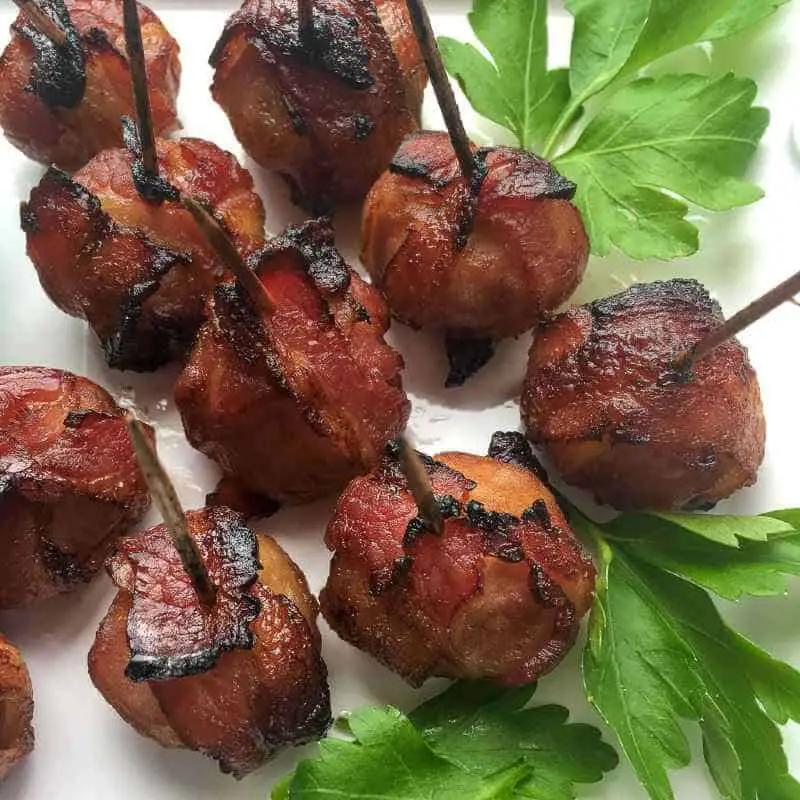 I always serve Bacon-Wrapped Water Chestnuts with Spicy Mustard Dip. It's creamy and spicy so it complements the crunchy and salty bacon balls perfectly. If you have kids, you can turn the spiciness down a notch by skipping the hot sauce and cutting the mustard in half. The yogurt should help balance it out too.
For this recipe, I personally prefer using freshwater chestnuts that I get from our local Asian supermarket. I find that it has better texture and flavor than the canned alternative. But if you can't find freshwater ones, canned water chestnuts will work just as fine.
As for the honey, I strongly suggest getting a bottle of local, unpasteurized honey. This way you get all of its untapped, natural healing properties. If you want to keep it gluten-free, use gluten-free soy sauce or use coconut aminos instead.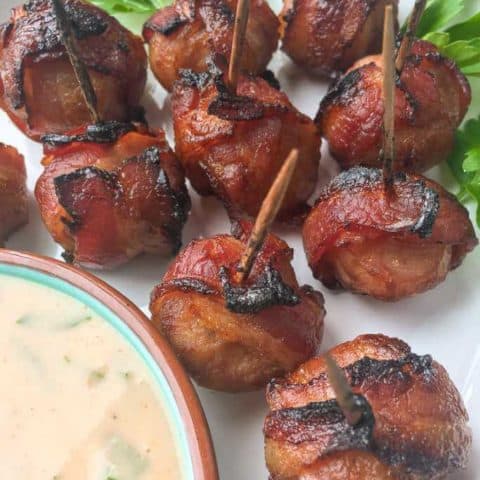 Keto-Friendly Bacon-Wrapped Water Chestnuts with Spicy Mustard Dip
Yield:
4-6 (approximately 24 pcs))
Total Time:
1 hour
5 minutes
Inspired by the classic appetizer, Rumaki – without the chicken liver and brown sugar. A delectable concoction of sweet and savory bacon-wrapped water chestnuts contrasted by a Spicy Mustard Dip.
Ingredients
8 strips center-cut bacon
1/3 cup soy sauce, gluten-free
3 tablespoons honey, organic preferably
24 freshwater chestnuts or 2 8-oz. cans of water chestnuts
¾ cup of Greek yogurt
2½ tablespoons of Dijon mustard
1 tablespoon hot sauce
¼ teaspoon of cayenne pepper
2 tablespoons fresh parsley, chopped
Sea salt and black pepper
Instructions
Prep the bacon strips. Lay the bacon flat down on the cutting board and cut each strip lengthwise. Then cut the halves into 3 equal strips and set this aside.
Make the marinade. In a mixing bowl, combine the soy sauce and honey. Mix until well incorporated then add the water chestnuts. Make sure each piece is well coated then marinate for about 30 minutes. Turn the water chestnuts for at least 2 to 3 times during this time.
Prep the oven. Preheat your oven to 400°F. Place a metal rack inside a rimmed baking sheet. and spray with non-stick cooking spray then set aside. 
Assemble the bacon-chestnut balls. Take the water chestnuts out of the marinade. Set the marinade aside for later. Make an "X" using two bacon strips and put a piece of the water chestnut in the middle where the two strips meet. Now pick up all 4 ends and secure with a wooden toothpick. Place the finished wrap on the baking rack.
Start roasting. Repeat the previous step until all water chestnuts have been wrapped in bacon. Brush each bacon-chestnut ball with the reserved marinade until they're well coated. Then place the baking sheet inside the preheated oven for 20 minutes. Take the sheet out and brush them again with the marinade and put back in the oven for another 10 to 15 minutes.
Prep the spicy mustard dip. Get a bowl and mix Greek yogurt, Dijon mustard, hot sauce, cayenne pepper, and parsley, while waiting for the water chestnuts to finish roasting. Depends on preference add salt and pepper and whisk until well incorporated. Then cover and store in the fridge until serving time. 
Indulge. Once the Bacon-Wrapped Water Chestnuts balls are done, transfer them to a serving plate and serve while still warm. Place the spicy mustard sauce on the side. Bon Appetit!
Nutrition Information:
Yield:

4
Serving Size:

1
Amount Per Serving:
Calories:

649
Total Fat:

10g
Saturated Fat:

3g
Trans Fat:

0g
Unsaturated Fat:

6g
Cholesterol:

25mg
Sodium:

2452mg
Carbohydrates:

117g
Fiber:

25g
Sugar:

39g
Protein:

28g
I guess it's pretty much obvious how much I love this recipe and I know you will too! Did you add your own twist to this delightful dish? Let me know in the comments below. I enjoy reading your feedback and suggestions! Much love, ciao! ♥