Make dear old Popeye proud with these flat belly smoothies with spinach for weight loss! This well-known superfood is a favorite in the fitness community for all it's wonderful health benefits. Not just in achieving a flat belly, but in your overall health too!
Are smoothies a good way to lose weight? Before plunging into the detox smoothies to shed belly weight, I kept on asking my friends this question whenever I see them drinking smoothies. I'm not a fan, tbh. In fact, I only used spinach in salads, sandwiches, and some pasta dishes. But since I've added smoothies into our regular diet, spinach has been our constant source of most vitamins and nutrients. It has a milder taste than other leafy greens, so it's easier to incorporate it with other ingredients. 
Not to mention the little ones don't mind its taste! They didn't like kale and mustard greens that much because of their strong taste. So, when you're still starting with green smoothies, it's best to go with spinach or baby spinach then gradually work your way to stronger tasting ones like kale, arugula, collard greens, and mustard greens.
This is also one of the main reasons why you frequently see spinach or baby spinach in most green smoothie recipes. It's the go-to green smoothie ingredient, especially when you're still trying to become acclimated to it.  It's easy to mask its "leafy" taste with naturally sweet fruits like bananas, apples, or berries.
Spinach – This wonderful green leafy vegetable helps with getting that flat tummy you always wanted. This superfood is a great ingredient for weight loss, having only 7 calories. It also contains a lot of dietary fiber that helps you stay full longer and encourages healthy digestion.
The magnesium in spinach allows your body to generate enough energy to help fulfill your daily tasks. It also helps with carbohydrate and glucose metabolism which reduces the risk of diabetes and high blood pressure.
It is one of the very few natural sources of thylakoids, which is known to positively impact leptin which is the type of hormone that calls out your body to "stop" eating and suppress your appetite. Spinach is also rich in Vitamin C, which boosts your immune system, reduces the risk of cardiovascular issues as well as help you get clearer, glowing skin.
Other nutritional benefits of spinach are Vitamin K and A, calcium, folate, beta carotene, lutein, iron, and folic acid. If you need more flat tummy juice recipes that are tried and tested please check out our blog.
Cucumber Spinach Fat Buster Smoothie
The perfect fat burning combination of spinach, cucumber, and banana in one good smoothie cup.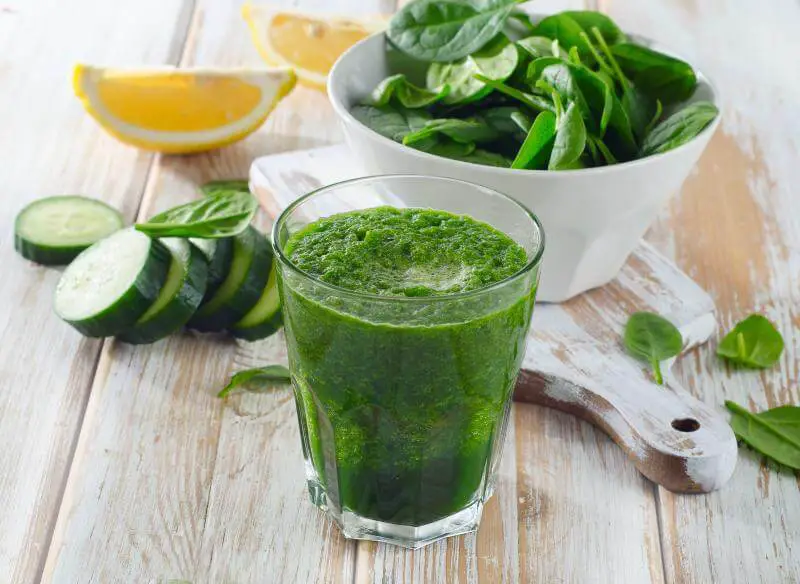 Ingredients:
½ cup of water
1 cup spinach
1 banana, frozen and sliced
1 cucumber, sliced
2 tablespoons lemon juice
2 sprigs mint
½ cup ice
Instructions:
Process water and spinach for 5 to 10 seconds.
Once well incorporated, gradually add frozen banana slices and cucumber.
Then add lemon juice, mint, and ice.
Blend until you get a smooth and creamy consistency.
Pour into smoothie cups and consume immediately.
Goodbye Belly Fat Smoothie
Say goodbye to unwanted belly fat with this delicious green smoothie! Made up of baby spinach, avocado, apple, and bananas.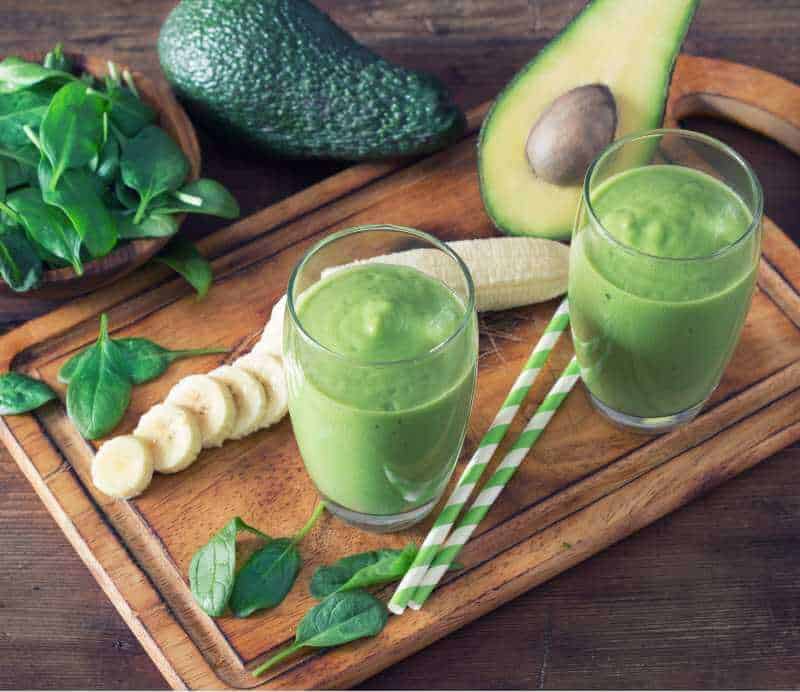 Ingredients:
1 cup almond milk
1 cup baby spinach
1 banana, frozen and sliced
½ avocado, sliced
1 apple, sliced
2 teaspoons stevia, to taste
Instructions:
Put unsweetened almond milk and baby spinach in the blender and blend until smooth.
Then gradually add frozen banana, avocado, and apple.
Process until fully combined.
Add stevia, to taste, and continue blending.
Serve in glasses and enjoy!
Spinach Berry Detox Blast
Naturally sweet berries and pineapple combined with baby spinach guarantees to detoxify your body with just one glass.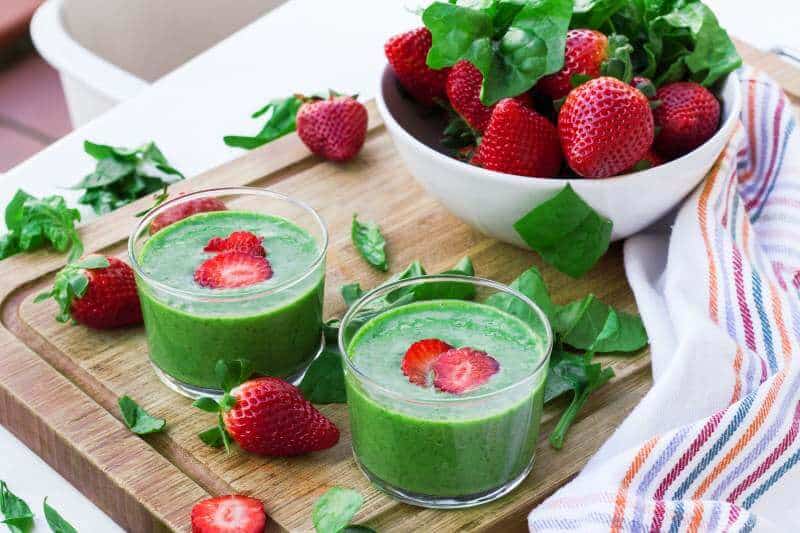 Ingredients:
1 cup of coconut milk
1 cup baby spinach
½ banana, frozen and sliced
1 cup pineapple, frozen
1 cup strawberries, frozen
2 tablespoons ground flax seeds
Instructions:
Blend coconut milk and baby spinach to create your smoothie base.
Then add frozen banana, pineapple, and strawberries.
Process until the consistency is smooth.
Gradually add ground flax seeds.
Blend for 5 to 10 seconds more.
Pour into glasses and enjoy!
Refreshing Flat Tummy Smoothie
This smoothie mix will not just get you a flat tummy, it will make you feel refreshed and energized too!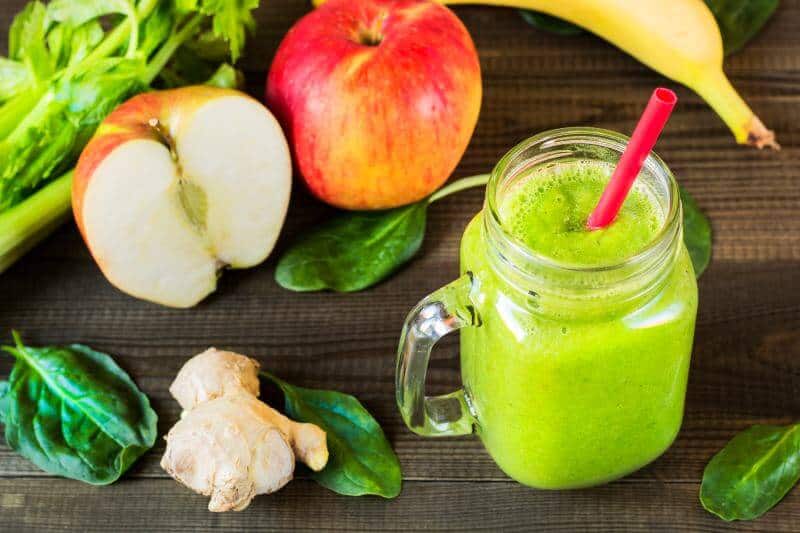 Ingredients:
1 cup of coconut water
1 cup spinach
2 celery stalks, chopped
2 green apples, chopped
1 cucumber, chopped
1 tablespoon ginger, grated
2 tablespoons lemon juice
Instructions:
Combine coconut water spinach, and celery stalks to create your smoothie base.
Toss in apples, cucumber, and freshly grated ginger.
Add lemon juice.
Blend until you get a smooth and creamy mixture.
Transfer into glasses and serve immediately.
As you might have figured out by now, spinach will be your new best friends when it comes to going on a green smoothie diet. I hope you enjoy these recipes and feel free to send me your flat belly smoothie suggestions too! I would totally love to read about them. Much love, ciao! ♥