Detox smoothies and juices are the easiest way to shed belly weight. Flat tummy juices are composed of different fruits, greens, protein, and superfoods. They provide fiber and antioxidants that are efficient in flushing toxins and excess fat from the body. 
Detox smoothies and raw juices help you get enough fruits and vegetables in your body that are otherwise difficult to achieve on a daily basis. They are significantly low in calories, sugars, and carbohydrates while rich in healthy fats and protein.
Green smoothies are very easy and convenient to make. First, you have to pick your smoothie's liquid base, this can be a couple of different things. It can simply be water or coconut water. But the best option for me is always plant-based milk. This includes oat milk, almond milk, coconut milk, and other non-dairy milk. They add another layer of flavor to the smoothie and make it creamier!
Next is to choose the greens that you want to add to your breakfast shake. When you're still new to green smoothies, go with spinach or baby spinach first. It has a milder flavor and is rich in fiber and iron. Other greens like kale and swiss chard to have a stronger, more bitter flavor. 
Now you want to pick your fruits. Do not overload your smoothie with fruits otherwise, you'll get about 500 calories and a ton of sugar which defeats the purpose of your diet. The best belly-busting fruits include but are not limited to apples, bananas, tomato, kiwi, guava, and berries. 
Lastly, decide on which superfood you want to add. Toss in a tablespoon or two of flax seeds, chia seeds, or matcha powder to your smoothies. You can also use other superfoods like hemp seeds, turmeric, or nut butter.
Don't forget to check out my favorite Nighttime Smoothies for Weight Loss and for my Divas who are not big on strong tasting greens, you must peep my Flat Belly Smoothies with Spinach recipe too!
Berry Detox Surprise
A berry-creamy mix with a hint of sweet pineapples and hearty kale to balance it out.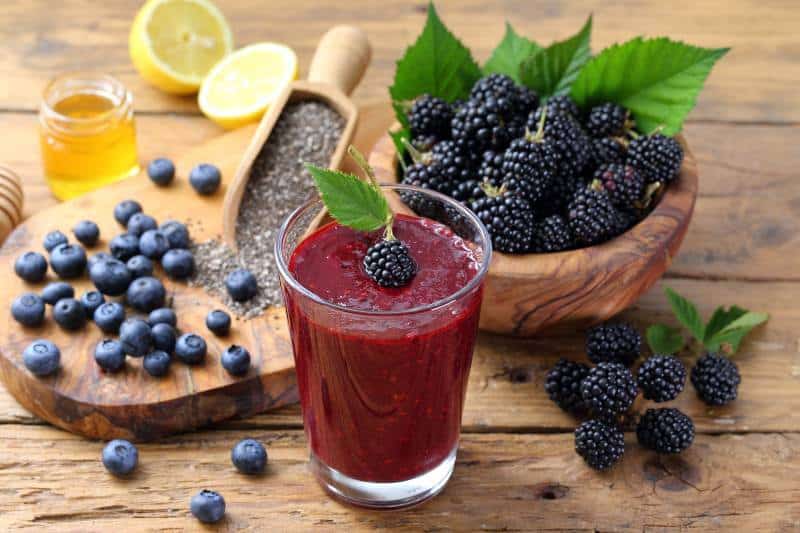 Ingredients:
1 cup almond milk
1 cup kale
2 cups blackberries, frozen
1 cup blueberries, frozen
1 cup pineapple, sliced
2 tablespoons chia seeds
Instructions:
Combine almond milk drink and kale to make a smoothie base.
Toss in frozen blackberries, blueberries, and pineapple slices.
Process until it's well incorporated.
Add chia seeds and blend for another 15 seconds.
Transfer to smoothie cups and enjoy!
Spicy Apple Detox Juice
This is the perfect breakfast juice that will surely wake you up! Sweet apple with a spicy kick from fresh ginger.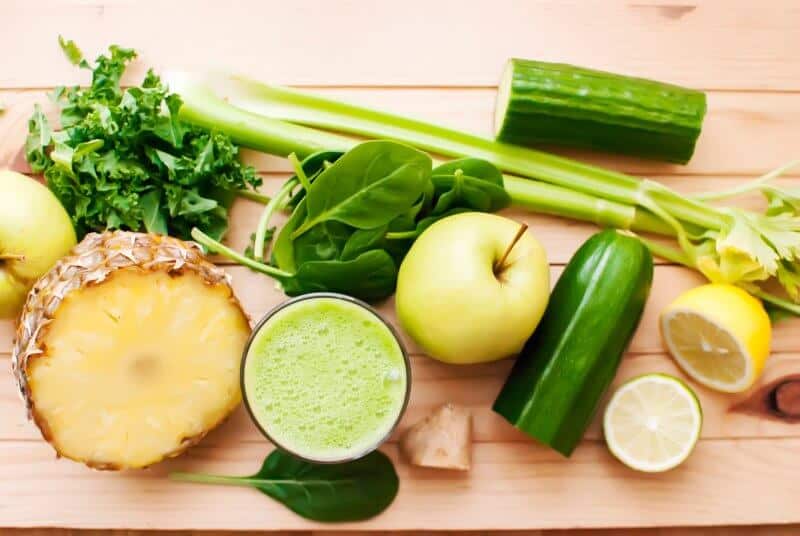 Ingredients:
2 cups baby spinach
1/2 cup celery
1 apple, chopped
1 small cucumber
1 small ginger
2 tablespoons lemon juice
1 cup of coconut water
Instructions:
Rinse fresh produce thoroughly in running water.
Dry with a paper towel or dishcloth.
Run baby spinach through the juicer.
Then alternately juice the celery, ginger, and apple.
Lastly, juice the cucumber through.
Mix with coconut water and lemon juice.
Stir well and pour into chilled glasses.
Coco-Piña Fat Burner
Go loco over this super tasty coco-piña twist! This drink is high in fiber and has rich fat-burning properties.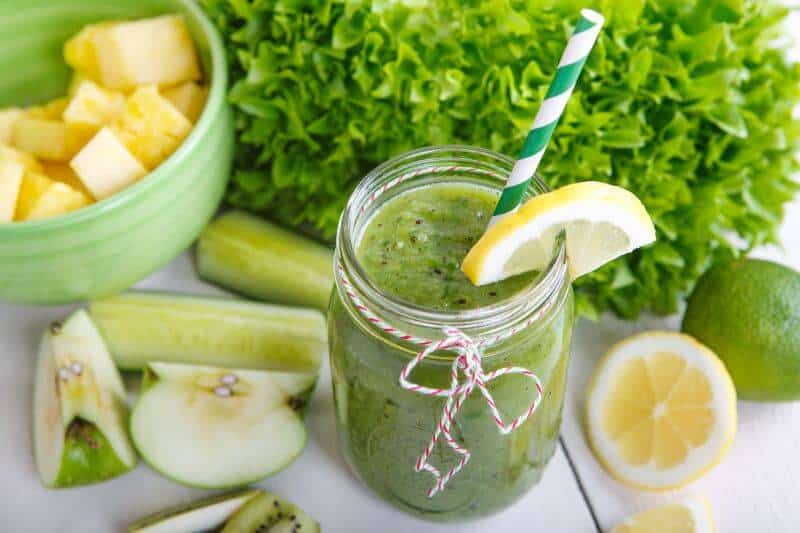 Ingredients:
2 cups kale
3/4 cup pineapple slices
1 orange, peeled and sliced
1 medium-sized cucumber
1 cup of coconut water
Instructions:
Wash all fresh produce in running water.
Pat them dry with a paper towel or clean dishcloth.
Start juicing the kale.
Then alternate between the pineapple slices and orange.
Finish by juicing the cucumber.
Whisk in coconut water before serving.
Best served when chilled.
Super Choco Matcha Belly Buster
Get the best of both worlds with this matcha and chocolate combo smoothie. Party in your taste buds while purging your body of unwanted fats!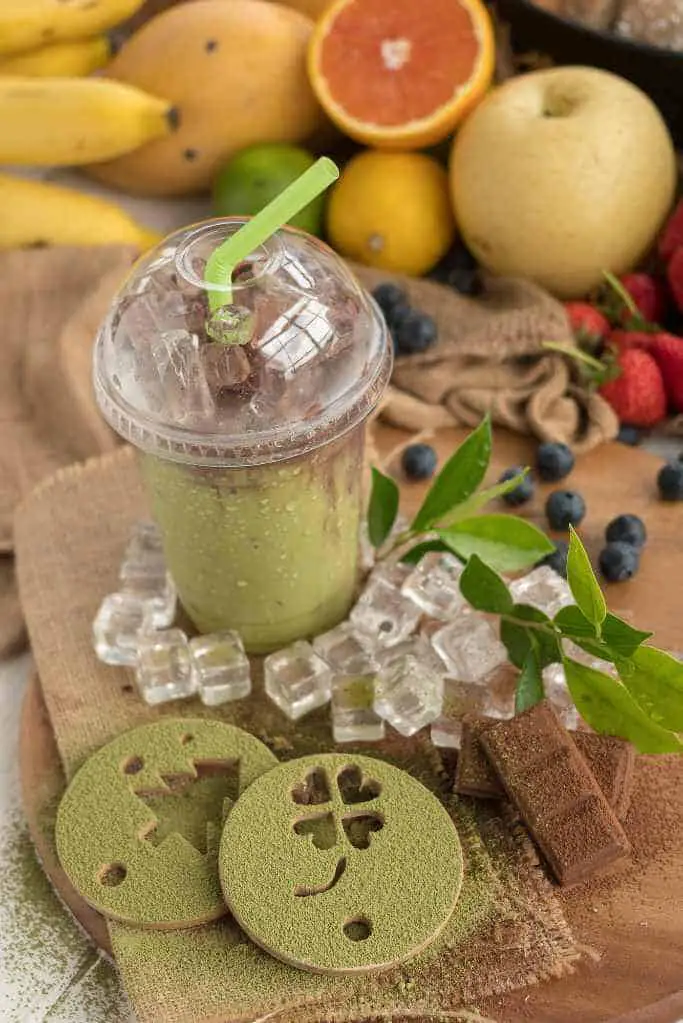 Ingredients:
1 cup almond milk, preferably chocolate flavored
1 cup baby spinach
1 banana, frozen and sliced
½ avocado, sliced
1 tablespoon cacao nibs
1 tablespoon matcha tea powder
1 tablespoon chia seeds
1-2 sprigs of fresh mint
Instructions:
Blend almond milk and baby spinach to make a smoothie base.
Toss in frozen banana and avocado slices.
Gradually add cacao nibs, matcha tea powder, chia seeds, and fresh mint.
Process until everything is fully incorporated.
Pour into serving glasses and enjoy!
Are you excited to try out these yummy Flat Tummy Juices? I know you'll find it as easy as I did to integrate them into your daily meal plans. I want to know which one is your favorite! So please leave them in the comments below. Much love, ciao! ♥