As a child, I only knew cream of mushroom soup as "sick people food". It's what my mom feeds me whenever I get the flu. Mostly because for some reason it's all I want to eat whenever I get sick. But growing up, oh boy did I realize how wrong I was. 
Cream of mushroom soup is everything. It escalated quickly from "sick people food" to the ultimate comfort food for me. Especially since learning how easy, it is to make it on my own, from scratch. I swear I must have been binging on this cream of mushroom soup for like a week after I learned this recipe. This is it, ladies and gentlemen, I finally graduated from canned soup #AdultingWin.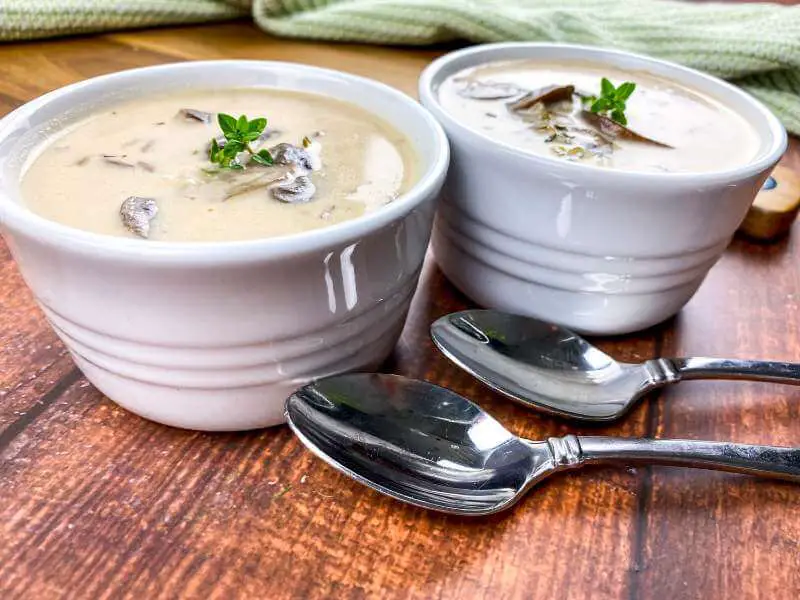 So of course, I would love to share it with you. It's really easy and it only took me about 45 minutes to put everything together.  Not bad, if you ask me. There are soups out there that take literal hours to make. The procedure is simple and will not require two culinary degrees and a toque. The ingredients are ones that you probably already have sitting in your pantry. 
To make the soup, I use butter, your usual aromatics – garlic, onion, rosemary and thyme, and salt and pepper. Then I go with Portobello mushrooms because I like that rich, umami taste. Alternatively, you can use cremini mushrooms or white button mushrooms. White button mushrooms have a milder flavor while cremini mushrooms stay firm regardless of how you cook it, so it's perfect for making soups too.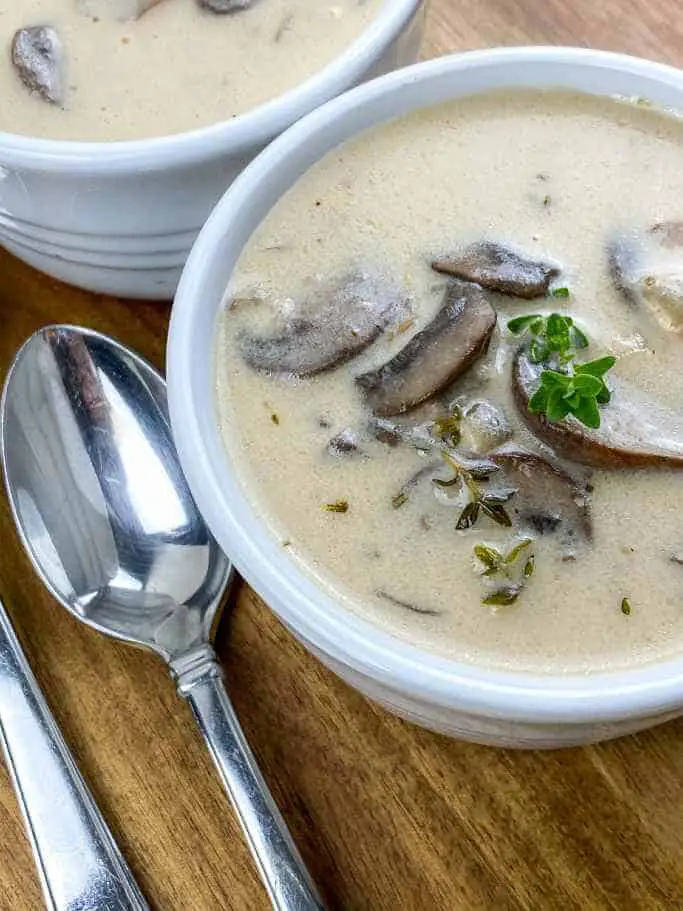 For our dairy-free friends, you can skip on the heavy cream and use coconut cream instead. It has the same thickness and texture as heavy cream. As for the butter, you can use coconut oil, olive oil, lard, or vegan butter. You can also switch all-purpose flour and use oat flour or almond flour instead. Do you use any other alternatives? Please let me know in the comments below. 😉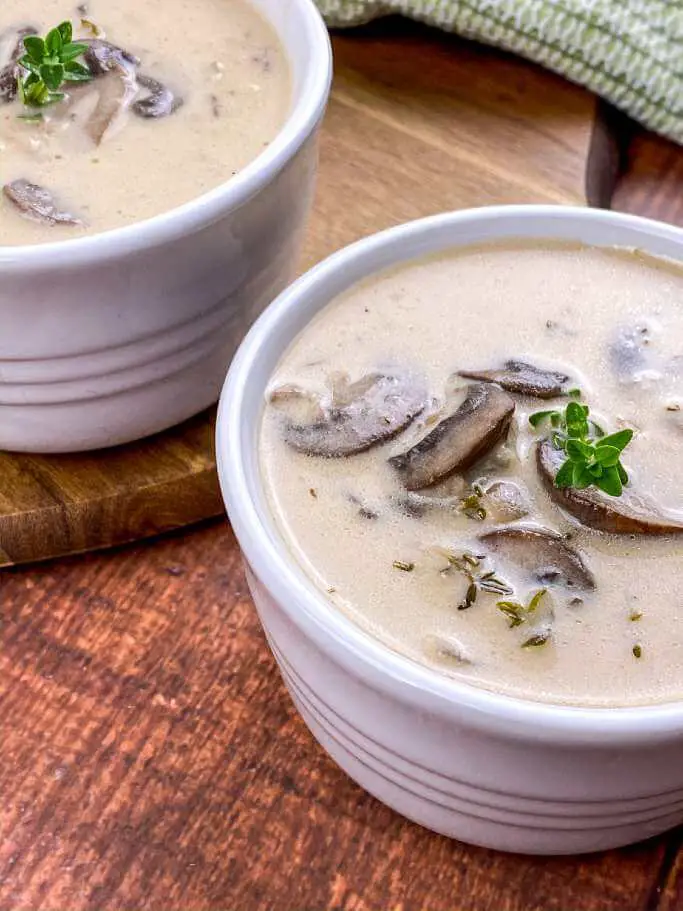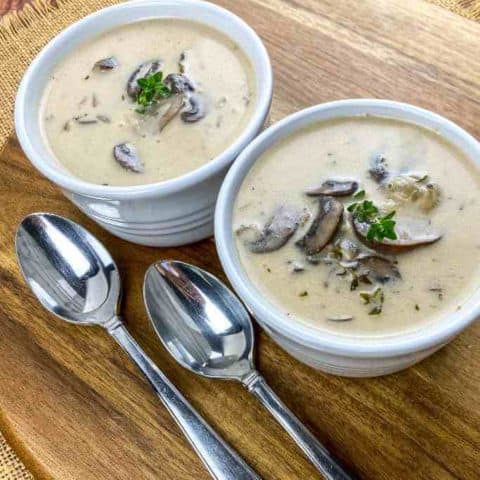 Easy Cream of Mushroom Soup from Scratch
Rich, hearty Cream of Mushroom Soup made in only 45 minutes. A classic soup with an outstanding taste that goes with any kind of meal.
Ingredients
2 tablespoons butter, unsalted
2 yellow onions, finely chopped
2 cloves garlic, minced
16 ounces sliced Portobello mushrooms
2 teaspoons dried rosemary (or 2 tablespoons fresh rosemary leaves, finely chopped)
1 ½ teaspoon dried thyme (or 2 tablespoons fresh thyme)
½ cup Marsala wine
2 cups organic chicken or vegetable broth
1 cup heavy cream
3 tablespoons all-purpose flour
1 teaspoon coarse salt
1 teaspoon black pepper, finely ground
Instructions
Place a large Dutch oven over medium heat. Once it heats up, melt 2 tablespoons of unsalted butter and toss in the chopped onions.



Sprinkle with salt and pepper. Cook for about 4 to 5 minutes or until onions become translucent. Stir frequently. 



Add garlic to the mix and continue stirring for 1 to 2 minutes or until it's fragrant and lightly browned.



Now add your mushrooms and herbs.



If needed, season with a little more salt and pepper. Stir occasionally for the next 5 minutes or until the mushrooms have browned and have started releasing liquids. 



Gradually pour in the Marsala wine while gently scraping the fond at the bottom of the Dutch oven. Reduce the wine for approximately 1 to 2 minutes or until the strong aroma evaporates.



Add the broth to the mixture and let it simmer for the next 10 to 15 minutes before removing it from the heat.



Take a couple of teaspoons of hot soup and stir it to the heavy cream. Pour tempered heavy cream into the rest of the soup, stir until well combined. 



In a small bowl, create a slurry by combining 3 tablespoons of hot soup and 3 tablespoons all-purpose flour. Mix until smooth and well combined. Now gradually stir the slurry to the soup base until you get your desired consistency.



Taste and add more salt and pepper or herbs if needed. Serve while still warm. Bon Appetit!  


Notes
If you're using fresh herbs, make sure to remove the stems and take only the leaves before adding to the soup.
This soup is best served with crunchy croutons and fresh herbs on top.
Nutrition Information:
Yield:

6
Serving Size:

1
Amount Per Serving:
Calories:

334
Total Fat:

25g
Saturated Fat:

13g
Trans Fat:

0g
Unsaturated Fat:

9g
Cholesterol:

97mg
Sodium:

638mg
Carbohydrates:

13g
Fiber:

3g
Sugar:

5g
Protein:

16g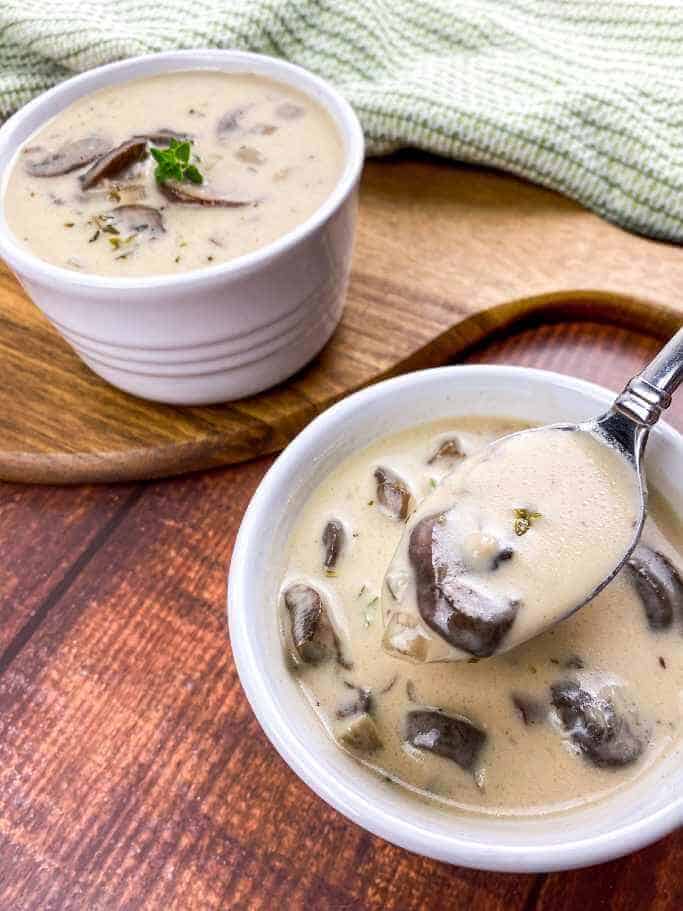 There's nothing better than a warm, hearty bowl of Cream of mushroom soup on a rainy day. Grandma used to say a good soup should feel like hugs and this is definitely it for me. So, by sharing this recipe this is me giving hugs to all of you! You can give a hug back through the comments below. Much love, ciao! ♥