We've all had peaches in a sweet kind of way, it can be in pies, jams, or ice cream. But have you had a savory peach compote? It's like peach jam, but it's more tangy than sweet. And let me tell you now, it changed my whole perspective about peaches.
I've always thought of peaches in a more dessert-ish vibe, but since making this compote, I put it on almost everything! I tried it on pancakes, pudding, sandwiches, chicken, and even on my overnight oats. I have yet to try it on ice cream and waffles, though I'm sure it will be just as good. That's just how versatile it is, it adds that extra punch that you didn't know you need.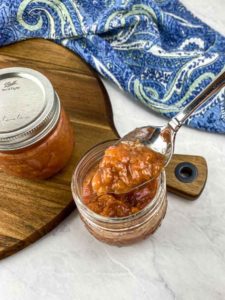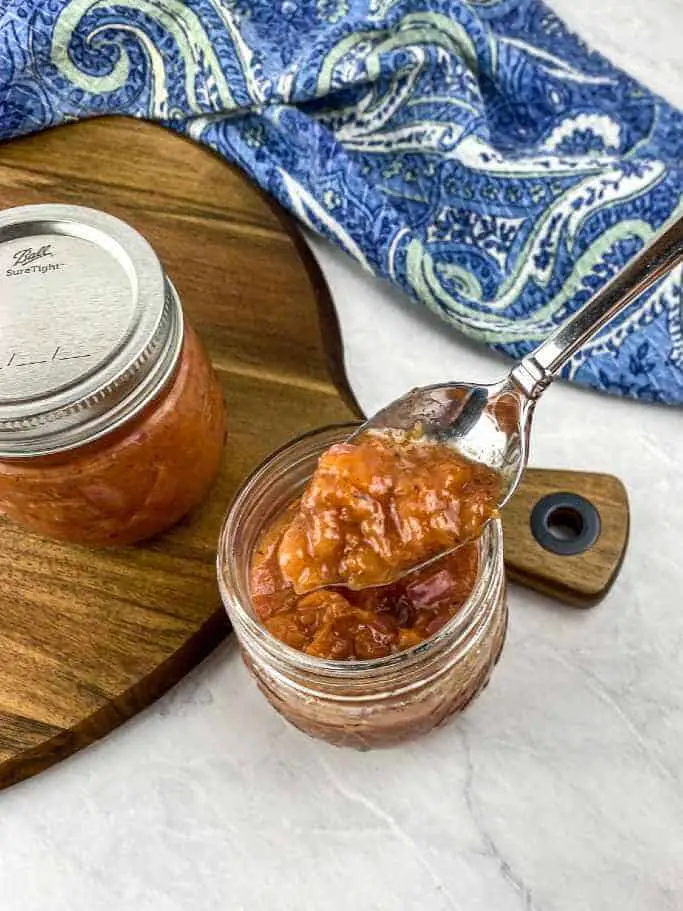 But wait, there's more. It's not just oh-so-yummy, it's remarkably healthy too! These plump Peaches are rich in different antioxidants and nutrients. They improve your metabolism, boost your immunity, give you better heart health, and improve your skin's texture. Luckily enough, they're easily available anywhere. So yes, more peach compote for me, please. 
It's hard to believe how easy it is to make this delicious condiment. All you have to do is sauté the aromatics, spices, and herbs. Add the peaches and the rest of the ingredients and simmer until they combine. Then you cool it down and blend it.  And that's it! You can now enjoy the fruit of your hard work. 😉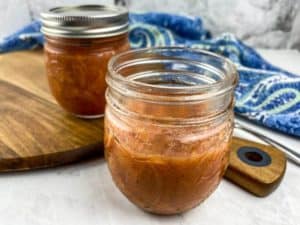 How I Serve Sweet And Savory Peach Compote?
My top 2 suggestions are one pan chicken rice in peach sauce and chicken & brie panini with spicy peach compote. 
One Pan Chicken Rice in Peach Sauce – Find the recipe here. Simply put, it's chicken bites that are tossed in the compote and put on top of steaming rice.  The Asian in me is very happy with this one!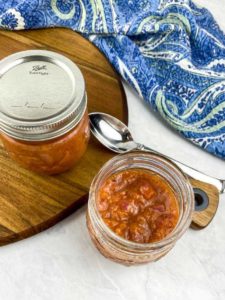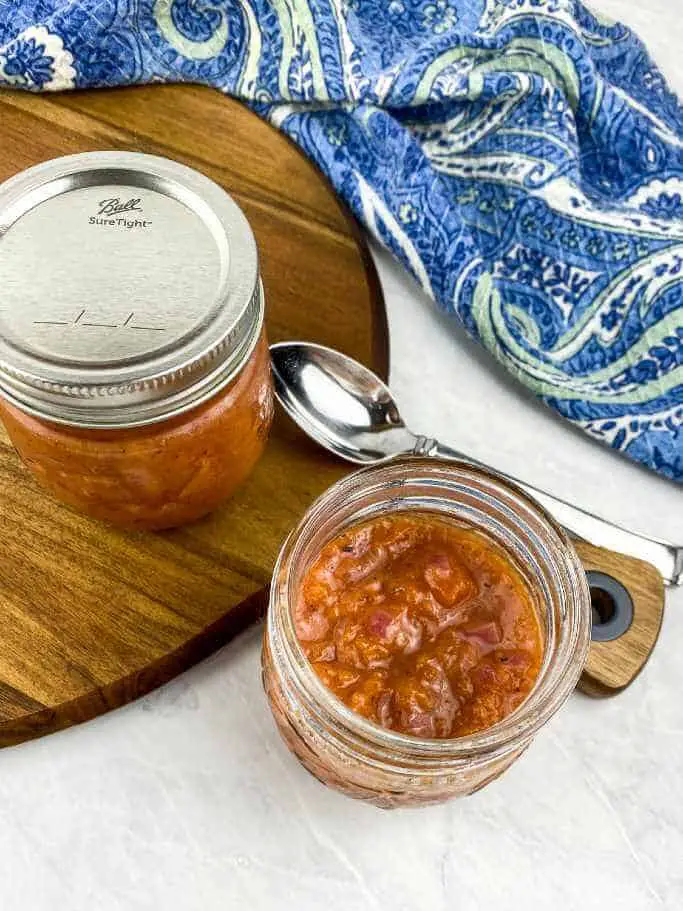 Easy Chicken & Brie Panini with Spicy Peach Compote – I discussed how to make it here.  I love how the brie cheese and the savory peach compote complemented each other in this sandwich.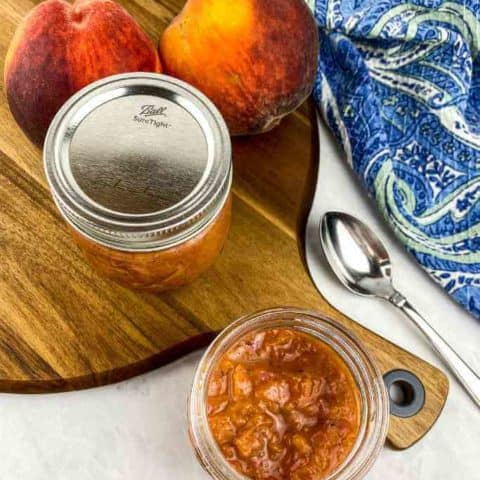 Easy Sweet and Savory Peach Compote
Naturally sweet peaches creating a flavor feast in your taste buds with the help of cinnamon, and rosemary, honey. Extremely versatile compote that you can add to sandwiches, chicken, and pork.
Ingredients
2 tablespoons extra virgin olive oil
1-2 large garlic cloves, minced
½ cup red onion, finely chopped (about ½ medium)
Sea salt and black pepper
1 teaspoon rosemary dried
1 teaspoon cinnamon ground
1/8 – 1/4 teaspoon red pepper flakes crushed
2 tablespoons fresh lemon juice
4 large rice peaches, diced
3 tablespoons organic honey
2 tablespoons water
Instructions
Pour olive oil in a saucepan over medium heat.



Then add garlic and red onion, and sauté them until fragrant.



Season with salt and pepper to taste while stirring continuously.  



Add the herbs and spices to the mixture.



Continue stirring frequently for about 4 to 5 minutes or until the onions turn translucent and the fragrance from the spices comes out. 



Pour in the peaches, lemon juice, honey, and water to the saucepan.



Stir until well combined.



Bring the mixture to a quick boil by increasing the heat to medium-high. 
Then immediately put it back on medium and let it simmer while still stirring occasionally. Do this for approximately 10 to 12 minutes until the peaches soften and you feel the mixture begins to thicken.



Take it off the heat and let it cool for about 15 to 20 minutes. Once the mixture is relatively cool, gradually pour the peach mixture into the blender. Quickly pulse it for about 10 to 15 seconds until blended or until you reach your desired consistency. I like mine with still some tiny chunks to it for better texture. 



Now you can consume your finished product immediately. Mix and match it with different dishes to get the most out of it, and most importantly, enjoy it!


Notes
Not a preserving recipe, however, you can transfer the compote into a sealed container and store in the fridge. From my experience, the Savory Peach Compote reaches its best potential flavor after 1 to 2 days.
Nutrition Information:
Yield:

3
Serving Size:

1
Amount Per Serving:
Calories:

466
Total Fat:

10g
Saturated Fat:

1g
Trans Fat:

0g
Unsaturated Fat:

8g
Cholesterol:

0mg
Sodium:

104mg
Carbohydrates:

89g
Fiber:

3g
Sugar:

24g
Protein:

7g
Yes, I'm definitely fangirling over this Sweet and Savory Peach Compote and once you try it out, I'm sure you would too! Please, please share your experience with this recipe on the comments below, I'd appreciate it a lot. Much love, ciao! ♥