Do you know what's better than ice cream? Waffle Ice Cream Sandwiches. I prefer waffles over cookies or wafer because they don't break under pressure. I'm the kind of person who eats ice cream regardless of the weather. To nobody's surprise, it rubbed off on my kids too! 
We all know how messy it is to have kids and ice cream in the same space. But alas! It only took a simple step up from using ice cream cones to waffle sandwiches to make it a tad bit easier to clean up.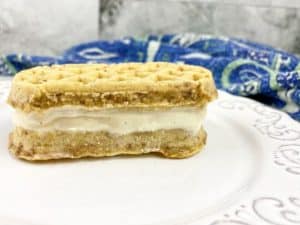 Not only does it make the snack more filling – which means they won't be asking for seconds (or thirds), the sandwich also catches the ice cream drips so it doesn't go all over the place. Talk about hitting two birds with one stone. 😉
When it comes to making waffle ice cream sandwiches, the possibilities are endless. You can use different ice cream flavors and toppings or mix and match them. We usually go with either vanilla, chocolate, or strawberry. We also switch between regular or chocolate waffles. I find Eggo® Wafflers' work the best because of its popsicle-like shape.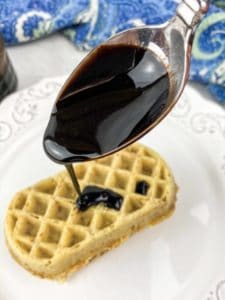 If you or your kids have dietary restrictions, some stores offer ready-made gluten-free waffles or dairy-free ice cream. Or you can just DIY it! For instance, if you need a gluten-free or keto-friendly option, use almond flour instead of regular all-purpose flour. Then use coconut cream and honey or maple syrup to make homemade dairy-free ice cream.
But – since we're all about quick and easy here, today I'll show you how to make it with ready-made ingredients! All you'll need is less than 20 minutes, some waffles, ice cream, and A TON of self-control to not devour the ice cream just as it is.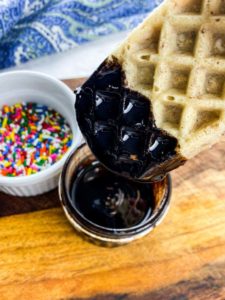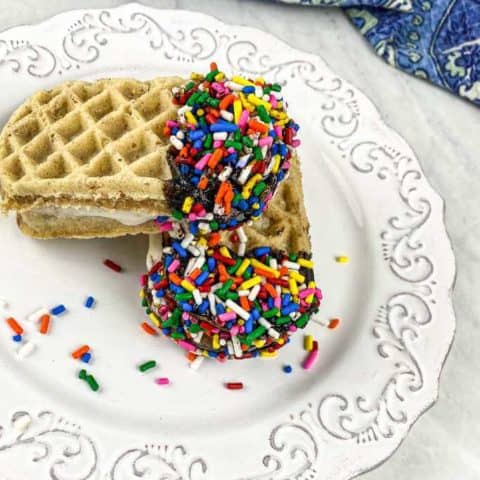 Best Kid-Friendly Waffle Ice Cream Sandwiches
Yield:
4 ice cream sandwiches
Cook Time:
12 minutes
10 seconds
Total Time:
17 minutes
10 seconds
Nothing's better than sweet, decadent ice cream sandwiched in crunchy toasted waffles then dipped in chocolate and topped with rainbow sprinkles!
Ingredients
1 qt. vanilla bean ice cream
4 square waffles, cut into 8 rectangles (or 8 Eggo® Wafflers)
Recommended topping ideas:
Chocolate sauce
Sprinkles
Chopped nuts
Rice Crispies
Crushed cereals
Instructions
Start by making the waffles. Preheat your oven to 350° F. While waiting, arrange the waffles in a single line on a parchment-lined baking sheet.
Place the baking sheet in the preheated oven. Bake it for 5 to 6 minutes then flip the waffles.



Let the other side bake for another 5 to 6 minutes or until they are golden brown. Then remove the waffles from the baking sheet to cool for several minutes.



Do not forget to cool the waffles down before assembling the sandwich or they will melt the ice cream.



Using a medium ice cream scoop, add ice cream to 4 of the cooled waffles.



Spread it into an even layer with the back of the scoop.



Then add another waffle on top to make the sandwich. Repeat this step on the remaining waffles.



Transfer the assembled ice cream sandwiches back on the baking sheet. Place it in the freezer for about 30 minutes for the sandwich to set. When you're ready to start decorating them, take the ice cream sandwiches out of the freezer.
You can keep it simple as it is or use your preferred dip and toppings before serving. In this recipe, I'm going with my kid's favorite combination: chocolate dip and rainbow sprinkles! So, what I like to do is either dip the sandwich in the chocolate sauce or drizzle it on top of the sandwich using a spoon. Then I'll do the same with the rainbow sprinkles. 
Notes
Serving Suggestions:
Chocolate sauce dip and crushed peanuts
Vanilla ice cream and drizzle with caramel sauce
Strawberry ice cream and dip in white chocolate sauce
You can skip the sauce and roll the sides of the sandwich in your preferred toppings! Our favorite combinations include:
Chocolate ice cream rolled in crushed cereals
Salted Caramel ice cream rolled in crushed peanuts
Vanilla ice cream rolled in crushed Oreos

Tip: Make sure to remove your ice cream from the freezer 15 minutes before you start assembling the sandwich. This is so that it's soft enough to scoop but not completely melted.
Nutrition Information:
Yield:

4
Serving Size:

1
Amount Per Serving:
Calories:

416
Total Fat:

19g
Saturated Fat:

5g
Trans Fat:

0g
Unsaturated Fat:

13g
Cholesterol:

66mg
Sodium:

509mg
Carbohydrates:

52g
Fiber:

2g
Sugar:

14g
Protein:

10g
Are you ready to have a fun and tasty bonding time with your kids? I like making these Waffle Ice Cream Sandwiches with my little ones because they enjoy the whole assembly process. I'd love to see and hear how yours turned out so please do leave me a comment below! Much love, ciao! ♥