If you're also a firm believer of the phrase "Everything is better with chocolate", then I'm sure you will enjoy these Chocolate-Covered Strawberries. It's my own twist on this classic sweet treat, adding a few extra layers of texture and flavor. They have just the right amount of sweetness using a combination of strawberries, cacao chips, and chopped pecans. I can never have enough of these, I swear!
This dessert can't be any easier to make, it literally takes 20 minutes! I love making Chocolate-Covered Strawberries for my hubby and I's movie and wine nights. It makes us feel fancy, regardless if we're drinking a low-cost grocery store wine. It reminds us of those room treats they gave us at this 5-star hotel that one time we were on a vacation along with a bottle of wine.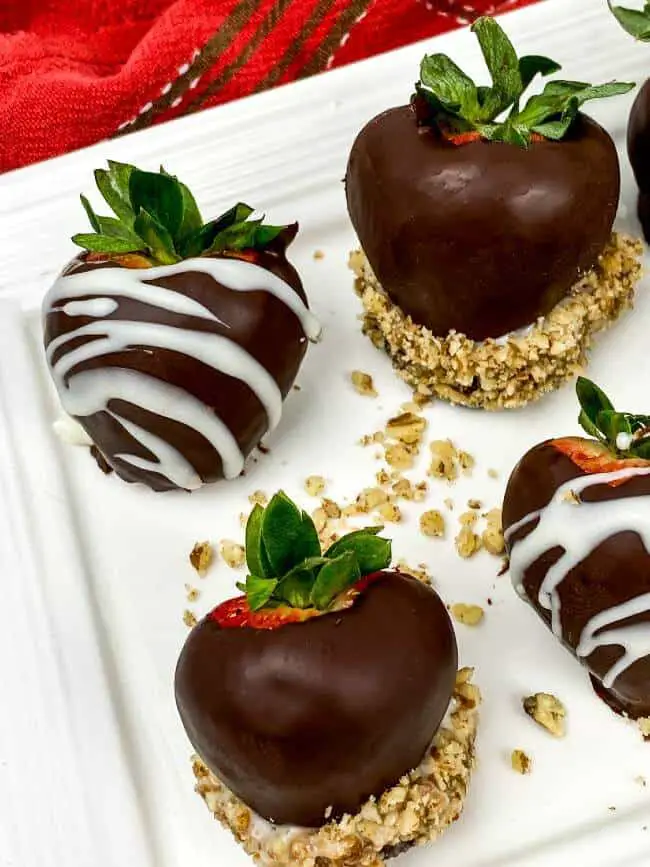 They also make the best homemade gifts for your friends and loved ones. I recently made a big batch of these to give away for my sister-in-law's housewarming party. I made them the night before then on the day itself we assembled them in pretty little boxes secured with little ribbons and they just look so cute!
Tips To Make The Perfect Chocolate Covered Strawberries:
Make sure that the strawberries are rinsed, patted dry with a paper towel then air-dried before dipping them in chocolate. Otherwise, the chocolate will not properly cling to them.
Since this treat doesn't require a lot of ingredients, invest in fresh strawberries and high-quality chocolate. Fresh strawberries are naturally sweeter and firmer, so they don't get mushy before your guests get to enjoy it. Use only high-quality chocolate for richer flavor and smoother texture.
Do not skip adding some type of oil to the melted chocolate before dipping your strawberries in them. This helps them cling better on the strawberries, so they don't fall apart when you take a bite. I highly recommend coconut oil but you can also use melted unsalted butter or sunflower oil.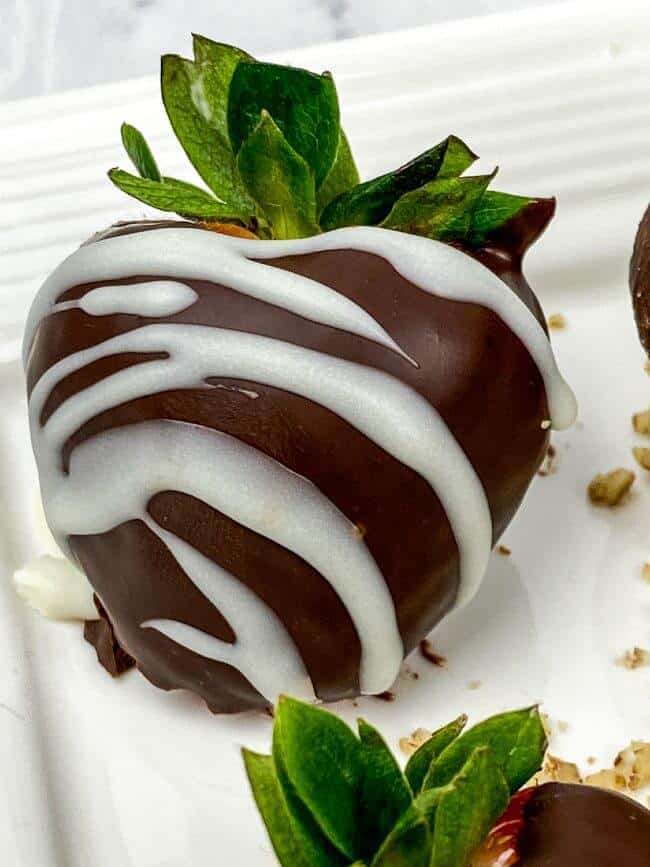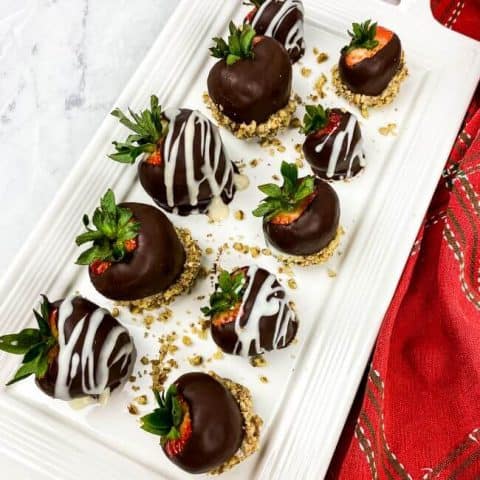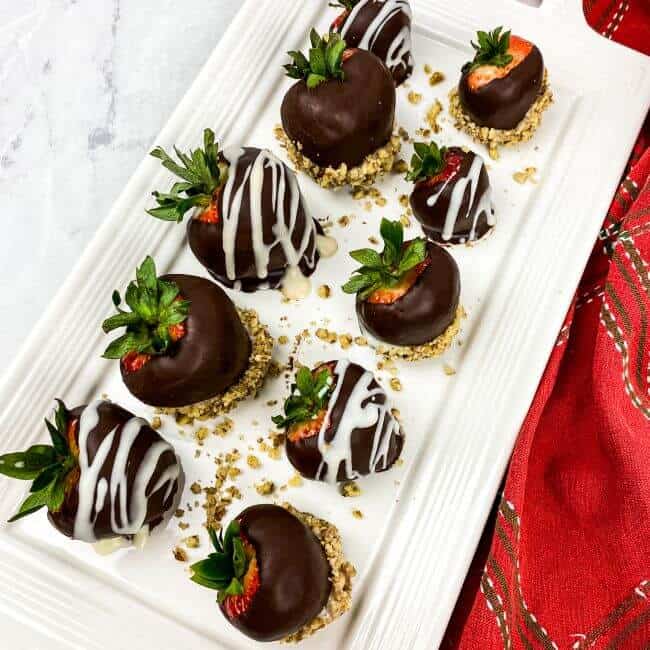 Homemade Chocolate Covered Strawberries
Cook Time:
5 minutes
4 seconds
Total Time:
20 minutes
4 seconds
Sweet and juicy strawberries dipped in smooth melted chocolate and drizzled with pecans and white chocolate. These Homemade Chocolate Covered Strawberries are addicting!
Ingredients
2 cups strawberries
½ cup 60% cacao dark chocolate baking chips*
½ cup semi-sweet chocolate chips*
¼ cup white chocolate chips
1½ tablespoon coconut oil
¼ cup pecans, chopped finely
Instructions
Prepare a baking pan by lining it with a silicone baking mat or parchment paper. Set it aside for later.
Wash the strawberries thoroughly and carefully pat them dry using paper towels. Line them up on the lined baking sheet and leave to air dry for at least 1 hour.



Transfer the cacao baking chips and half a tablespoon of coconut oil to a microwave-safe bowl.



Place them in the microwave for 20 seconds then take it out and stir.



Repeat the process until the chips have melted and the mixture is smooth.



Divide the strawberries in half and coat one half with the melted cacao mixture. Remove any excess melted cacao by gliding the strawberries against the bowl's edge.



Place each chocolate-coated strawberry back on the lined baking sheet.



Optional step: If using semi-sweet chocolate or another type of chocolate for the coating, simply repeat steps 3-7. Then coat the other part of the strawberries with this variation.
Let the chocolate-coated strawberries set in the fridge for at least 20 minutes.
Transfer half a tablespoon coconut oil and white chocolate chips to a microwave-safe bowl. Allow it to melt in the microwave for 20 seconds then stir to combine. Repeat this process until the white chocolate is melted and smooth.



Pour the melted chocolate into a squeeze bottle or a piping bag with a small round tip. Drizzle the white chocolate over the strawberries. 



Transfer the chopped pecans into a small shallow bowl and set it aside.
Take a strawberry and dip its bottom half into the white chocolate then into the pecans. Gently twist it until it is coated evenly with the chopped pecans. Place it back to the lined baking sheet and put it back in the fridge for another 20 minutes.



Once the chocolate-coated strawberries have set, take them out of the fridge and transfer the strawberries to a serving plate. Serve immediately to keep them from melting.


Notes
You can use either 1 cup dark chocolate chips, 1 cup semi-sweet chocolate chips, or a combination of both if preferred
Nutrition Information:
Yield:

4
Serving Size:

1
Amount Per Serving:
Calories:

413
Total Fat:

26g
Saturated Fat:

12g
Trans Fat:

0g
Unsaturated Fat:

11g
Cholesterol:

3mg
Sodium:

51mg
Carbohydrates:

44g
Fiber:

7g
Sugar:

26g
Protein:

6g
Are you ready to make your own homemade Chocolate Covered Strawberries? These are extremely easy and super fun to make. What treat do you want me to do next? Leave them in the comments below and I'll do my best to check them out! 😊