Can't decide whether you want to serve a salad or an appetizer?  My Roasted Pears with Bacon, Blue Cheese & Walnuts is a combination of both. They are roasted pear halves filled with a harmonious mix of crunchy bacon, creamy blue cheese, and earthy walnuts. The stuffed pear then sits on top of a bed of fresh arugula. This way you have a salad and appetizer in one!
I love, love, love how the fresh arugula balances out this appetizer. The stuffing is flavorful and rich in different textures too. This is one of the very few ways my kids would eat arugula. I made a deal with them that they can get extra bacon bits if they eat their greens. It's a win-win situation for everybody. They love bacon and pear plus they consume their fair share of greens for the day. #MomWin am I right? 😉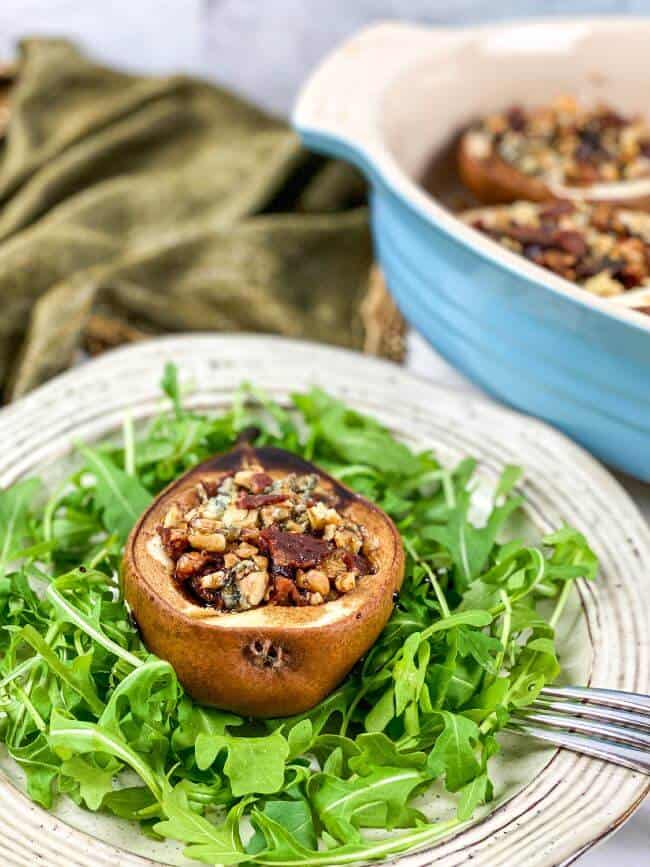 I'm honestly looking forward to serving this Roasted Pears with Bacon, Blue Cheese & Walnuts appetizer at our upcoming holiday dinner. I know for sure this will be a hit among the family, all of us love a well-roasted pear! I told my mom about this recipe and sent her some of these photos and she said she can't wait to try it. I'll make sure to teach her how to do it before she comes back home so she can share it with her friends too. 
How To Make Roasted Pears With Bacon, Blue Cheese & Walnuts:
Make The Stuffing:
To do this, we'll simply combine the crumbled bacon, walnuts, and blue cheese in a bowl. Then stir it well so you get a little of everything in each bite.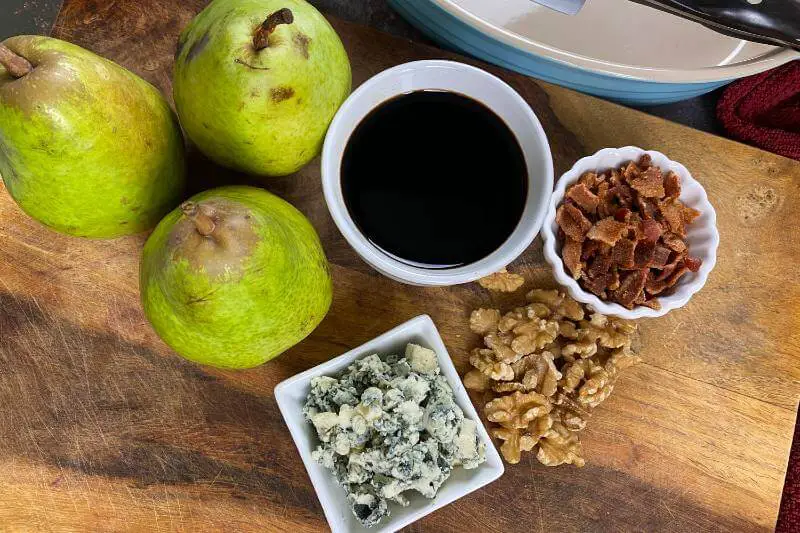 Prep The Pears:
Slice the pears into two and scoop the seeds out to make a hollow center. Do not discard the insides and instead roughly chop them and add to the bacon mixture. Now we'll drizzle honey on the pears and roast them for half an hour before dividing the bacon mixture between the pear halves. Roast it for 15 more minutes and they're done! While waiting for the pears, reduce the balsamic vinegar.               
Assemble The Appetizer:
Arrange fresh arugula on the serving plates and place the stuffed pears on top of them. Lastly, drizzle each pear with the reduced balsamic vinegar before serving.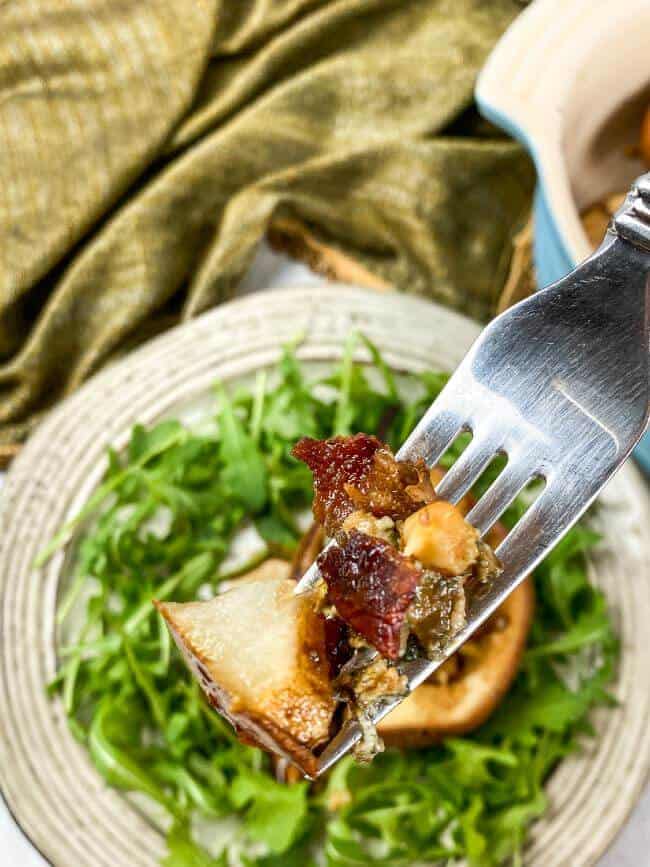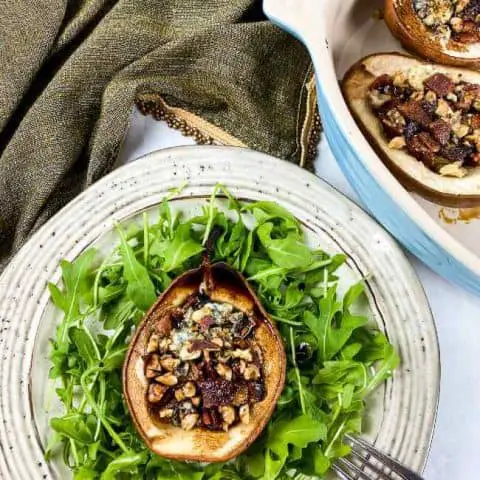 Roasted Pears with Bacon, Blue Cheese & Walnuts
Torn between an appetizer and a salad? This Roasted Pears with Bacon, Blue Cheese & Walnuts might be the answer you're looking for. Stuffed roasted pears sitting on a healthy bed of fresh arugula.
Ingredients
4 slices thick-cut bacon (cooked to a crisp then chopped into crumbles)
3 oz. blue cheese, crumbled
1/3 cup walnuts, chopped finely
3 large Bartlett pears
3 tablespoons honey
1 cup balsamic vinegar
3 cup fresh arugula
Instructions
Make the stuffing for the pears. Simply combine the bacon crumbles, walnuts, and blue cheese in a bowl.



Stir it well.



Then we will prepare the pears by cutting it in half from the stem to the bottom.



Then using a spoon, scoop out the insides of the pear, just enough to make a hollow center for the stuffing later.  



Slice a thin layer off the back of the pear halves to allow them to lay flat when placed down on the baking dish to roast.



Gather the discarded insides of the hollowed pears then chop them roughly and add them to the blue cheese and bacon mixture. Stir it again until they are evenly combined.        



Arrange the pear halves into a single layer in a deep baking dish.



Drizzle them with half of the honey and roast them for 30 minutes before taking them out of the oven.



Equally distribute the bacon mixture into the hollowed pears.



Then drizzle it with honey before popping it back in the oven.



Let it roast for another 15 minutes until the cheese has melted and the stuffed pears become tender.



While waiting for the stuffed pears to be done, make the balsamic reduction. Simply pour the balsamic vinegar into a nonstick skillet and place it over medium heat. Continuously stir it until it has thickened and reduced to about 1/3 of its starting amount. Take it off the heat and allow to cool for 5 to 10 minutes.



Take the baking dish out of the oven and let it rest for about 5 to 10 minutes until warm. Arrange the fresh arugula on 6 serving dishes. Place the stuffed pear on top of the greens.



Drizzle with the balsamic reduction before serving. 


Nutrition Information:
Yield:

6
Serving Size:

1
Amount Per Serving:
Calories:

268
Total Fat:

11g
Saturated Fat:

4g
Trans Fat:

0g
Unsaturated Fat:

7g
Cholesterol:

19mg
Sodium:

311mg
Carbohydrates:

35g
Fiber:

4g
Sugar:

27g
Protein:

8g
This is such a classy and healthy appetizer to serve, especially during the holidays! Pears are juicy, sweet, and have a light flavor that is easy to pair with anything. Feel free to make this recipe your own and experiment with the stuffing. Don't forget to share your holiday stories with me in the comments below! 😉