Ooh, I love the holidays! Just as much as I love this simple yet classy Honey Poached Pears with Zesty Mascarpone Cream. This easy dessert has saved me from serving store-bought ice cream to my guests a couple of times. I mean, I have nothing against store-bought ice cream, I always have a couple in stock. Though it's not something I usually serve to guests for dessert. 
But you know there are times when you got too busy prepping for your main dish and sides. Then you realize you forgot to prepare dessert and next thing you know you're out of time! Luckily, this Honey Poached Pears with Zesty Mascarpone Cream can be made in just 30 minutes. No need to wait 2 to 4 hours for it to set in the freezer. 
Yes, this is a true story. My in-laws are coming over and I did everything but the dessert. I was pleased with myself thinking I have an hour left to freshen up and rest while the hubby and the kids are picking them up at the airport. Imagine my panic when I opened the fridge and there's no dessert. Good thing we had leftover pears that didn't make it through the pie I made the other day.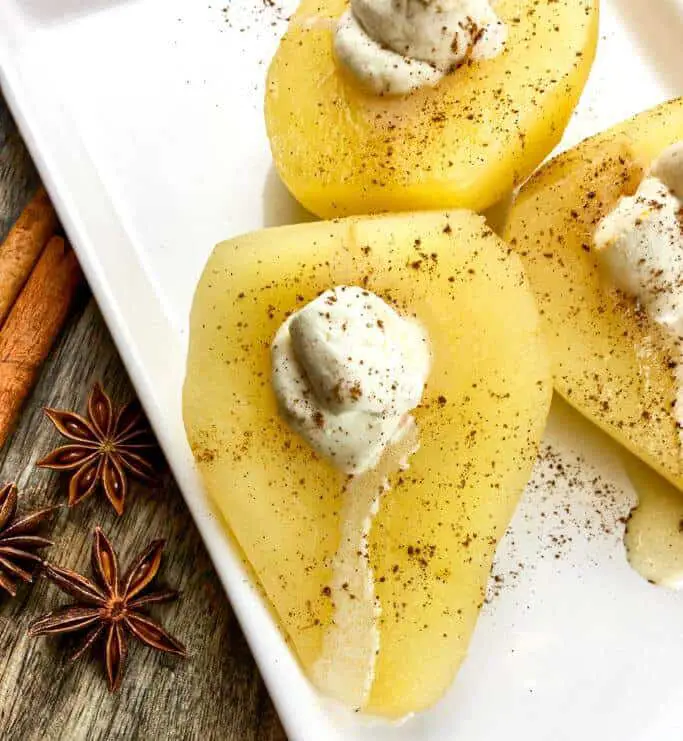 As moms, we're so used to multi-tasking. So, I immediately made the poaching liquid while at the same time prepping the pears. I cut them in halves and scooped out the insides. Then while they're poaching I whipped up the honey mascarpone cream. After about half an hour, I was done and they're just chilling in the fridge. I had enough time to have a quick shower and freshen up before they arrived. Phew.  
Tips And Tricks To A Failproof Poached Pears With Mascarpone Cream:
Use a naturally firm pear variety like Anjou. It should also be where it's right before it completely ripens as they tend to hold their shape well. Otherwise, you will end up with a mushy pear that will not look or taste as appetizing.
If you want to add a bit of blush to your pears, you can use sweet rose wine instead of white wine. It will add a hint of pink blush on the pears and give it more flavor. Now if you're cautious about the alcohol, you can also use white grape juice to poach the pears.
You can freeze this dessert in advance by freezing the poached pears in advance. Simply place them in an airtight container and it can be frozen for up to 3 months. Thaw and reheat then make the honey-mascarpone cream to serve.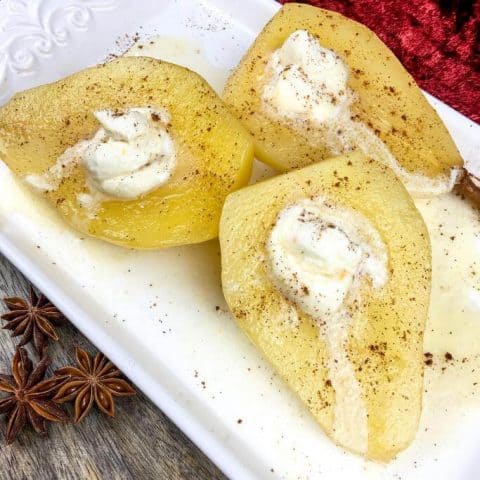 Honey Poached Pears with Zesty Mascarpone Cream
This fail-proof dessert is made up of tender pears poached in honey and white wine, topped with luscious chilled honey mascarpone cream.
Ingredients
Poached Pears Ingredients:
1/3 cup of honey
3 cups of Riesling or other sweet white wine
2 teaspoons of whole cloves
3 whole star anise
3 whole cinnamon sticks
6 pears, peeled
Dash ground cinnamon, for garnish
Honey Mascarpone Cream Ingredients:
3 tablespoons of half & half
8 oz. softened mascarpone cheese
3 tablespoons of honey, runny
2 teaspoons of orange zest (preferably organic)
2 teaspoons of pure vanilla extract
Instructions
Place a saucepan over medium heat and pour honey, Riesling, cloves, star anise, and cinnamon sticks. Allow it to simmer gently. Stir frequently until the spices are fragrant and the honey has melted. This should take about 3 to 5 minutes.
While waiting, cut the pears in half and scoop out the insides with a teaspoon or a melon baller.
Add the halved pears carefully one by one into the simmering wine and honey mixture. Allow it to simmer for up to 25 minutes on medium-low or until they become tender. Keep an eye on it and make sure it doesn't overcook.
In the meantime, combine the half and half and mascarpone cheese in a bowl. Put it on the stand mixer then whip the cream until it forms soft peaks. You can also use a handheld mixer or a regular whisk. 
Gradually add the orange zest, vanilla extract, and honey into the cream mixture. Transfer the Honey Mascarpone Cream into a separate container and allow it to chill in the refrigerator until it's time to serve.
Take the pears out of the poaching liquid and let it rest for about 5 minutes. Once ready to serve, add a scoop of the cream mixture into the hollowed-out center and sprinkle with ground cinnamon. You can also drizzle it with the simmered poaching liquid.


Nutrition Information:
Yield:

6
Serving Size:

1
Amount Per Serving:
Calories:

490
Total Fat:

19g
Saturated Fat:

11g
Trans Fat:

0g
Unsaturated Fat:

6g
Cholesterol:

54mg
Sodium:

178mg
Carbohydrates:

60g
Fiber:

7g
Sugar:

43g
Protein:

3g
Enjoy this quick and easy Honey Poached Pears with Zesty Mascarpone Cream recipe with your loved ones this upcoming holiday season! It's easy on the palate and it's practically failproof too. What's your favorite #kitchenfail story? Share with us in the comments. 😉