What better way to praise the great Goddess of Harvest, Demeter but to make this delectable and creamy Roasted Fall Harvest Soup? This soup is made with a combination of butternut squash, apples, and various spices. Needless to say, it is extremely flavorful and hearty, just the type of soup you crave for when it's Fall!
Fall is my favorite season; I love the vibrant foliage colors, the chilly weather, and the abundance of vegetables to harvest. What's not to love? Naturally, I pull out my trusty soup menu and among the top of the list is this Roasted Fall Harvest Soup. The creaminess of the butternut squash combined with the sweet apples just makes it so comforting.
Making this soup has become a part of our Fall family tradition in recent years. We'll go to the farmer's market with the kids on the first weekend of Fall. Here we'll hunt for freshly harvested butternut squash and sweet, crunchy red apples. We visit the kids' favorite stall for pumpkin spice cookies. Then of course we'll grab some pumpkin spice latte for the hubby and me on the way home. 😉
How I Make My Oven-Roasted Fall Harvest Soup:
I start by prepping my baking sheet by placing a baking mat or parchment paper on it then preheat your oven to 400° F. While waiting, we'll combine all the ingredients except the vegetable broth in a large mixing bowl. Now use your tossing skills and repeatedly toss it until the squash and apples are evenly coated.
Once done, we'll evenly arrange this seasoned squash and apple mixture in a single layer on the lined baking sheet. Put it in the oven and we'll leave this to roast for at least 25 minutes. Then check if the squash is already fork-tender, or roast for 5 to 10 more minutes if needed.
Prepare your high-powered blender and take the roasted harvest out of the oven. This is my little helper's favorite part, I let him press the blender buttons to puree the soup. Lol. Blend the roasted harvest in batches until smooth. Add a cup of the vegetable broth for each batch, as needed. 
Pour the pureed mixture into a soup pot and repeat the 3rd step until all the roasted mixture has been pureed. Once done, place the soup pot over medium heat and allow to gently simmer for at least 5 minutes. Readjust seasonings, if needed. Then serve immediately while still warm.
I like to serve it with some fresh parsley on top, and freshly baked biscuits or bruschetta on the side.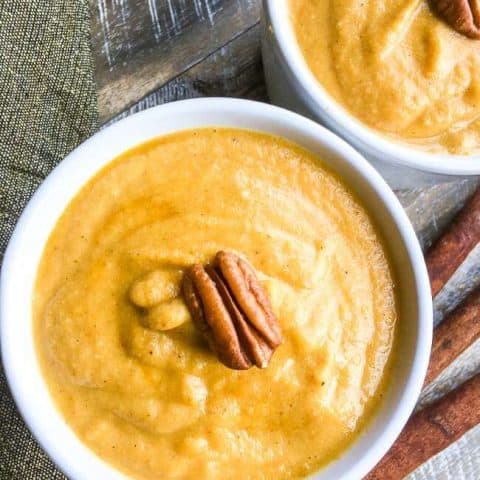 Oven-Roasted Fall Harvest Soup
This keto and vegetarian-friendly soup is a must-try Fall recipe. Made up of your favorite Fall harvests, butternut squash, and apples, hyped up by a variety of flavorful spices.
Ingredients
3 cups butternut squash, cubed
3 large firm apples, cubed
1 tablespoon fresh ginger, minced
1 medium red onion, chopped
½ teaspoon ground nutmeg
1 ½ teaspoon ground cinnamon
½ teaspoon allspice
½ teaspoon ground cloves
2 tablespoon coconut oil, melted
½ teaspoon coarse sea salt
½ teaspoon black pepper
5 cups vegetable broth
Instructions
Put your oven on 400° to preheat it. Get a large cookie sheet and line it with a baking mat or parchment paper.
In a large mixing bowl, put together the cubed butternut squash, apples, ginger, onions, nutmeg, cinnamon, allspice, cloves, and coconut oil. Sprinkle it with a dash of coarse sea salt and ground black pepper. Gently toss the mixture until the squash and apple pieces are evenly coated.
Transfer the mixture into the lined baking sheet and arrange it so that they form a single layer. Put it in the preheated oven and allow to roast for about 25 minutes or until the squash cubes are fork-tender.
Take the sheet out of the oven and let it rest for about 5 to 10 minutes before processing the roasted mixture into a high-powered blender. You may have to do this in multiple batches depending on the capacity of your blender. Add a cup of broth when blending each batch. You can add broth little by little until you get your desired consistency. 
Pour the pureed mixture into a soup pot then repeat the steps until all the roasted veggies have been pureed. Place the soup pot over medium heat and let it cook for up to 10 minutes or until the soup starts to simmer. Stir occasionally to keep it from sticking to the bottom of the pot.
Take the pan off the heat and readjust seasonings as needed. Serve immediately with your preferred garnish while still warm.


Nutrition Information:
Yield:

4
Serving Size:

1
Amount Per Serving:
Calories:

243
Total Fat:

8g
Saturated Fat:

6g
Trans Fat:

0g
Unsaturated Fat:

1g
Cholesterol:

0mg
Sodium:

1107mg
Carbohydrates:

46g
Fiber:

10g
Sugar:

23g
Protein:

3g
Hopefully, this Oven-Roasted Fall Harvest Soup makes you excited to welcome Fall as much as I am! If you loved this recipe, please don't forget to share your comments below. Looking forward to hearing from you. Happy Harvesting! ♥