Hola Divas! Today we'll be tempting your taste buds with yet another unconventional combination that you MUST try: Orange Pomegranate Salad. How I discovered this unique recipe, you might ask? It's my gorgeous sister-in-law's recipe, actually. I must admit, I was skeptical at first. I'm not the biggest fan of pomegranate, you see.
Until I took a bite, and oh my goodness, it's magical! There are different layers of flavors and textures so not only does it look festive – it actually tastes like a party in your mouth. It's zesty, it's refreshing, it's creamy, but not overwhelming. It hits you just right. It's hard to explain so just do yourself a favor and give it a try. It's literally 20 minutes to make! Less than that if you have better knife skills than me. It has never been my strong suit. LOL. 
So How Do You Make This Orange Pomegranate Salad?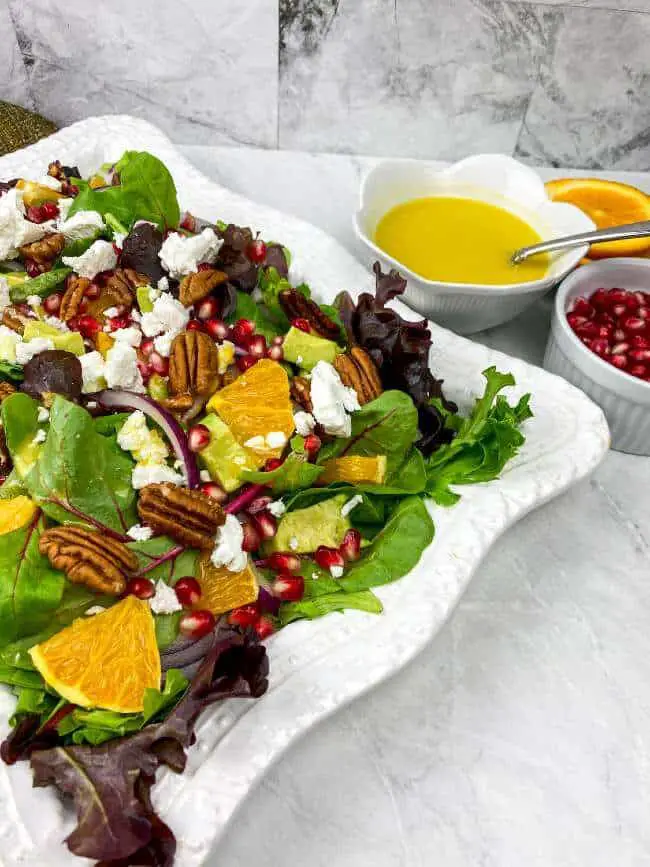 You start by making the Orange Champagne Vinaigrette. Simply blend the vinegar, honey, mustard, garlic, orange juice, and orange zest together. Throw in a pinch of salt and pepper to taste. Pour it into a serving bowl and set it aside for later.
Then you start with the salad itself, begin by removing the pomegranate's arils. How do I do that? The easiest method I found is to cut the crown of the fruit. It's the end where the stem has been removed. Simply draw a circle around it using a sharp paring knife. This should create a stable bottom for you to carve. 
Now you want to score about 5 or 6 vertical lines along the ridges from the top to the bottom of the fruit. Gently pull the pomegranate apart with your fingers through the lines that you cut. Then you can simply pry away the seeds from the fruit's membranes. You can simply scrape it off with your thumb. Place the seeds in a separate small bowl and set it aside.
Then we'll cut the avocado and toss it in lemon juice to keep it from browning while we prep the other ingredients and set it aside as well.
Lastly, we'll assemble the salad itself. The bottom layer will be the mixed greens, this allows it to catch the juice and hold the salad together. Now we'll layer the oranges, onions, arils, and avocado slices. Garnish it with the pecans halves and the crumbled goat cheese. Finally, drizzle it with orange champagne vinaigrette. 
And that's it! Simple as that and you have a one of a kind salad!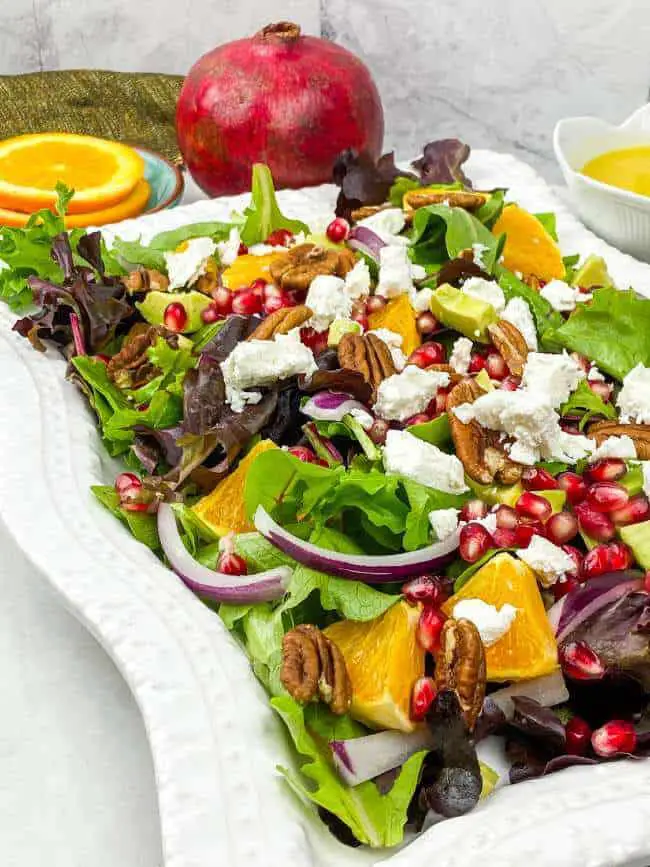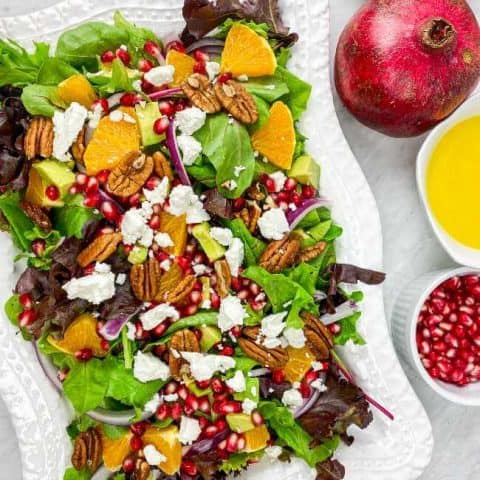 Orange Pomegranate Salad
Vibrant and refreshing, this salad is sure to hype up any meal with your friends or family! This salad is made with orange slices, pomegranate arils, with a good helping of cheese and avocados!
Ingredients
For the Orange Champagne Vinaigrette:
¼ c. citrus champagne vinegar
2 tablespoons honey
1 teaspoon Dijon mustard
1 large clove garlic, smashed and peeled
¼ cup of orange juice
1 teaspoon orange zest
½ teaspoon coarse sea salt
½ teaspoon ground black pepper
½ cup extra virgin olive oil
For the Salad:
1 large pomegranate
1 tablespoon fresh lemon juice
1 large avocado, chopped
6 cup mixed salad greens
1 large orange, peeled and sliced
½ medium red onion, sliced thinly
¼ cup pecan halves
2 oz. goat cheese, crumbled
Instructions
Start by making the Orange Champagne dressing.



Blend the vinegar, honey, mustard, garlic, orange juice, and orange zest together in a food processor or blender.



Keep it on high for 1 minute or until the mixture is totally smooth.



Gradually pour the olive oil and add a pinch of salt and pepper. Continue blending the mixture until it has emulsified completely. Pour into a serving bowl then set aside for later.



Gather the pomegranate's arils.



To do this, slice the crown of the fruit and score vertical lines on it with a sharp paring knife. Then gently pull the fruit apart through the cuts and run your thumb through each piece to separate the arils from the membranes.



Transfer the arils to a separate bowl and place it aside as well.



Toss the avocado slices in fresh lemon juice to keep it from browning.



Now it's time to assemble the salad.



Layer your mixed greens on the serving platter then scatter the onions.



Add the avocados, and orange pieces on top of it.



Do the same with the pecan halves.



Then add the goat cheese crumbles.



Lastly, drizzle your masterpiece with a good amount of the orange champagne dressing, serve the rest of it on the side.



Serve and enjoy!


Nutrition Information:
Yield:

4
Serving Size:

1
Amount Per Serving:
Calories:

591
Total Fat:

44g
Saturated Fat:

7g
Trans Fat:

0g
Unsaturated Fat:

34g
Cholesterol:

7mg
Sodium:

496mg
Carbohydrates:

48g
Fiber:

14g
Sugar:

28g
Protein:

11g
What do you think about this recipe? Are you excited to try this too? I still have a bowl left in the fridge that I'm hiding from my kids. Lol. Make a big batch if you can because I guarantee you this will be a hit at the dining table when you serve it. Give me a shout in the comments below if you liked this!