It's the holiday season and along with it are about a dozen parties and gatherings to organize. This is one of those times where quick and easy food is very much handy – like this Cranberry & Pecan Crusted Goat Cheese Log. This appetizer is a lifesaver for anyone hosting an event. It literally takes 5 ingredients and 15 minutes to make!
This appetizer is perfect for anything: potlucks, housewarming parties, birthdays, Game Day, Thanksgiving, and many more. Sometimes I would just make one and snack on it while reading a book in the backyard. That's until the little ones hear me munching, run over, and slowly take it away from me to stuff their faces with it. I just end up laughing every time because I can't really blame them, it's THAT good.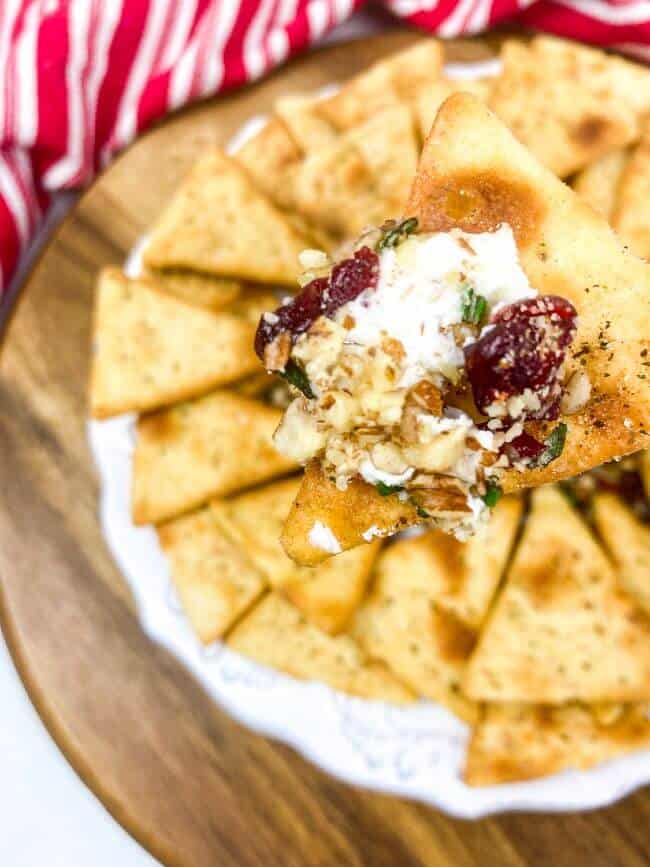 Some rare nights we're lucky enough to put them to bed early. So, the hubby and I celebrate by having mini date nights at home. He'll prep a chilled bottle of Sauvignon Blanc, while I go whip up a log or two of this Cranberry & Pecan Crusted Goat Cheese. We'll pick a random movie or play some jazz while sipping wine and enjoying this creamy and crunchy goat cheese log. The little joys of being a parent. Am I right? 
My Cranberry & Pecan Crusted Goat Cheese Log is actually discovered by the hubby. During one of his many business travels, their team dined at this fancy restaurant where this was served as an appetizer. He instantly fell in love with it and knew I'd love it too. He asked the waiter what it's called and texted it to me. Who said romance is dead? LOL. I got a picture or two of it from him and we both tried to dissect it to figure out what and how it's made.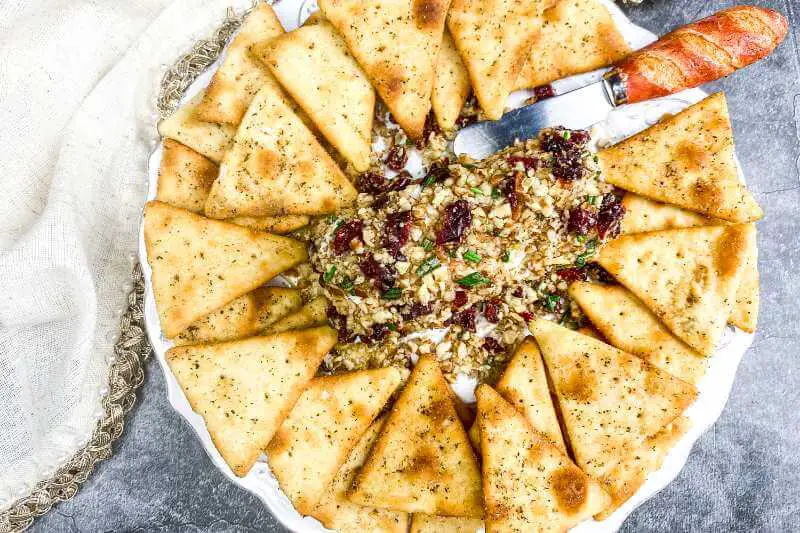 As soon as he got home on Friday that week, we experimented on making one. And *drum roll* we got it on the first try! He said it tasted like the one we had so we just kept making it whenever we had friends or family coming over for whatever. It's the easiest and you can easily make a couple of logs in no time. This is especially helpful when you're preparing for a big guest list. I always reserve a log or two because I'm telling you, this easily gets cleared up in minutes! 
What's In A Cranberry & Pecan Crusted Goat Cheese Log?
Pecans
You can use regular pecans, or sweet candied pecans if you want a little more sweetness. You can also add or replace it with other nuts. Pistachio, walnuts, or almonds work just as amazing too!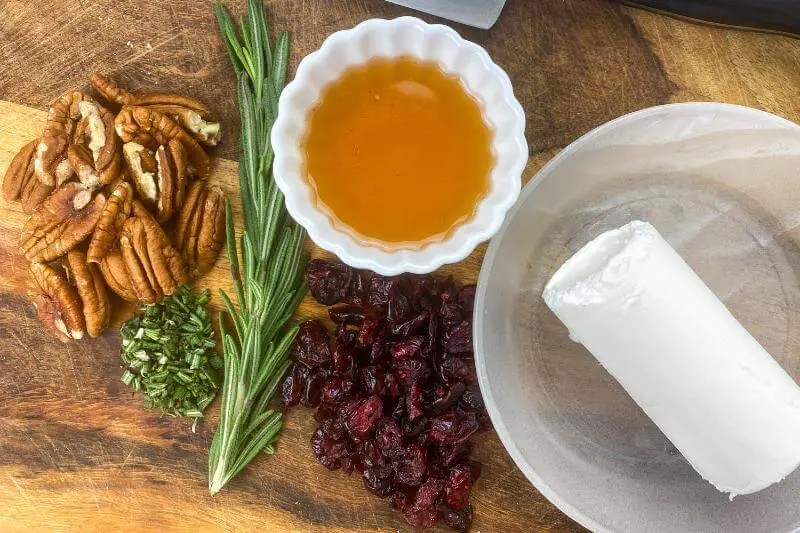 Cranberries
We're using dried cranberries because it has the perfect flavor and texture that goes deliciously with goat cheese. If you're not big into cranberries, you can use other types of dried berry or even dried apricots.
Goat Cheese
You can go with a regular goat cheese log or play with the flavors and use herbed goat cheese. Both taste just as awesome as the other so it's totally up to you.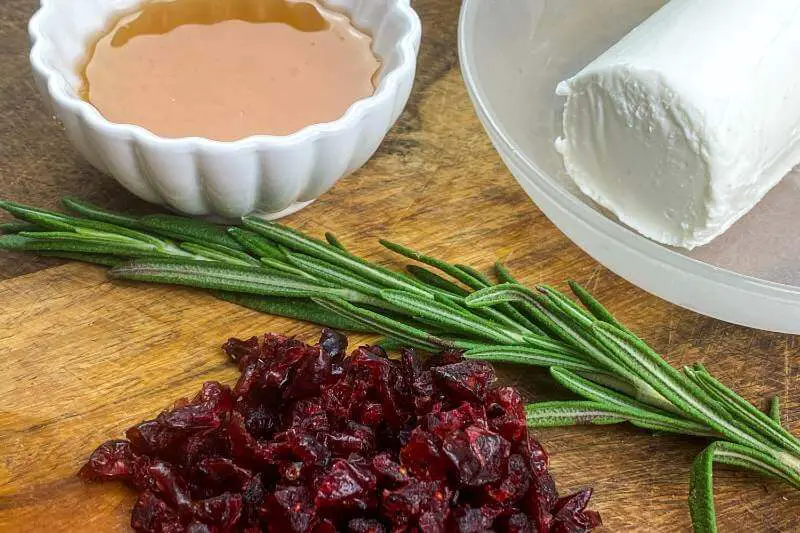 Honey
I'm loyal to pure local honey, I just like the richer flavor and it usually has thicker consistency too that works best especially for this recipe.
Rosemary Leaves
Chopped fresh rosemary will make your cheese log taste and look even fancier. You can also use fresh parsley or chives.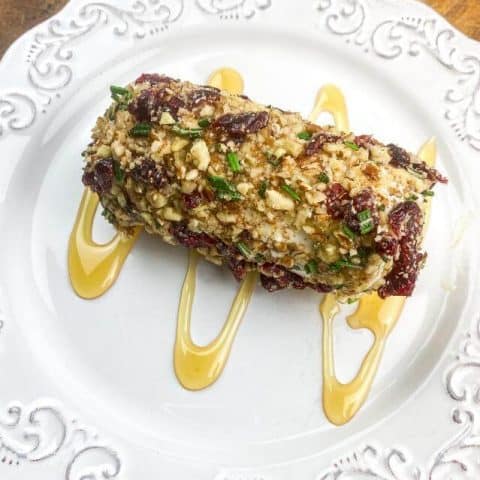 Cranberry & Pecan Crusted Goat Cheese Log
Pecans, cranberries, and goat cheese make up this amazing roll of creaminess and crunchiness. Perfectly served with some crackers or pretzels.
Ingredients
¼ cup dried cranberries, chopped
¼ pecans, finely chopped
1 tablespoon fresh rosemary leaves, finely chopped
1 4-oz. goat cheese log
3 tablespoons honey, divided
To serve:
Instructions
In a medium-sized mixing bowl, combine cranberries, pecans, and rosemary leaves.



Stir until well combined and set aside.



Put the goat cheese log in a separate shallow bowl.



Pour 2 tablespoons of honey over it.



Then keep rolling the log with your clean hands until it is evenly coated.



Carefully pour the pecan and cranberry mixture over the honey-coated log. Press the mixture on the cheese surface repeatedly so it coats the whole log.



Pour the last tablespoon of honey on your preferred serving dish to keep it in place.



Transfer the cheese log to the middle of the plate and surround it with the remaining mixture.



Serve with crostini, crackers, or pretzels.


Nutrition Information:
Yield:

2
Serving Size:

1
Amount Per Serving:
Calories:

339
Total Fat:

14g
Saturated Fat:

9g
Trans Fat:

0g
Unsaturated Fat:

5g
Cholesterol:

26mg
Sodium:

296mg
Carbohydrates:

45g
Fiber:

1g
Sugar:

41g
Protein:

11g
SO, can I expect this Cranberry Pecan Goat Cheese Appetizer to make a special appearance on your dining table the next time you host a dinner with friends? Yes? Yes! Hit me up in the comments below if you need my addy to send my invitation. 😉