Our recipe for today honestly needs no further introduction. Sheet Pan Nachos Overload anyone? Yes, 2 pans for me please, and thank you. Can I have a show of hands for those who strongly believe that a plate of nachos should be made wider rather than taller? Okay, keep them up we'll be making a petition for this. LOL. Kidding aside, the explanation is simple. 
If you make a wide plate of nachos, the chips AND the toppings will be spread out. All the chips will have a bit of whatever topping and sauce you'll be using. Compared to making a mountain of nachos, it looks good, yes. But in reality, the bottom chips are soaked with juices and sauces but really they just turn to a pile of mush before you get to them. You enjoy the top layer or two, having all of the toppings. Then basically, just mourn over the lower half who didn't get any and just ended up either a soggy or stale mess.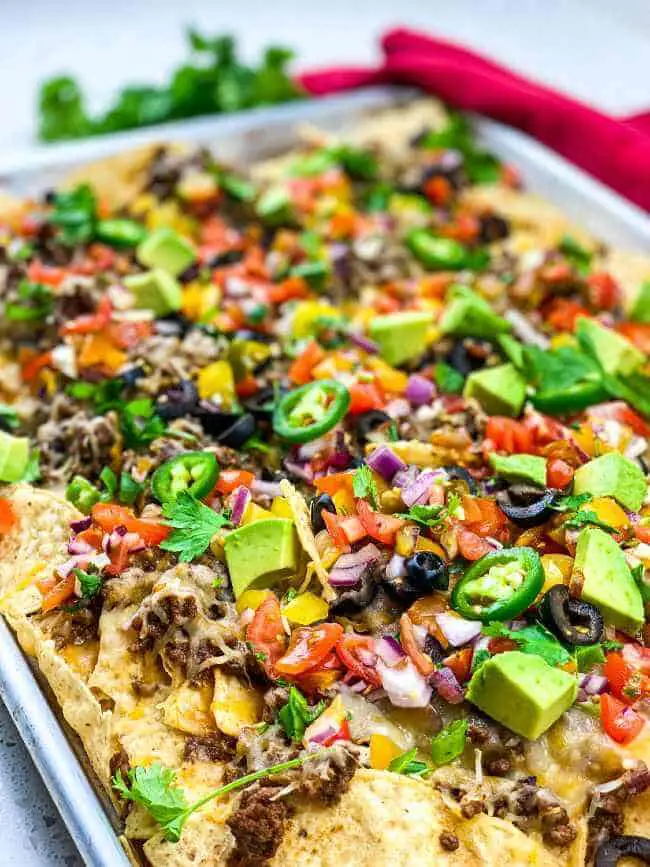 This goes the same with those giant burgers that are the hype nowadays. Yes, these are the kind of 3AM thoughts I have. I still remember my husband's face when I woke him up in the middle of the night to tell him this. Just so you know, I don't forget it in the morning. The following day, I tested my theory and so today I'm sharing with you this marvelous masterpiece I made. This will change the way you eat nachos; I promise.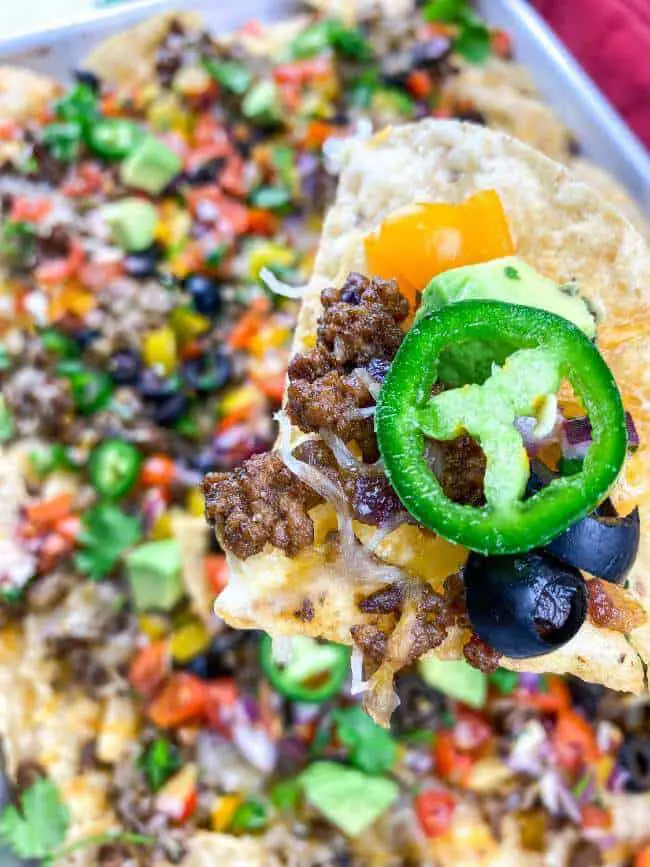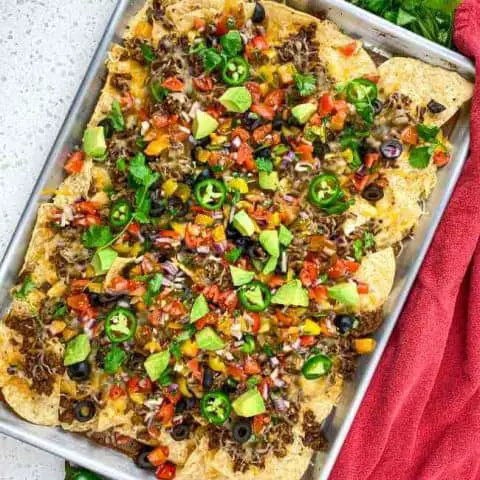 Sheet Pan Nachos Overload
This Sheet Pan Nachos Overload gives you layer upon layer of cheesy, meaty, and crunchy goodness. No more player nacho Jenga, this sheet pan hack gives you all the toppings in every bite!
Ingredients
For the Pico de Gallo:
¼ medium red onion, chopped finely
1 large clove garlic, chopped finely
1-pint cherry or grape tomatoes, chopped
2 tablespoons of fresh lime juice
2 tablespoons fresh cilantro leaves, chopped finely
½ teaspoon of black pepper
½ teaspoon of sea salt
For the Taco Seasoning:
1 tablespoon of ground chili powder
1 teaspoon of garlic powder
2 teaspoon of ground cumin
½ teaspoon of smoked paprika
¼ teaspoon of chipotle powder
1 teaspoon of ground coriander
½ teaspoon of black pepper
¾ teaspoon of sea salt
Remaining Ingredients:
1 tablespoon of extra-virgin olive oil
3 large cloves garlic, minced
1 medium red onion, chopped finely
½ teaspoon of black pepper
½ teaspoon of sea salt
1¼ lbs. of ground beef
1 large bag (11-14 oz.) of tortilla chips
1 8-oz. bag 4-cheese Mexican blend, shredded
1 6-oz. can black olives, chopped
2 large green onions, green parts only
1 large jalapeño pepper, sliced thinly
Serving Suggestion:
1 large ripe avocado, seeded and chopped
2 tablespoons of fresh lemon juice
2 tablespoons of fresh cilantro, chopped finely
Instructions
Start by making Pico de Gallo.



In a bowl, combine onion, garlic, tomatoes, lime juice, and cilantro leaves.



Sprinkle with salt and pepper to taste.



Then stir until well-combined. Cover with cling wrap and set aside.



Position an oven rack to the middle then preheat your oven to 350°F. While waiting, prep your baking sheet by lining it with a silicone mat or parchment paper. 
In a separate small bowl, combine all the ingredients for the taco seasoning and stir until fully incorporated.



Place a large nonstick pan over medium heat and pour olive oil in it. Once it's hot, sauté the garlic and onion for up to 5 minutes or until they are lightly browned and fragrant.



Add a dash of salt and pepper.



Then stir continuously.



Add the ground beef and separate the pieces using your spatula.



Pour about 2 tablespoons of your taco seasoning.



Stir until well combined.



Continue cooking and stirring until the ground beef turns golden brown then turn the heat off.



Get the lined baking sheet and arrange the nacho chips into a slightly overlapping even layer.



Now use a slotted spatula or spoon and generously top the chips with the ground beef.



Lavishly top the chips and beef with the shredded cheese.



Pop it in the oven until the cheese is melted and bubbly or approximately 7 minutes.



Take the baked chips and beef out of the oven and let it rest for up to 3 minutes. Top with chopped olives, green onions, jalapeño pepper, and Pico de Gallo.



Keep the chopped avocado from browning by tossing it in lemon juice before evenly distributing it on the nachos. Garnish with freshly chopped cilantro and serve while still warm!


Nutrition Information:
Yield:

4
Serving Size:

1
Amount Per Serving:
Calories:

751
Total Fat:

50g
Saturated Fat:

17g
Trans Fat:

1g
Unsaturated Fat:

28g
Cholesterol:

154mg
Sodium:

1625mg
Carbohydrates:

29g
Fiber:

9g
Sugar:

12g
Protein:

49g
This Sheet Pan Nachos Overload is everything! You can pull a chip from anywhere and it won't feel like playing Jenga where the tower of goodness can just all come tumbling down. This is a sure crowd-pleaser, everybody wins here. What do you think is the perfect occasion or event for you to serve this Sheet Pan Nachos Overload?