It's another lovely day here in our tiny kitchen and today, I'm sharing another "fancy on a budget" hack. We're making DIY Southern Italian Antipasto. Do you know those lavish cold cuts and cheese boards on your Instagram feed? Yes, we're making those. It's your turn to make your IG feed goals come true but without breaking the bank!
This platter consists of classic Southern Italian ingredients. This is a nod to our honeymoon trip years ago to the breathtaking Amalfi Coast. It remains one of the most beautiful places I've ever visited and will always be on top of my list. 
Everything is just so picturesque. The clear blue waters, the vibrant trees here and there, and the charming pastel-colored houses. It's simply magical, to say the least. I'm still hoping that with any luck someday we can go back there with the kids, I just know they'll love it too! So, going back, Southern Italian antipasto doesn't require any cooking skills and can be made in 30 minutes or less!
What Is "Antipasto"?
Antipasto is basically Italy's version of an appetizer. Much like the French's "hors d'oeuvre". It is frequently interchanged with Antipasti, which is its plural form. It is served to "tease" your appetite, but not make you full. To be honest, just looking at these beautiful, elegant boards already makes you want to eat.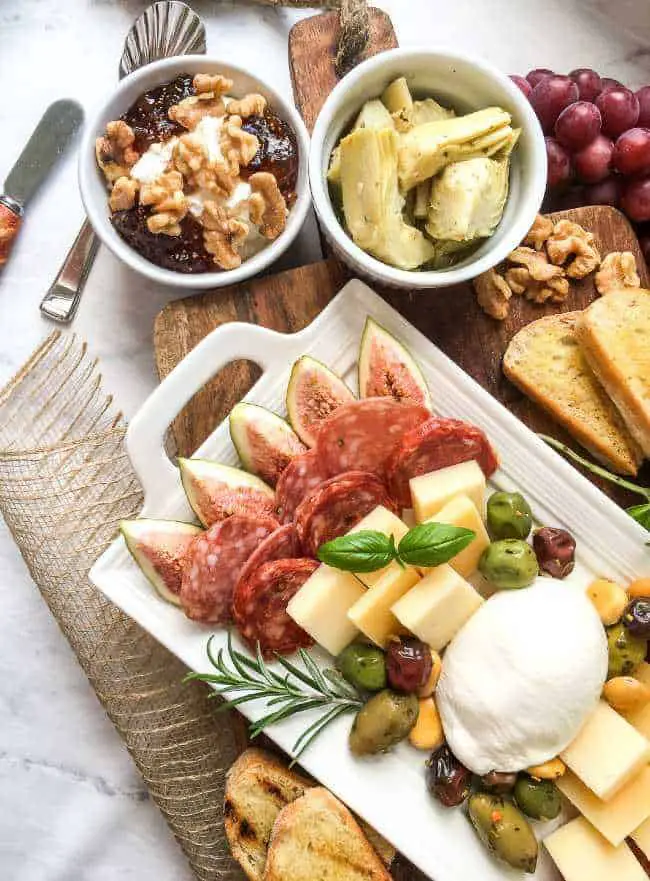 There are different kinds and versions of what an antipasto can be like, depending on which part of Italy they are from. Unlike your regular individually served appetizers, antipasto is served on a large platter or board. From there you can get your serving of cheeses, cold cuts, roasted or pickled fruits, and veggies, or jam. It is frequently served with some crackers or some type of freshly baked Italian bread. 
As I mentioned, antipasto is curated depending on which Italian region you are inspired to make it from. It is usually divided between Northern, Southern, and Central regions. Northern Italian Antipasto mostly includes alpine cheeses like fontina or Gorgonzola. As for the meat, it will have mortadella or Prosciutto di Parma. Both of which originated from the northern part of Italy.
Southern Italian Antipasto is made up of ingredients that you'll usually find common in Southern Italy. We'll use three types of cheese: burrata, ricotta, and provolone. As for the cold cut, we'll use soppressata.  You'll find it quite similar to salami except soppressata has a more distinct flavor. It is commonly used in Southern Italian antipasto or sandwiches. They are usually paired with provolone cheese, red peppers, and some olives, which inspired our platter!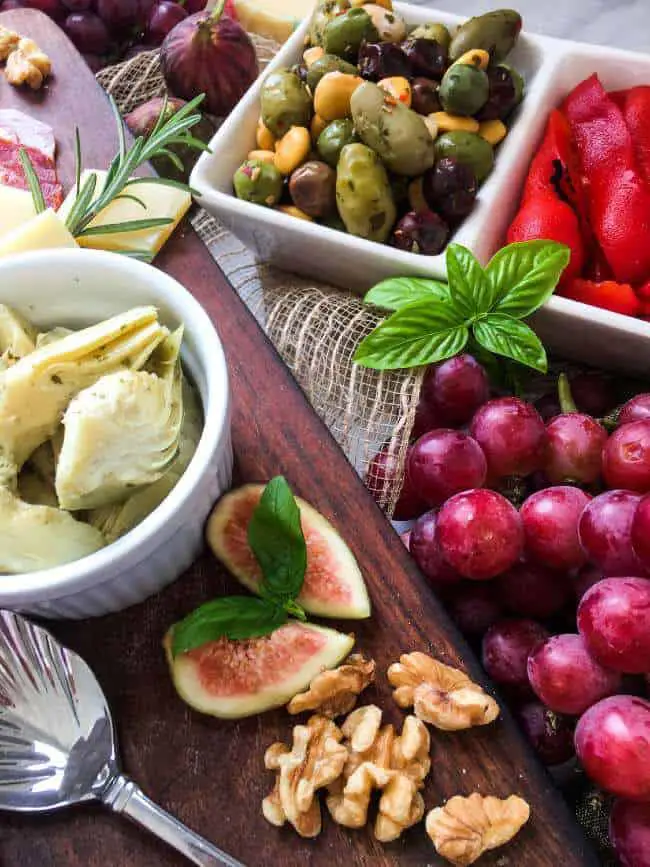 Last but not the least, we have the Central Italian Antipasto. The main ingredient is crostini – it resembles a bruschetta and is often confused for the other. However, crostini are made from thinly sliced narrow baguettes. Bruschetta is of a wider variety of baguette. Both are served toasted with some type of pate, jam, or tapenade. They also often include salami, smoked salmon, caponata, and mozzarella.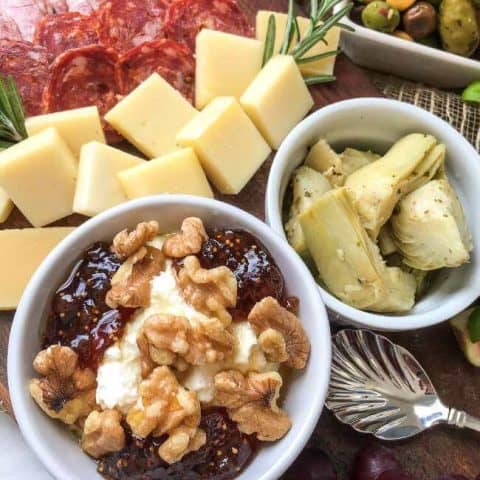 Southern Italian Antipasto
Serving an Italian inspired dinner? Take it a notch higher by serving an authentic Southern Italian Antipasto. Consists of soppressata, fig jam, veggies, and 3 types of cheese!
Ingredients
1 large ball of burrata cheese
4 oz. Provolone cheese
3 oz. sweet soppressata
3 oz. hot soppressata
4 fresh figs
½ cup of ricotta cheese
3 tablespoons of Easy Homemade Vanilla Fig Jam
3 tablespoons walnuts
¾ cup of roasted red peppers
½ cup container mixed olives
1 cup of artichoke hearts
1 lb. of red seedless grapes
Basil and Rosemary Fresh
Italian bread
Instructions
Carefully set the ball of burrata right in the middle of your serving plate. Then surround it with the soppressata slices, fresh figs, and Provolone cheese.



Transfer the ricotta cheese to a separate serving bowl. Then arrange the chopped walnuts and homemade fig jam on top. Set the bowl beside the burrata platter.
Arrange the artichoke hearts, marinated olives, and roasted red peppers into their own mini serving bowls. Place it near the other arranged plates.



Get the herb sprigs, bread slices and grapes then arrange them around the platter to create an artfully curated Antipasto spread. Serve immediately. Buon appetito!


Nutrition Information:
Yield:

4
Serving Size:

1
Amount Per Serving:
Calories:

546
Total Fat:

29g
Saturated Fat:

12g
Trans Fat:

0g
Unsaturated Fat:

15g
Cholesterol:

73mg
Sodium:

1245mg
Carbohydrates:

48g
Fiber:

6g
Sugar:

31g
Protein:

26g
I hope this Southern Italian Antipasto guide helps you with your holiday entertainment preparations! This board is guaranteed to make your tastier and more colorful. It can also serve as a great conversation starter. Try it out and let me know in the comments how yours turned out. Bon Appetit!