A delicious yet straightforward herb-crusted baked salmon that you can prepare for your family on a weeknight. Serve this over your favorite choice of salads and roasted potatoes for a complete meal!
Are you tired of the same fried salmon recipe? Why not try this baked herb salmon for a change in your dining table.
A light and herb-crusted salmon cooked perfectly in the oven, and you can whip up in no time! The flakiness texture of the fish shines well in this recipe.
How To Make Baked Salmon?
The big question is how you cook the perfect salmon steak cut? A steak of any fish is a crosswise cut, cutting through the bone.
You can grill, fry, sear, and bake the salmon steak. The good thing about this steak cuts is that the bone protects the two filets from curling and retains their natural shape.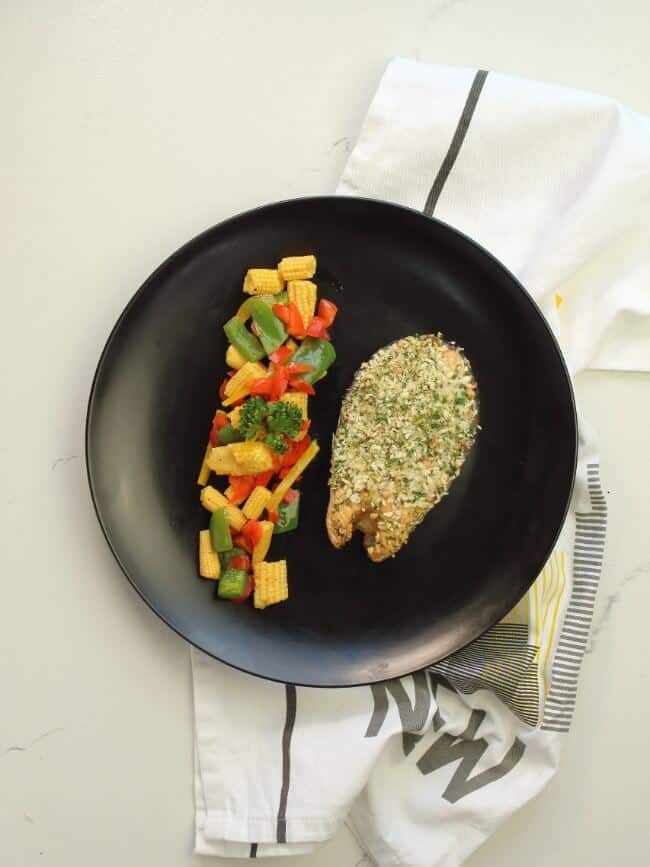 Oven Baked Salmon Like A Pro: Chef Insider Tips
Infusing various flavors is one of the best qualities of a salmon. It has a beautiful layer of fat that can withstand strong flavor and creates a harmonious profile that you will love. The fish must be thawed or defrosted in the refrigerator overnight if frozen.
The steak cut must be at room temperature at least 10 minutes before you bake it in the oven. Another thing to remember is to pat-dry the fish so that the Dijon mustard and other components will stick to the flesh's topped side.
Worcestershire Sauce & Horseradish Sauce can replace Dijon mustard. They have the same tanginess that Dijon mustard gives. If your approach is more on a spicy note, take Wasabi paste and brush it to the salmon steak.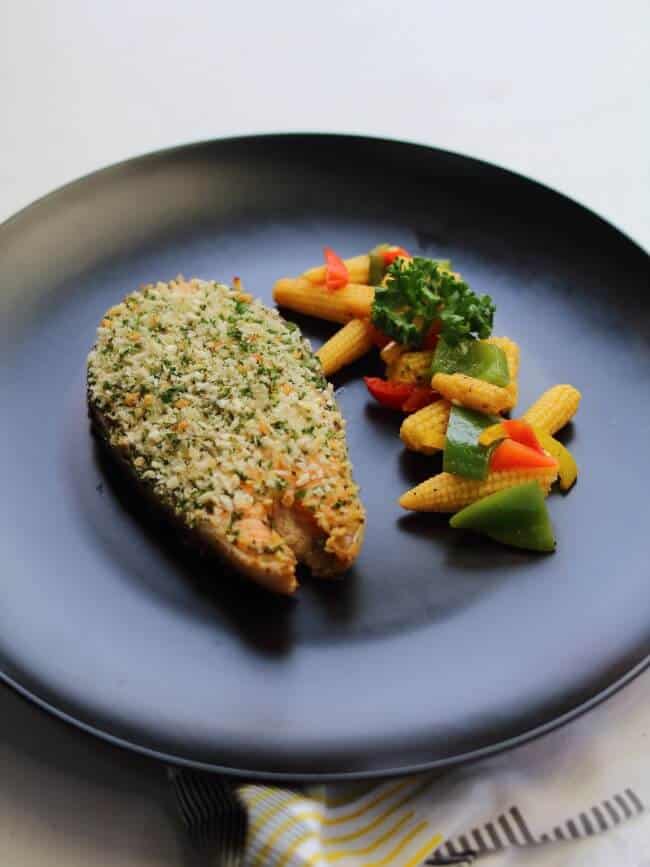 The mixture of cheese and herbs is always a perfect blend for fish recipes—a combination of green herbs such as parsley, basil, cilantro, and dill. Add a touch of groundnuts and peanuts for a nice crunchy texture aside from the breadcrumbs.
Any well-aged cheese is excellent with this salmon recipe. Choose the cheese with less moisture content such as Manchego, Pecorino Romano, & Grana-Panado. They have a characteristic zingy flavor that suits oily fish such as salmon.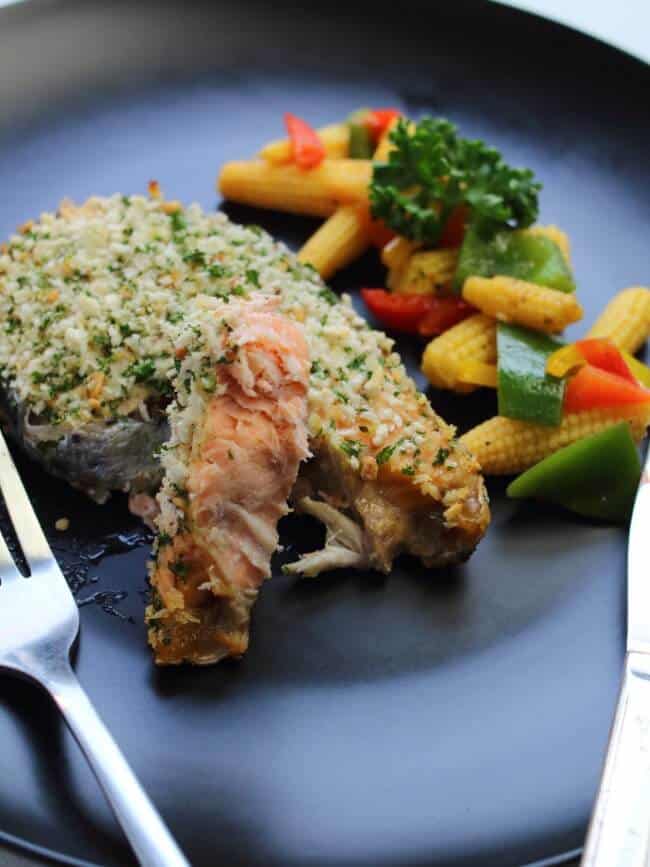 In this recipe, 20 grams of parsley is being added to the breadcrumbs mixture. However, if you love a more deep herbaceous flavor, you can adjust the parsley to 50 grams. To maximize the essence of any green leafy herbs, use a standard knife and chop on an up-down motion—the sharper the blade, the better.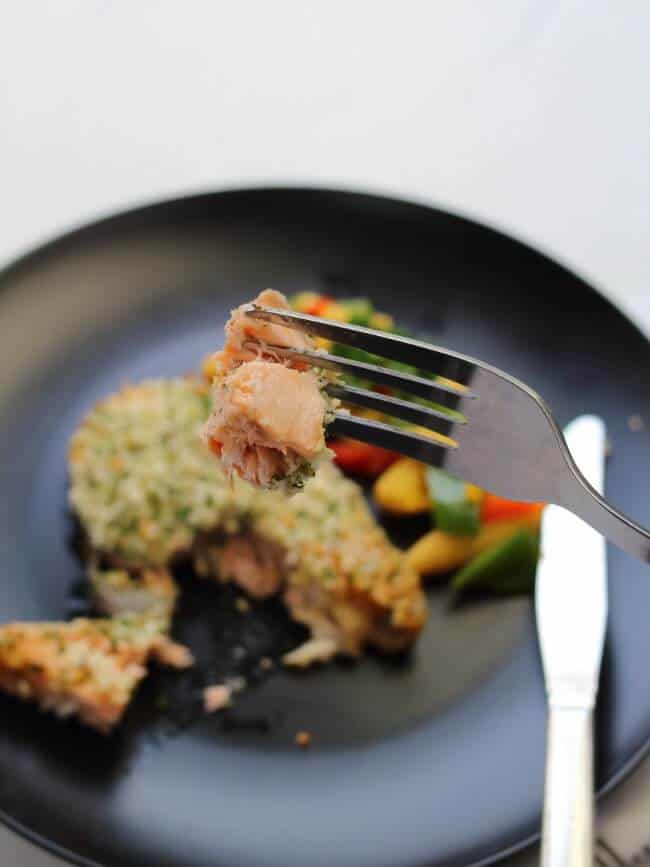 How Long to Cook Salmon in The Oven?
Cooking times will vary depending on the oven temperature. However, salmon's optimal cooking temperature can range from 175 degrees Celcius (350°F) to 204 degrees Celcius (400°F).
Check this cooking time and oven temperature table:
| | |
| --- | --- |
| 175°C | 23-25 minutes |
| 190°C | 17-19 minutes |
| 204°C | 13-15 minutes |
Please note that the oven must be preheated for at least 15 minutes or until it reaches your desired cooking temperature. It will ensure the correct cooking time for the fish.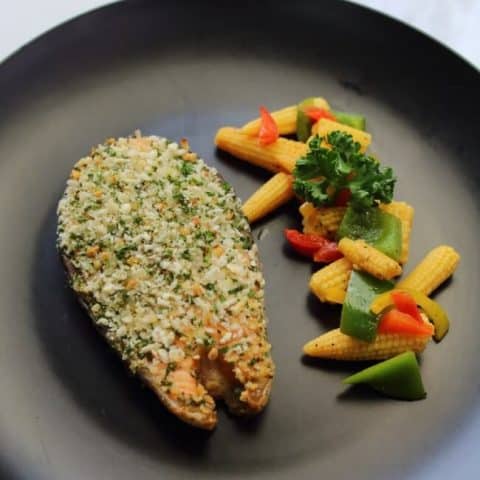 Herb-Crusted Baked Salmon
A light and herb-crusted salmon cooked perfectly in the oven, and you can whip up in no time!
Ingredients
4 salmon, steak cut (120g each)
1 tsp salt
1 tsp ground black pepper
2 tbsp grapeseed oil
1/8 cup dijon mustard
60g panko breadcrumbs
20g parsley, finely chopped
3 tbsp parmesan cheese
1 tsp dried oregano
1/4 tsp dried thyme
1/2 tsp garlic powder
1/2 tsp dried sage
2 tbsp peanuts, ground
1/4 tsp lemon zest, chopped
Instructions
Preheat oven to 375 degrees Fahrenheit. 
Brush the baking sheet with grapeseed oil. 



Combine breadcrumbs, parsley, cheese, dried oregano, thyme, garlic powder, lemon zest, and ground peanuts in a medium-sized bowl or tray; Set aside. 



Pat dry the salmon fillet using a paper towel. 



Season with salt and pepper. 
Brush the skin with the remaining oil. 



Brush the top side of each steak with dijon mustard.  



Gently lift and dip the side of the salmon with mustard into the breadcrumbs mixture.



Place the salmon steak on a baking sheet. 



Bake the salmon for 17 minutes. 



Serve over with your favorite vegetables and lemon wedges.


Nutrition Information:
Yield:

4
Serving Size:

1
Amount Per Serving:
Calories:

640
Total Fat:

39g
Saturated Fat:

7g
Trans Fat:

0g
Unsaturated Fat:

28g
Cholesterol:

146mg
Sodium:

1114mg
Carbohydrates:

14g
Fiber:

2g
Sugar:

1g
Protein:

55g

I hope that you try this easy oven baked salmon recipe, because I honestly think it would be included in your family's favorite recipes that require less time and effort in the kitchen. Can't wait to see your own version of this recipe! 😉