Traditionally, we cook Pizza rolls using a deep-fryer. It is high time to change the way we look at cooking Pizza rolls. Air Fryer to the rescue.
When you use an air fryer to prepare frozen pizza rolls, you are given beautifully-textured pizza rolls, including all of that cheese-loaded stuffing, warmed up to burn-your-tongue level of goodness! The pizza rolls, even though you start with them frozen, will never become soggy, and when cooked with the correct time and temperature, none of the saucy ingredients will ooze out of it.
It can be dragging when choosing the best Air Fryer to suit your family's needs. We got you covered, here are the best air fryers in the market to help you.
Cooking The Crispiest Pizza Rolls In Air Fryer Tips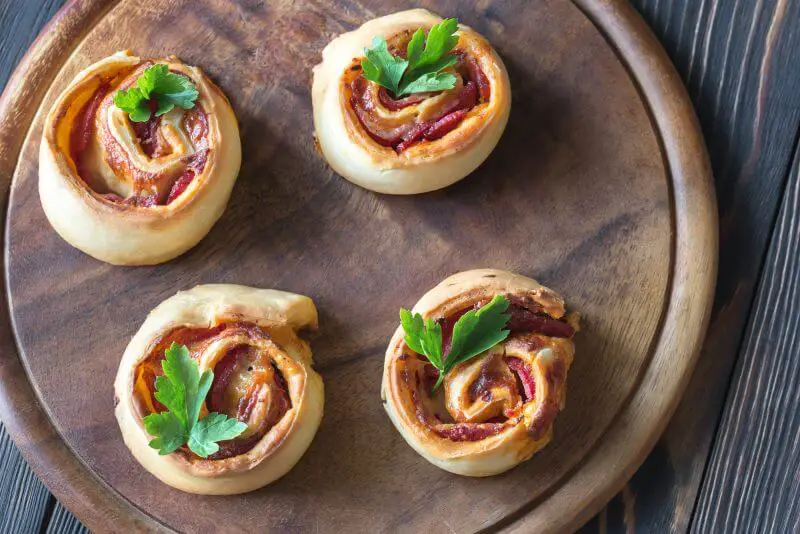 As promised, you will cook pizza rolls swiftly in an air fryer just by setting the right temperature at 380 degrees for 6 minutes.
You can create your mini dough, crust, soft-wraps, or egg roll wrapper. If you are running out of time, you can buy it from the grocery. Spray with a little olive oil before placing the wrapped pizza in the Air Fryer rack. Doing this will add crispness to your Pizza rolls.
There is a wide array of toppings. These are salami, pepperoni, Hungarian slices, and ham. You do not want to miss the exciting part, the mozzarella cheese, paired with sliced mushrooms to coat your meats.
You can select from a variety of pizza sauce that fits your taste buds. You can opt for an Italian, American, French, or you can come up with your personal pizza sauce. To make your life a breeze here is a curated list of the best store-bought pizza sauce available in the market.
For busy moms like us, we can buy Totino's frozen pizza rolls as an alternative.
How To Make Pizza Rolls In Your Air Fryer
Because no oil is required to cook frozen pizza rolls in an air fryer, we can make them without any additional calories or fat. An added benefit is that you do not need to preheat the air fryer, which saves around 15 minutes at the minimum.
No products found.
Furthermore, these pizza rolls cook to perfection in just seven minutes, making utilizing an air fryer more enticing than other equipment we usually prepare these with, such as a deep fryer or traditional oven. In minutes, you can make beautiful pizza rolls using your air fryer!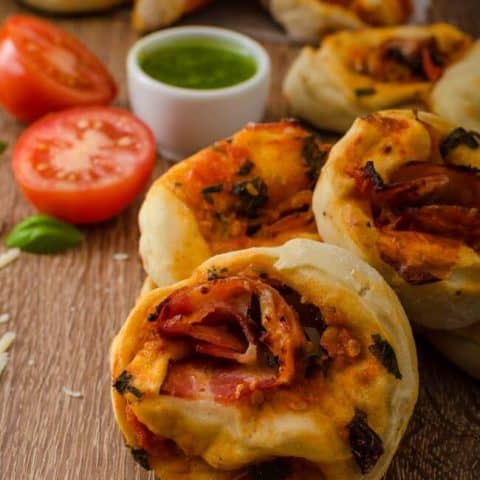 Frozen Pizza Rolls In Air Fryer
Secrets of the crispiest Pizza rolls your family will love.
Instructions
Set your air fryer to preheat at 380 degrees Fahrenheit. The finest results come from starting with a hot air fryer. 
Arrange the frozen pizza rolls in the basket of the air fryer or on the trays. If you can't put all of the rolls in one layer, shake them thoroughly before they finish frying, to ensure that all sides are equally cooked and nothing adheres together.   
Air fry the pizza rolls for 5 minutes at 380 degrees Fahrenheit, after which you can shake/flip them, and then air fry for 2 to 3 more minutes. If you prefer pizza rolls that are quite crispy, air fry them for 10 minutes max. Anything beyond 10 minutes  will certainly result in charred pizza rolls, which no one wants! So keep an eye on your rolls if you decide to cook them for a few minutes longer.
Nutrition Information:
Yield:

5
Serving Size:

1
Amount Per Serving:
Calories:

9
Total Fat:

0g
Saturated Fat:

0g
Trans Fat:

0g
Unsaturated Fat:

0g
Cholesterol:

0mg
Sodium:

16mg
Carbohydrates:

1g
Fiber:

0g
Sugar:

0g
Protein:

0g
I tried to find out for myself what is really the best way to cook Pizza Rolls, and here are the results. I focused on the crispness and cooking time as the basis.
Frying In Oil Prep Vs. Air Frying Home Made Pizza Rolls In Air Fryer
If you can imagine your pizza rolls being deep-fried and absorbing all that oil, you can also imagine the difference that it could make in the flavor. Here we touch on the topic of air fryer versus deep fryers.
Deep-fried dishes are typically heavier in fat than meals prepared in other ways. A fried chicken breast, for example, has larger amounts of fat, than roasted chicken of the same volume. Some manufacturers recommend that utilizing air fryers will aid in reducing, up to 75%, the fat content of fried meals.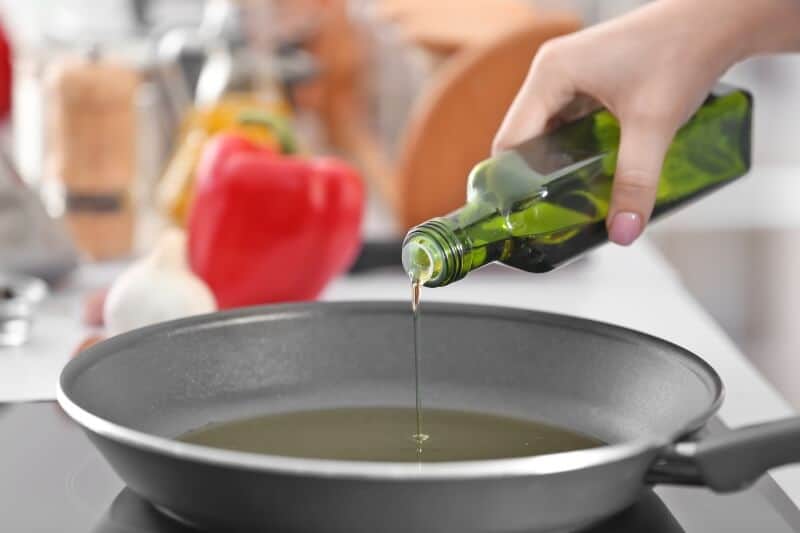 Why are air fryers different, and how do they work? This is due to the fact that air fryers consume substantially fewer fat compared to what's being used with common deep fryers. While many deep-fried recipes require around 3 cups of oil, air fryers only require about a tablespoon.  While the food does not absorb all of the oil, utilizing an air fryer can dramatically reduce the total fat level of your cuisine.
Oven/Microwave Prep Vs. Air Frying Frozen Pizza Rolls
Because deep frying food is harmful, most adults who prepare pizza rolls cook the rolls in an oven, or using a microwave. Even though high temperatures are used to bake pizza rolls, and the rolls being rotated at around halfway the cooking time, the pizza rolls frequently come out mushy and uneven.
Pizza rolls will be heated through in the microwave, but they will have a floppy, soggy, somewhat chewy feel, that adds to the overall unattractive, sticky texture. They still taste good, but wouldn't it be better if they were fully cooked with a crunchy finish?
How To Guarantee Perfect Pizza Rolls Every Time
When using an air fryer, never use aerosol cooking spray right on the equipment. In any case, this pizza rolls recipe does not require any additional oil. On the other hand, for recipes that require oil, apply it with a pastry brush or a paper towel as indicated.
Also, the brand and type of my air fryer and the one that you use, are unlikely to be the same, so take these instructions with a grain of salt, serving only as a general guide. At all times, keep a watch on your rolls while they are air frying.
Useful Kitchen Tools When Making Pizza Rolls
When it's time to move those pizza rolls around, use a reliable pair of tongs, or a classic flipper, for a safer and more ergonomic way to flip your pizza rolls.
Sale
Last update on 2023-03-13 / Affiliate links / Images from Amazon Product Advertising API
Best Pairs From Our Kitchen
These pizza rolls are best served with a good bowl of pasta if you're feeling that Italian vibe, so you might want to check out our Quick Vegan Rotini Dinner Recipe, or you can make the usual spaghetti while browsing some tips on how to beautifully thicken that sauce. You can also serve a side of crispy tater tots in air fryer, or a bunch of air fryer cheese sticks along with your cheesy pizza rolls.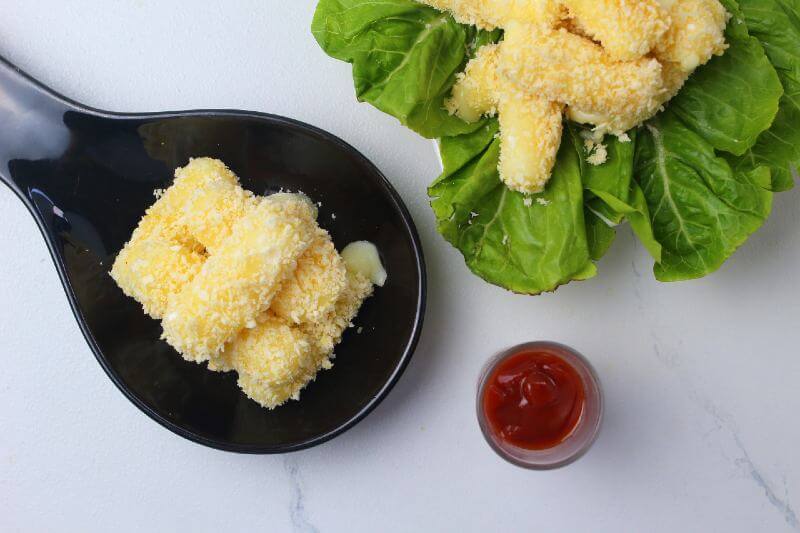 FAQs
How Long Do You Cook Pizza Rolls In An Air Fryer?
On the average, frozen pizza rolls are cooked for 7 to 8 minutes, which includes flipping the rolls over for even cooking of both sides.
Do Pizza Rolls Work In The Air Fryer?
Yes, they do. Even frozen pizza rolls can be cooked perfectly in an air fryer!
Can You Cook Frozen Pizza In An Air Fryer?
Indeed, Frozen Pizza, either homemade or store-bought, can be cooked in an Air Fryer. The cooking time varies depending on the size of the pizza and the brand of the Air Fryer.
For a personal size pizza, the approximate cooking time is 8 to 12 minutes. You can check and adjust the timer if the pizza needs a longer cooking time, depending on how you want it cooked.
Some pizzas have a thin crust, others are thick. You can follow the packet instructions for further instructions to get good results.
Can You Cook A Pizza Puff In An Air Fryer?
Certainly, The Air Fryer is versatile and cooks all kinds of food, including Pizza puff. Every time I visit the store, It's a must on my list. My daughters simply adore them.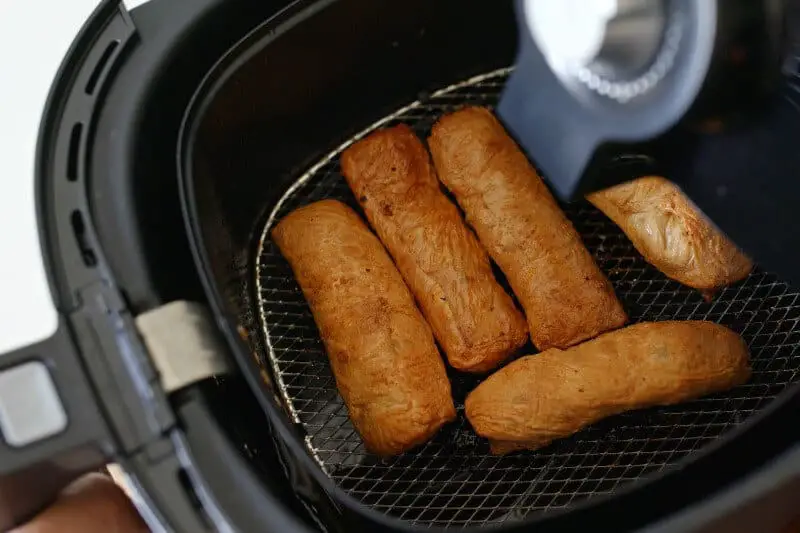 The frozen Pizza pocket cooks at 350 degrees for 12 minutes in an Air Fryer. Cooking time depends on the brand of Air Fryer. For the homemade Pizza Puff made of meat, make sure you cook them before you wrap.
How Long Do You Cook Totino's Pizza In An Air Fryer?
Note that these instructions are for air fryers with a 4-quart capacity. You might also need to adjust the cooking times as you deem fit. Preheat your air fryer to 390 F. Cook the first batch of Totino's pizza rolls for 4 minutes at 390 F, then flip to cook the other side for another 4 minutes. Take the rolls out of the air fryer and let rest for 2 more minutes. Filling will be extremely hot, avoid the temptation of sinking your teeth into them. You must resist! 😀 
Totino's Pizza Rolls, Pepperoni Flavored, Frozen Snacks, 48.85 oz, 100 ct
PIZZA ROLLS: Pizza snacks rolled into hot bite-sized pockets of goodness, baked to a golden finish, and filled with tasty...
QUICK AND EASY: Simply pop in the microwave, oven, or air fryer and enjoy in minutes; Perfect alongside your favorite pizza...
CROWD PLEASER: Whether you need an afternoon pick-me-up or have guests coming over, Totino's Pizza Rolls are a real...
Last update on 2023-03-13 / Affiliate links / Images from Amazon Product Advertising API
How Long Do You Cook A Pizza In An Air Fryer And At What Temperature?
If it's pizza, it's best to follow the manufacturer's instructions, as the cooking times and temperatures will vary according to the size and ingredients of the pizza.
Tip: Read more on how you can enjoy pizza anytime with our frozen pizza in air fryer recipe!
Conclusion
Commercially-available pizzas are rarely considered healthy, but because there is no need for oil when preparing these rolls in your air fryer, there are no extra fat or calories. These pizza rolls cook to perfection in just seven minutes, rendering the use an air fryer more enticing ever, compared to a deep fryer, microwave, or even oven. Let me know if you have other tips for perfect pizza rolls each time. Until the next post, ciao!