I used to have this love-hate relationship with mozzarella sticks. I love them when someone prepares them for me, and on the other hand I totally hate making them myself. I know some of you can relate to this: melted cheese oozing out of the breaded coating, which then becomes burnt fragments scattered all over the pan.
Let's pause for a minute.
Operative word: "used to"
Whether it's homemade or the frozen counterpart, I've discovered a hack in preparing my favorite mozzarella sticks. It's air frying them, of course!
Owning an air fryer was like a breath of fresh air. They're heaven-sent. You've seen a lot of my recipes recently that flaunt how much the air fryer could be the change that you need in your kitchen. It's like making a mental list of everything you used to drown in oil, then "airfryzifying" them.
No products found.
That's right, I just made that term up seconds ago. "Airfrizify" means converting previously deep-fried dishes to air-fried ones. Oxford, you're welcome.
The first thing you might wonder about as we go down this path, is perhaps would it be alright to air fry mozzarella sticks in their frozen state? Wouldn't it melt the ice?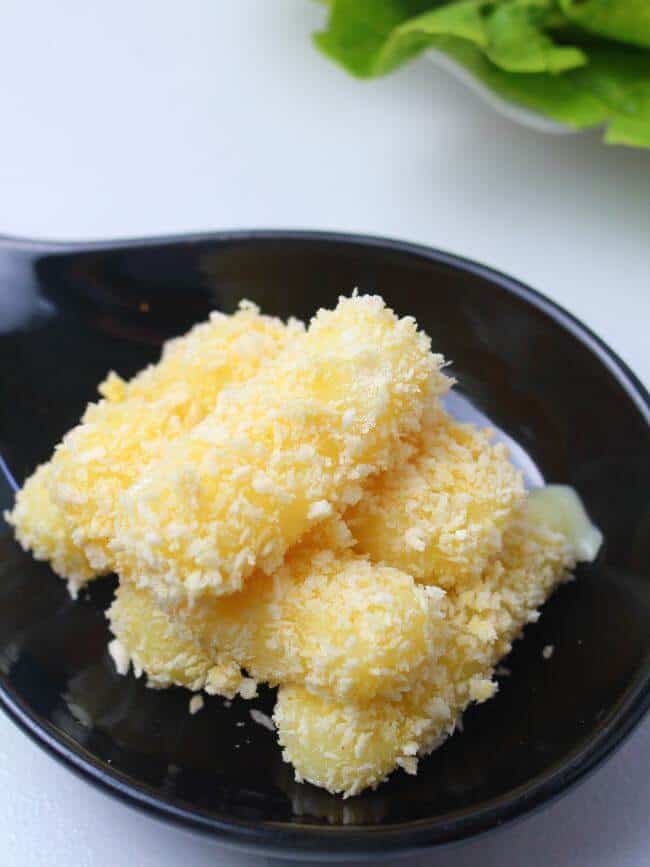 Wouldn't it make the cheese sticks soggy? You'll be surprised: yes, you can definitely place frozen mozzarella sticks straight into your air fryer.
But today, we're ditching the frozen ones, and making our own. 😉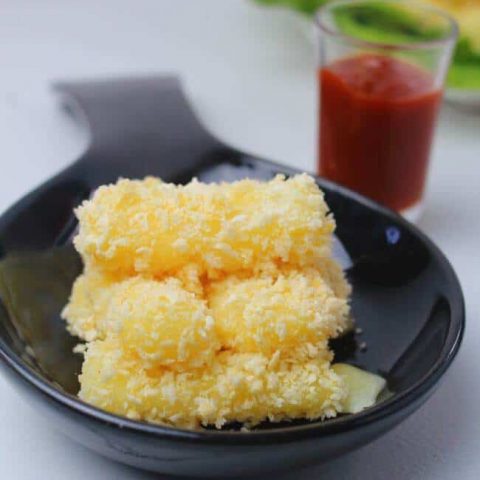 An Easy Recipe for Air Fryer Mozzarella Sticks
Be pleased with how perfect the texture of the cheese and the crunch of the breaded coating are. Just follow this easy recipe!
Ingredients
500g Mozzarella Sticks, cut into halves
100g All-purpose flour
100g Panko Bread Crumbs
1 large egg
3/4 tsp cayenne pepper
Pinch of salt
2 tbsp vegetable oil for brushing
Instructions
1. In a bowl, beat one large egg.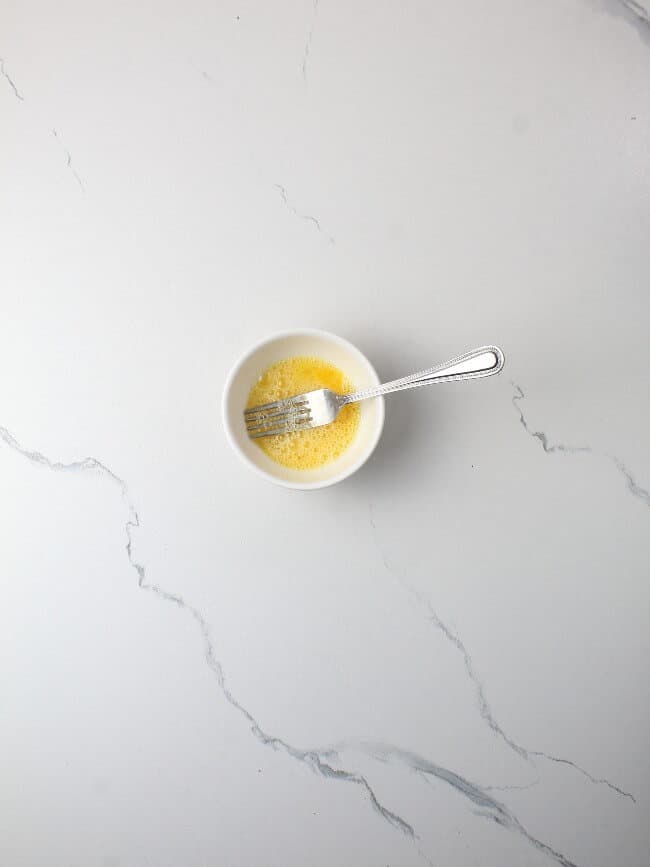 2. Season the flour with cayenne pepper and salt.
3. Following a standard breading procedure, coat the mozzarella sticks with a flour mixture.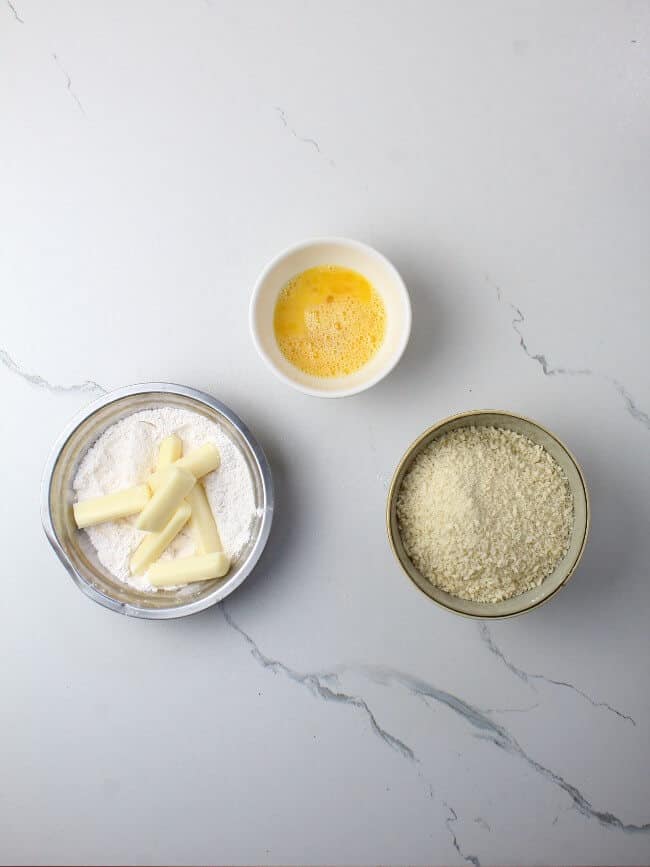 4. Dip the sticks into the beaten egg.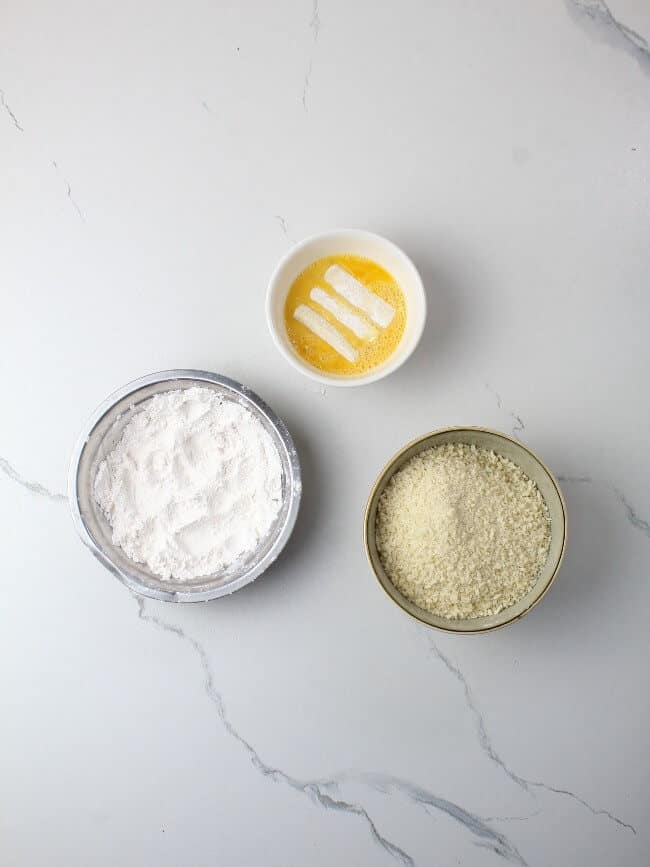 5. And lastly, coat with panko breadcrumbs.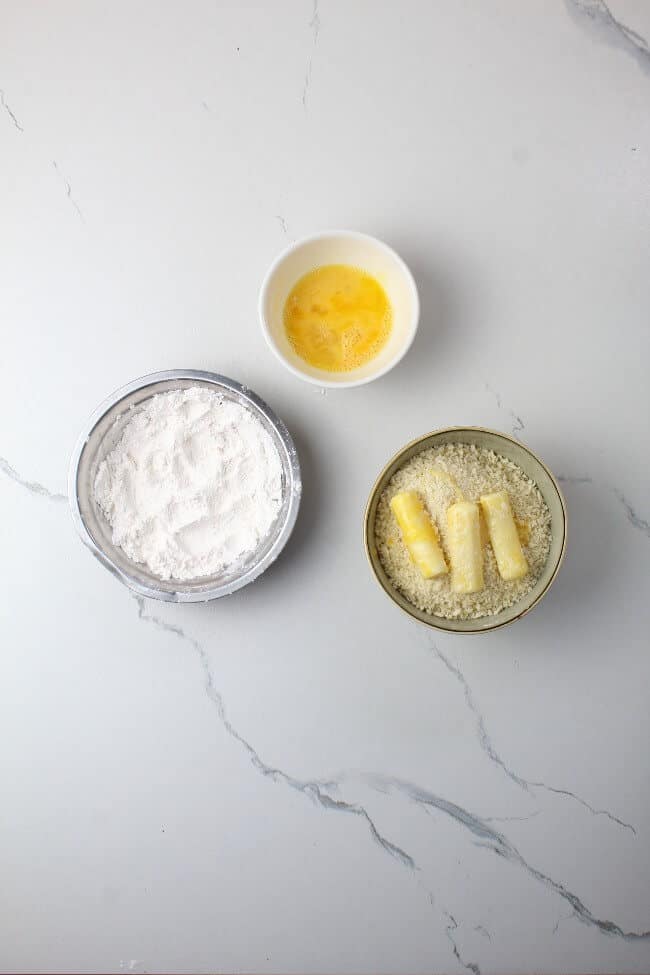 6. Place the breaded mozzarella sticks into a tray and repeat with the remaining sticks.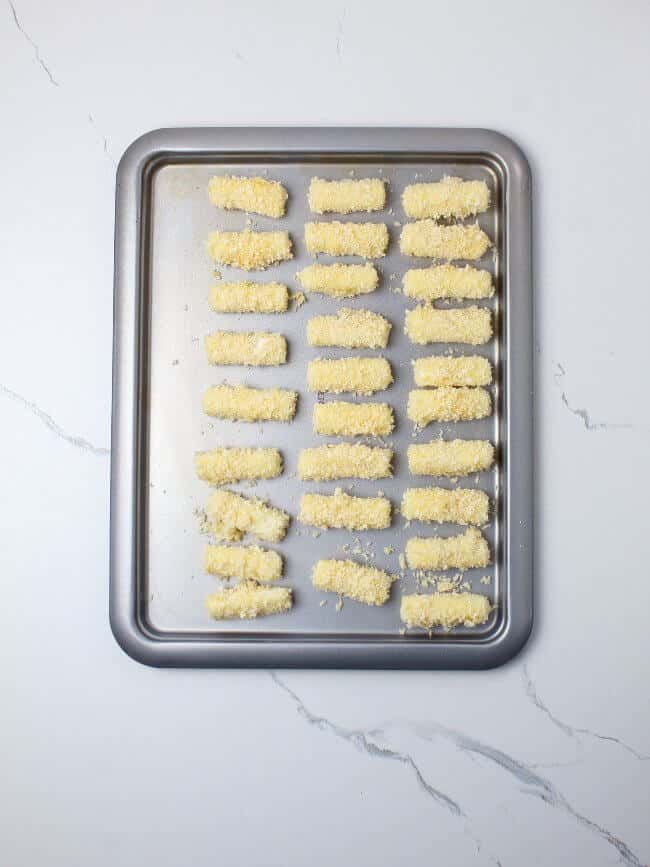 7. Preheat the air fryer for 5 minutes at 200 degrees Celsius.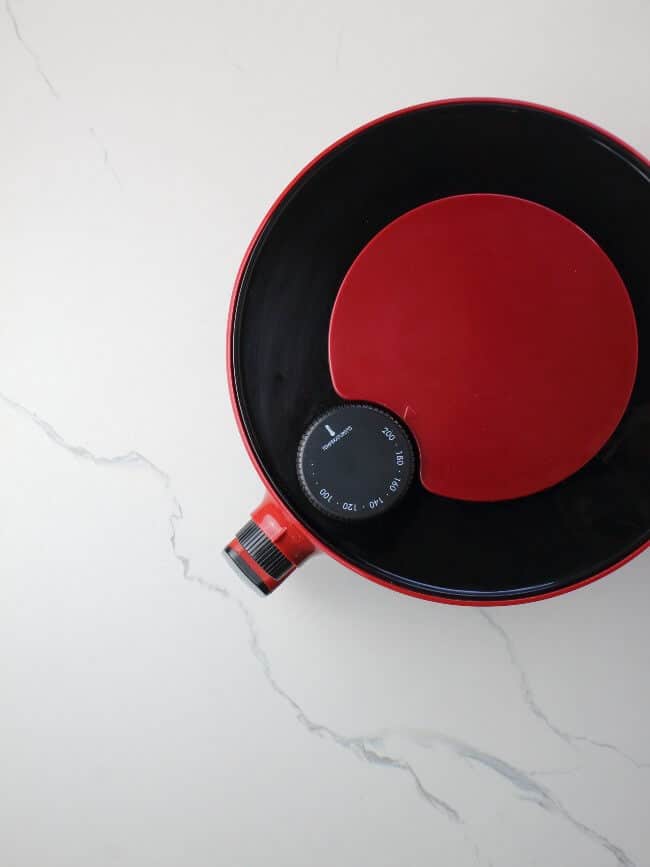 8. Brush the air fryer basket with vegetable oil.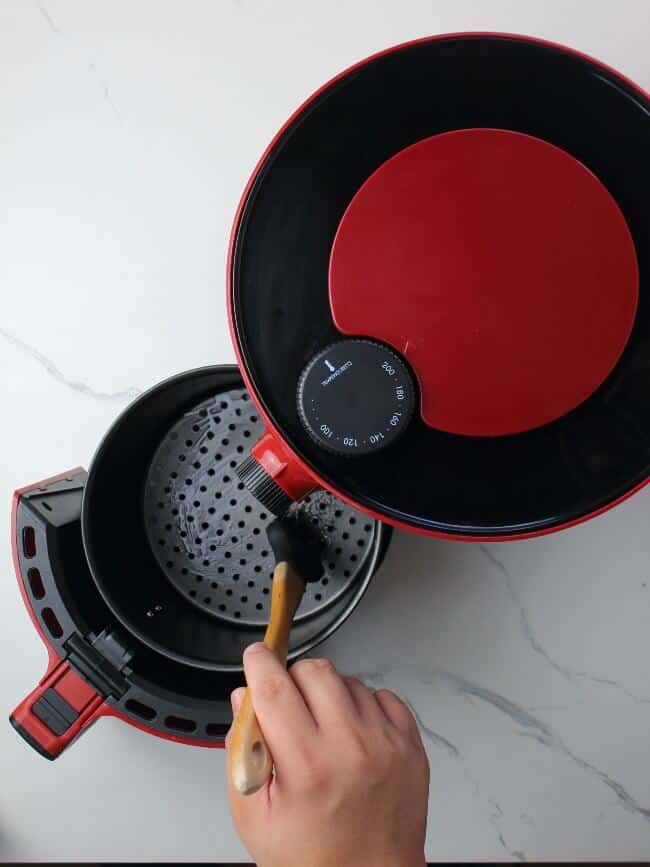 9. Place the mozzarella sticks in the air fryer basket on a single layer.
10. Drizzle the mozzarella sticks with a little bit of oil.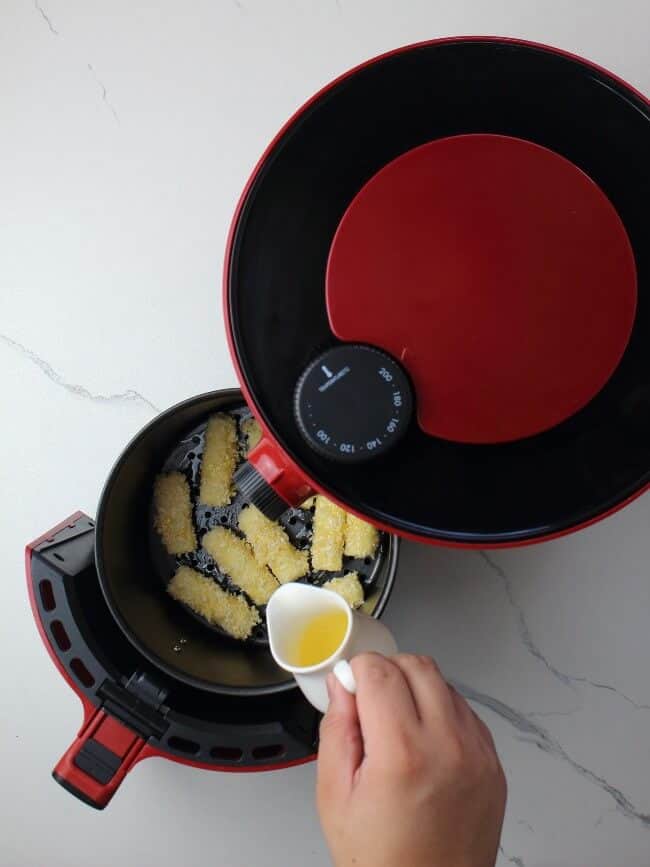 11. Air fry the sticks for 5 minutes at 160 degrees Celsius.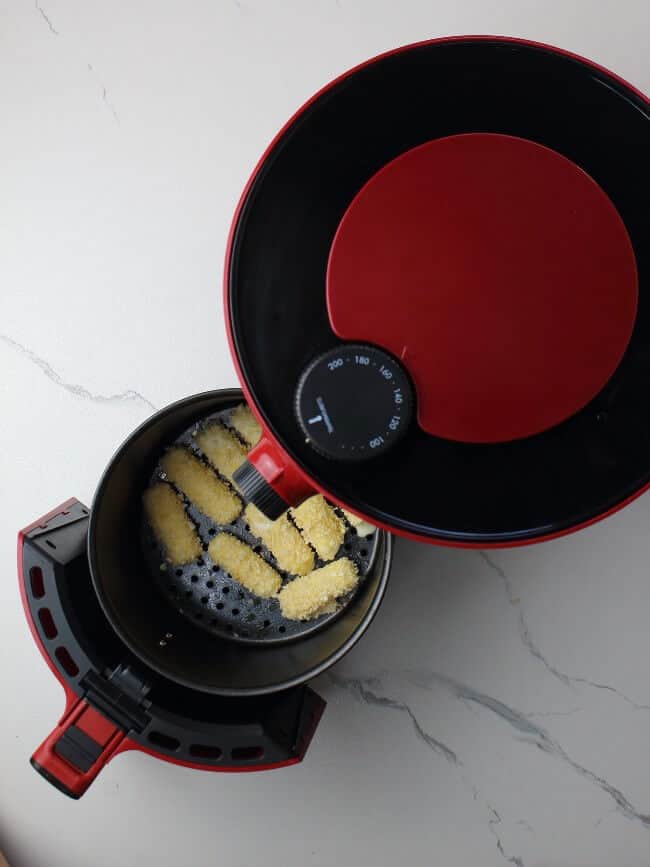 12. Repeat with the remaining sticks.
13. Enjoy with your favorite choice of sauce.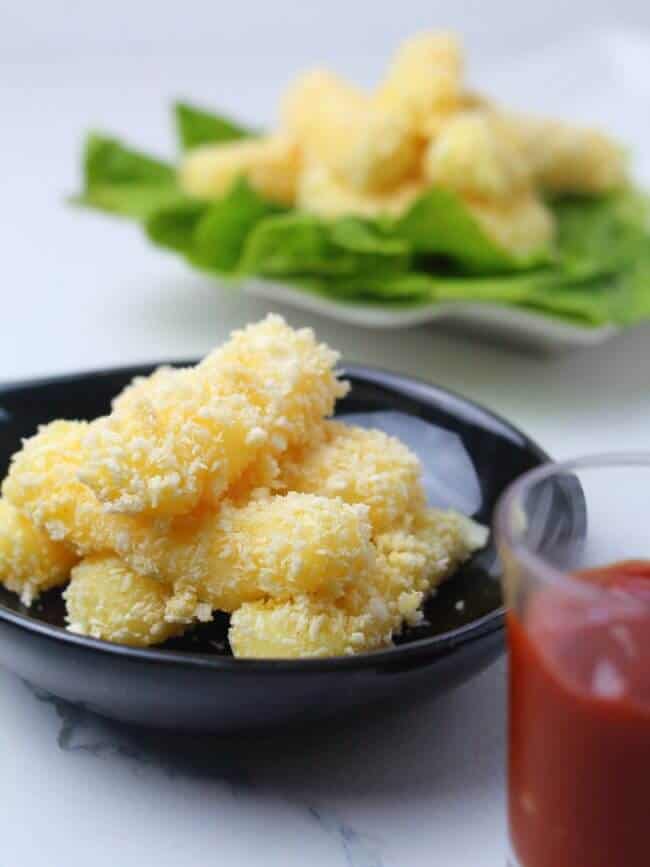 Nutrition Information:
Yield:

4
Serving Size:

1
Amount Per Serving:
Calories:

675
Total Fat:

33g
Saturated Fat:

10g
Trans Fat:

1g
Unsaturated Fat:

19g
Cholesterol:

92mg
Sodium:

1311mg
Carbohydrates:

69g
Fiber:

4g
Sugar:

5g
Protein:

26g
Mozzarella Tips And Other Hacks Worth Sharing
Cutting a mozzarella ball can be pretty messy due to its soft texture, but buying mozzarella sticks saves you time cutting. If you have a block of mozzarella at home, you can freeze it for at least 2 hours to harden before slicing it into sticks.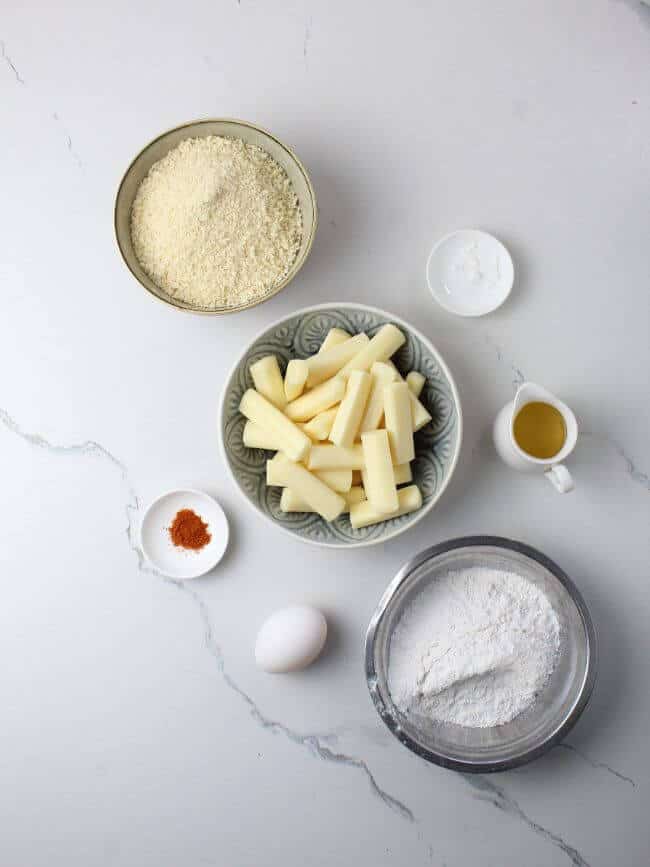 You may optionally cut the mozzarella sticks into halves if your air fryer basket has a small area in it.
You can season the flour mixture with different kinds of dried herbs and spices to your liking. Adding a teaspoon of hot sauce in the beaten egg will create a delicious heat to the mozzarella sticks.
The Panko breadcrumbs are just a standard breading for any deep-fried food; however, you can substitute it with different food items such as your favorite chips; make sure to pound it to resemble breadcrumbs.
You can optionally brush the air fryer basket with oil, or use some cooking spray for an easy coating. You need to spray or drizzle the sticks with some oil to have a crispy texture on the outside and melted cheese on the inside.
The mozzarella sticks will melt into the basket's surface if you cook them at 180 and 200 degrees Celsius for 5 minutes. If you cook it at 140 degrees Celsius, the cooking period would be around 8 minutes. The best temperature to air fry mozzarella sticks is 160 degrees Fahrenheit.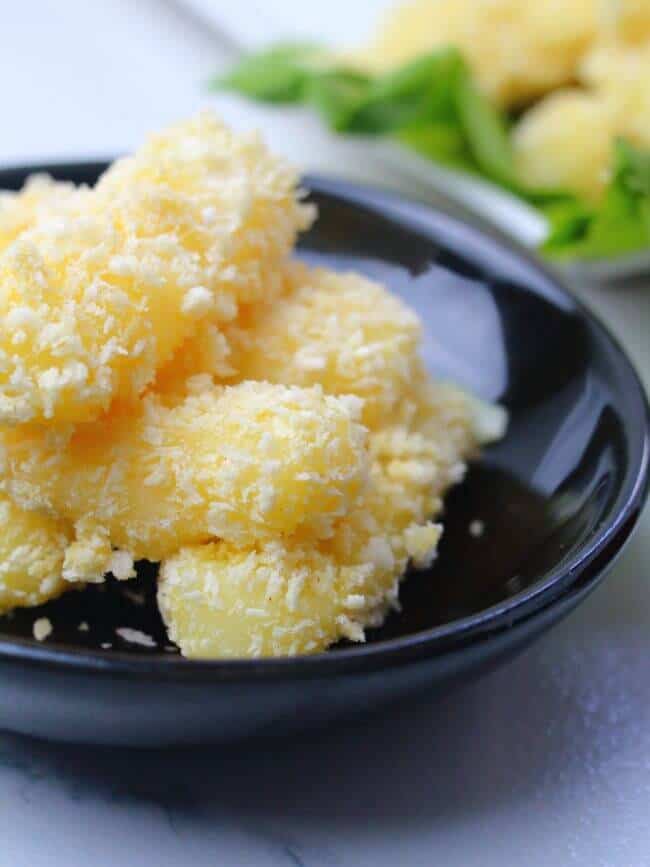 These melty mozzarella sticks are a perfect pair with marinara sauce as it resembles a pizza flavor. You are bold enough; you may try tzatziki — it is a Greek cucumber yogurt sauce.
Last update on 2023-06-04 / Affiliate links / Images from Amazon Product Advertising API
How We Make Our Mozzarella Sticks More Delectable?
The texture and the flavor of mozzarella can be paired with so many delicious dips. The most common ones are hot sauce, or a good bowl of salsa. My mouth waters just by imagining the aroma of tomatoes and cilantro! You can, of course, be a bit more adventurous in serving your mozzarella sticks.
Why not try a different sauce? You can check out my recipes for Homemade Cinnamon Pear Apple Sauce. The sweet accents of pear and apple will enhance the flavor of mozzarella.
How about a good, classic Marinara? Dipping your mozzarella sticks in this sauce is like experiencing a cheesy, deconstructed pizza. It's really good!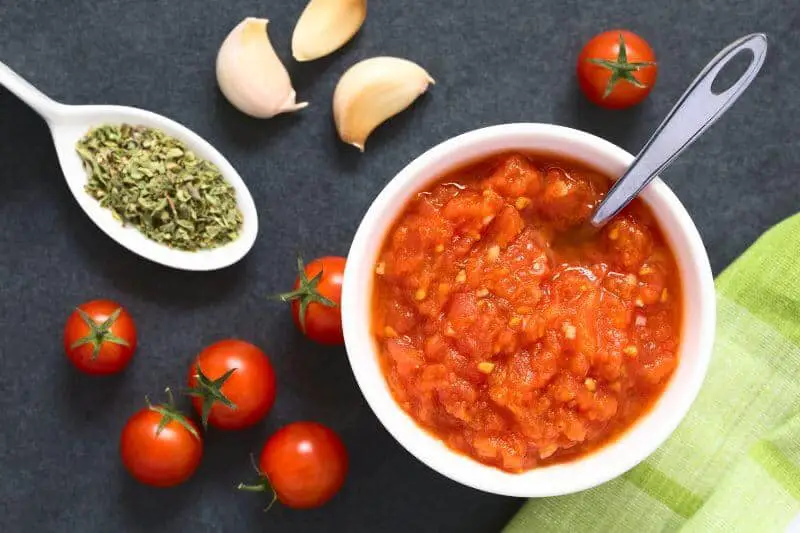 Another great tweak would be switching the mozzarella with another type of cheese (or cheeses)! You can substitute mozzarella with string cheese, cheddar, or even mix three to four types of cheeses together, creating a "4 stagioni cheese stick"!
You can also fold in some cooked, chopped veggies (artichokes or spinach) for extra nutrients, or add some herbs such as dill, basil, or parsley, for that extra flavor.
It is also fun to experiment with the breaded coating by totally replacing it with rice wrapper, so you can have your own cheese "egg rolls". In preparing your cheese sticks, you can follow my cooking approach for air fryer frozen egg rolls. This is best served with a mayo-ketchup mix, you can take my word for it!
Frequently Asked Questions
Of course, if you don't have the luxury of time to prepare your mozzarella sticks from scratch, we have their frozen counterparts, which can be equally good! Sharing some of my tips below, as well as answering common questions around frozen, air-fried mozzarella sticks.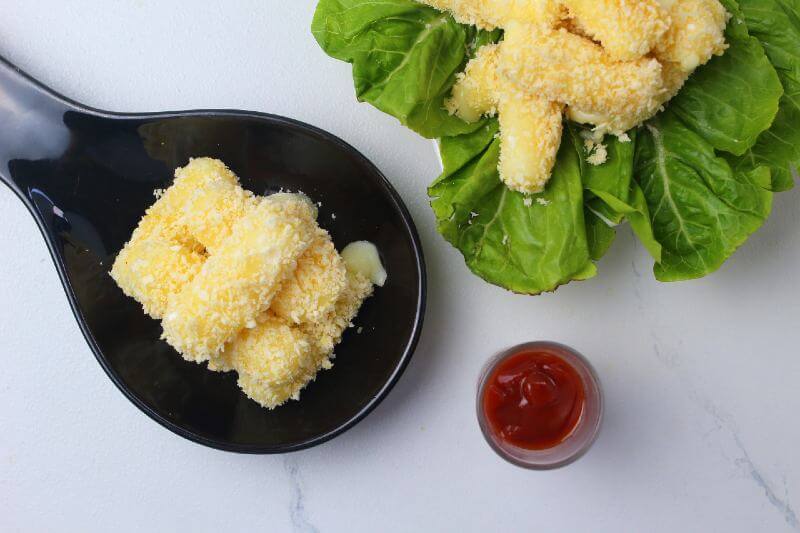 Spray some nonstick spray oil into the air fryer basket, this will prevent the mozzarella sticks from sticking to the basket, and more oil encourages them to be nice and crispy.
Make sure that your mozzarella sticks are totally frozen before using them in an air fryer. Your frozen mozzarella sticks should feel as if they are completely dry to the touch. Never thaw your sticks before air frying.
If they are even slightly mushy in the freezer or on your kitchen counter, they will not cook evenly in the air fryer. The breaded coating will also easily fall off.
To prevent mozzarella or any cheese that you use, from leaking onto the heating components, you might wish to use an additional rack under the fry basket and protect it with foil.
If time permits, process in batches, so you have enough space between the sticks inside the basket.
How Long Do You Air Fry Frozen Mozzarella Sticks?
To ensure that your cheese sticks do not end up undercooked, or the breaded coating too mushy, maintain the temperature at 360°F, and air fry your sticks between 8 to 10 minutes.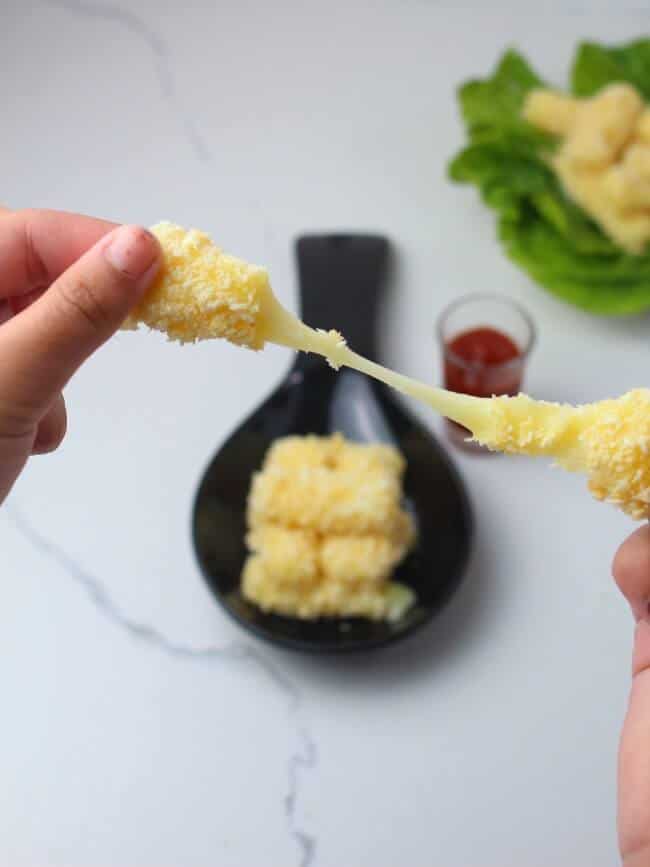 How Do You Cook Farm Rich Mozzarella Sticks In Air Fryer?
You can follow the prescribed temperature and cooking time for farm rich mozzarella sticks. They are sure to come out as good as your regular ones!
What Temperature Do You Cook Cheese Sticks In Air Fryer?
The recommended temperature in air frying frozen mozzarella sticks would be at 360°F.
How Do You Cook Frozen Mozzarella Sticks?
Aside from the prescribed temperature at 360°F and a cooking time of about 8 t 10 minutes, just follow the tips I provided above so you can have a great time cooking and enjoying those mozzarella sticks. Don't forget to serve them with a variety of dips!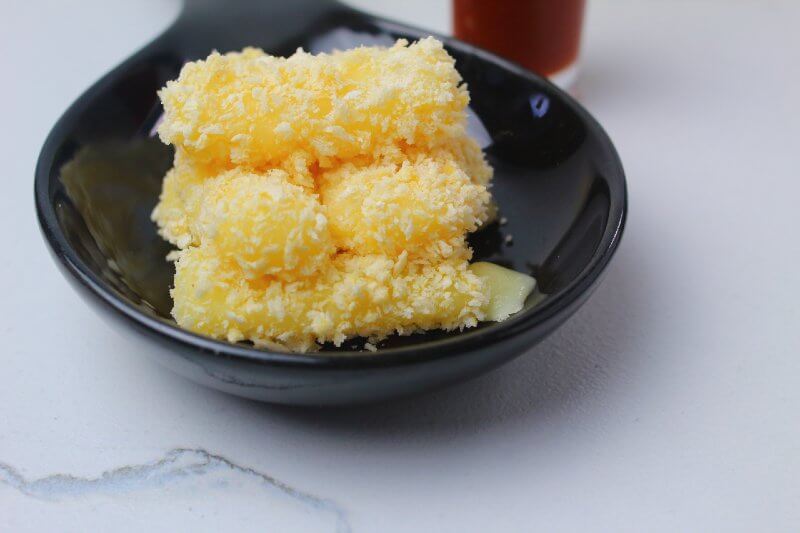 Conclusion
This is what I love most about cooking. It teaches us about patience, and how we can always try to search for workarounds for the simplest and even most complex problems. Just because something makes you feel uncomfortable, it doesn't mean you have to fully give up on it.
Like these precious mozzarella sticks! I've found a terrific way of preparing them through my air fryer, and I think I wouldn't have it any other way.
Have you been air frying your mozzarella sticks as well? Will you try serving them with my recommended dips?
I am excited to hear from you through the comments section! Don't hesitate to shoot me a message through email, I'd be really happy to respond! Ciao!
Related Readings: If you are thinking to buy air fryer, our buyer's guide will help you choose the right one for your kitchen space. You can also read our product review on Emeril Lagasse Power Air Fryer 360 for more buying options.