My travels are mainly fueled by two things: the sights, and the local food. I made sure to indulge in the street food of Myeongdong when I was in Korea. I took a night trip to the busy Shilin Market to try torched scallops and milk tea. 
One common thing I noticed during my travels, is the presence of Chinatowns. In any country, you are most certainly to come across one. In Japan, we call them chukagai (中華街 ).
When in Chinatown, I always buy sticky rice buns and egg rolls. Now that I've limited my travels, I just grab bags of frozen rice buns for steaming, and frozen egg rolls for air frying, at the local supermarket.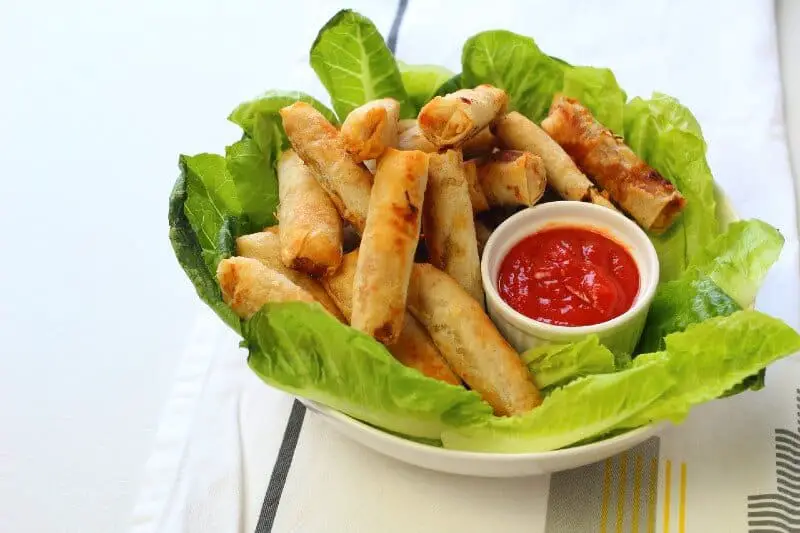 Even though these treats are prepared at home, they still taste really good, and make up for the nostalgia of my Chinatown trips for now.
If some of you are planning to visit Japan in the future and would like to make that side trip to a chukagai, the three biggest ones are in Kobe, Nagasaki, and Yokohama. I hope I was able to add a bit of information to your itinerary. 
The first time I air-fried egg rolls, I was a bit apprehensive. When you say "egg rolls", it usually denotes "deep frying". This technique ensures an even cook both outside and inside the egg roll, especially the filling.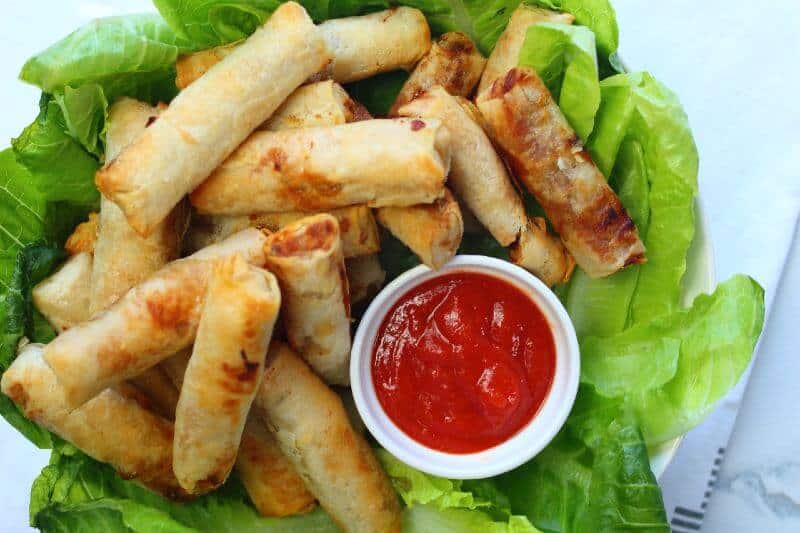 I didn't know what to do then, but now that I've mastered the art of air-frying egg rolls, I would love to share my experience here with you, too!
At first, frozen egg rolls plus air-frying sounds like a disaster dish waiting to happen.
Will it be dry? Will the wrapper of the roll get crispy, but the inside soggy? Will it cook evenly? I hope you find it assuring that I had the same questions.
Air-fried egg rolls are, in fact, a good alternative to deep-fried ones. First, is about the amount of oil you'll use. It requires so little oil which gives your health a plus point, as well as your purse.
No need to worry about the disposal of cups of oil after cooking your egg rolls. In terms of preparation, this takes literally zero minutes of your time. You do not need to thaw the egg rolls, because you can cook them straight out of the freezer.
You might also want to read our best air fryer reviews here.
No products found.
You can also use your air fryer to reheat any leftover egg rolls, and still expect good quality rolls to come out of your fryer.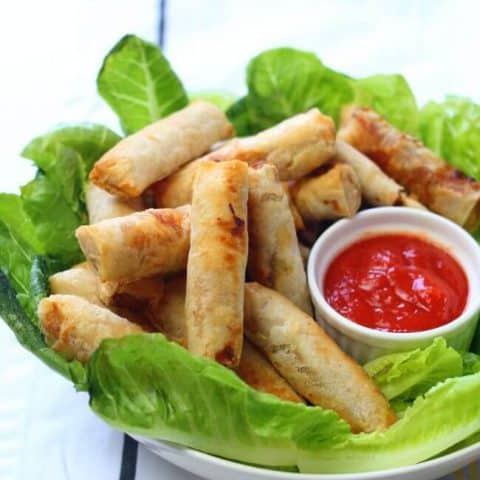 Air-Fried Frozen Egg Rolls: A Glimpse of Chinatown in 15 Minutes
Even though these treats are prepared at home, they still taste really good, and make up for the nostalgia of my Chinatown trips for now.
Ingredients
12 frozen egg rolls
3 tbsp vegetable oil
Chili Sauce for dipping
Instructions
Preheat the air fryer at 180 degrees Celsius for 10 minutes. 



Place the frozen egg rolls in the air fryer basket. 



Brush the egg rolls with oil. 



Air fry the frozen egg rolls for 10 minutes at 180 degrees.



Flip the egg rolls over and increase the temperature to 200 degrees Celsius.



Continue cooking for 5 minutes until crisp. 



Serve with your favorite chili sauce.


Nutrition Information:
Yield:

3
Serving Size:

1
Amount Per Serving:
Calories:

1012
Total Fat:

56g
Saturated Fat:

9g
Trans Fat:

1g
Unsaturated Fat:

43g
Cholesterol:

57mg
Sodium:

1693mg
Carbohydrates:

98g
Fiber:

9g
Sugar:

0g
Protein:

30g
How Do I Make Sure I Air-Fry Frozen Egg Rolls Correctly?
As you arrange the egg rolls on the air fryer basket, make that the rolls have enough space between them for air to go through as they cook. Place them in a single layer (not on top of one another), otherwise, there will be parts that won't be evenly cooked. 
Brush or spray your egg rolls with oil before you flip them. You need to refrain from using aerosol sprays such as PAM, as these can damage the coating of your air fryer basket. It would be best to use any oil of your choice such as canola or palm oil, and spritz on the rolls using an oil mister or spray bottle.
Spraying the rolls with oil will help achieve that extra crispiness, too!
Is It A Spring Roll Or An Egg Roll?
To sate your curiosity and mine, I did a bit of reading to see if there were any stark differences between these two rolls. Rolls are rolls, right? But now that we've got the conversation rolling (see what I did there), let's check out what sets an egg roll apart from a spring roll.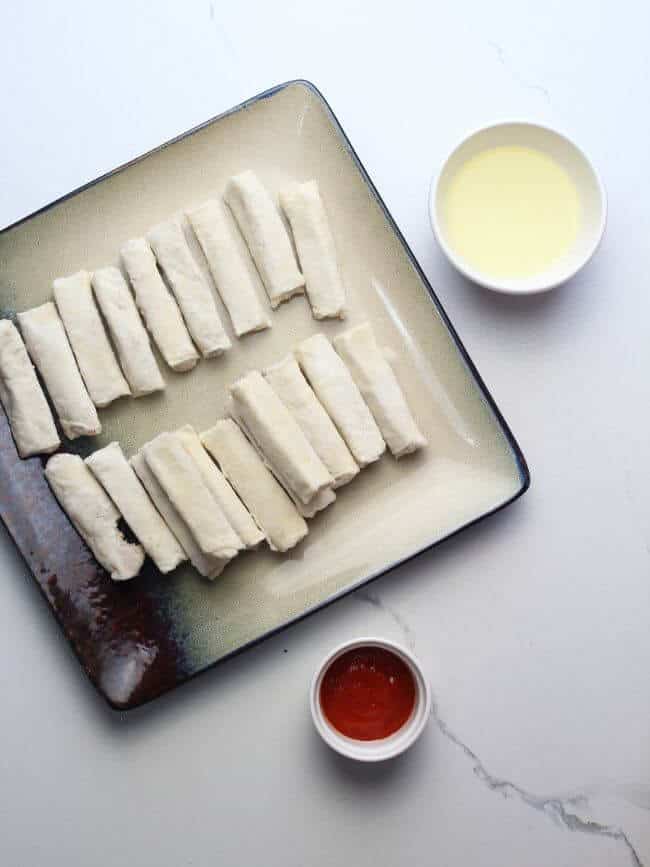 Spring rolls are wrapped made of rice flour wrappers which are quite thin and sometimes translucent. Spring roll wrappers can also be made of traditional flour. Egg roll wrappers are made of wheat and are generally thick, which are fully dipped in a bowl of beaten egg or brushed with egg wash before frying, for that added flavor and crunch.
Spring rolls are usually filled with fresh vegetables, which I believe could be why it's called "spring" for all the leaves and veggies inside, while egg rolls are filled with several combinations of meat and vegetables.
Egg rolls are deep fried. You can notice this on the finish of the wrapper as they are lifted out of the oil: bubbly and crispy. On the other hand, spring rolls are fried, steamed, baked, or even have the wrappers left uncooked (Vietnamese spring rolls, anyone? One of my faves!)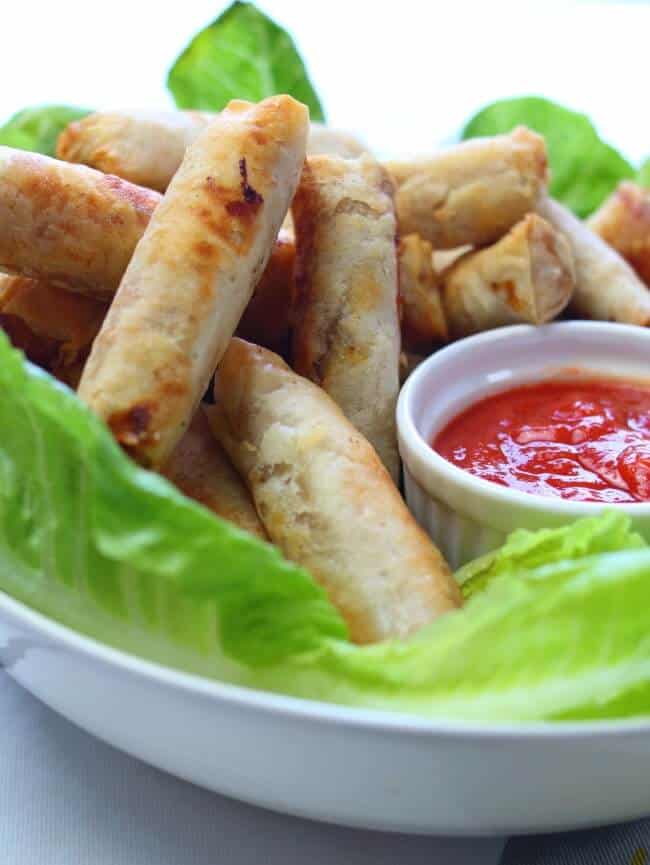 The staples in our stash are P.F. Chang's Chicken Egg Rolls, and their Vegetable Egg Rolls. Our family is also a big fan of SeaPak's Shrimp Spring Rolls, with dipping sauce included.
Egg rolls are best enjoyed with chili sauce for dipping. Two staple dipping sauces in our kitchen are the ones by Thai Kitchen and Mae Ploy. These crunchy rolls are also best paired with rice. You can serve these rolls with hot, steamed rice, or you can also try that classic stir-fried rice, such as our quick and easy Shrimp Fried Rice.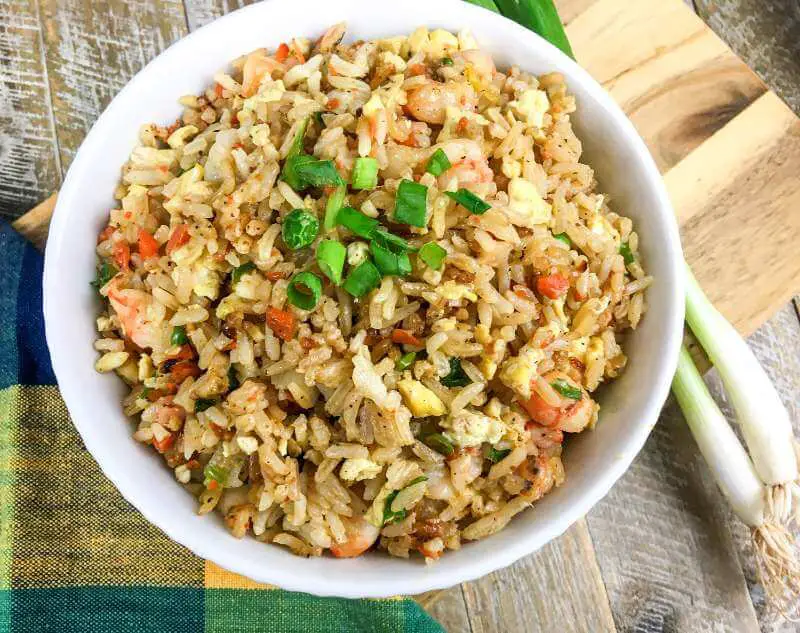 What are some of the goodies that you usually grab whenever you end up in your local Chinatown? Are you also a big fan of egg rolls?
I'd love to hear about your experience in air-frying them, and maybe any tips that you can share for those who will be trying air-fried egg rolls for the first time. Share your thoughts in the comments section below!