Urban Dictionary defines "in-between days" as days that are neither too good nor too bad, but remain remarkable just the same. Today was one of those days for me.
My day began with me leaving the car key inside the vehicle. Great!
The bad vibe immediately got turned around when I came home to pots of herbs that just got delivered. Think of sniffing fresh mint and basil right after an eventful morning spent waiting for several hours for your car to be unlocked—pure heaven.
I was resolute in continuing towards the positive direction of my day by whipping up one of my go-to comfort foods: air fryer cinnamon rolls!
Tip: Thinking of an air fryer upgrade? We have also listed down our top air fryer choices in our comprehensive guide. Don't forget to check it out. 😉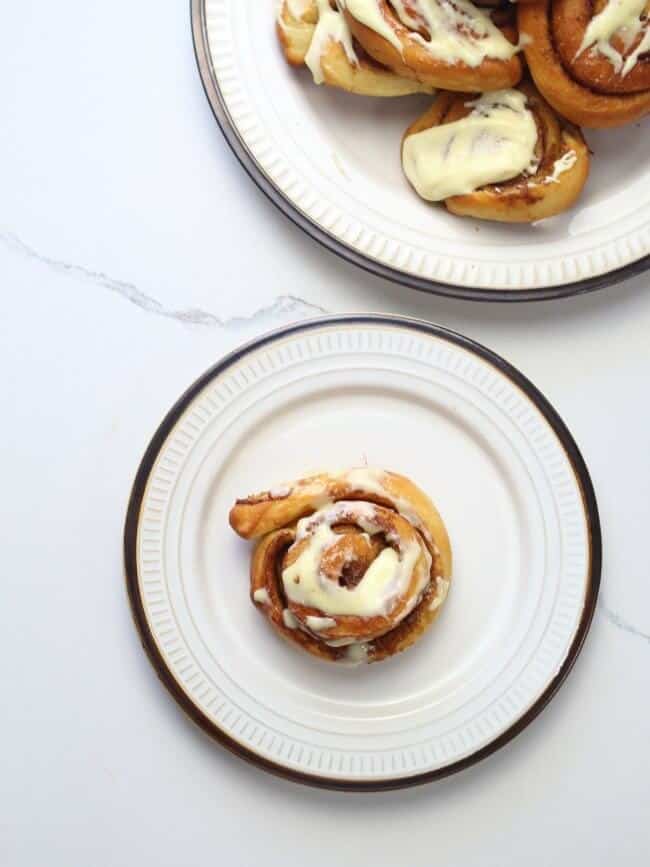 The recipe for which, of course, I will happily share with you! While the task seems daunting at first, you'll learn that it is really easy. You just need to prepare the dough, pop it in the air fryer, and that's it!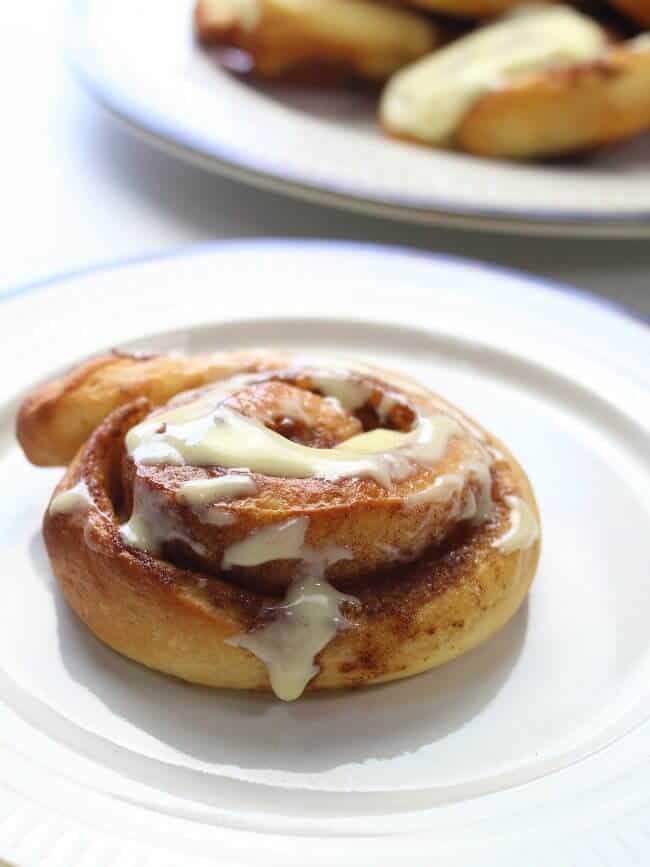 You can also make these sticky cinnamon rolls using commercial or frozen dough. Who doesn't want to indulge in that familiar piece of gooey, sweet, and fragrant cinnamon roll, any time of the day?
For those of you who are new to creating baked goodies out of an air fryer, you'd be surprised by how easy this recipe is, and how the quality is at par with ones baked in a regular oven.
No products found.
Topped with your favorite frosting, these homemade cinnamon rolls will surely captivate anyone's sweet tooth. For a tastier and sweeter batch of cinnamon rolls, I suggest creating the dough from scratch.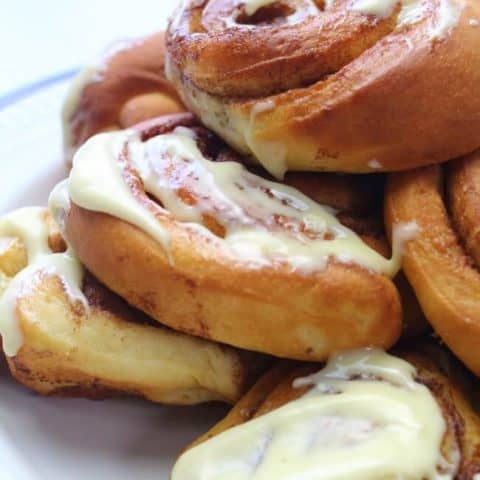 Air Fryer Cinnamon Rolls
Prep Time:
2 hours
30 minutes
Total Time:
2 hours
50 minutes
For those of you who are new to creating baked goodies out of an air fryer, you'd be surprised by how easy this recipe is, and how the quality is at par with ones baked in a regular oven.
Ingredients
60g butter, softened
¼ cup whole milk
1 tbsp instant dry yeast
¼ cup warm water
52g granulated white sugar
2 large eggs
310g bread flour
¼ tsp salt
For the filling:
75g butter, softened
75g brown sugar, packed
4 tsp ground cinnamon
Instructions
1. Heat the milk over medium heat, just around 65-75 degrees Celsius.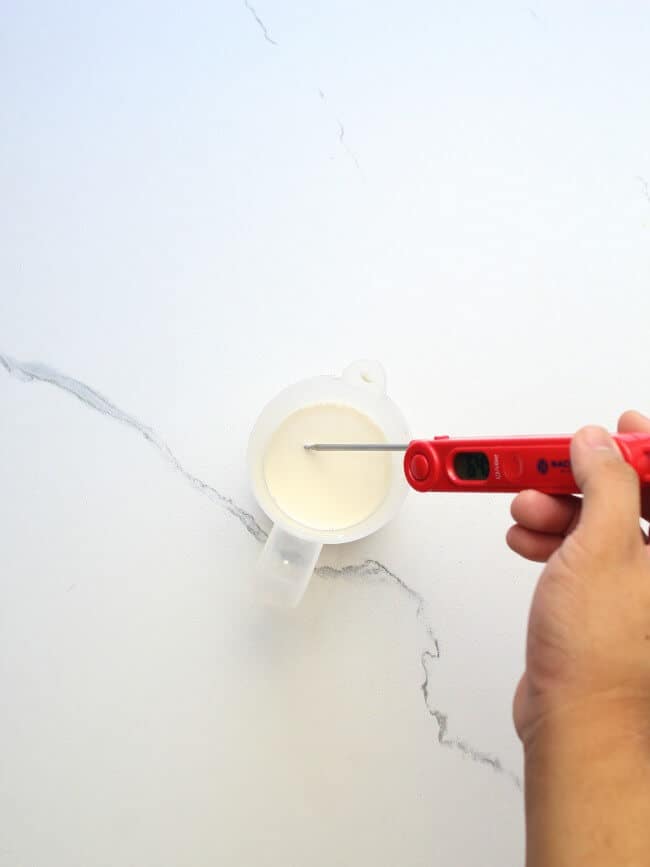 2. In a bowl, combine yeast and warm water. Let it sit for 10 minutes. Whisk together sugar and eggs into the yeast mixture.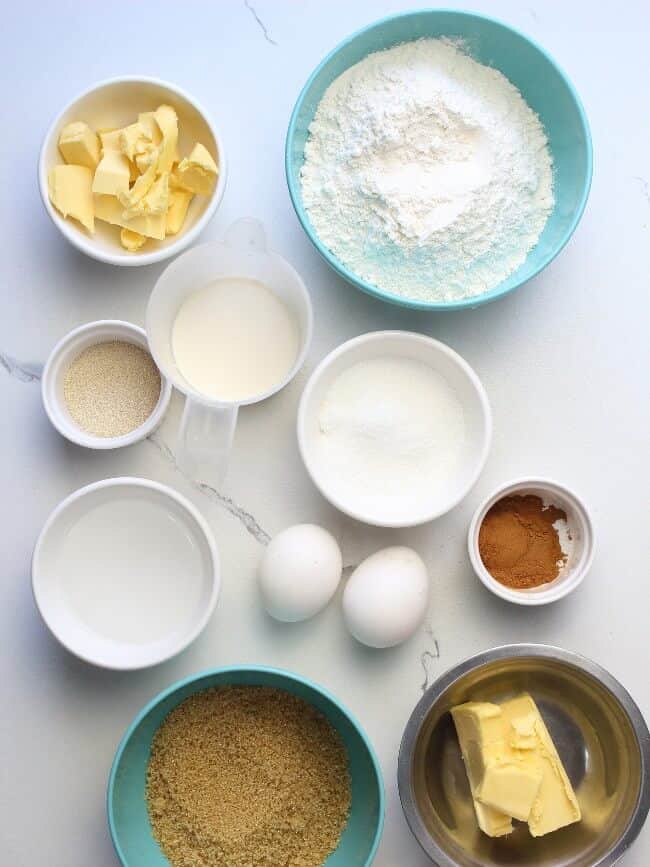 3. Add the milk mixture and combine it thoroughly. Then add the salt, butter, and flour into the mixture.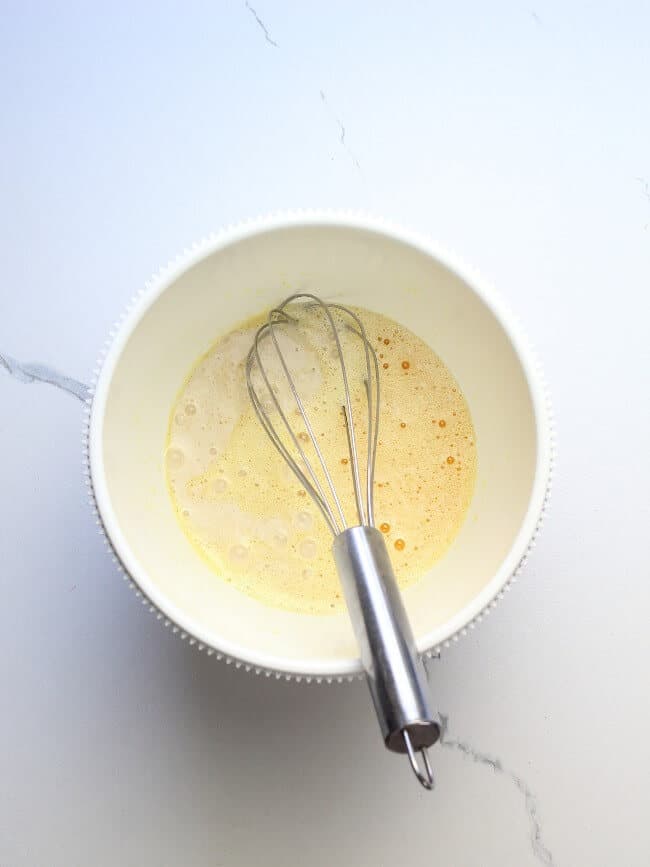 4. Using a hook attachment on your stand mixer, mix the flour at a low speed and slowly increase the speed until the dough comes together.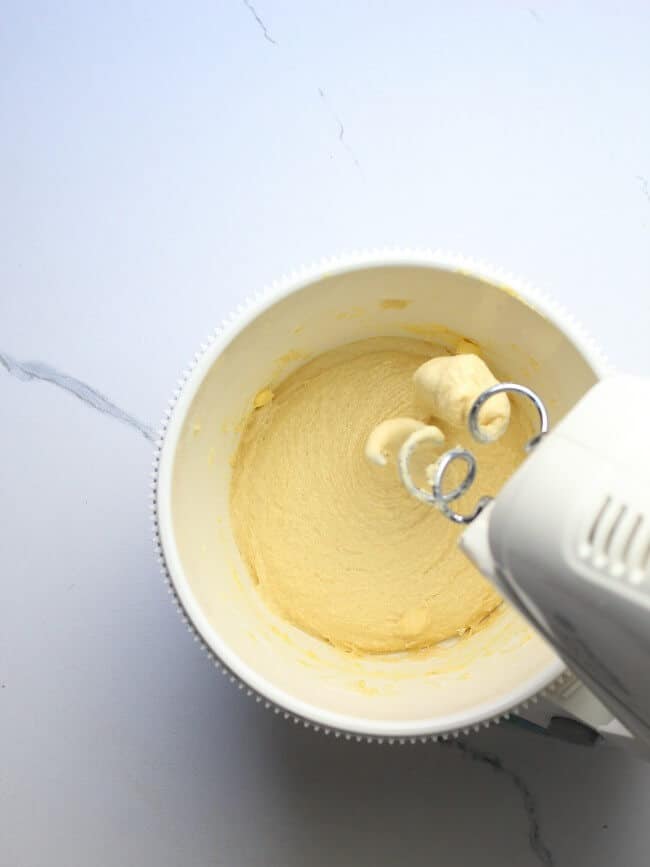 5. Knead the dough by hand for 10 minutes. Transfer the dough to a lightly oiled bowl.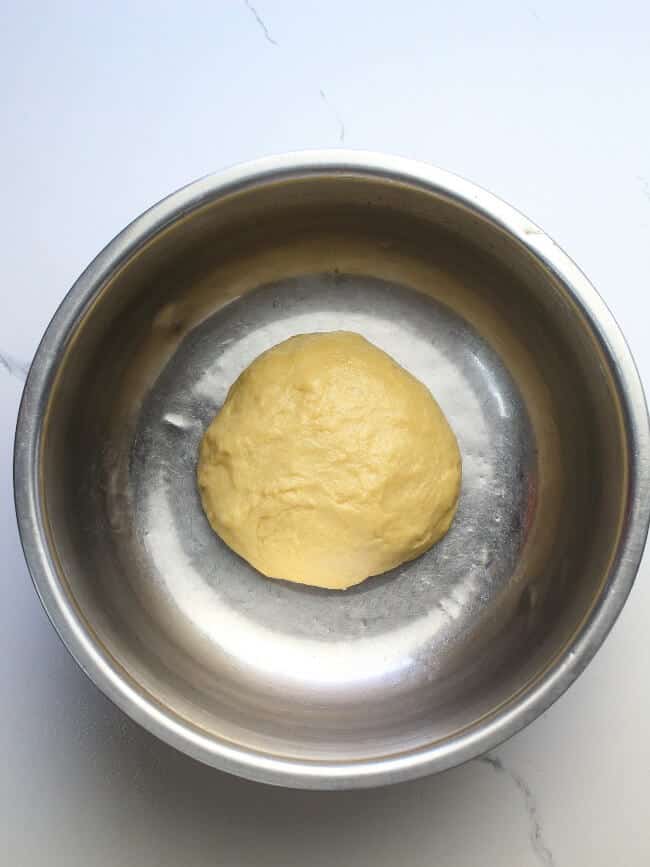 6. Cover the bowl with cling film and let it proof for 1 hour. After an hour, remove the film cover and punch down the dough to remove excess air.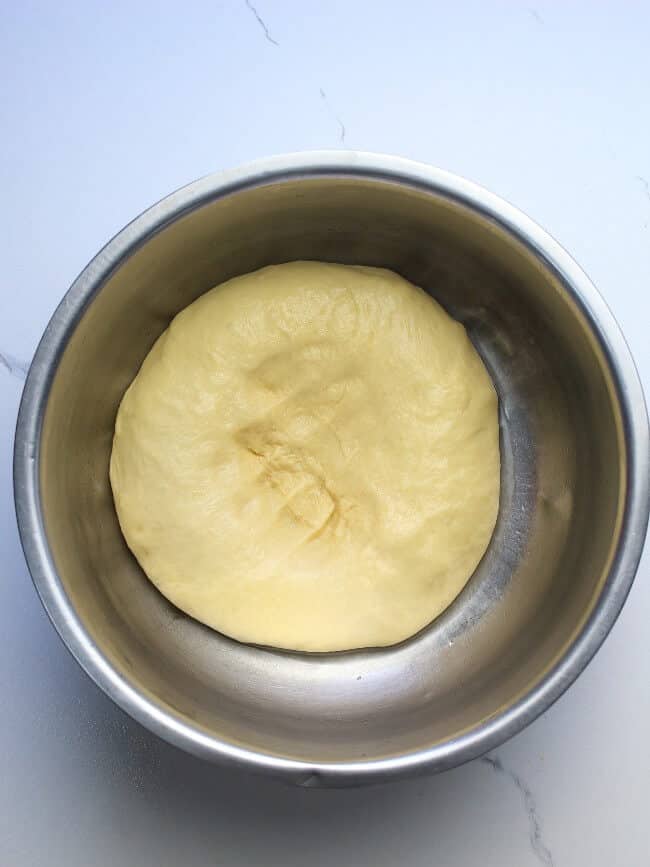 7. Chill the dough for 30 minutes. Transfer to a lightly floured surface. Roll out the dough using a rolling pin.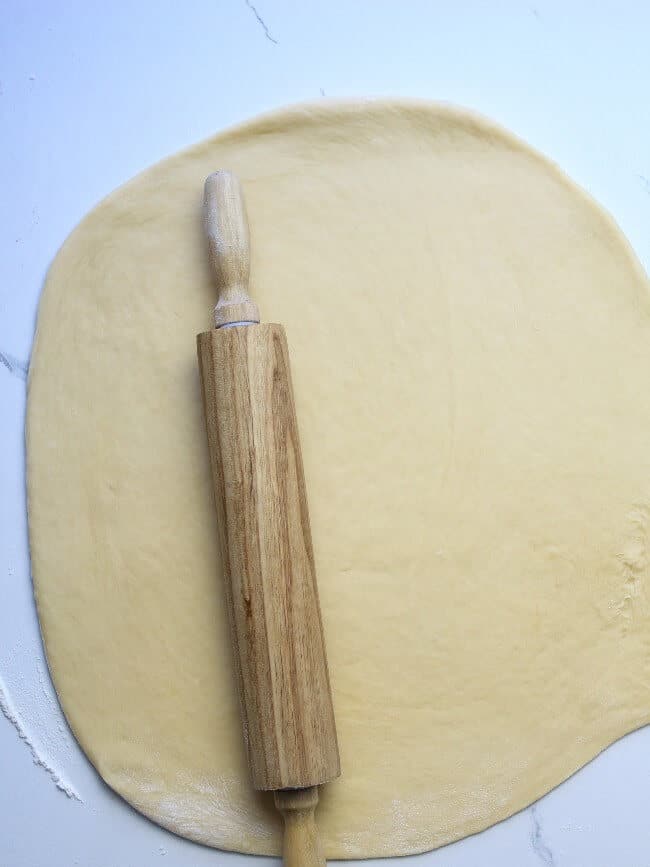 8. In a small bowl, combine the filling ingredients.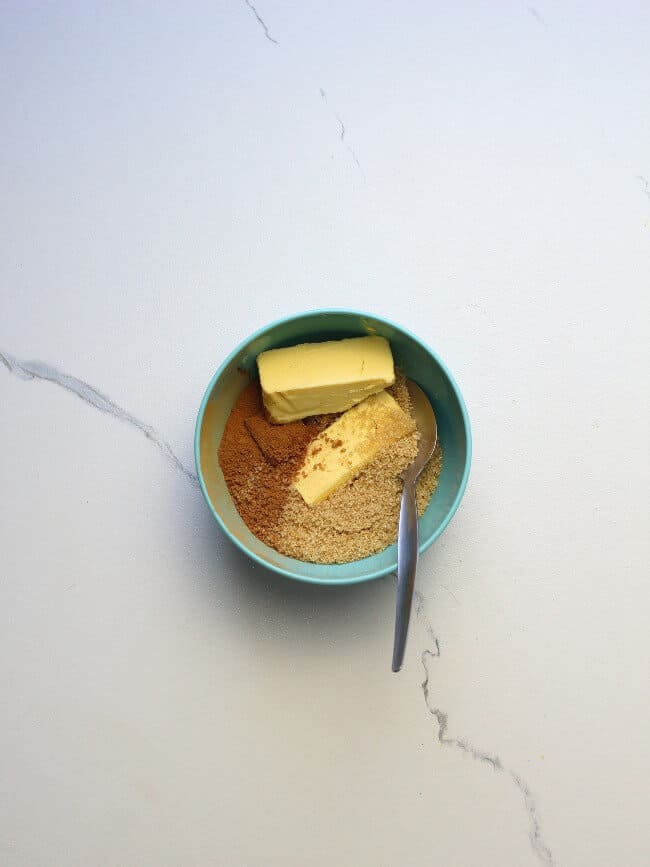 9. Brush the filling on top of the rolled dough.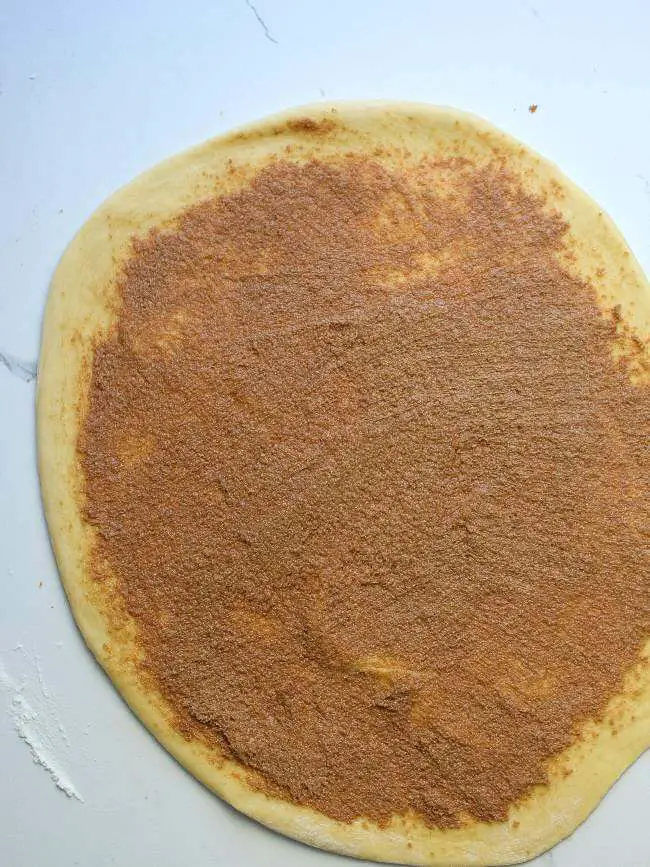 10. Roll up the dough tightly and pinch the edges to seal. Cut into several portions.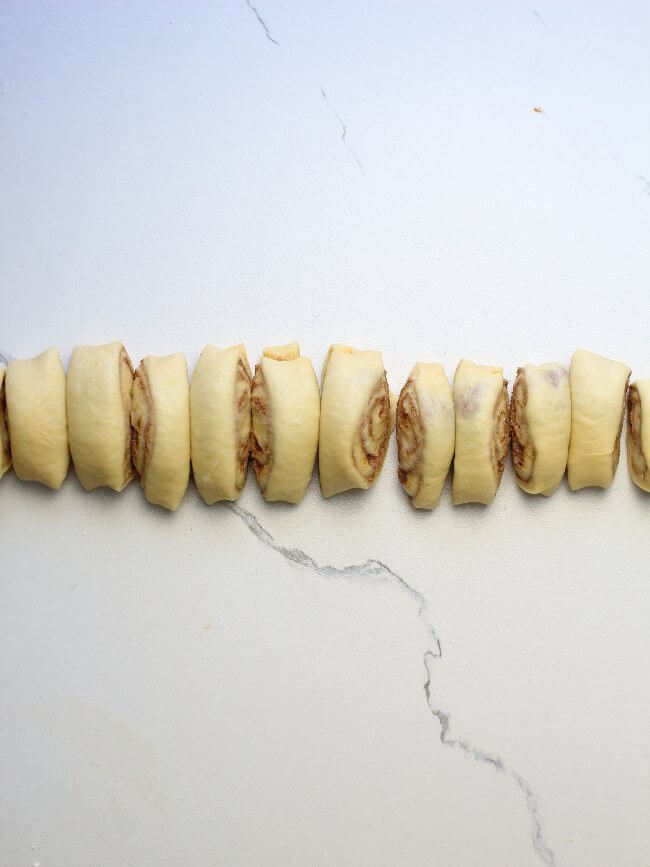 11. Place the portions in a lightly oiled baking tray and cover them with a damp towel. Let it proof for an hour.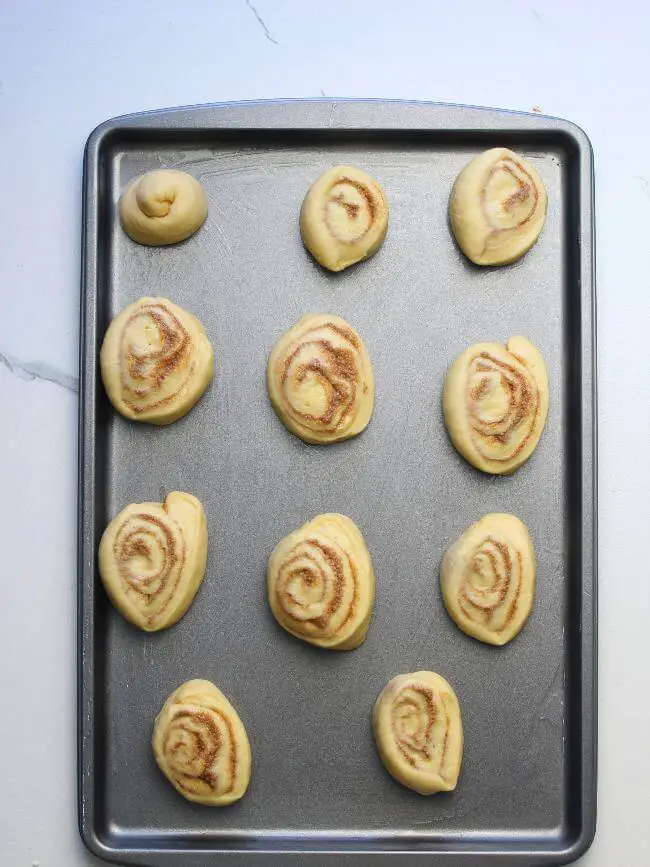 12. Preheat the air fryer for 5 minutes at 180 degrees Celsius.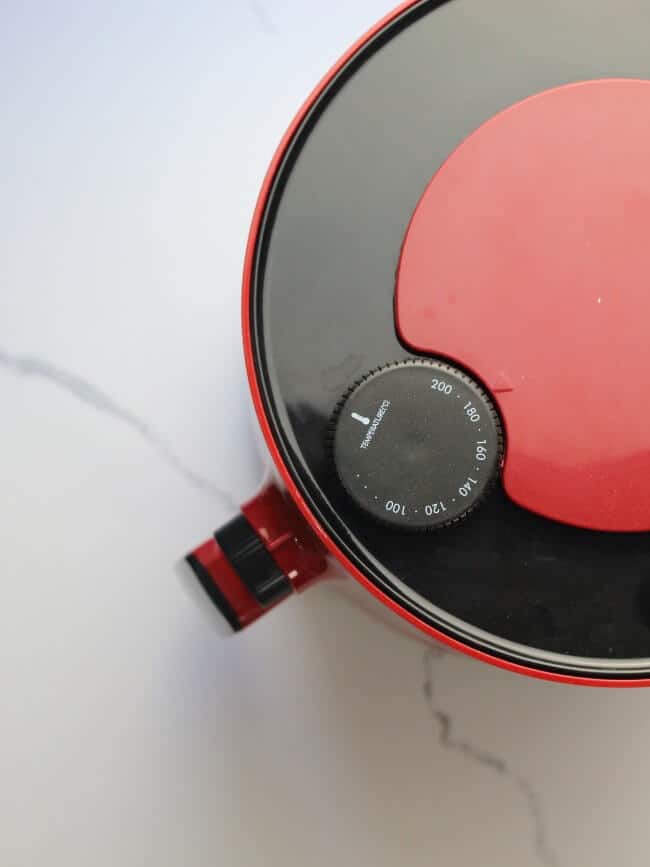 13. Place the cinnamon rolls into the air fryer, leaving some spaces in between. Air fry for 5 minutes at 180 degrees Celsius.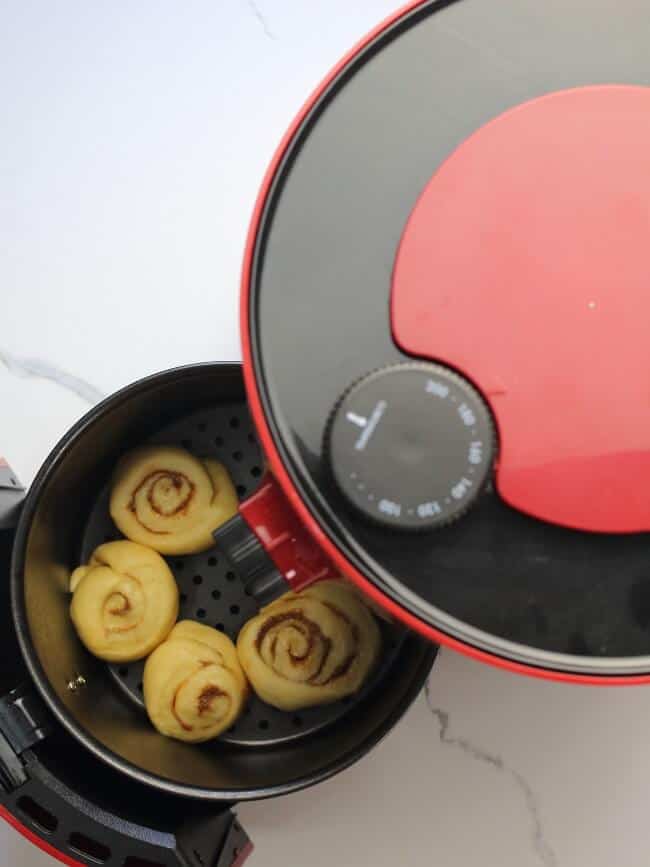 14. Flip over the cinnamon rolls and continue air frying for another 3 minutes. Repeat the steps with the remaining cinnamon dough.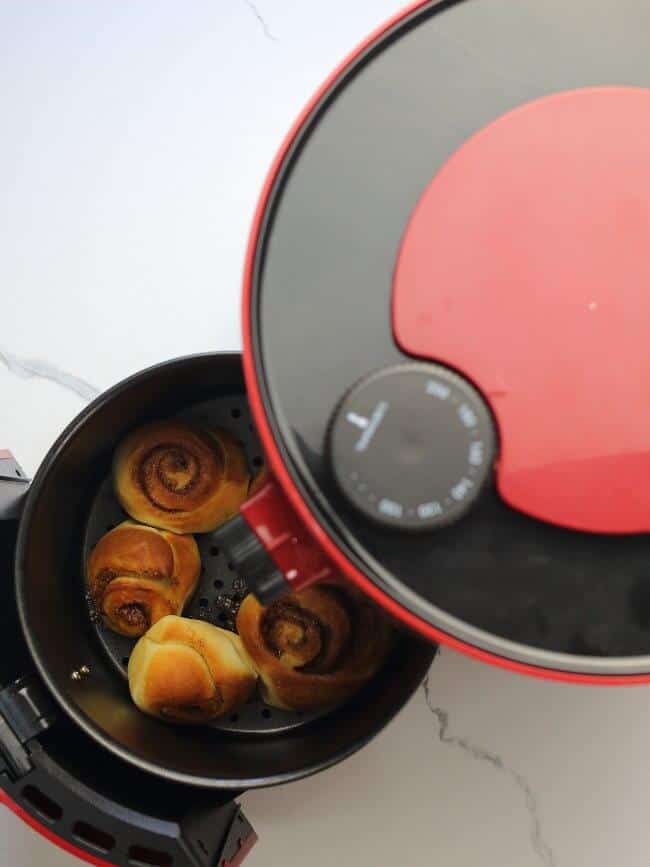 15. Drizzle the cinnamon rolls with your favorite frosting.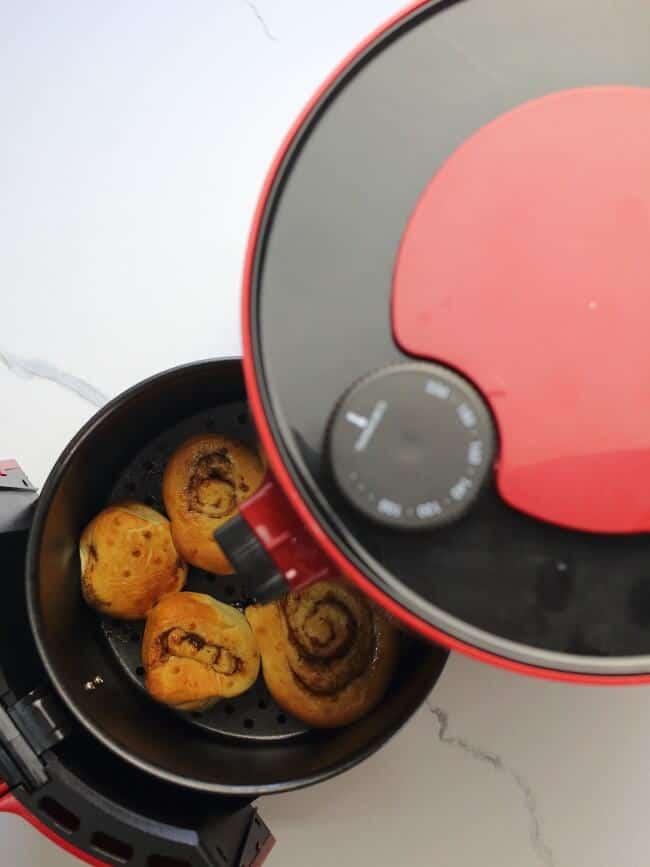 Nutrition Information:
Yield:

12
Serving Size:

1
Amount Per Serving:
Calories:

235
Total Fat:

11g
Saturated Fat:

6g
Trans Fat:

0g
Unsaturated Fat:

3g
Cholesterol:

56mg
Sodium:

138mg
Carbohydrates:

31g
Fiber:

1g
Sugar:

11g
Protein:

5g
Tips For That Perfect, Homemade Cinnamon Roll
Most recipes use all-purpose flour as the main ingredient, as it is readily available in most supermarkets. However, if you want to create delicious cinnamon rolls, bread flour is the best flour to use. Bread flour has a more robust and higher protein content than all-purpose flour.
The protein content adds strength to the dough's bonds, creating the dough to rise even further than with a dough that uses all-purpose flour.
Don't overheat the milk as it will break down milk proteins, and it will start to curdle. You can use a digital thermometer to make sure that you don't overheat the milk mixture. Keep the temperature between 65-75 degrees Celsius.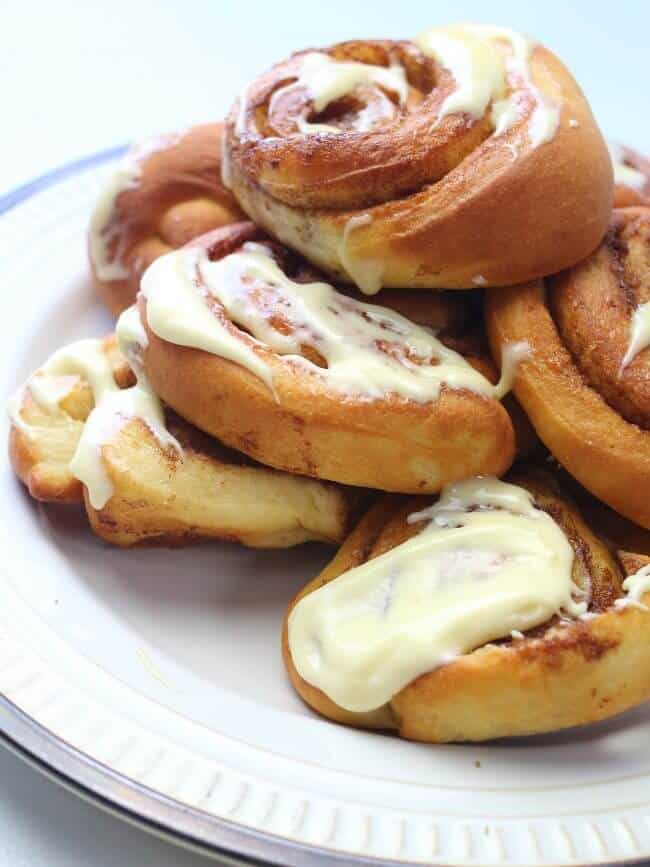 Use the hook attachment when mixing the dough. This ensures a slow and proper incorporation of ingredients in the mixture. I always use my reliable KitchenAid mixer for this!
Chilling the dough before rolling and cutting it is a great technique to master. The cold dough is easier to move, and it also means tighter, neater rolls that melt into your mouth. The dough can be chilled overnight for that distinctive fermented taste.
Another important note is to use softened butter in the dough, as it incorporates well in the mixture. Take the butter out of the fridge an hour before you make the dough. This ensures that the butter has enough time to soften as it comes down to room temperature.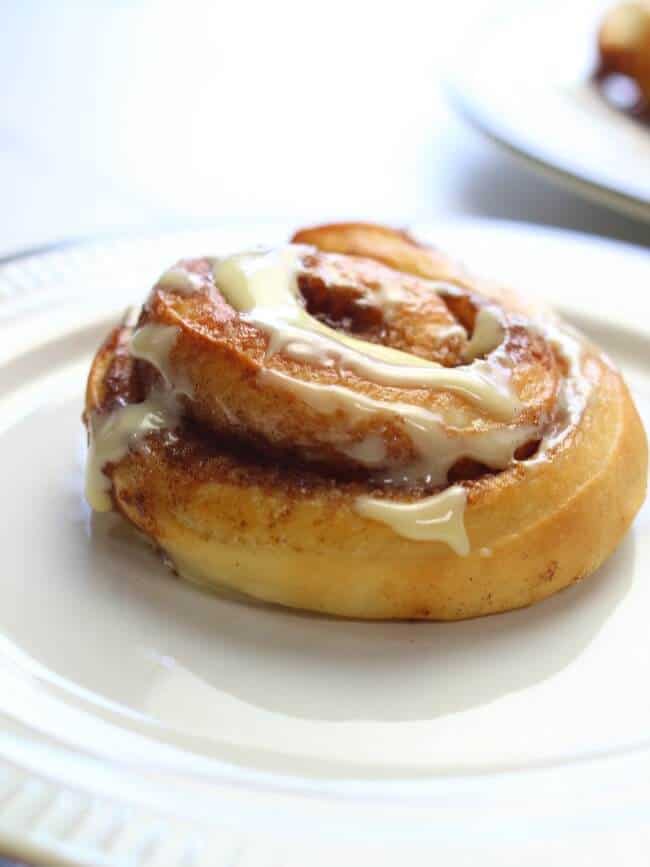 How Will I Know If My Cinnamon Rolls Are Done?
If you want to make sure that your cinnamon rolls are done and ready to be served, just insert a toothpick. If it comes out clean, then it means the rolls can be taken out of the air fryer basket. You can add the glaze and frosting before serving, but these are totally optional.
There are tons of varieties when it comes to toppings: cream cheese frosting, sugar glaze, vanilla buttercream, whipped cream, and even chocolate syrup! I highly recommend topping each frosted roll with a spoonful of chopped savory spiced pecans. Yes, you're welcome. 😊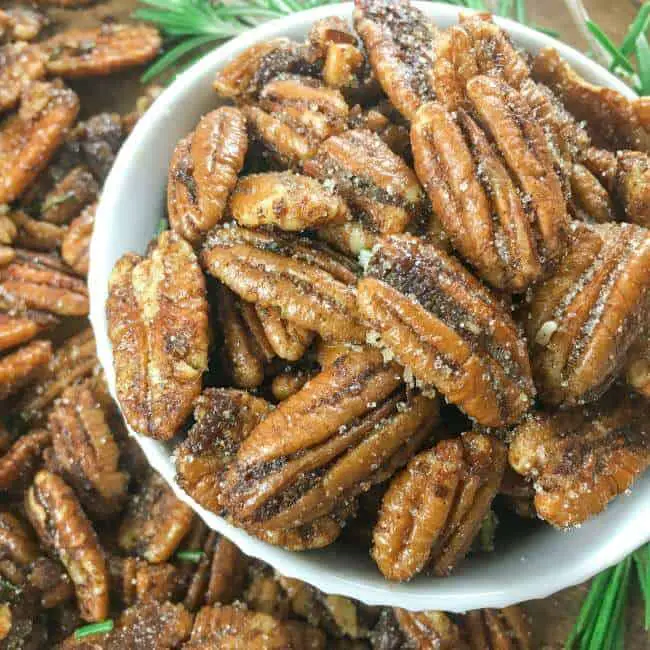 How Do You Store Cinnamon Rolls?
You can freeze the cinnamon roll dough for a month, then thaw it before putting it in the oven or the air fryer. Freezing cinnamon rolls is a great way to store on-the-go snacks if you are always in a rush. You just need to put it in the air fryer for a couple of minutes, and voilà, you have a tasty breakfast or snack without breaking a sweat in the kitchen.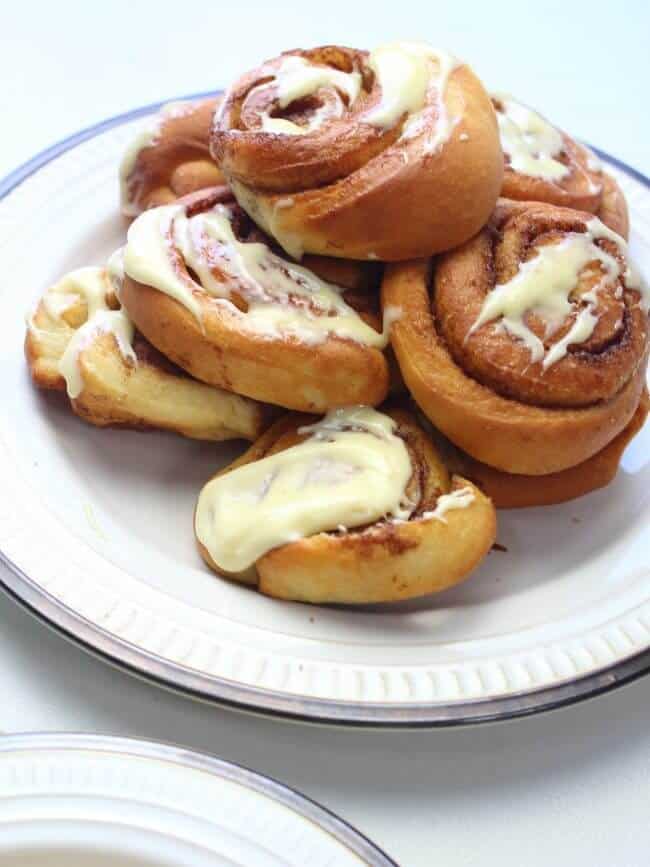 Will Frozen Cinnamon Rolls Taste As Good?
I highly recommend Pillsbury cinnamon rolls or Annie's Organic Cinnamon Rolls. Pillsbury's rolls are not too sweet, so if you're thinking of dressing up your rolls after baking, go ahead and add that dollop of frosting. Annie's Organic Cinnamon rolls assure you of great quality without artificial flavorings or preservatives.
These can be a life-saver for those who are craving this treat, but do not have the time to create the dough from scratch. It is better to air-fry frozen dough instead of putting it in the oven.
I would also recommend purchasing unfrosted dough, both to avoid excessively sweet rolls, and compromise the quality of the bread. You can add your choice of frosting as soon as they are out of the air fryer.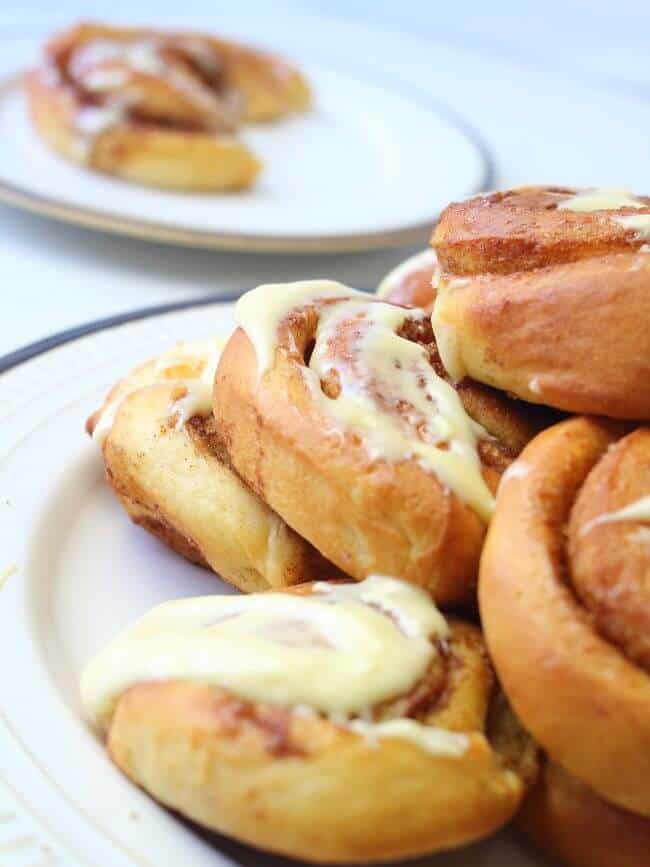 Conclusion
We all need that little ball of sunshine even in our in-between days, and they sometimes come in the form of sticky cinnamon rolls. Do cinnamon rolls make it to your comfort food list? Try my recipe!
Do you have baked goodies that you have tried preparing with an air fryer? Please share through the comments below. I sincerely hope your good days, in-between days, and even the bad days, are always made better by good food! Ciao!