Don't you just sometimes wish for things to go back to how they were? Yes, that "whenever, wherever" kind of world.
That time when everyone could freely go to the mall with the whole family, line up outside crowded coffee shops, sunbathe in open parks, and watch a film on a Saturday night. Oh yes, that last one.
As a self-proclaimed cineaste, I really miss going to movie houses. On a positive note, we always find ways to adapt, don't we? To make up for that cinema experience we all dearly miss, our family started having regular movie marathons every other weekend.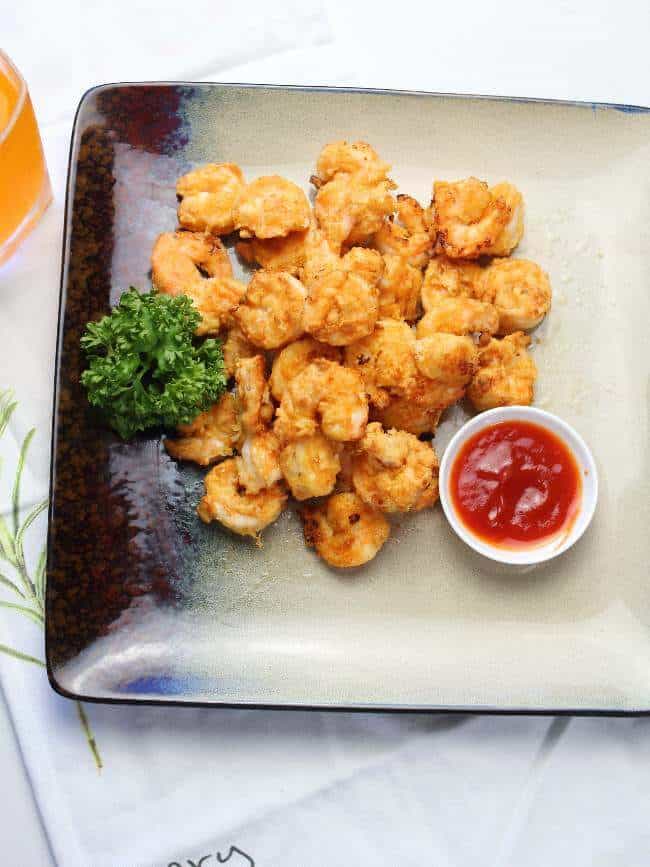 As much as we miss Taters' snacks and Muscle Beach Lemonades, we now prepare our own snacks, which include a lot of favorites: hotdogs, cajun fries, and popcorn shrimps – all prepared with an air fryer!
Last update on 2023-02-06 / Affiliate links / Images from Amazon Product Advertising API
If you're like me who has snacks on hand all the time, I'm sure you have a bag of popcorn shrimps or fries stored somewhere in your freezer. Fries are so easy to make with an air fryer. Just pop the fries in, and once the timer's up, they're good to serve.
Cooking frozen shrimps in an air fryer can be intuitive, but for those who are new to the technique, let me share this simple recipe with you.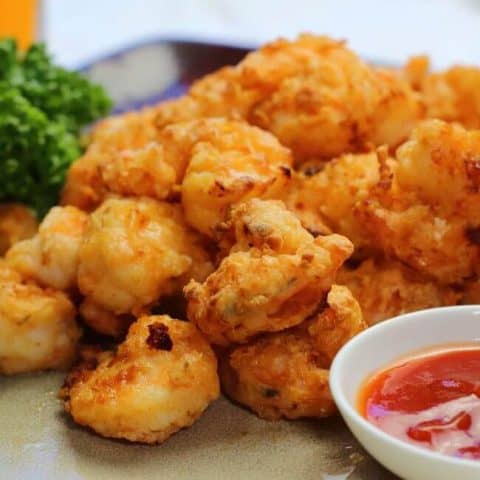 2-Minute Air-Fried Shrimps
Cooking frozen shrimps in an air fryer can be intuitive, but for those who are new to the technique, let me share this simple recipe with you.
Ingredients
500g frozen popcorn shrimp
Chili sauce or tomato ketchup for dipping
2 tbsp olive oil
Instructions
1. Battered shrimp




2. Preheat the air fryer at 200 degrees Celsius for 10 minutes. 



3. Place and arrange the batch of frozen shrimp in the air fryer basket.




4. Drizzle the frozen shrimp with a tablespoon of olive oil.




5. Air fry the frozen shrimp for 8 minutes at 200 degrees Celsius.  




6. Do the same with the remaining batch of the frozen shrimp. 




7. Remove from the air fryer and enjoy with your favorite tomato ketchup or chili sauce. Enjoy!


Nutrition Information:
Yield:

4
Serving Size:

1
Amount Per Serving:
Calories:

449
Total Fat:

27g
Saturated Fat:

3g
Trans Fat:

0g
Unsaturated Fat:

22g
Cholesterol:

94mg
Sodium:

1070mg
Carbohydrates:

37g
Fiber:

2g
Sugar:

3g
Protein:

14g
And there you have it, shrimps right out of the air fryer to enjoy! Serve it with crispy fries (skin on, please!) for that perfect movie snack. Pair with chili sauce or ketchup to make these even more delicious.
Tip: Level up your frozen shrimp and air fryer cooking experience with our popcorn shrimp tacos recipe.
How Do I Know That Shrimps Are Already Cooked?
To be honest, shrimps (and ALL seafood, for that matter) give me quite the scare. Their meat can be tough or rubbery when either under or overcooked. You have to get it right with one shot, or you'll waste a good serving of seafood.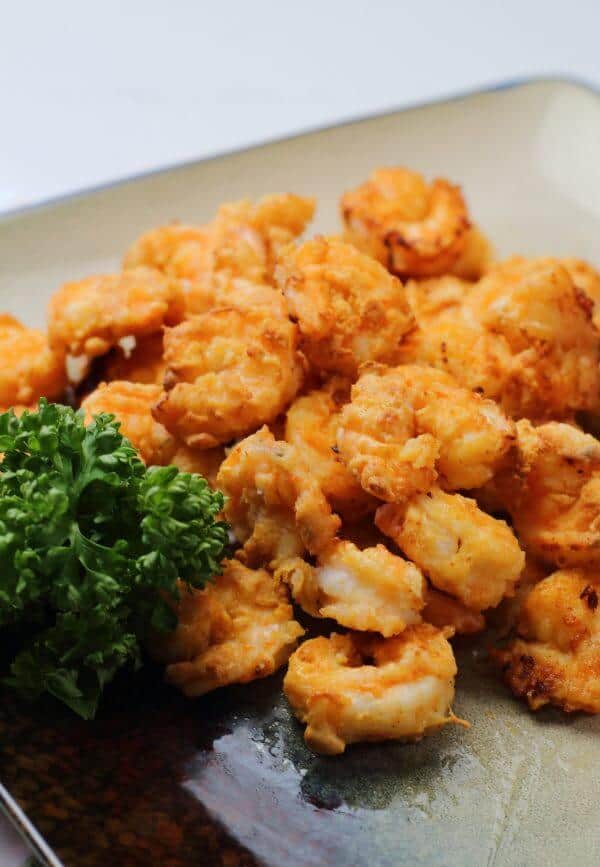 Shrimps take so little time to prepare, in fact it's one of the proteins you can toss quickly into a stir-fry, a soup, or a salad. For beginners, cooking shrimps can be quite tricky at first, but trust that with some practice, you'll get the hang of it in no time.
Here are some tips on how to check if your shrimps are ready:
Raw (fresh or frozen) shrimp have a translucent, gray color. Shrimps that are cooked just right will turn opaque, the meat will turn whitish, and the accents will be pinkish-red.
Shrimps also contract when being cooked, so expect those to shrink and curl. According to some chefs and food experts, they recommend cooking shrimps to a "C-shape" for that perfect tenderness. Continuously cooking the shrimps until they curl into an "O-shape" would more or less mean the shrimps are overcooked. This has to be taken with a grain of salt (no pun intended), as even some of the best chefs serve rounded shrimps in their dishes. In any case, it is better to ingest overcooked shrimp than an undercooked one!
A Few Notes On Buying The Best Quality Frozen Shrimps
A lot of us, especially during these times, do not have the luxury to go to the market to buy some fresh catch of shrimps. Without this option, we are left with the frozen variety, which you certainly do not need to worry about. I always purchase frozen shrimps from Whole Foods.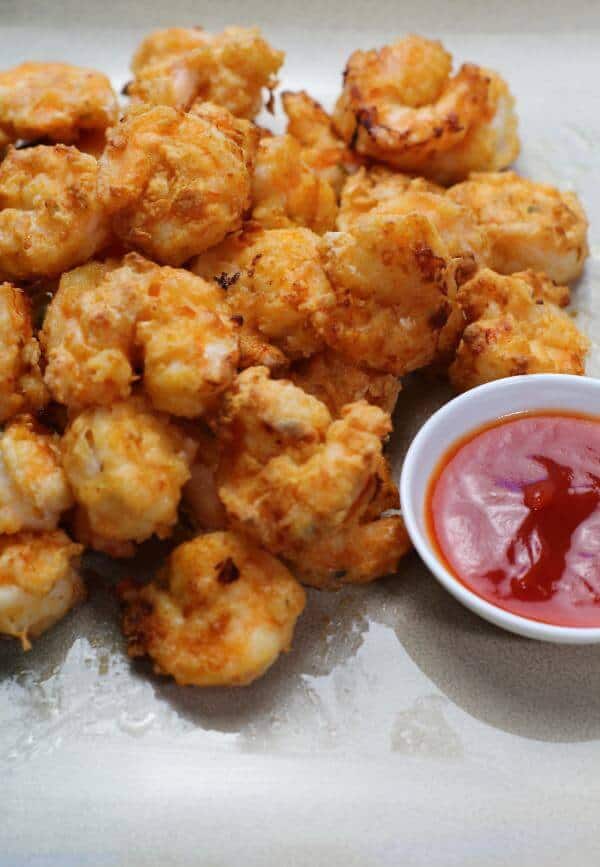 With today's technology, these shrimps are usually "flash frozen", which preserves the freshness of the shrimp. This keeps the quality at a level that is similar to you purchasing the shrimps on the very day that they were caught.
A bit of warning, though: there are frozen shrimp products that contain preservatives, and you need to avoid those. When you look at the package, the ingredients section should only list one item: "Shrimps".
Maintaining the quality of the shrimps does not end with the packaging. When the time comes to cook the frozen shrimps and you need to thaw them, make sure to leave them in the refrigerator to thaw overnight.
Never thaw shrimps outside the fridge, at room temperature. It is also perfectly fine to cook shrimps fresh out of the freezer. It might take longer than usual, but just take note of the indications that your shrimp is properly cooked.
Level Up Your Snack Game With Dips And Trays
Let's get back to our Movie Night and air-fried shrimps!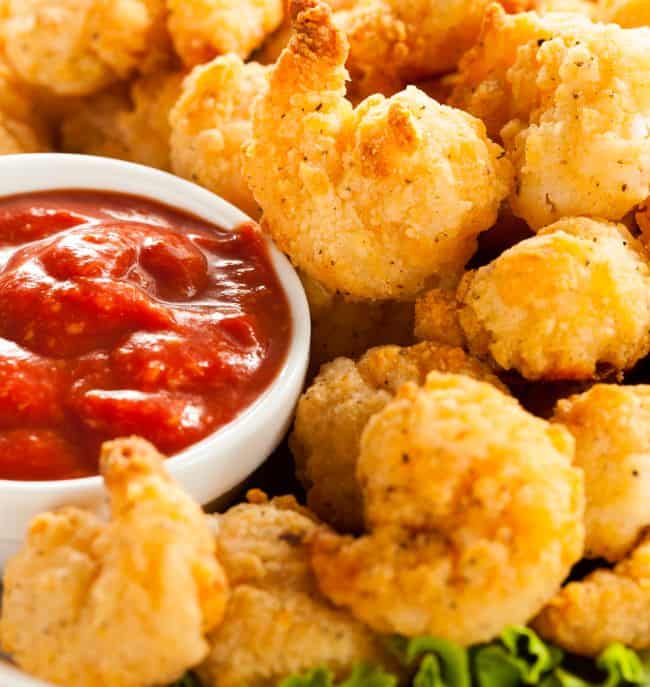 Make your snack time or movie time more fun by serving your shrimps and fries with a variety of dips and flavors:
My personal favorite is Cajun. I love the flavor on my steak, my chicken wings, my stir-fried rice… on everything! You will need a big, covered container. Place the cooked shrimps or fries inside, and sprinkle with Cajun seasoning. Replace the cover and shake away! My favorite seasoning to use is Louisiana Fish Fry Products Cajun Seasoning.
Mix your ketchup with mayonnaise. Take half a cup of mayonnaise and half a cup of ketchup, add a pinch of pepper and salt, and mix well.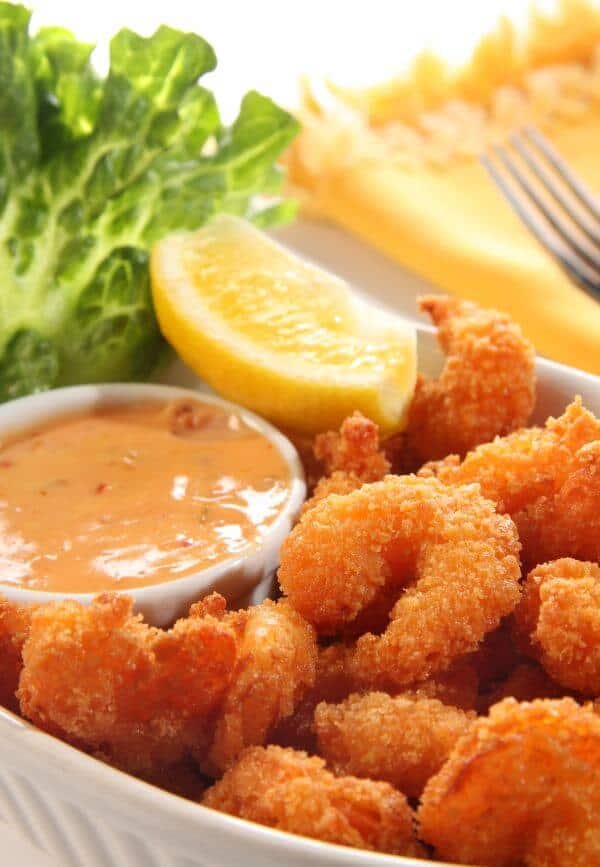 Make your own garlic mayonnaise: mix a cup of mayonnaise with a tablespoon of garlic powder and a tablespoon of parmesan. Add a pinch of ground pepper and mix well. This dip goes really well with skin-on wedge fries, too.
While you are it, dress up the snack experience by using trays. Relive that cinema experience by serving goodies on assorted Movie Trays! Watch out for the priceless grins on everyone's faces as you hand out these trays. Throw in a generous bowl of buttered popcorn, too!
Snappy Maze Craze Combo Movie Popcorn Trays, 50Count
Popular design; combo trays for holding a soda, popcorn and candy just like you receive at the movie theater
Kid-friendly; children will especially love these colorful containers with multiple compartments, designed to make snacking...
Simple assemble; to prepare the box for use, simply press on the sides to pop up the box and pinch the corners to lock into...
Last update on 2023-02-27 / Affiliate links / Images from Amazon Product Advertising API
For your drinks, we know that nothing beats a good can of soda, but why not serve mocktails, for a change? Check out my Berry Peach Virgin Sangria recipe, a refreshing drink to sip on while watching your favorite film. (Okay, the kids can have their soda fix.)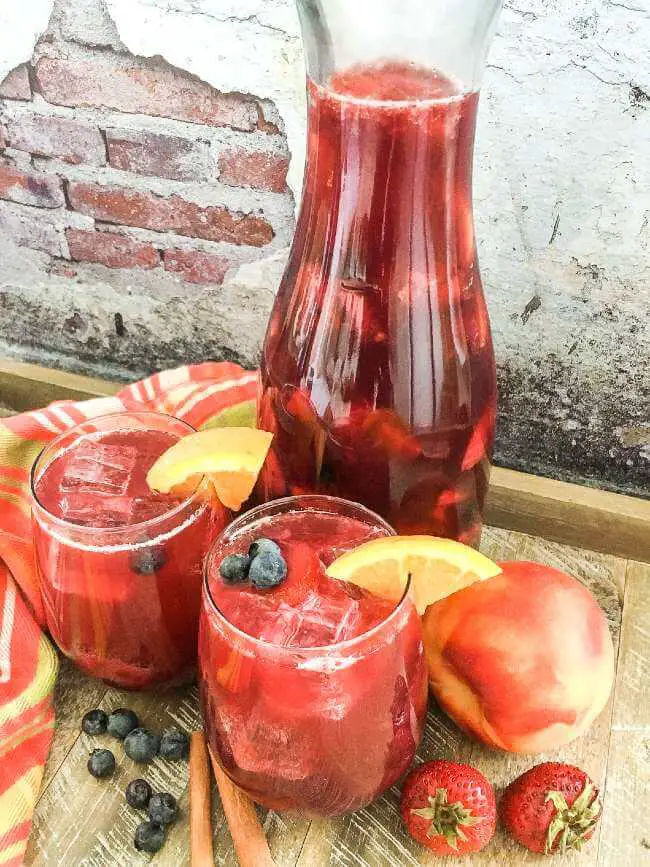 Do you miss REAL movie nights, too? Can you recommend any good films for our family's next movie marathon? Leave a note in the comments section. (No jump scare ones, please!)