This Berry Peach Virgin "Sangria" is delicious proof you can have a fun party without getting wasted. It's a fizzy, refreshing mocktail that is surprisingly healthy and naturally sweet. All thanks to the fusion of fresh fruits it contains, no added sugar is needed! So, if you want to have a blast but don't want to deal with the hangover the next morning, this is the best drink you should go with.
Always prepare a non-alcoholic drink whenever you host a party or a family gathering. This is to ensure that your guests who are not into alcohol, underage, or pregnant won't feel out of place. It's a thoughtful touch that I learned over years of attending and hosting different parties and get-togethers. Mom Tip: This also keeps the kids from bugging you, because you know that they always want to have whatever you're having! #MomLife
What I Serve With Berry Peach Virgin Sangria:
What's a good mocktail without an accompanying appetizer to complete it? I like serving drinks to my guests with some hors d'oeuvres that are easy to make and easy on the palate. Try out these three no-fail recipes that I have that are a guaranteed hit with this Berry Peach Sangria:
Pecan-Crusted Goat Cheese Logs – Don't have the time or patience to do a complex appetizer that requires an hour and about 20 ingredients? This only needs 3 ingredients and 25 minutes to make. 
All you need to do is roll the goat cheese log in honey then coat it with roasted pecans. Serve it with some crackers or crudités and you're good to go!
Brie and Dark Cherry Phyllo Bites – I know – it sounds fancy and thus, complicated. But you'll be pleasantly surprised by how easy it is to make. It only involves 4 ingredients and it's done in less than 25 minutes. Another thing I love about this is that you can make a big batch of these in one go.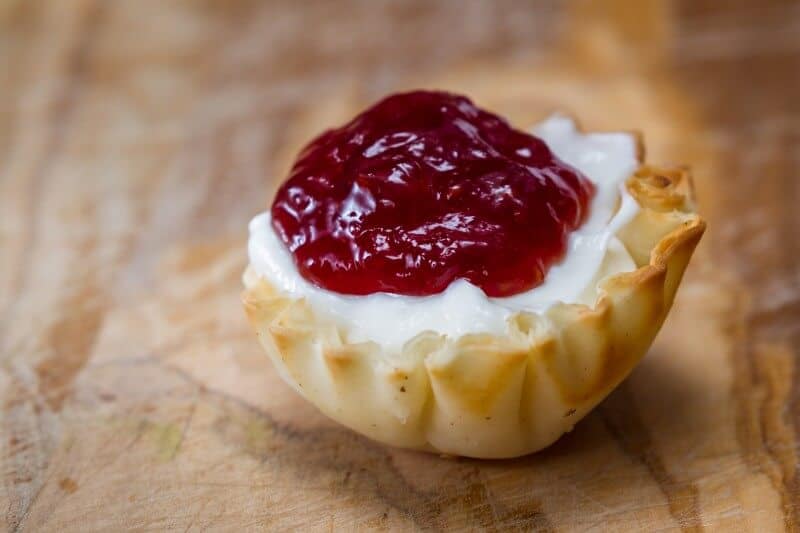 I promise you these are so good. The crunchy cream-filled phyllo cups contrasting with the tart dark cherries. They are also great homemade handouts for your guests!
How To Make Berry Peach Virgin Sangria:
Combine the fruit slices into a punch bowl or large pitcher. Then extract as much juice as you can by pressing on them using a wooden spoon.
Gradually pour the orange juice, grape juice as well as cinnamon sticks, if you prefer. The cinnamon sticks help add a deeper flavor to the mocktail, and it smells so good! Now you want to chill the semi-finished sangria in the fridge for 4 hours overnight.
Once your party starts and you're ready to serve, fill the cocktail glasses with ice and fill it halfway with sparkling water. Fill the rest of the glass with the berry and peach sangria then use a cocktail stirrer to incorporate the liquids. Don't forget to garnish the drink with a slice of orange and serve!
*To make a boozy version of this amazing drink, simply replace the grape juice with an equal amount of any dry red wine.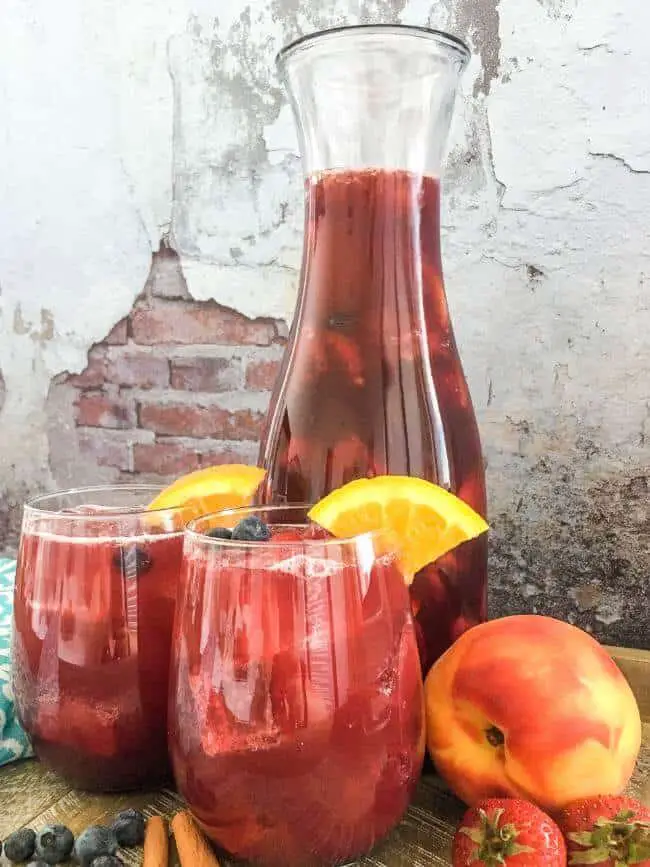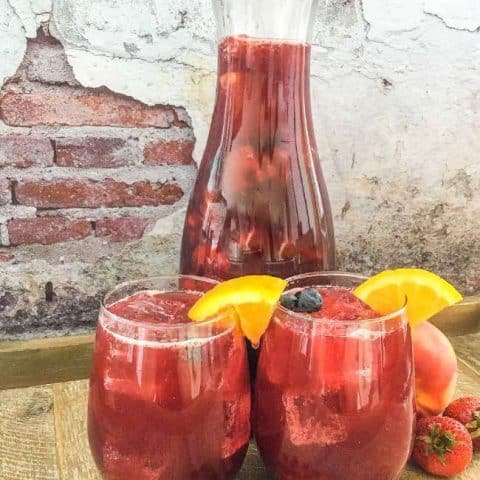 Berry Peach Virgin Sangria
Total Time:
4 hours
10 minutes
A refreshing drink that you can serve no matter the occasion or the season – that's the Berry Peach Virgin Sangria. Serve it with or without the alcohol and it will be just as good either way!
Ingredients
1 cup of sliced strawberries
½ cup of blueberries
1 medium sliced ripe peach
1 large orange, sliced*
1 cup freshly squeezed orange juice
2 cups of grape juice, unsweetened
2 cinnamon sticks (optional)
2 cups sparkling water or club soda
Ice, to serve
Instructions
In a punch bowl or large pitcher, combine all the sliced fruits. Extract as much juice as you can by pressing them down with a wooden spoon. 
Gradually pour the orange juice, grape juice as well as cinnamon sticks if you're using them. Allow the concoction to chill in the fridge for about 4 hours to overnight.
When ready to serve, fill the cocktail glasses with ice then fill halfway with sparkling water. Now pour the chilled berry and peach sangria until it's full.  Incorporate the mixture using a cocktail stirrer and top with an orange wedge. Serve immediately!


Notes
*Set aside a slice of orange and divide into 4 or 6 equal wedges to garnish the mocktails
Nutrition Information:
Yield:

4
Serving Size:

1
Amount Per Serving:
Calories:

167
Total Fat:

1g
Saturated Fat:

0g
Trans Fat:

0g
Unsaturated Fat:

0g
Cholesterol:

0mg
Sodium:

10mg
Carbohydrates:

41g
Fiber:

4g
Sugar:

34g
Protein:

2g
This Berry Peach Virgin Sangria is the perfect drink for any occasion. Even on just a chill Saturday afternoon and you're hanging out in the backyard with a good book in hand. I hope you make good memories with this virgin sangria, feel free to share them in the comment box below!