Three of the things that make my tummy happy are bacon, cheese, and potatoes. It's a combination that just never goes wrong, like my cheesy & chunky bacon potato soup. It is made up of crispy bacon bits and tender potato chunks swimming in a soup full of veggies and herbs then topped with cream cheese. It doesn't get better than this, right?
This bacon potato soup has become a part of some sort of a ritual for my family. Whenever the kids go out to go sledding with their dad, they make sure to give me their notorious puppy eyes and ask that I make this soup for when they get back. And oftentimes, waiting for them is a struggle because I should tell you now, this soup is irresistible.
My Tips For Making The Best Bacon Potato Soup:
Red potatoes are my go-to choice when I make this soup. It stays tender and it adds color to the soup, together with the bacon and kale. You can also use other types of potatoes. Yukon Gold and Russet potatoes work amazingly with this soup too!
For a richer, and more umami flavor, use the fat that is rendered from frying the bacon to sauté your veggies. Oh, and don't forget to scrape the bottom of the pan for the tasty brown bits after sautéing when you add the broth to the soup.
Experiment! Don't be scared to add or substitute the veggies as you prefer. You can add frozen peas, bell peppers, mushrooms, broccoli, or whatever you feel like tossing in with your soup.
For this recipe, I use kale and cream cheese for the garnish. If you're not into kale, you can simply skip it or replace it with some chives. You can also use sour cream, grated parmesan, or cheddar instead of cream cheese. Some crunchy croutons are a perfect topping for this soup as well.
You can easily make a big batch of this hearty soup for later. To store any leftovers, transfer them to an air-tight container or a resealable bag and put them in the fridge. DO NOT FREEZE! Potatoes don't exactly freeze well. To reheat, simply pour it into a microwavable bowl and pop them into the microwave.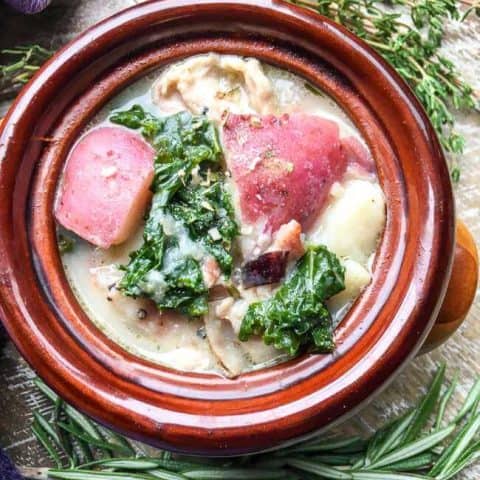 Cheesy & Chunky Bacon Potato Soup
Total Time:
1 hour
5 minutes
This Cheesy & Chunky Bacon Potato Soup is so good, you'll never do it any other way again. It has a comforting combination of potato, bacon, cheese, and various veggies.
Ingredients
6 strips of bacon thick-cut, diced
2 celery stalks, diced
1 medium yellow onion, diced
2 large carrots, diced
4 cups chicken broth, divided
1½ lbs. boneless chicken thighs, skinned and cut into chunks
1 lb. red potatoes, cut into chunks
2 tablespoon fresh thyme leaves
1 tablespoon fresh rosemary leaves, roughly chopped
2 bay leaves
½ teaspoon of sea salt
½ teaspoon black pepper
1 cup cream cheese, diced
2 cup kale, chopped (do not include tough stems)
Instructions
Fry the bacon bits in a Dutch oven placed over medium-high heat. Stir frequently for 3 to 4 minutes or until they are browned and crispy. To transfer the cooked bacon into a paper towel-lined plate to get rid of any excess fat use a slotted spoon. 
Pour the bacon fat into a clean jar for future use. Leave 1 tablespoon in the pot and sauté the celery, carrots, and onions in it. Frequently stir for about 4 minutes or until they develop color and become tender.
Deglaze the pot with 2 cups of the broth. Make sure to scrape all the brown bits from the bottom of the pot. Pour the other 2 cups of broth and add the chicken chunks, potatoes, thyme, rosemary, and bay leaves. Add salt and pepper then stir well until combined.
Allow the mixture to gently boil over high heat, then immediately reduce the heat to medium-low. Place the lid of the Dutch oven and let it simmer for approximately 15 to 20 minutes. 
When the potatoes have become tender and the chicken has cooked through, take the pot off the heat. Fish the soup for the bay leaves and take it out. Stir in the cream cheese and kale for about 3 minutes until the cheese has melted and the kale has wilted. Adjust the seasonings, as needed and serve while still warm. 


Nutrition Information:
Yield:

4
Serving Size:

1
Amount Per Serving:
Calories:

725
Total Fat:

41g
Saturated Fat:

18g
Trans Fat:

0g
Unsaturated Fat:

19g
Cholesterol:

289mg
Sodium:

2034mg
Carbohydrates:

36g
Fiber:

5g
Sugar:

8g
Protein:

57g
Indulge yourself and get that second bowl of this delectable bacon potato soup. It's oversized hoodie and sweatpants season! You'll have more than enough time to burn the calories and get your summer body back. 😉 Let me know in the comments below what you think about this cheesy & chunky bacon potato soup. Much love, ciao!