It's the holiday rush all over again and sometimes, you get too caught up and accidentally forget the small things. That's where quick and easy appetizers like this 3-Ingredient Pecan-Crusted Goat Cheese Logs come in handy! This is definitely one of the easiest and most convenient appetizers to make. You can even make different variations of it!

When you're serving a group of people with different food preferences, the simpler, the better. It's a basic trick that I learned from years of hosting small parties and family gatherings. That's why I make sure to always have these simple Pecan-Crusted Goat Cheese Logs on the table. It's a guaranteed party pleaser! Simply serve it with crackers, pretzels, or crudités and you're good.

This recipe is the basic form of my Cranberry & Pecan Crusted Goat Cheese Log that was discovered by my husband during one of his business trips. He liked it so much that we immediately tried to make a copycat as soon as he got home. Then our friends liked it too and we just kept making different versions like this. Experimenting with various nuts like pistachios, walnuts, cashews, almonds as well as herbs and dried fruits.

Another thing I love about this is that it only takes less than 30 minutes to make and it's very straightforward too! The kids enjoy helping how to make this appetizer. One of them enjoys crushing the pecans, while the other enjoys rolling the log in honey and roasted pecan. So yes, basically all that's left for me to do is to pop the crushed pecans in and out of the oven. They do everything else for me. Though I have to be watchful or we'll be serving half logs because they're already feasting on it!
What Goes Best With Pecan-Crusted Goat Cheese Logs?
Instant Pot Black Beans and Rice – A holiday main dish that I like to serve with this Pecan-Crusted Goat Cheese Logs is Cuban Inspired Black Beans and Rice. It's just as simple and easy to make as this appetizer. This was inspired by our recent trip to Ybor City where we had this dish for the first time, and I knew I have to learn how to make it!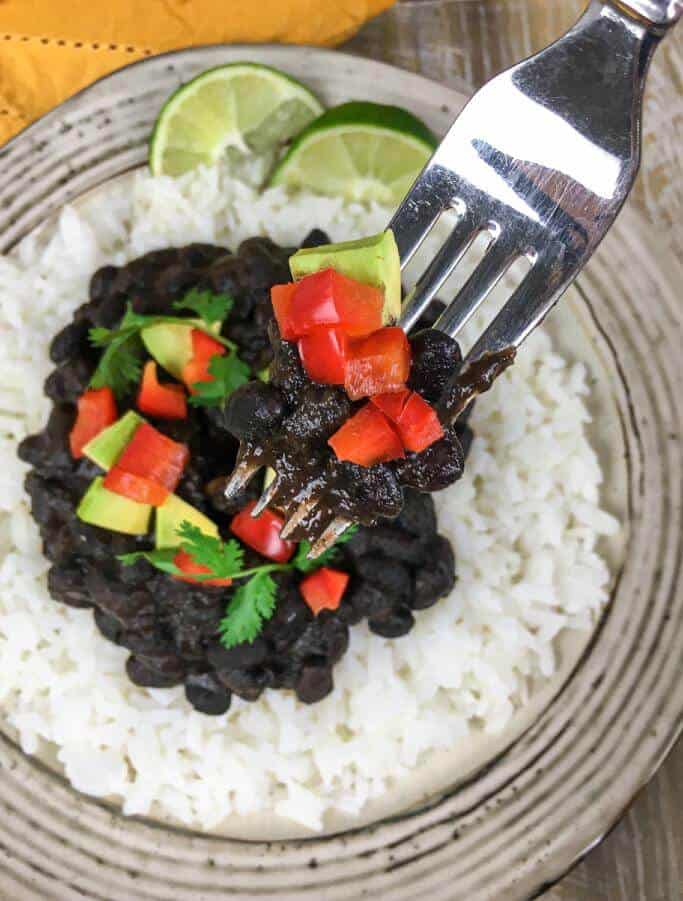 As it turns out, it's super easy and you can make it using your Instant Pot which makes it more convenient. This gives you time to mingle and entertain your guests while the meal cooks in the background. I love how festive it looks holiday-ready too!
Pecan Crusted Pork Chops with Sweet Plum Sauce – More often than not, I make Pecan-Crusted Goat Cheese Logs with the excess pecans I get from this recipe. They make a perfect pair and are both restaurant-quality good.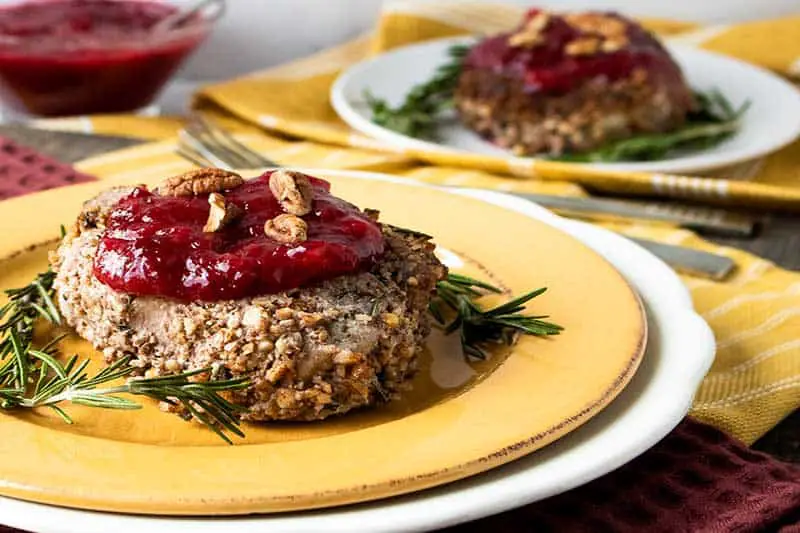 It seems like a lot of work what with breading and frying each pork chop then making the plum sauce. But don't be deceived, the preparation itself only takes 15 minutes and the cooking process is around half an hour. So, yes you can make these special dishes in less than an hour.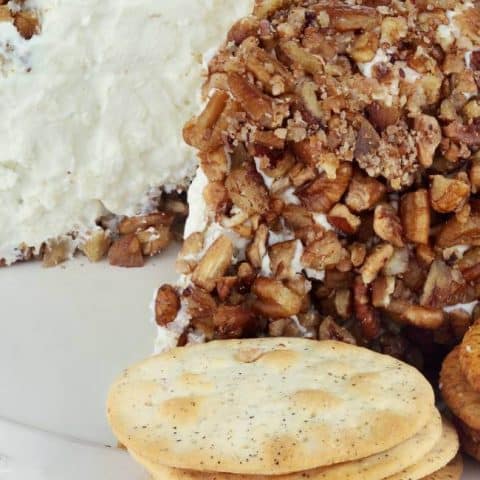 3-Ingredient Pecan-Crusted Goat Cheese Logs
This Pecan-Crusted Goat Cheese log is a guaranteed crowd-pleaser made up of only 3 ingredients. It's creamy, crunchy, and sweet in every bite! Serve with your favorite crackers or freshly baked pretzels.
Ingredients
1 4-oz. goat cheese log, cold
2 tablespoons honey
2/3 cup pecans, roughly chopped
Crudités, crackers or pretzels for serving
Instructions
Set the oven to preheat at 350° F. Then line a baking pan with a silicone baking mat or parchment paper.
Pour the pecans into the lined baking sheet and spread evenly. Pop it in the preheated oven for 5 minutes then flip them using a spatula before putting it back for another 5 minutes. Take it out of the oven and leave to cool. Once completely cooled, start chopping the pecans then set it aside.
Unpack the goat cheese and place in a shallow bowl. Pour honey on it and spread it all over the log with your fingers until it's well coated with honey.
Transfer the chopped pecans to another plate. Now roll your honeyed goat cheese in it until the pecans for a crust. Use your fingers to gently press down the pecans and cover all surfaces of the log with it.
Place the crusted cheese log into a serving dish and cover loosely with cling wrap. Chill it in the fridge for at least 10 minutes prior to serving. You can serve it with crudités, pretzels, or crackers on the side, or chop it as a green salad add-on. 
Nutrition Information:
Yield:

1 Goat Cheese Log
Serving Size:

1
Amount Per Serving:
Calories:

1070
Total Fat:

76g
Saturated Fat:

21g
Trans Fat:

0g
Unsaturated Fat:

51g
Cholesterol:

52mg
Sodium:

956mg
Carbohydrates:

77g
Fiber:

10g
Sugar:

42g
Protein:

32g
The holiday season is my favorite time of the year! It's the time to enjoy catching up with loved ones and serve them your favorite dishes like this Pecan-Crusted Goat Cheese Logs. So, what are you waiting for? Make this easy yet fancy Hors d'oeuvres for your next festive gathering! Let me know in the comments below how your guests loved it! 😉