Yes, I am well aware people often steer away from pork chops because they can be dry and tough when not cooked right. Well, my Pecan Crusted Pork Chops recipe should help change the way you see these thick, flavorful slices of pork. You know what's amazing about it? You can make it ahead. So, it's even perfect for those last-minute preparations, especially when the holidays are coming. 
How I Make Pecan Crusted Pork Chops:
This whole process is super easy and will only take you 15 to 25 minutes to do. It will be more or less time depending on how much you're making.
Start by making your egg mixture. Combine eggs and Dijon mustard in a small bowl. Then make your pecan crust. Toss the pecans and fresh rosemary leaves into a food processor until they become rough crumbs. Now transfer the pecan-rosemary mixture to a shallow bowl. Season both sides of the pork chops with salt and pepper. Dip each slice in the egg mixture then roll it into the pecan crumbs until all sides are coated. Repeat this to the rest of the pork chops.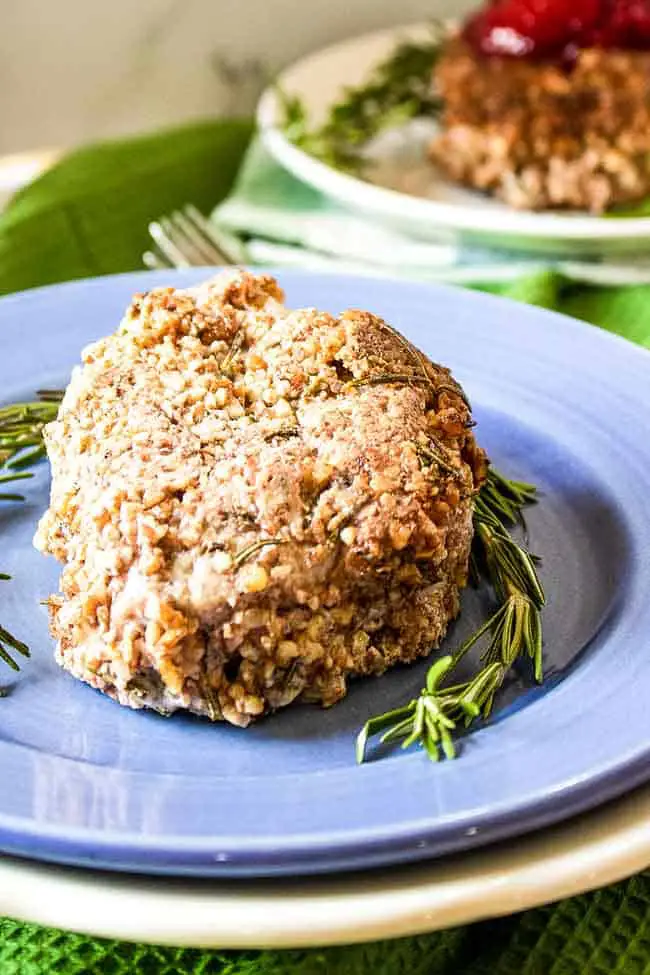 Sear the pecan-crusted slices until they're beautifully golden brown in color. Then move it to the oven and let bake for up to 20 minutes or until you get 145°F internal temperature on the pork chops. While waiting, combine the pitted plums, honey, and balsamic vinegar. Stir it continuously until it's reduced, and you get your desired thickness of the sauce.
My (Not So) Secret Hacks To Making Pecan Crusted Pork Chops:
Use boneless pork chops for faster and more even cooking. It's also easier to eat that way and looks better when plated too!
If you find Dijon mustard a little too strong, you can use honey mustard instead to add a little sweetness.
We want to use raw, plain pecans. Roasted and salted pecans will affect the taste and texture of the dish. If you can't find pecans, you can use raw almonds or walnuts instead.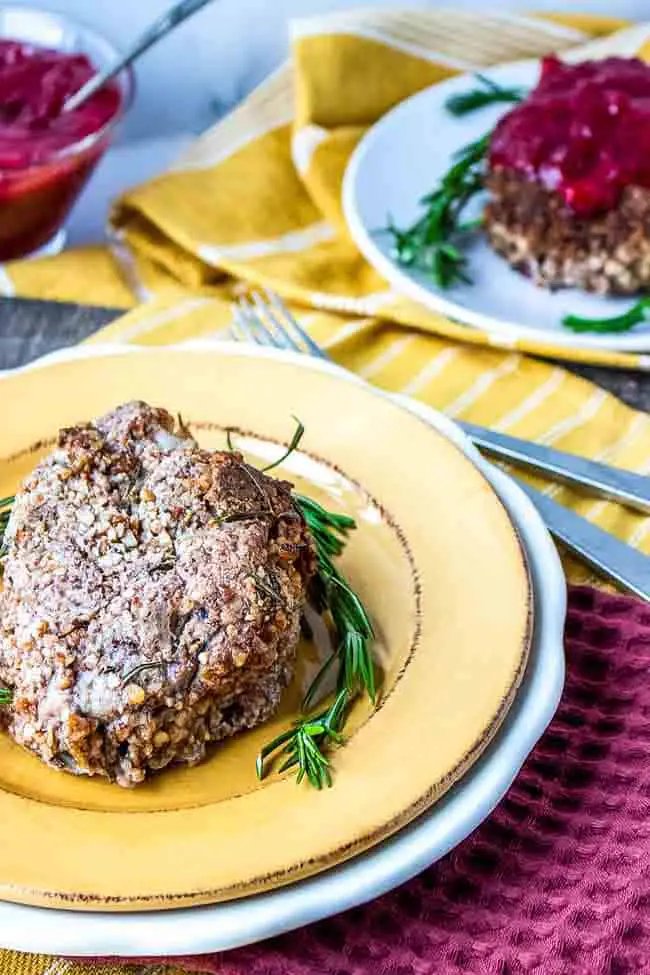 No food processor? No problem. You can simply put the pecans in a resealable bag and smash them with a meat mallet or rolling pin.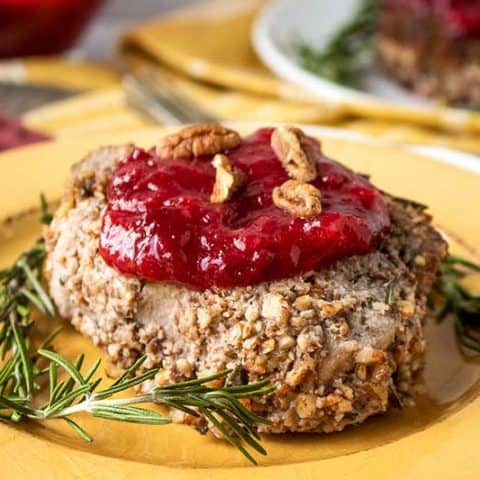 Easy Pecan Crusted Pork Chops with Sweet Plum Sauce
This recipe is not only aesthetically pleasing but scrumptious too. Impress your family and friends with this Easy Pecan Crusted Pork Chops for your upcoming holiday feast!
Ingredients
3 tablespoons Dijon mustard
2 large eggs
½ teaspoon kosher salt
½ teaspoon ground black pepper
3 tablespoons fresh rosemary leaves
1 ½ cup pecans
2 tablespoon extra-virgin olive oil
4 thick-cut boneless pork chops
For the Sweet Plum Sauce:
3 tablespoon local honey
2 tablespoon balsamic vinegar
6 large plums, pitted and roughly chopped
Instructions
Set an oven rack to middle position then preheat the oven to 350° F.
Whisk the eggs and Dijon mustard in a small bowl.



Add a pinch of salt and pepper, as needed, and set aside. 



Roughly process the pecans and rosemary leaves into crumbs using a food processor, it's okay to have slightly bigger chunks to add texture to the crust.



Then pour the mixture over a hollow plate. 



Sprinkle a little salt and pepper on both sides of the pork chop. Dip them one by one into the egg batter, then into the processed pecan and rosemary.



Make sure the pork chops are evenly covered with the pecan mix. Repeat this step until all pieces have been coated.



Place a large cast-iron skillet over medium heat and pour the olive oil. Sear the coated pork chops on both sides until they're golden brown in color. This should take 2 to 3 minutes on each side.



Place the skillet with the pork chops into the preheated oven. Leave for about 15 minutes, add more cooking time depending on thickness. Check for doneness using an instant-read thermometer inserted into the thickest part of the pork chop, we're looking for an internal temperature of about 145° F.
While waiting for the crusted pork chops, let's get the plum sauce going. Pour in the local honey, balsamic vinegar, and pitted plums in a nonstick saucepan.



Simmer it over medium heat and continuously stir the concoction until it gets to your desired consistency. 



Take it off the heat and let it rest for approximately 10 minutes.



Transfer to a food processor or use an immersion blender to purée the mixture until it gets velvety in texture. 



Take the pork chops out of the oven and plate accordingly.  Let them cool down for at least 5 minutes. Serve while still warm and top with the pureed plum sauce.
Nutrition Information:
Yield:

4
Serving Size:

1
Amount Per Serving:
Calories:

789
Total Fat:

57g
Saturated Fat:

11g
Trans Fat:

0g
Unsaturated Fat:

43g
Cholesterol:

196mg
Sodium:

725mg
Carbohydrates:

32g
Fiber:

6g
Sugar:

26g
Protein:

45g
Who doesn't love a dish that's easy, affordable, and delish? I know I do! I would really love for you to give pork chops another chance and try out this amazingly easy recipe. This is 1000% diva tried; diva approved! Let me know your thoughts in the comments. 😉