Lately, I've been obsessing about vintage, cottage core aesthetic. This Moist Lemon Raspberry Loaf Cake definitely fits the vibe. It really made me feel like I'm in a cabin in the woods while I was baking this. So, you already know I have to take out the fancy plates from the display cabinet! 
This is my favorite dessert, midnight munch, and snack time treat at the moment. It has the perfect balance of zesty lemon and sweet raspberries. These flavors merged in a moist cake with a tart lemon glaze that feels like heaven in your mouth. It's so unbelievably good that it's quite hard to grasp that you only need 15 minutes to prepare it. 
This Moist Lemon Raspberry Loaf Cake is perfect for any occasion and can be served warm or cold. You can serve it warm with a dollop of whipped cream or a scoop of vanilla ice cream. Or enjoy it cold with a good cup of coffee or chamomile tea. When you're lazy like me and just need a quick pick me up, you can simply enjoy it on its own.
Tips To Make The Perfect Lemon Raspberry Loaf Cake:
It's best to use fresh lemon juice and fresh raspberries for this recipe. However, it's okay to use organic bottled lemon juice or frozen raspberries too if that's what you have available.
If you don't like the taste of raspberries, you can skip it or replace it with other berries like blueberries, strawberries, or even blackberries.
You can make it dairy-free by replacing butter with vegan butter or coconut oil.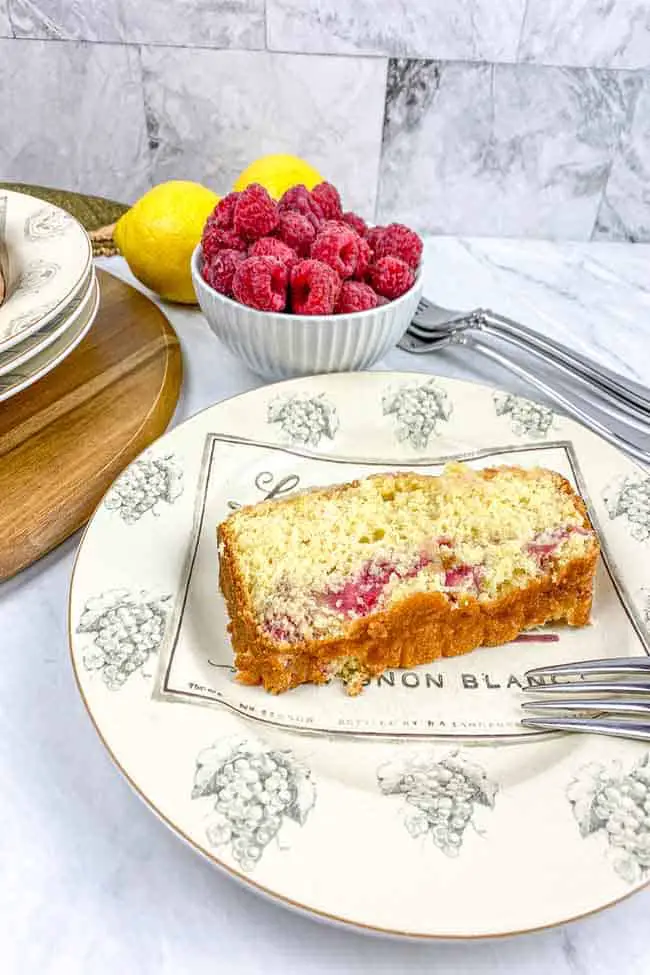 Do not overbake the cake to keep it moist and fluffy. After 40 minutes, use the toothpick method to check if your loaf is done. Simply insert a clean toothpick in the center of the loaf, if it comes out clean then it's done. If moist bits are clinging to it, let it bake for another 5 to 10 minutes.
Let the loaf cool down a little before spreading it with the glaze so it doesn't get soggy. 
Moist Lemon Raspberry Loaf Cake
Total Time:
1 hour
5 minutes
This Lemon Raspberry Loaf Cake is moist and soft complimented by tart lemon and sweet raspberries. The sweet and tangy lemon glaze adds a nice flavor to it.
Ingredients
1 cup granulated sugar (add 2 tablespoons for sprinkling)
½ cup unsalted butter, softened
3 tablespoons of fresh lemon juice
1 tablespoon of fresh lemon zest
1/3 cup of unsweetened applesauce
2 teaspoons vanilla extract
3 large eggs, room temperature
1/8 teaspoons sea salt
½ teaspoons baking soda
2 cup all-purpose flour
1-pint fresh raspberries rinsed, patted dry
For the Lemon Glaze:
½ tablespoons fresh lemon zest
3 tablespoons fresh lemon juice
¼ cup powdered sugar
Instructions
Set an oven rack to the middle position then preheat the oven to 350 degrees F. Grease and line a regular 9 x 5 loaf pan with a baking or parchment paper. Lightly grease it with cooking spray or about a teaspoon of butter.
In a large mixing bowl, combine butter and sugar using a hand mixer or manual whisk until they're creamed.



Gradually pour the lemon juice.



Add the lemon zest.



Add the applesauce.



Then add the vanilla extract.



Whisk continuously.



Beat the eggs into the wet ingredients one by one until fully incorporated.



In a separate mixing bowl, mix the salt, flour and baking soda.



Mix until well combined then gradually add into the prepared wet batter.



Continue whisking until they're well blended together.



Using a rubber spatula, gently fold the fresh raspberries with the batter.



Transfer the loaf batter into your greased loaf pan. Tap the pan twice on the counter to release the air bubbles.



Evenly sprinkle the top of the batter with the remaining sugar.



Put the pan in the oven and leave to bake it for 40 minutes. After 40 minutes, check for doneness using the toothpick method. If the toothpick comes out with moist bits, bake the loaf for an additional 5 to 10 minutes more.
Once done, take the loaf out of the oven then transfer to a cooling rack. While waiting for the loaf to cool down, start making the sweet and tangy lemon glaze. Whisk lemon zest, sugar and lemon juice together in a small mixing bowl.



Adjust the lemon juice or sugar as needed to get the desired consistency.



When the loaf is just warm to touch, transfer it to your serving plate and drizzle with lemon glaze before serving.

Nutrition Information:
Yield:

4
Serving Size:

1
Amount Per Serving:
Calories:

766
Total Fat:

28g
Saturated Fat:

16g
Trans Fat:

0g
Unsaturated Fat:

10g
Cholesterol:

201mg
Sodium:

281mg
Carbohydrates:

119g
Fiber:

7g
Sugar:

63g
Protein:

12g
So, what are you waiting for? Go put your apron on and start baking this amazingly easy and delicious Lemon Raspberry Loaf Cake! This is just the type of cake that you don't need any occasion to make. Let me know what you think about it in the comments below. Happy baking! ♥