As a full-time mom and foodie, I try to keep finding ways to make mealtimes more fun, tasty, and healthy. With that being said, I found a way to upgrade the regular BLT sandwich! The secret ingredient? Avocados! After all, who doesn't like avocados? It's an easy and affordable way to make your meals healthier and yummier!
If for some unknown reason you've never had a BLT before, it's basically bread with bacon, lettuce, and tomato. All you have to do is spread mayonnaise on the bread then pile up the B, L, and T. Therefore, it's pretty standard. You can't really take away the bacon, lettuce, or tomato because that will be a whole different sandwich.
So, I thought, the only variables are the bread and the spread. And if your family is like mine who consumes a lot of BLT every week, it can get you know – dull. I figured I have to think of some changes, make it exciting and healthier to balance out the bacon. And what better way to do it than tweaking our favorite dip, guacamole, and make it a spread? Today I'm sharing with you how I did it!
How Do I Pick The Best Avocado?
Avocados are good in every way except that it can be frustrating to get it just right. It's like they're ripe one second then you blink and *poof*, they've gone bad. So, let me save you the stress from all that, here's how I make sure I get the perfectly ripe avocado, every time. 
It's not just about the color. Many would agree that a ripe avocado's color is between deep green and dark brown. However, there's more to it than the color. Different varieties of avocados turn different colors when they're ripe!
Check the stem! Snap off the little stem of the fruit. It should come off effortlessly and the skin where it used to be should be green. If you struggle to remove it or if the skin where it was removed from is brown, it's either overripe or underripe.
Do the pressure test. I know it's common practice but please do not squeeze the actual body of the avocado. This can bruise the insides of it which is what you eat. Instead, press it on top near the stem. With gentle pressure, it should give a little yet maintain its shape. 
Stay away from avocados that have discoloration or if they seem overly soft. There's a high chance they're bruised or are seconds away from rotting.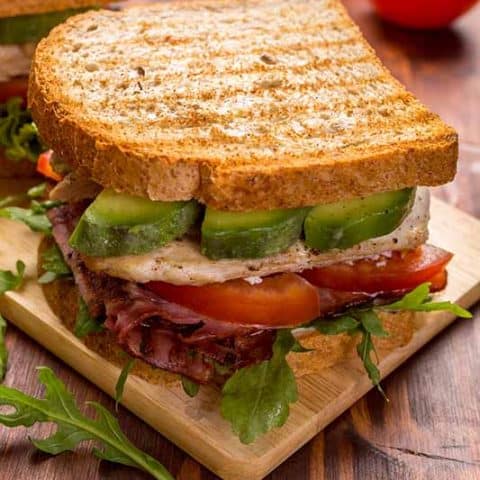 Easy BLT Sandwich With Yogurt-Avocado Spread
Your favorite classic BLT sandwich just got a creamy upgrade! Cut the unhealthy fat by skipping on the mayo and using a creamy yogurt-avocado spread to level up your sandwich!
Ingredients
For the Avocado Spread:
½ cup Greek yogurt
2 small ripe avocados, diced
1-2 cloves garlic, grated
1½ teaspoon ground cumin
1½ tablespoon fresh lime juice
½ teaspoon of sea salt
½ teaspoon black pepper
For the BLT Sandwich:
4 slices sourdough bread
6 slices bacon (3 strips cut in half)
2 tablespoons unsalted butter, melted
8 leaves Boston Bibb lettuce
2 heirloom tomatoes, sliced
½ teaspoon of sea salt
½ teaspoon black pepper
Instructions
Make the avocado spread by combining yogurt, garlic, and avocado in a mixing bowl. Whisk it together using a fork until you get your desired texture. You can keep it chunky or smooth. Pour the lime juice then season it with cumin, salt, and pepper. 
To cook the bacon, place paper towels on a microwaveable plate then put the strips of bacon on top of it. Cover the bacon with another layer of paper towels. Put the plate in the microwave and cook the bacon on high for 3 to 4 minutes. We want the bacon to be cooked but not crunchy.
Spread one side of the sourdough slices with the unsalted butter. Then place the slices on a heated grill pan with the buttered side facing down. Gently press down using a spatula until grill marks have formed.
Let the bread rest until slightly cool to touch.
Spread the creamy avocado to the non-grilled side of 2 slices.



Then distribute the bacon, lettuce, and tomato evenly on both sandwiches.



Top them with the other half of the sourdough slice.



Cut diagonally and serve while still warm. Best served with an ice-cold lemonade or chips!
Nutrition Information:
Yield:

2
Serving Size:

1
Amount Per Serving:
Calories:

1009
Total Fat:

57g
Saturated Fat:

16g
Trans Fat:

0g
Unsaturated Fat:

37g
Cholesterol:

68mg
Sodium:

2457mg
Carbohydrates:

95g
Fiber:

19g
Sugar:

13g
Protein:

38g
Make BLT sandwich exciting again with this easy and creamy Avocado spread!  I'm excited for you to try this out, I know you will love it as much as I did. Let me know what you think in the comments below!