Sha-WARM-up your chilly dinners with this DIY Keto Shawarma Spiced Chicken recipe! See what I did there? LOL. Now if you're looking for an authentic shawarma recipe, let me tell you now, this isn't it. Only because unfortunately, we don't have the vertical rotating spit thingy that is used to make traditional shawarma. But I promise you, this tastes like the next best thing! 
This recipe is inspired by our anniversary trip to Egypt less than a year ago. I finally found the time (and energy) to sort the hundreds of photos during the trip and unsurprisingly, about 20% of it is photos of all the glorious food we had there. And lo and behold, dozens upon dozens of different shawarma varieties that we tried, and I just found myself drooling. 
So, what else can a girl do but make her own! I did some research and found a way to make myself decent shawarma with the help of whatever is already in my pantry. You already know I had to make it in a Tiny Kitchen Diva way- quick, easy, affordable, tasty, and healthy! Therefore, there's no tortilla or pita used in this recipe, instead, we're using Romaine lettuce leaves to wrap our precious spiced chicken shawarma. You know what that means? NO NEED TO WAIT FOR CHEAT DAY! 😉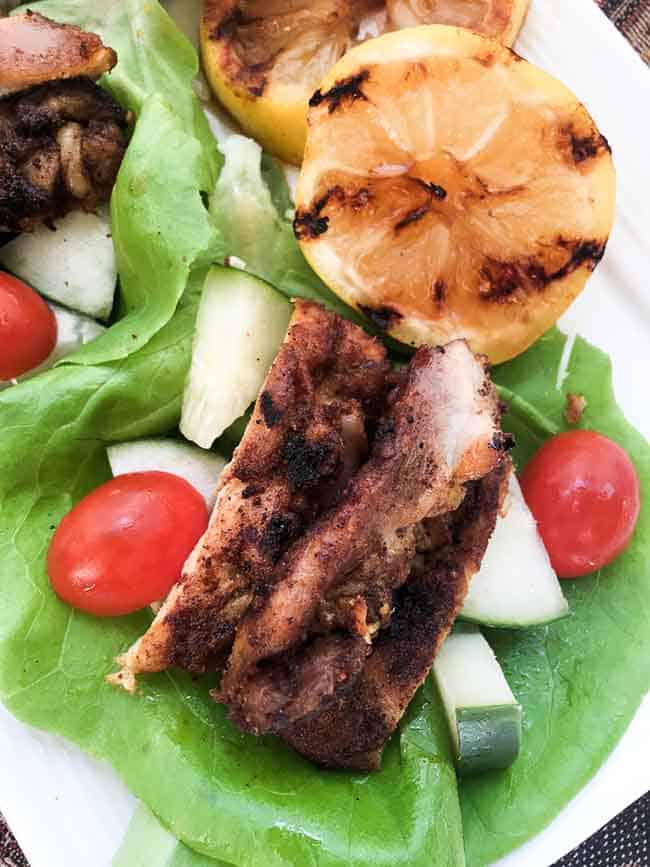 How To Make My DIY Keto Shawarma Spiced Chicken:
Start with the spiced chicken marinade. As the name suggests, we will be using a variety of spices to get that Middle Eastern flavor that we love in shawarma. Combine the spices, garlic, lemon juice, olive oil then season it with salt and pepper. 
For the chicken, I find boneless chicken thighs to be the most tender and flavorful for this recipe. What you want to do is pour the marinade in a reusable freezer bag then place the chickens in, making sure they are thoroughly coated. Let it chill in the fridge for at least 4 hours or overnight.
While you wait you can make the tangy garlic-yogurt sauce. Simply combine the yogurt, garlic, cumin, dill, and lemon juice. Add a pinch or two of salt and pepper then whisk the mixture until it's fully incorporated.
Now the fun part! Place the lettuce on top of your serving plate and layer the sliced chicken, cucumbers, and tomatoes. Lastly, drizzle it with your garlic-yogurt sauce and devour the fruit of your (not-so) hard work.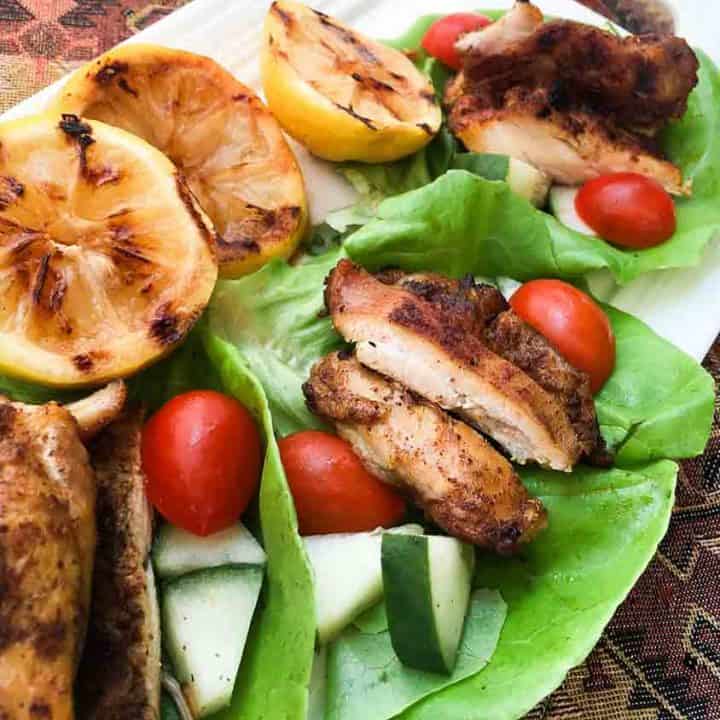 DIY Keto Shawarma Spiced Chicken
Have a bite of wonderful Egypt's favorite street food! This Do-It-Yourself Shawarma Spiced Chicken is flavored with Middle Eastern-influenced spices and wrapped in lettuce with cucumber and tomatoes.
Ingredients
For the Marinade:
3 cloves garlic, crushed
¼ teaspoon turmeric
1½ teaspoon ground coriander
½ teaspoon allspice
½ teaspoon ground cinnamon
1 teaspoon ground cumin
1½ teaspoon smoked paprika
¼ teaspoon cayenne pepper
2 tablespoons fresh lemon juice
5 tablespoons extra virgin olive oil
½ teaspoon kosher salt
½ teaspoon black pepper
6 chicken thighs, skinned and boned
For the Garlic-Yogurt Dressing:
1 cup Greek yogurt
1 clove garlic, grated
1 teaspoon dried dill weed
2 teaspoon ground cumin
1 tablespoon fresh lemon juice
½ teaspoon kosher salt
½ teaspoon black pepper
For the Shawarma Wrap:
Romaine lettuce leaves
Cucumber slices
Tomato slices
Instructions
Make the marinade for your spiced chicken. Whisk together the garlic, spices, 3 tablespoons of olive oil, and lemon juice. Add a pinch of salt and pepper, as needed. Set aside.
Pour the marinade into a resealable freezer bag and place the boneless chicken thighs in. Shake it gently to ensure the thighs are coated with the marinade all over. Let it marinate in the fridge for at least 4 hours or overnight.
While waiting for the chicken to finish marinating, whip up your yogurt sauce. Get a small non-reactive mixing bowl and combine yogurt, garlic, dill weed, cumin, and lemon juice. Cover the bowl with cling wrap and set aside in the fridge.
Place a large cast-iron skillet over high heat and pour 2 tablespoons of olive oil. Once it's hot, transfer the marinated chicken and cook for 2-3 minutes on each side or until they're nicely brown. 
Let the chicken cook for another 6 to 7 minutes on each side on medium heat until they are cooked through. Once done, take them out of the skillet and rest for 5 to 10 minutes before slicing.
Assemble your shawarma by layering the chicken, tomato, and cucumber slices on lettuce leaves then drizzle with the garlic-yogurt dressing. Serve while still warm
Nutrition Information:
Yield:

4
Serving Size:

1
Amount Per Serving:
Calories:

625
Total Fat:

45g
Saturated Fat:

11g
Trans Fat:

0g
Unsaturated Fat:

33g
Cholesterol:

252mg
Sodium:

895mg
Carbohydrates:

7g
Fiber:

2g
Sugar:

3g
Protein:

53g
I know what you're thinking and yes, I am helping myself to a serving of my DIY chicken shawarma while writing this because honestly, how can I not? I still have about 2 bags of this frozen in my fridge right now. LOL. Now I'm curious, tell me in the comments what is your favorite food from your past or current travels?