I can't recount the dozens of times this Whole Roasted Lemon-Pepper Chicken recipe has saved me from absolute embarrassment. This recipe is why I didn't show up empty-handed to many potlucks and family gatherings that I went to while I was busy juggling my job and being a mom. It only takes 15 minutes to do, and super easy – if you can tie your hair and put lotion on, then you can nail this recipe. 😉
My closest friends and I recently hung out in one of our friend's house, so I made this, and they thought it was from one of our favorite resto downtown. However, they believed me after I taught them how to make it so they can try it on their own. They realized that it is possible to make it even on a busy weekday. They said they'll tag me on their IG stories when they make it at home. #Millennials am I, right? 
How To Roast A Whole Chicken?
Now, most of us steer away from roasting whole chicken because it can be quite tricky. Some parts can be overcooked, while the others are undercooked. It can end up dry and unappetizing to eat. As always, we found ways around it to make sure you get a juicy, flavorful whole roasted chicken!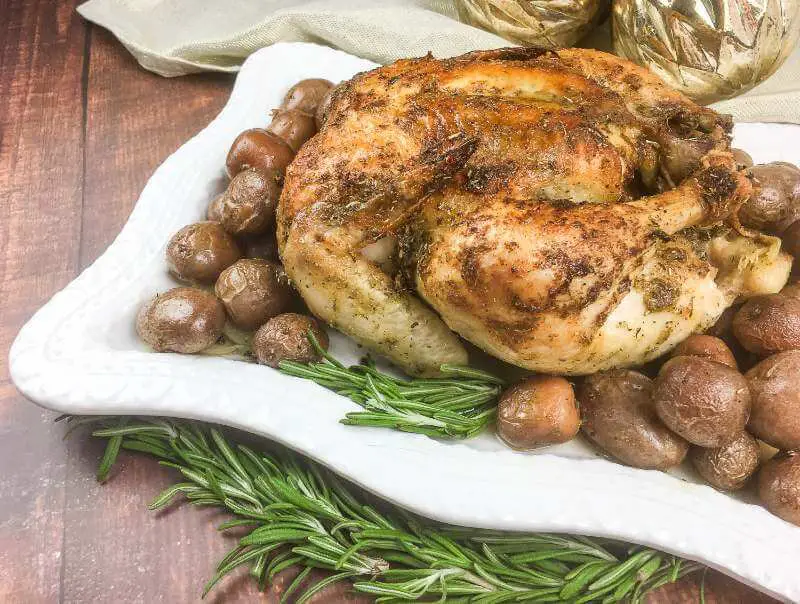 To ensure your chicken stays moist and tender throughout the cooking process, it is important to tie the legs and wings of the bird together. This is called "trussing". This helps the chicken to cook evenly and keep the legs and wings from burning. You can use kitchen twine but if you don't have one, you can use clean dental floss or toothpicks soaked in water.
When roasting a chicken, the cooking time depends on the size of the chicken. The best way to know if it's done is by checking its internal temperature. The goal is 165°F, but you want the thickest part of the bird to be at about 160°-164° since the chicken will continue cooking when you take it out of the oven.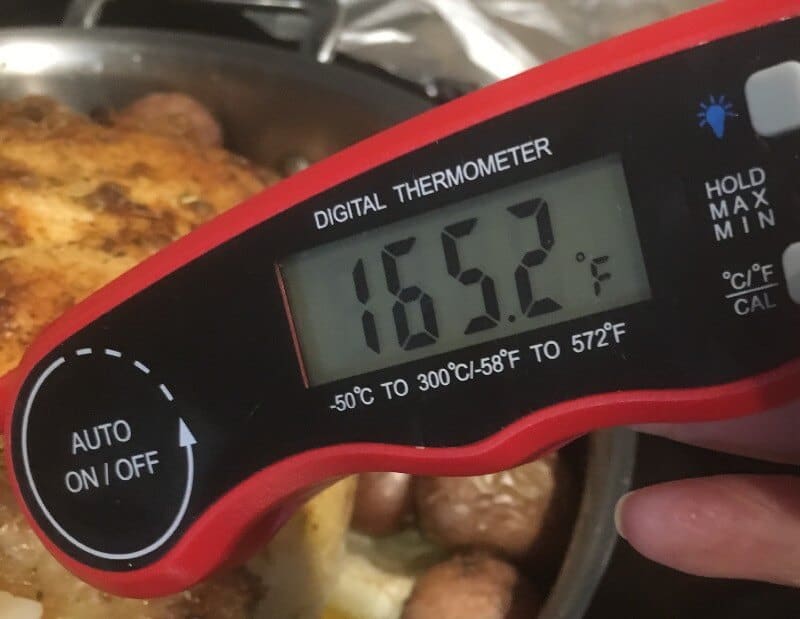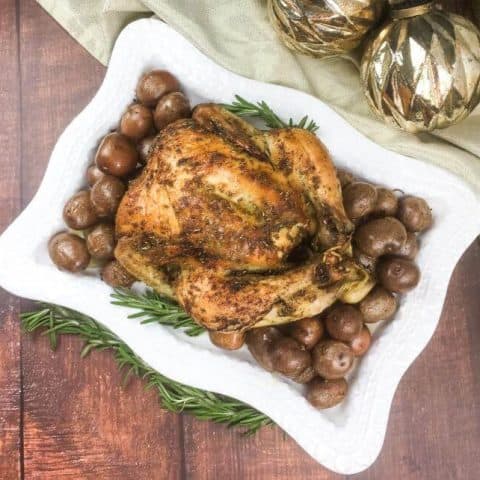 Whole Roasted Lemon-Pepper Chicken
Total Time:
1 hour
15 minutes
This whole roasted chicken is treated to a lemon, butter, and herb mixture, leaving it tasty and oozing with juices. 
Ingredients
2 lemons
2 yellow onions, sliced
¼ cup extra virgin olive oil
2 tablespoon unsalted butter, softened
1 teaspoon garlic powder
1 teaspoon onion powder
1 tablespoon Herbes de Provence
¼ teaspoon coarse sea salt
¼ teaspoon black pepper
1 whole roasting chicken
4 rosemary sprigs, roughly chopped
1 lb. baby red potatoes, scrubbed
1 tablespoon whole peppercorns
½ cup low sodium chicken broth
Instructions
Move an oven rack to the middle position then preheat it to 400° F.
Grate the zest of one lemon using a microplane. Cut the zested lemon into four then set them aside.



Cut the other lemon into thick slices of about ¼ inch. Do the same with the yellow onion. Then arrange them to the bottom of a deep, oven-safe pan. 



Now make the butter rub by combining half the olive oil, lemon zest, softened butter, and the spices in a small mixing bowl. Add a pinch of salt and pepper as preferred.



Mix it with a fork or small whisk until it forms a paste.



Transfer the chicken above the lemon-onion layer.



Massage about 2 tablespoons of the mixture underneath the skin of the chicken.



Then use the remaining mixture to evenly slather the whole external surface of the chicken.



Fill the chicken with the lemon chunks and 3 sprigs of rosemary. Now truss the legs and wings of the chicken together with kitchen twine.



Get another mixing bowl and mix the baby potatoes with the remaining rosemary sprig and olive oil. Season with a pinch of salt and pepper. 



Transfer the potatoes into the pan and position them around the buttered chicken.



Pour the low sodium chicken broth and peppercorns then place the pan in the preheated oven. Let it roast for 1 hour.



Once it's done roasting, take the pan out of the oven to check for the chicken's internal temperature. To do this, insert a thermometer between the leg and the breast. You want the temperature to be around 160°-164°F since the chicken will continue cooking while it rests. 
Leave the chicken to rest for at least 5 to 10 minutes. Carve and serve with the herbed potatoes on the side. Drizzle with pan drippings. Bon Appetit! 


Notes
Cook time: 1-1½ hours (cooking time may vary depending on the size of the chicken)
Nutrition Information:
Yield:

4
Serving Size:

1
Amount Per Serving:
Calories:

680
Total Fat:

40g
Saturated Fat:

11g
Trans Fat:

0g
Unsaturated Fat:

26g
Cholesterol:

147mg
Sodium:

283mg
Carbohydrates:

34g
Fiber:

5g
Sugar:

5g
Protein:

46g
Are you ready to try this out the next time your friends come over? This Whole Roasted Lemon-Pepper Chicken is surely something to impress your guests without spending hours prepping and breaking the bank. Did you like this recipe? Let me know in the comments below!