Today I'm sharing my favorite drink to serve whenever my friends and their kids come over – Cranberry Ginger Punch. Why is this my favorite? Simple, it's kids and adult-friendly! You can make a wholesome version and a boozy version of this drink. It saves me a lot of time, money, and energy. But don't fret, just because this feels like a shortcut means it's not good. You have to try it to believe it!
I made this punch for my sister's recent housewarming party and everybody loved it! I put some in the little one's sippy cups and glasses. While I served a whole another pitcher with vodka for the adults. It's light and refreshing so it was just a chill afternoon while admiring her new house. It's the perfect drink for any celebration, big or small. It's festive and vibrant, just looking at it makes me happy already.
This is the ultimate holiday drink and from now on, this might be the only one you'll need. It's refreshingly delicious, not to mention it has such a festive color too! It is a little step away from our regular holiday sangria then orange juice for the kids. As you know, kids always want whatever you're having. In this case, they are having it, just minus the booze. 😉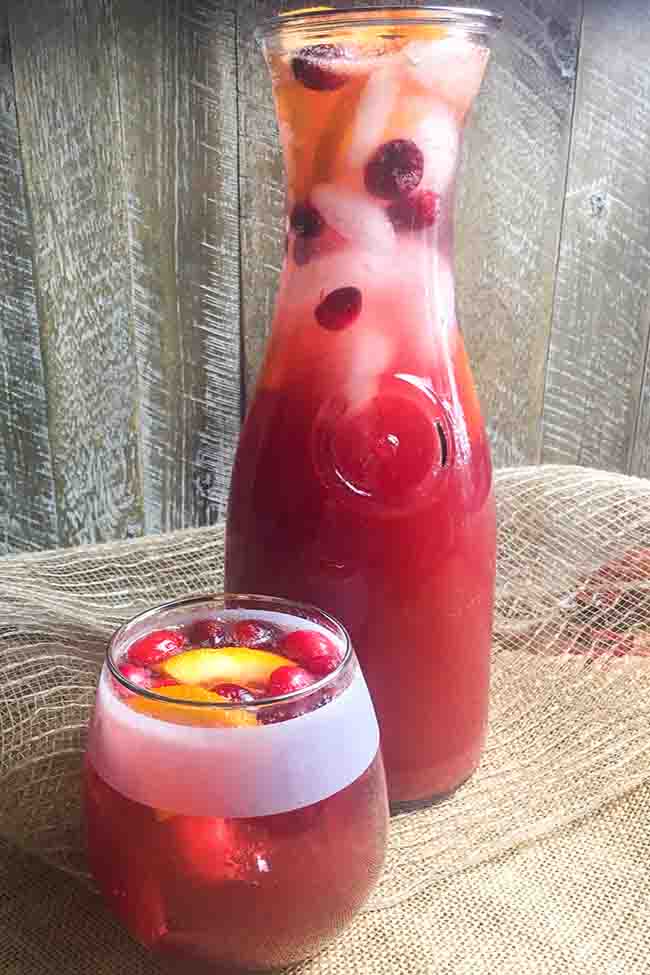 How To Make And Serve A Good Cranberry Ginger Punch:
There are three parts involved in making a punch: the base, the carbonated drink, and the add ons. To give you a better picture, in this recipe the base is the mixture of cranberry juice, cranberries, orange juice, orange slices, ginger, and lime slices.
For the carbonated beverage, it is the club soda and/or vodka for adults. What you want to do is add this before serving the drink. Same with the add ons, like extra cranberries or orange slices. To serve it, you can transfer it to a precious punch bowl or a fancy pitcher. Hand out some cute glasses and enjoy!
*Tip: If you don't want to water down the punch, you can freeze up cranberry juice into ice trays to help make your drink cold. You can also do the same with fresh cranberries, place them in a resealable freezer bag and freeze them to use as ice for the punch.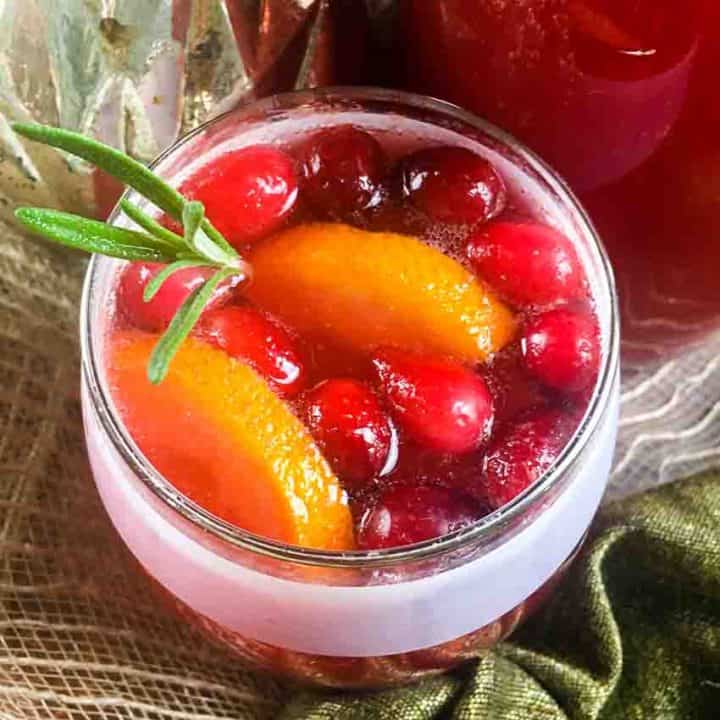 Fizzy Cranberry Ginger Punch
This Fizzy Cranberry Ginger Punch is an amazing beverage that can be served on any occasion! Whether you want it fizzy or boozy, it is good either way!
Ingredients
¼ cup fresh ginger, peeled and minced
½ cup fresh or frozen cranberries
1 cup unsweetened cranberry juice
1 cup fresh orange juice
1 large orange, sliced
1 large lime, sliced
2 cup club soda, chilled
2 tablespoons honey (optional)
Boozy Version (Optional):
½ cup ginger beer
½ cup chilled vodka
For serving:
Orange slices and fresh cranberries
Chilled club soda serving for a non-alcoholic version
Instructions
In a large non-reactive mixing bowl, combine ginger, frozen cranberries, unsweetened cranberry juice, fresh orange juice, orange and lime slices.



Now gently mash the ingredients together using a wooden spatula or a potato masher. Stir with the same spatula until well incorporated. Then cover the bowl with a cling wrap and let it chill in the refrigerator for a couple of hours.



Once you're ready to serve it, take the mixture out of the fridge. Run it through a strainer to remove the chunks of fruit and other solids. Try to squeeze out the filtered fruits and get more juice in the process. Discard the pulps and pour the juice into your serving pitcher.
Pour the club soda into the pitcher and stir well. If you're making an adult version of the punch, split the juice in half and add vodka to the other. If you want it too strong or sour, stir some honey until you get your desired flavor.



Pour the punch over ice into individual glasses. Top with the sliced orange and cranberries. You can also add in a few mints leaves to make it even more refreshing. Drink with friends, family, or enjoy it alone!


Nutrition Information:
Yield:

4
Serving Size:

1
Amount Per Serving:
Calories:

243
Total Fat:

0g
Saturated Fat:

0g
Trans Fat:

0g
Unsaturated Fat:

0g
Cholesterol:

0mg
Sodium:

10mg
Carbohydrates:

46g
Fiber:

5g
Sugar:

35g
Protein:

2g
This Fizzy Cranberry Ginger Punch quenches your thirst without breaking the bank or making you spend hours in the kitchen! It has such a festive vibe great for any holiday or celebration. Like finally getting the motivation to clean out your drawers of seasonal clothes. LOL. I definitely need the boozy version of this drink for that. Try out this amazing recipe and I promise you won't regret it! Let me know how you feel about this in the comments below. 😊