Do you have little ones that enjoy helping in the kitchen? These Cucumber Smoked Salmon Appetizers are super easy to make, you can let your kiddos do them for you! Although based on experience, you won't have any finished product to post on your social media as it goes straight into their little mouths. These are super healthy and refreshing, I can't stop munching on them either! 
I had to make another batch after they went to take their afternoon nap just to snap these photos. And the next thing I know, I'm snacking on them again. I must admit when I first heard of it from a friend, I thought it was something you only crave when you're pregnant. It just sounded odd to me – cucumbers, cream cheese, and smoked salmon? 
Some of you are probably thinking the same if you haven't tried it before. But I guarantee you, once you have a bite, it's hard to stop. It's a light, wholesome snack, and that's not even the best part. This is a low-carb friendly recipe! So yes, you can have it even when you're not on a cheat day. This is honestly one of my favorite appetizers when I'm breaking my fast.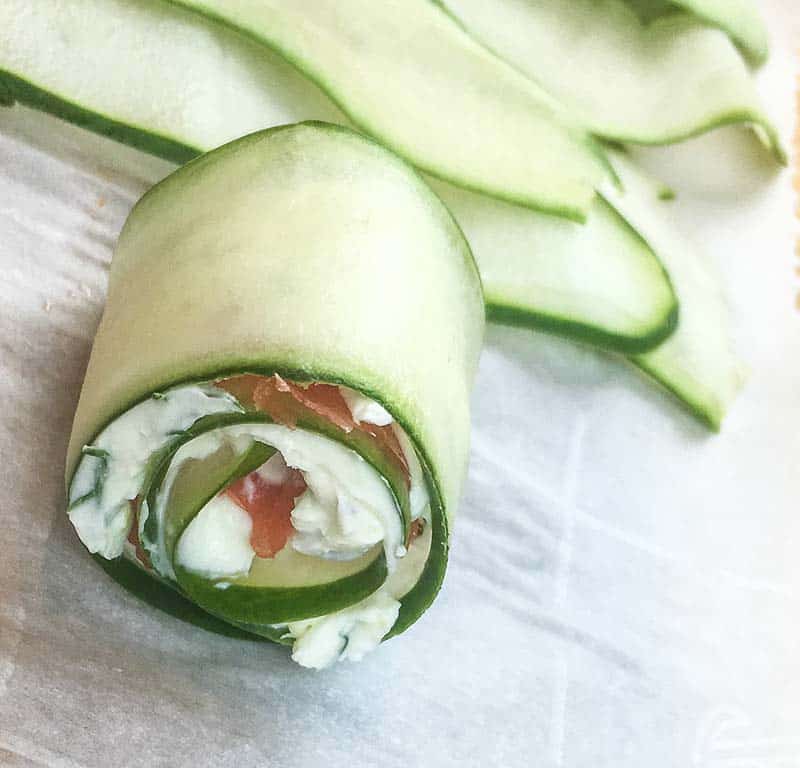 Tips To Make Smoked Salmon-Stuffed Cucumber Roll-Ups:
Use a mandoline slicer or vegetable peeler to get perfectly thin cucumber slices. They need to be thin enough that you can roll them easily but not too thin that they fall apart. It also can't be too thick as you will have trouble rolling them up and they can snap in half too. 
Do not include the middle part of the cucumber with the seeds. Simply flip the cucumber around and start slicing from the other side of it. 
Cucumbers are made up of 95% water, so the cream cheese mixture might slide off it. Therefore, you need to blot the slices using paper towels. This removes excess moisture allowing you to easily spread the cream cheese mixture and make sure it stays on.
Slice the smoked salmon roughly as thin and wide as the cucumbers. This makes rolling them up easier and helps the roll get a balanced flavor.  
Especially when serving it as an appetizer to guests, you want to secure the rolls with a toothpick. This keeps the rolls from unrolling themselves, and also make it easier and more hygienic for the guests to pick up their cucumber rolls.
These are not make-ahead appetizers! After an hour or two, the cucumbers will start being soggy as it releases its juices. After making the rolls, keep them in the fridge until they are ready to serve.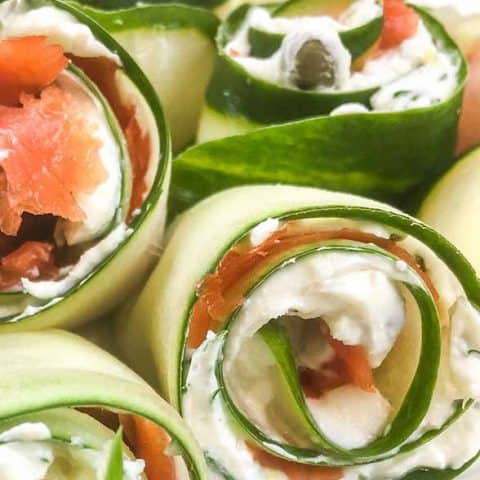 Smoked Salmon-Stuffed Cucumber Roll-Ups
This refreshing and healthy appetizer to serve your guests. It is made up of rolled-up cucumber slices filled with tangy lemon and cream cheese spread plus the deep flavor of smoked salmon.
Ingredients
8 oz. cream cheese, softened
2 teaspoon fresh lemon juice
1 teaspoon lemon zest
3 tablespoons fresh dill, chopped
2 tablespoons capers, drained
½ teaspoon kosher salt
½ teaspoon black pepper
1 large cucumber
2 oz. smoked salmon
Instructions
Whisk the cream cheese, lemon zest, dill, lemon juice and capers together in a large bowl. Add a pinch of salt and pepper, stir well then set aside.



Chop off both ends of the cucumber then run it lengthwise through a mandoline or slice with a vegetable peeler.
Scoop about a tablespoon of the cream cheese mixture and spread it evenly on the cucumber slices. Add a little bit more towards one end to help secure the roll.
Place the salmon slices on top of the cream cheese mixture.



Roll up the cucumber slices tightly. Secure the rolls with a toothpick if necessary.
Repeat steps 3, 4, and 5 until all slices are filled and rolled up. Serve within 2 hours for the best results.


Nutrition Information:
Yield:

2
Serving Size:

1
Amount Per Serving:
Calories:

456
Total Fat:

41g
Saturated Fat:

23g
Trans Fat:

0g
Unsaturated Fat:

13g
Cholesterol:

121mg
Sodium:

1657mg
Carbohydrates:

13g
Fiber:

1g
Sugar:

7g
Protein:

13g
Next time you need to whip up a quick yet delicious appetizer, or even just a snack, try out this Smoked Salmon-Stuffed Cucumber Roll-Ups. I promise you won't regret it! It looks fancy yet it's inexpensive and really easy to make. How did you make your own version of this recipe?