One of the best things about being an adult is that you can have dessert, any time you want! That's how I came up with this Chocolate Mousse recipe. I was binging my favorite TV show one night and I just started craving for something sweet. So, I tried to look around the house but to nobody's surprise, there's nothing in my fridge or pantry that interests me. I know I'm not alone in this struggle. 
And because we all deserve a day where we can just be lazy, you can make this irresistible dessert in 6 super easy steps and it only takes 20 minutes to prepare. Exactly how desserts should be – delightful, chocolatey, and stress-free! So, I paused the show and made myself a batch. Then I went back to watching and after a couple more episodes, my chocolate mousse is ready to be devoured.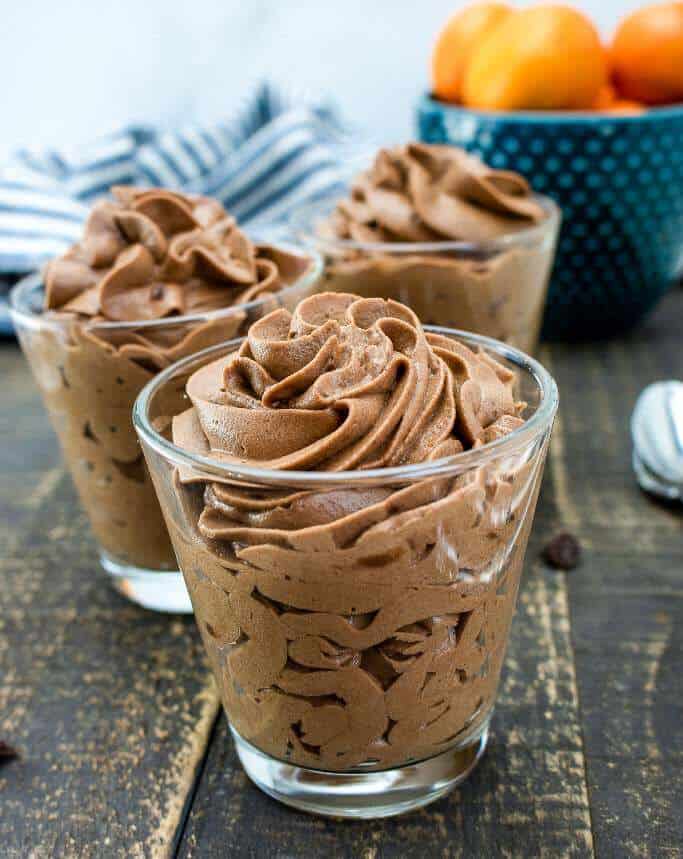 The only struggle I encountered is waiting for 2 hours to let it chill in the fridge. In all honesty, I was tempted a couple of times to just start eating it like a smoothie bowl while I was waiting. So, I tried harder to focus on the show and forget for a little bit that I have a tempting chocolate mousse in the fridge waiting for me. Which reminds me of what my gramps always tells me, "great things take time."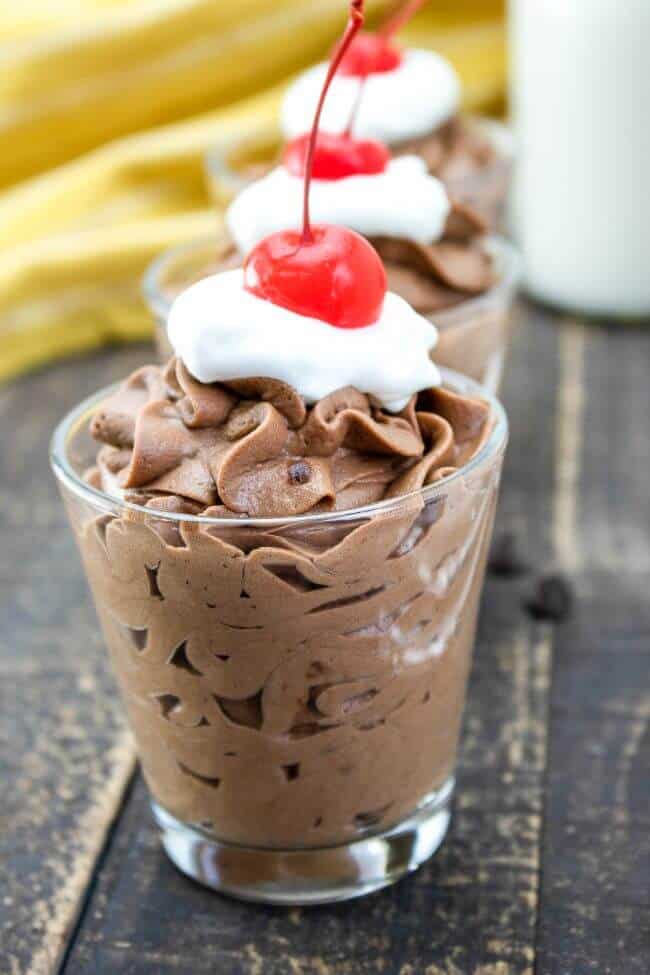 How To Make Chocolate Mousse:
Start by making the chocolate ganache. To do this, simply heat up a cup of heavy cream together with the chocolate on medium-low heat. Stir it continuously to keep it from burning until the chocolate has completely melted into the cream. 
Then we want to start making the mousse. Take your hand or stand mixer out and beat the eggs and sugar together for about 3 minutes on medium speed. While still mixing, gradually add the ganache then the orange zest. 
Once they are fully incorporated, pour the mixture back into the pan you used to make the ganache. Stir it constantly over medium fire until it has thickened. Once it is thick enough, remove it from the stove and let it slightly cool before putting it in the fridge for at least 2 hours.
After 2 hours we'll now whip the remaining 1 ½ cup of heavy cream until you get those stiff peaks that you see when watching baking shows on TV. Once we achieve that we'll fold it into the chocolate mix that you have in the fridge. Now comes the only tricky part. You want to do it quick and gentle enough that the heavy cream retains its fluffiness.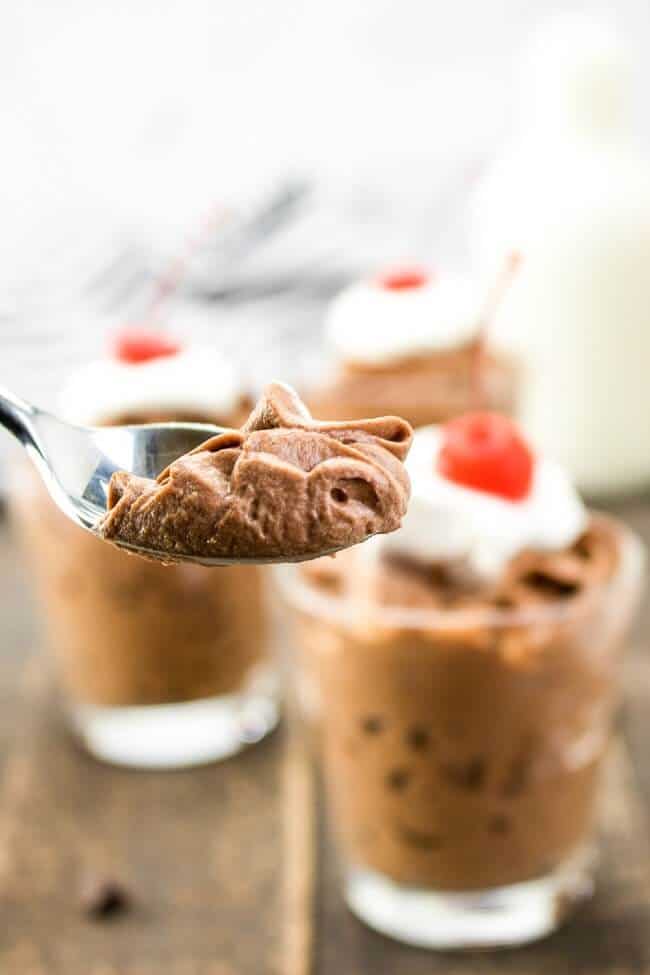 Now all you have to do is sit back and enjoy your show with a glass (or tub, we don't judge here) of a thick, fluffy and creamy chocolate mousse. 😉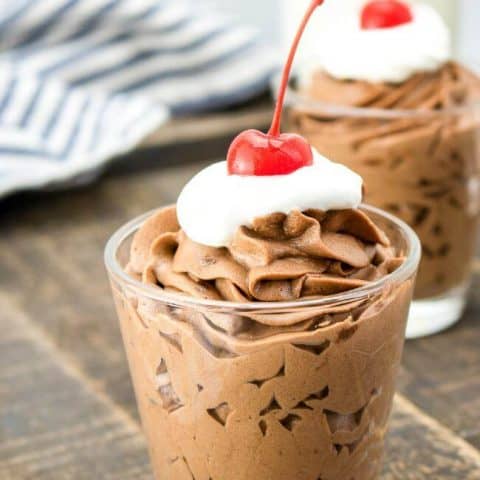 Ultimate Chocolate Mousse
Total Time:
2 hours
20 minutes
Spoil yourself with the ultimate chocolate mousse made with high-quality chocolate chips and heavy cream. All in under 20 minutes!
Ingredients
8 oz. high-quality semi-sweet chocolate chips or baking chocolate
2½ cups heavy cream, divided
2 large eggs, room temperature
¼ cup granulated sugar
1 teaspoon orange zest
Serving Suggestion:
Whipped cream
Maraschino cherries
Mandarin orange slices
Instructions
Place a medium-sized nonstick saucepan over medium-low heat and pour 1 cup heavy cream. Add the chocolate chips and stir frequently until the chips are fully incorporated into the cream. Set aside to cool.
Combine eggs and sugar in a mixing bowl using a handheld mixer on medium speed for 3 minutes. 
Gradually add the cooled down chocolate-heavy cream mixture into the beaten eggs while still mixing at the same speed. Toss in the orange zest for extra flavor. Continue mixing until they're fully incorporated. Then pour the mixture back into the pan you used to make the chocolate ganache. Place it over medium heat and continuously mix until it thickens. 
Take the pan off the heat then let it cool for about 10-15 minutes. Once it cools down, place it in the refrigerator and let it chill for at least 2 hours.

Whip 1 ½ cup of heavy cream until stiff peaks form when you turn the whisk upside down. Take the chocolate mixture out of the fridge and fold it gently into the whipped cream. Continue folding until they are well incorporated.  We're looking for a fluffy, thick consistency after folding the mixture.
Transfer the chocolate mousse to a piping bag.



To serve, pipe the mousse into dessert glasses and top with the mandarin orange slices, maraschino cherries, or whipped cream. Bon Appetit!


Nutrition Information:
Yield:

6
Serving Size:

1
Amount Per Serving:
Calories:

627
Total Fat:

52g
Saturated Fat:

32g
Trans Fat:

1g
Unsaturated Fat:

17g
Cholesterol:

175mg
Sodium:

57mg
Carbohydrates:

42g
Fiber:

4g
Sugar:

36g
Protein:

7g