Need a warm and hearty addition to your holiday feast? This Gluten-Free White Bean Minestrone Soup might just be what you're looking for. This Italian classic is the perfect holiday soup, filled with various nutrient-rich veggies, flavorful tomato soup, and served with some freshly baked baguette or garlic bread.  This is the kind of soup that will surely make your Nonna proud! I know mine is when she asked me for the recipe. 😉
There is no one way to make a minestrone soup. Traditionally, you make a minestrone soup with whatever seasonal vegetable you have, add rice, couscous, or pasta in it. In the old times, people use bean broth but as time passed it has been interchanged with chicken or beef broth. And of course, throw in some fresh herbs for a deeper, earthier flavor.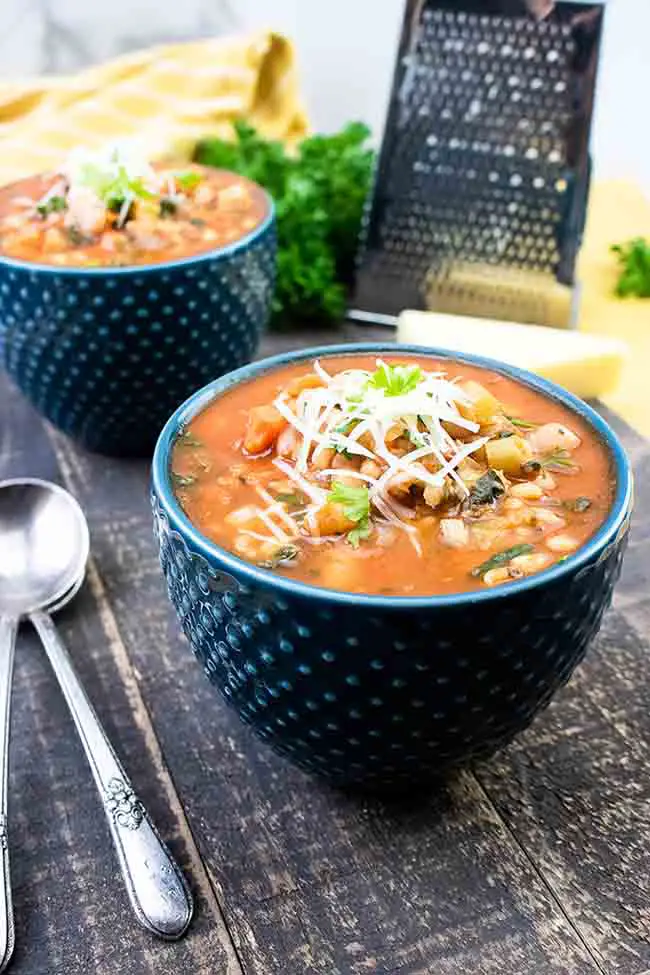 What Can I Do If I Made A Little Too Much Minestrone?
First of all, let me just say you can never make "too much" minestrone. It's so good especially on cold days that you just go back for seconds.. or thirds. But in case you have some leftover, nothing to worry about. I would argue that this soup tastes even better after the first day.
This Gluten-Free White Bean Minestrone Soup is one of the best make-ahead soup. You can make a week's worth of it and store it in an airtight container and let it chill in the fridge for up to 5 days. You can even pour it into individual serving containers and freeze it for up to 3 months!  
To reheat the soup, simply place it in a nonstick saucepot over low heat until it warms back up. You can also transfer it to a microwave-safe bowl. Then place it in the microwave for about 2.5 minutes, stirring it after the first 1.5 minutes. If it's frozen, thaw it for about 15-20 minutes before reheating.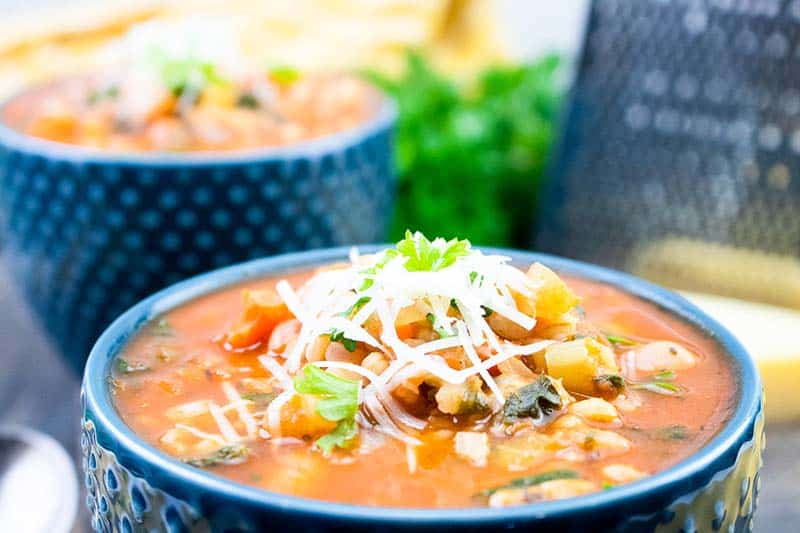 What Do I Serve With Minestrone Soup?
The soup is already filling and satisfying on its own. It can also serve both as a side dish or main dish. So, what can you pair it with?
Garlic Bread
I love serving minestrone soup with some crunchy garlic bread on the side. You can either dip it into the soup or scoop some veggie bits with it. Yum!
Baked Potatoes
This soup goes very well with baked potatoes as it has a diverse flavor profile that contrasts well with the mild-tasting, starchy potatoes. 
Roasted Chicken
Scoop it into a bowl and serve with a good slice of roasted chicken quarters for a perfectly balanced whole meal. This is how I usually serve it for family dinners.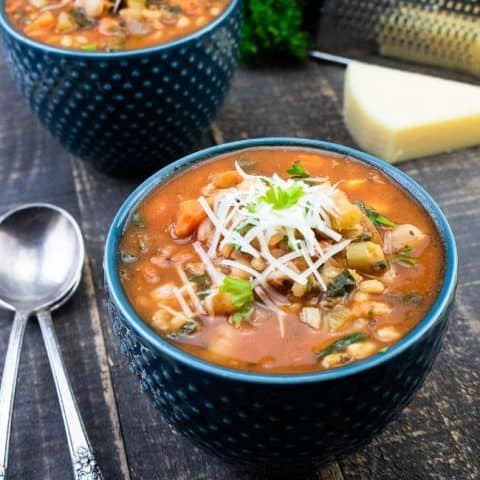 Gluten-Free Minestrone Soup with White Beans
Warm up the holiday dinner table with this vibrant and hearty gluten-free version of a classic Italian soup! It's loaded with protein and fiber-rich veggies, made even more special with beans and parmesan cheese.
Ingredients
2 tablespoons extra virgin olive oil
2 large carrots, diced
3 medium celery stalks, diced
1 medium yellow onion, diced
3 garlic cloves, minced
2 tablespoons tomato paste
2 cups crushed tomatoes
6 cups organic chicken broth
½ cup white quinoa, rinsed and drained
3 ½ cups cannellini beans, drained and rinsed
3" chunk Parmesan cheese rind
2 large bay leaves
1 teaspoon Italian seasoning
1/2 teaspoon kosher salt
1/2 teaspoon black pepper
¼ c. fresh parsley, chopped
3 c. baby spinach, roughly chopped
1-2 oz. Parmesan cheese, freshly grated
Instructions
Place a large soup pot over medium heat and pour the olive oil in.
Sauté the carrots, celery, onion, and garlic cloves.



Add a pinch of salt and black pepper. Stir occasionally for about 4 to 5 minutes or until the veggies are tender.



Pour in the tomato paste, crushed tomatoes, chicken broth, quinoa, cannellini beans, and Parmesan rind. Add the Italian seasoning, salt, and pepper. Stir well until combined.



Adjust to high heat until it starts to boil. Then simmer on medium-low heat for about 15 to 20 minutes or until the quinoa is tender.



Add the chopped parsley and baby spinach.



Continue simmering until the spinach has wilted. Turn the heat off and take the bay leaves and parmesan rind out. Transfer to individual serving bowls and top with grated parmesan cheese before serving. Bon Appetit!


Nutrition Information:
Yield:

4
Serving Size:

1
Amount Per Serving:
Calories:

481
Total Fat:

14g
Saturated Fat:

4g
Trans Fat:

0g
Unsaturated Fat:

8g
Cholesterol:

23mg
Sodium:

2736mg
Carbohydrates:

66g
Fiber:

15g
Sugar:

11g
Protein:

28g
Remember that this is not a fixed recipe and you can have fun with it however you prefer. On that note, don't forget to share with me how you customized this minestrone soup recipe in your own tiny kitchen! I enjoy reading your very own versions and ideas. Much love, ciao! ♥