One of the things I worry about when making a holiday spread is how to meet everybody's dietary restrictions while still serving delicious food. Luckily, I found this Spiced Chickpea-Stuffed Eggplant with Tahini recipe that checks out all the boxes. It's incredibly delicious, affordable, easy to make and it's healthy too!
This stuffed eggplant dish is vegetarian, gluten-free, keto-friendly, and low-carb friendly. It's made up of tender roasted eggplant that's filled with spiced chickpea in tomato sauce. You then serve it with creamy tahini-yogurt sauce and tangy pomegranate seeds. Even the picky little ones loved it! 
How I Make My Spiced Chickpea-Stuffed Eggplant:
This amazing dish only takes about 20 minutes to prepare, and it may look like a lot of work with prepping the eggplants and all that but it's actually pretty easy too. You start by roasting the eggplants then carving out the flesh with a spoon once it's cool to touch.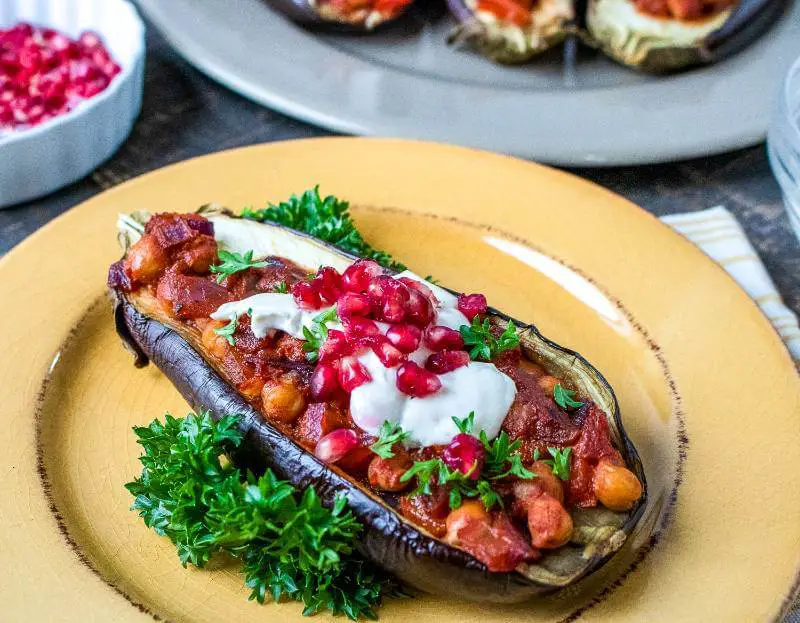 While I wait for the eggplants to be done roasting, I start making the filling. Simply sauté the spices with the tomatoes and chickpeas until they're cooked through. You then start filling up the eggplant boats with the chickpea mixture. Once you filled up every boat, roast them again for another 15 minutes or so.
During this time, you can make the sauce by mixing yogurt, tahini, and lemon juice together. The fun part is assembling them all together once they're done roasting. Place the stuffed eggplants in their respective serving plates. Then top with the tahini sauce, pomegranate seeds, and parsley.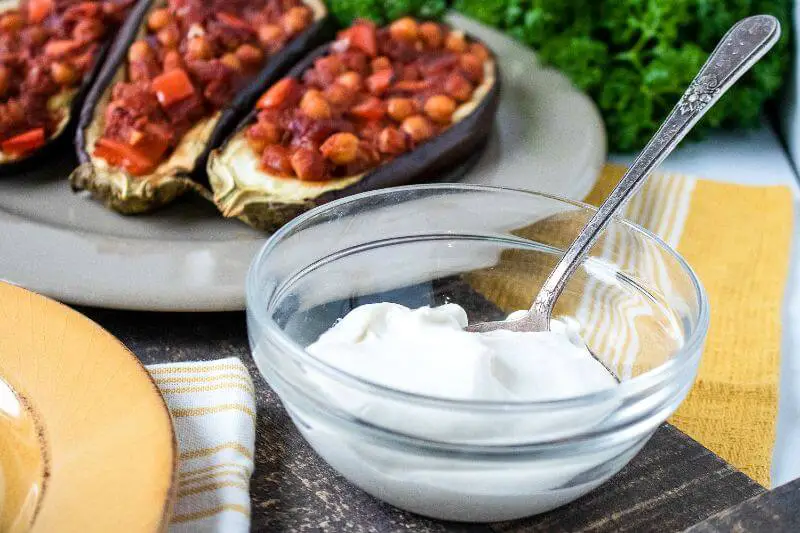 They look so vibrant that's why I make sure to take a couple photos for my IG feed before we start stuffing our faces with them. These stuffed eggplants are not just a pleasure to the eyes but to the taste buds as well, that's for sure.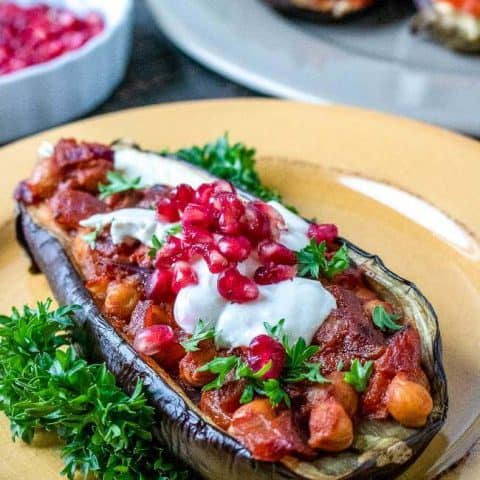 Spiced Chickpea-Stuffed Eggplant with Tahini
This Middle Eastern-inspired recipe is not only rich in colors and spices, but it's rich in significant nutrients too! Enjoy this roasted eggplant stuffed with chickpea and tomatoes with tahini yogurt sauce and pomegranate seeds. 
Ingredients
3 small eggplants, halved
For the filling:
2 tablespoons extra virgin olive oil
1 red bell pepper, diced
1 small yellow onion, diced
½ teaspoon kosher salt
½ teaspoon black pepper
2 tablespoons tomato paste
3 garlic cloves, minced
½ teaspoon ground cinnamon
2 teaspoon ground cumin
¼ teaspoon red pepper flakes
¼ teaspoon dried oregano
2 cups chickpeas, rinsed and drained
2 cups crushed tomatoes
For the sauce:
½ cup plain Greek yogurt
¼ cup tahini
2 tablespoons fresh lemon juice
For the toppings:
½ cup pomegranate seeds
½ cup fresh parsley, chopped
Instructions
Place the oven rack in the middle position and preheat the oven to 400° F. 
Put the eggplant halves with the insides facing up in a Silpat-lined rimmed baking sheet. Place it in the preheated oven and roast until they start to tenderize. This should take about 15 to 20 minutes depending on the size of the eggplants.
While waiting, start making the chickpea filling. In a large skillet, sauté the bell pepper and onions in olive oil over medium heat. Add a pinch of salt and pepper, as needed.



Stir frequently for 5 minutes until they become translucent and fragrant.



Toss in the tomato paste, minced garlic, cinnamon, cumin, red pepper flakes, and oregano.



Continue stirring until the spices are aromatic.



Stir in the chickpeas and tomatoes.



Readjust seasoning as needed. Put the lid on and let it simmer for up to 10 minutes and turn the heat off. 



Once the eggplants are tender, take them out of the oven and let them rest.



After about 10 minutes, scoop the insides with a spoon. Leave about ½ inch on the sides and bottom to hold the filling.



Now stuff each hollowed-out eggplant with the chickpea and tomato filling.



Then place the stuffed eggplants back in the oven to roast for approximately 15 to 20 minutes. Once the chickpea mixture starts to bubble and the eggplants are soft, they are done.
While the stuffed eggplants are roasting, make the tahini sauce. In a small bowl, combine yogurt, tahini, and lemon juice. Add a pinch of salt and pepper, as needed.



Whisk until fully incorporated. 



Take the stuffed eggplants out of the oven and transfer to individual serving plates.

Drizzle with the tahini-yogurt dressing and a scoop of pomegranate seeds and chopped parsley. Serve while still warm.


Nutrition Information:
Yield:

4
Serving Size:

1
Amount Per Serving:
Calories:

505
Total Fat:

19g
Saturated Fat:

3g
Trans Fat:

0g
Unsaturated Fat:

14g
Cholesterol:

1mg
Sodium:

527mg
Carbohydrates:

76g
Fiber:

20g
Sugar:

27g
Protein:

19g
If you enjoyed this Stuffed Eggplant recipe as much as I did, please let me know in the comments below. It makes my heart full to know that you Divas love my recipes too and reading your stories makes me really happy! Much love, ciao! ♥